It is true that in France chrysanthemums have a nostalgic image, slightly outdated to some. I disagree with that last part! Chrysants do fit in perfectly with today's trend. It is exactly this nostalgia that finds its place in the trend of bucolic country weddings, ceremonies, and holiday season decorations. I will show you how with chrysanthemum Ilonka as a holiday decoration.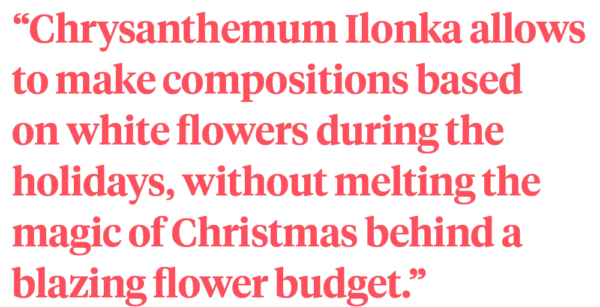 No-Risk Wedding Flowers
It is also true that the shape of chrysanthemum flowers perfectly recalls the marguerite. Our couples-to-be-married ask so often for marguerites because they are in need of a natural touch to their wedding. But they do not want to take the risk of the fragile and capricious side of these wildflowers. It is also the safest option for parts without buttonhole water, for crowns, etc. With chrysanthemums, we can respect the theme without taking any risk.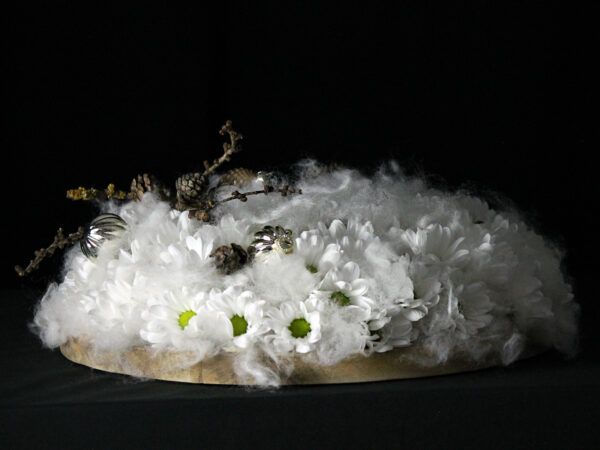 Such Easy-going Flowers!
But confining the chrysanthemum in general - and the Ilonka I designed with - just to the role of a marguerite would not be fair because chrysanths are such easy-going flowers! I like to play with the texture that restores these abundant clusters of flowers with an almost cloudy touch. The multitude of flowers on the branches gives it a cottony feel that I explore in compact but nonetheless wispy compositions. This allows us to work with a simple flower while obtaining a resolutely modern and light effect. For the holidays, for example.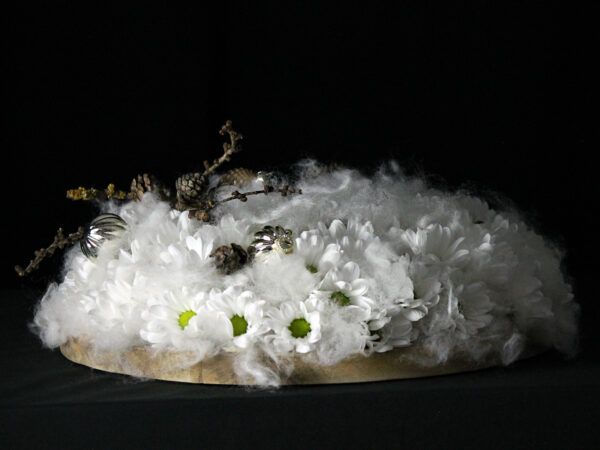 My Chrysanthemum Ilonka Designs
This cold and immaculate white of the chrysanthemum Ilonka from breeder Dümmen Orange is ideal for holidays as well as for ceremonies. Its tangy green heart accentuates the purity of these petals. One of the other qualities of this variety is the length of its ramifications which allows us to work it flower by flower. We can make small or larger compositions, bringing a profusion of flowers and all while controlling our budget. Chrysanthemum Ilonka allows, among other things, to make compositions based on white flowers during the holidays, without melting the magic of Christmas behind a blazing flower budget.
Do You See the Nostalgic Side of Chrysanthemums?
So, it is true that in France chrysanthemums sometimes suffer from bad press. However, they do have significant qualities. As I demonstrated these flowers fit in perfectly with today's trend. Its slightly outdated character truly gives it a nostalgic side and this finds its place in today's bucolic trends and celebrations. Do you see this too...?
I would like to thank my SODIF Châtenoy-en-Bresse supplier who works to select his producers. But also my Jocaflor material supplier.