Three various roses and a magical morning along a pond inspired me to create my new design. These are spray roses Silva Pink, Julieta Princessa, and Mini Must Teeny Weeny from
Red Lands Roses
.
A Morning Along a Pond
All that's missing is the sound of birds and the scent of wild mint, to experience this wondrous moment of enlightenment at the edge of a pond.

Subtle Fragrance and Wild Spirit
The first impression I had was the subtle fragrance of the first two spray rose varieties,
Silva Pink
and
Julieta Princessa
. These two have the same color tone but one with a touch of purple in the petals. And then,
spray rose Mini Must Teeny Weeny
brought that wild spirit to the whole bouquet.
Bring Out the Color
I wanted to combine them with the acid green of
alchemilla Mollis
and the pale pink of yarrow to bring out not only their color but also their round and chubby shape. I loved creating this crown because it was in the morning at 5 a.m. It's the hour when day breaks, and that we discover the life of the pond with its birds, the mist, and the sweet scents of mint and rushes. A few drops of dew sublimated their colors.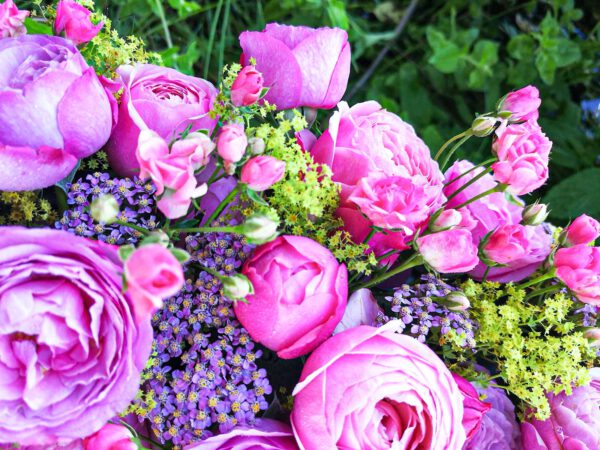 These are the moments of creation that we, passionate florists, love!