What could be more romantic than having brunch in the forest on a hot summer day?
Spray Rose Golden Trendsetter and Gentle Trendsetter
This is what inspired me with the garden spray roses
Golden Trendsetter
and
Gentle Trendsetter
, in warm and bright colors, by creating this gourmet table runner under the canopy of trees.
Majestic & Sweet
Despite its sharp thorns, the Golden Trendsetter has an architectural flower structure, very generous petals, a majestic and straight vase hold, with a very sharp lemon yellow color. In opposition to the Gentle Trendsetter, which is softer, with sweet and powdery petals and a supple and relaxed allure.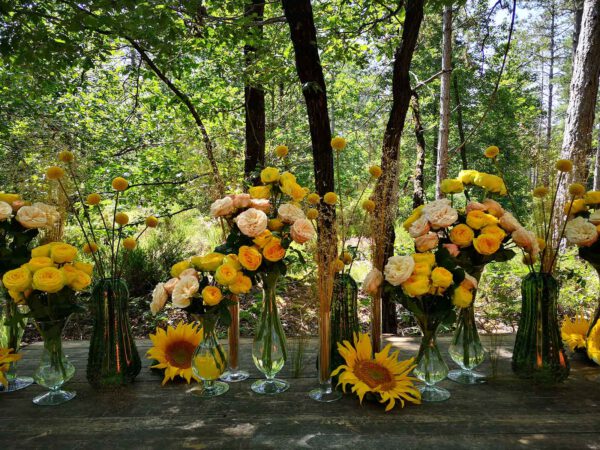 The marriage of the two varieties with saffron yellow gomphrenas and underwood grasses gives that hushed and cozy atmosphere of a brunch surrounded by nature. The few sunflower heads bring freshness to the scene. An invitation to take a nap!
Red Lands Roses
Spray garden roses that inspired me for my brunch in the forest,
Golden Trendsetter
, and
Gentle Trendsetter
are grown in Kenya by
Red Lands Roses
.