My name is Chantal Post, and I welcome you to my flower world. In this world of structures, textures, colors, and shapes I was challenged to make a composition with the new
chrysanthemum Ilonka
by breeder
Dümmen Orange
. Well, in the end, this has lead to three designs, and I am happy to show them to you and, in the meantime, tell you something about my background.
Driven by a Tantalizing Curiosity
I live in Vielsalm, in the province of Luxembourg, Belgium near the border with the Grand Duchy of Luxembourg, and Germany. After my classical education in Belgium, I wanted to gain new experiences in the Netherlands and further develop my professional and language knowledge, as I am always driven by a tantalizing curiosity. From 1998 to 2001 I followed the master course in Flower Arrangement, in Vught. And I was also active in the business world.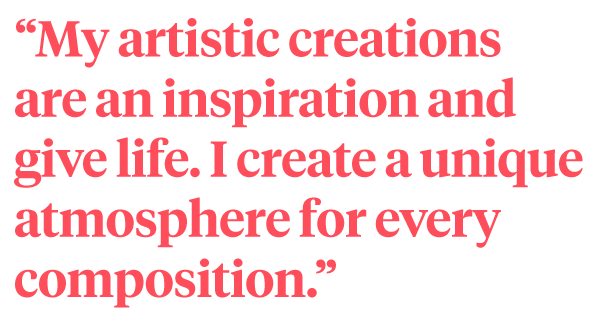 Participate in Prestigious Events
Thanks to this job, I had the privilege of being able to participate in prestigious events abroad and the furnishing thereof. The layout of large spaces, the creation of various atmospheres, the realization of plant constructions and floral compositions were part of my daily tasks. After my return to Belgium, I decided to settle in Vielsalm. In this beautiful natural and touristic environment in the Ardennes, I find my inner peace and inspiration. First I established myself as an independent florist, and in October 2003 I opened my flower shop: a stimulating space for creative encounters and exchanges. I can develop myself to the full here, by sharing the important moments in my customers' lives with them through my creations. Every day I come into contact with the Dutch, German and French languages.
Passion for Vegetable Sculptures
My love for the profession and my exquisite passion for vegetable sculptures encourage me to show the special character of my work. My artistic creations are an inspiration and give life. I create a unique atmosphere for every composition. Special encounters are made possible by my aim to give others a taste of my dynamic, creative, refined, and subtle world.
About My Three Designs
With this unique really white
Chrysanthemum Ilonka
I created three designs. What I love about it, is how strong it is and how well it's combined with green. My
Smithers-Oasis
bases and some nice added materials provide a good beginning for my designs.