Pastela chrysanthemums offer us so many new nuances and unusual textures, allowing us to explore new paths of creation. Let me take you on a trip to Japan, where the chrysanthemum has an almost sacred position. This is visible in many ways, like the 'ogiku' (big chrysant) designs with an almost sacred focus on perfected aesthetics of color and texture. Here are my orientally-inspired designs of the light pink Chrysanthemum Pastela Rosé and pure white Pastela Cava.

Our Trip to Japan
Let's start our journey on a Japanese barge, meandering through the canals of a tranquil Japanese city. The calm and the lapping of the water lead us to contemplation, lying at the bottom of the boat.
Imperial Japanese flags, adorned with chrysanthemum embroidery in gold thread, float in the late summer air. A scent of tradition and history fills the air. Even though in the collective imagination the sakura is the emblematic flower of Japan, the chrysanthemum is nevertheless the imperial emblem - as it has been for eight centuries.
The chrysant has brought so much folklore to Japanese life and culture. It is visible in many ways, like in traditional 'waka' poetry, in Japanese cuisine, in kimono couture, and in gardening.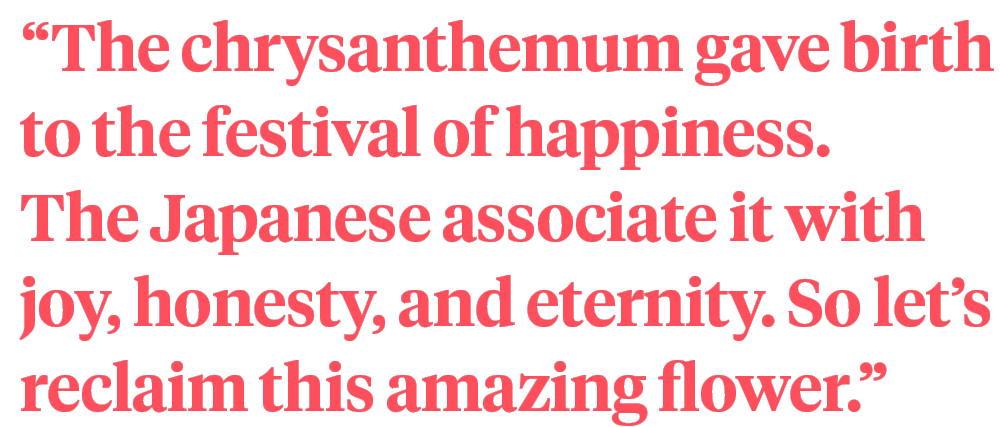 Unless the ongoing popularity of the chrysanthemum is an appreciation of all its virtues, it is probably also due to the resistance of this incredible flower, able to last fifteen days in a vase. Or else due to its wide variations in shapes and colors to choose from. The colors of Pastela chrysanthemums are probably an invitation to dream and contemplate. These wonderful flowers invite us to use a wide variety of techniques: collage, assembly, stitching, and many others...
The Lantern
The buttermilk color of the chrysanthemums reminds me of rays of sunshine through the autumn mists. I tried to capture that spectral light in a lantern.
Topiary
Topiary is the horticultural practice of clipping foliage and twigs of perennial trees and shrubs to 'sculpt' shapes, mastering nature by trimming perennials and creating new forms.

In Europe, the chrysanthemum once was at the origin of a real horticultural frenzy that led to the obtaining of many new varieties. I was inspired by this time when man thought that one day he would master nature. Has man forgotten that he is an integral part of nature?
The Alcove
The chrysanthemum motif remains very popular in Japanese houses. Directly inspired by the 'tokonoma' or simply 'toko'. These tokos are alcoves dedicated to Japanese art in traditional houses. The chrysanthemum is exhibited there as a traditional print, accompanied by the ephemeral apple blossom.
The Festival of Happiness
The chrysanthemum gave birth to the festival of happiness. The Japanese associate it with joy, honesty, and eternity. So let's reclaim this amazing flower. Pastela chrysanthemums from breeder Dümmen Orange and grower Zentoo prove to us that they are much more than cheesy, shoddy flowers. They offer us so many new nuances and unusual textures, allowing us to explore new paths of creation.
I would like to thank my SODIF Châtenoy-en-Bresse supplier who works to select his producers. But also my Jocaflor material supplier.