Hello, there flower enthusiasts! I'm Noor Helmer, an 18-year-old studying Floral Design, Greenery, and Styling at Yuverta in Den Bosch, Netherlands. Currently, I'm on an exciting internship at the renowned Liebregts en Liebregts florist in Veldhoven, where I'm not only gaining invaluable experience but also earning some money doing what I love.
I had the chance to participate in a project in which we were to design freely with exotic flowers and greens from Adomex. Luckily, the protea happens to be one of my absolute favorite flowers. So, I chose the Protea Carnival from the OrcaExotics label and combined it with snake grass from Orca Green.
Protea Possesses Great Versatility and an Array of Forms
What captivates me about the protea is its exceptional versatility and sensational array of forms. With its enigmatic heart nestled amidst soft, gradient-laden leaves, the protea serves as a symbol of diversity and change. Nature's ability to create such mesmerizing shapes never ceases to amaze me!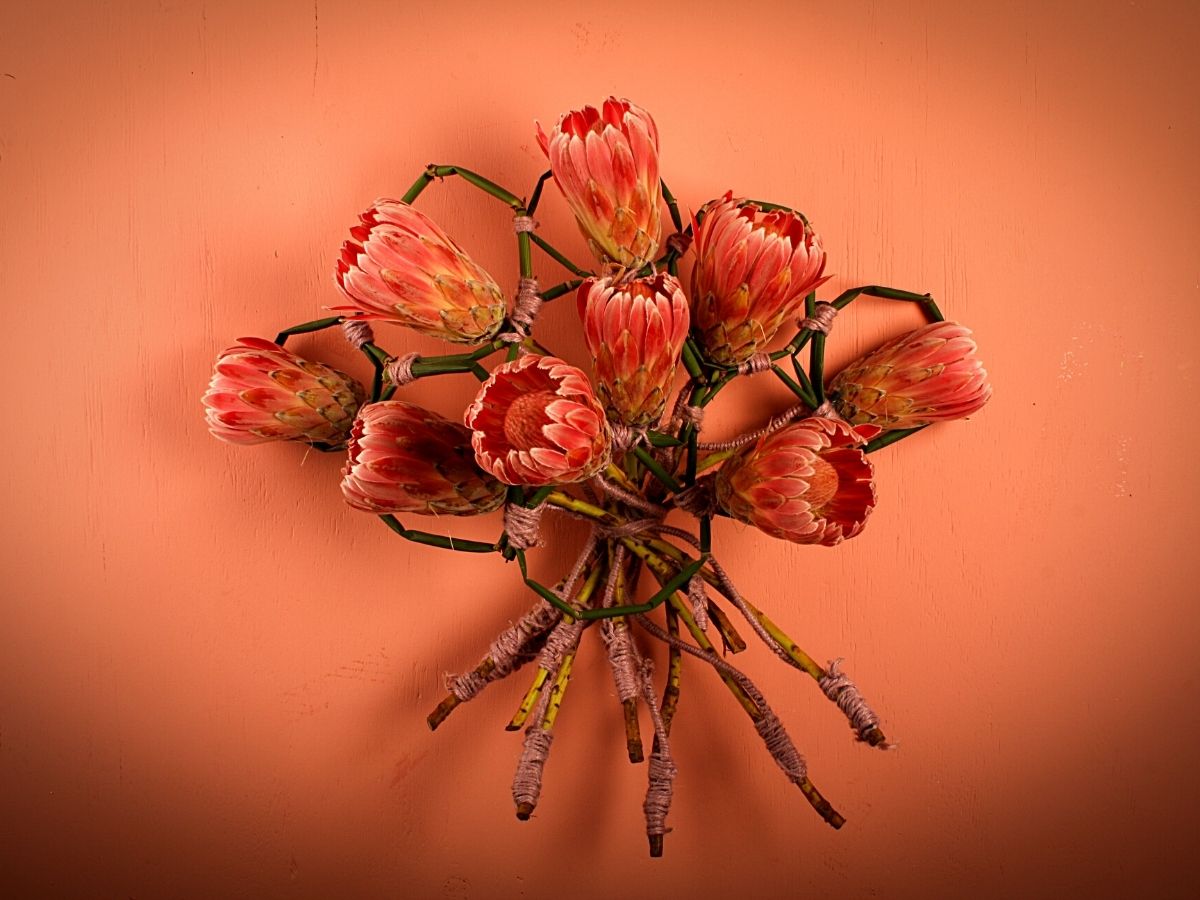 The Protea Carnival's captivating colors, ever-evolving and never monotonous, are an absolute feast for the eyes. Its robust stems and generous blossoms exude a unique charm that cannot be ignored. The protea's inflorescence showcases an array of captivating forms - an incarnation of the remarkable diversity found in nature. It's this robust beauty that I'm determined to showcase and celebrate.
I embarked on this creative journey with a resolute vision, to create something truly unique and out-of-the-box. I asked myself, "How can I give proteas a distinctive presence within the vase?" Then inspiration struck like a lightning bolt, urging me to bend the stems and create a captivating display that would allow the viewer to gaze directly into the heart of the flower.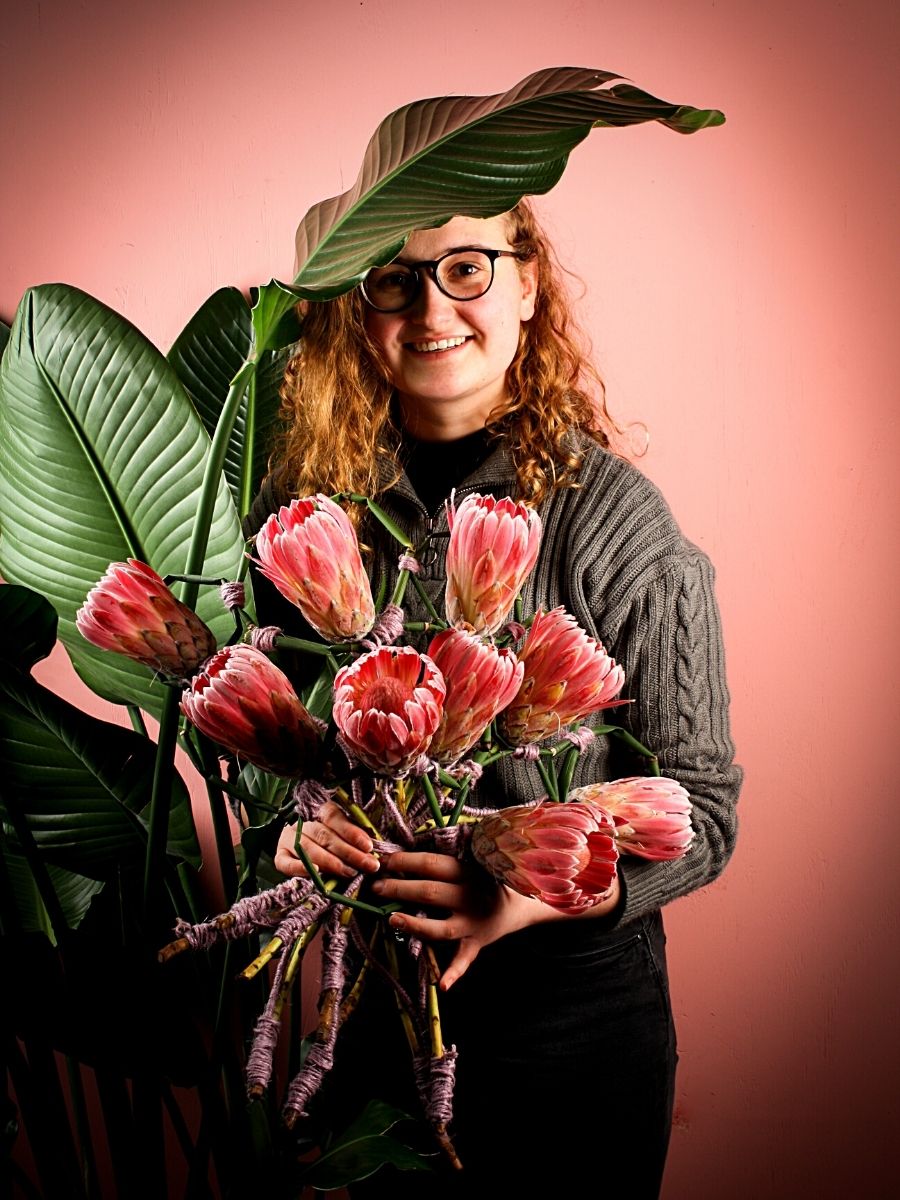 The Making of a Floral Masterpiece
Bending the protea stems proved to be a straightforward task, but keeping them in that fascinating curved position required a touch of ingenuity. Enter the trusty poker, wrapped lovingly in rich purple twine. To accentuate the grandeur of the protea's inflorescence, I meticulously removed every leaf, ensuring that all attention would be focused on the blooms themselves.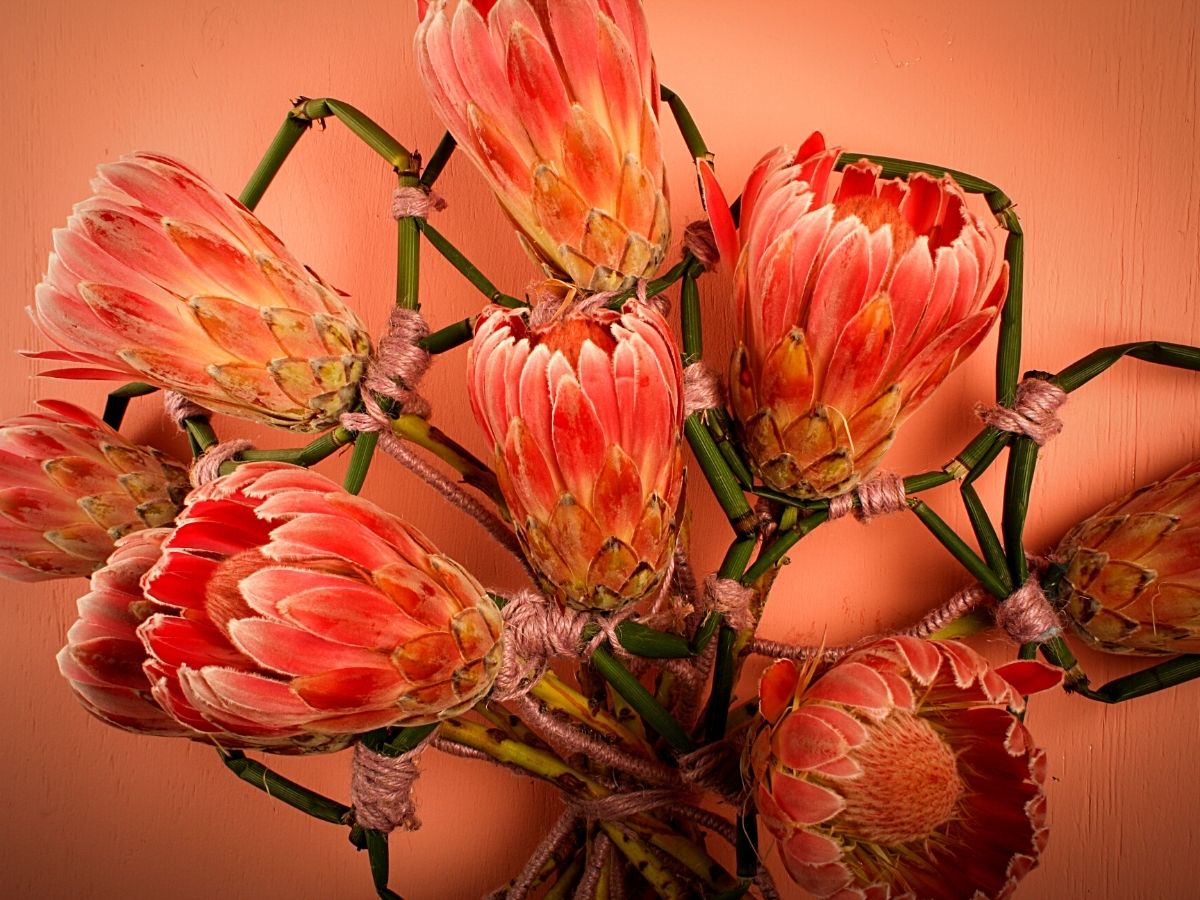 Then, with the poker acting as a supportive guide, I gently curved each stem, repeating the process until I had amassed enough proteas to weave my masterpiece.
But I didn't stop there as I yearned to elevate the Protea Carnival's natural allure to previously untried statures. To achieve this, I harnessed the transformative power of Orca Green's Snake Grass, also known as Equisetum, a dark and luscious greenery. This exquisite backdrop intensified the protea flower's captivating hues, making them burst forth with exceptional exuberance.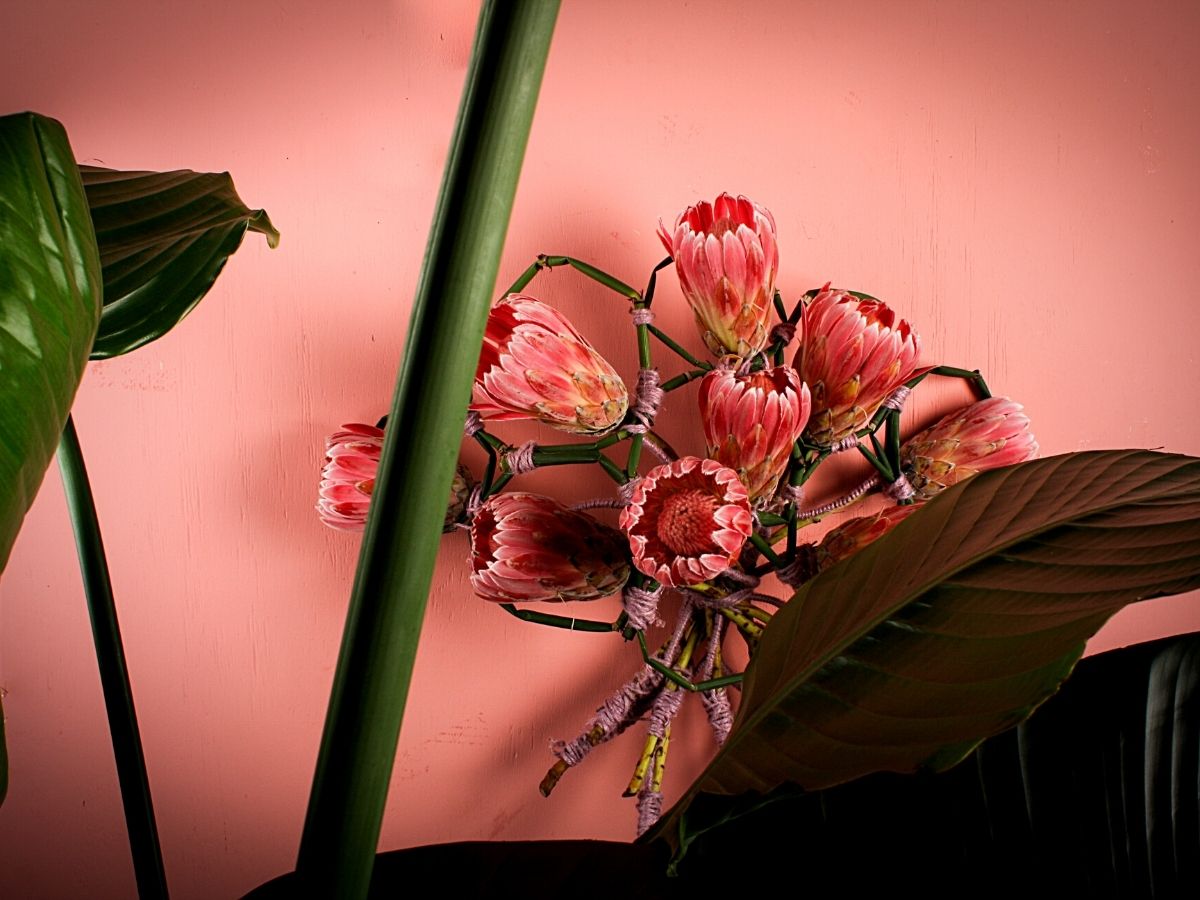 Weaving a tapestry of unity, I meticulously connected the Equisetum circles using the same purple twine, ensuring every knot was neatly concealed at the back of the frame. It was essential to maintain a seamless finish, allowing the front to radiate pure elegance. Carefully, I inserted each protea through the frame, securing them firmly in place. Binding them together with the purple twine, I crafted a harmonious arrangement.
The result? A floral masterpiece that defies convention, doubling as both a stunning bouquet and an enchanting hanging sculpture. With the protea confidently taking center stage, this creation flourishes into an awe-inspiring work of art.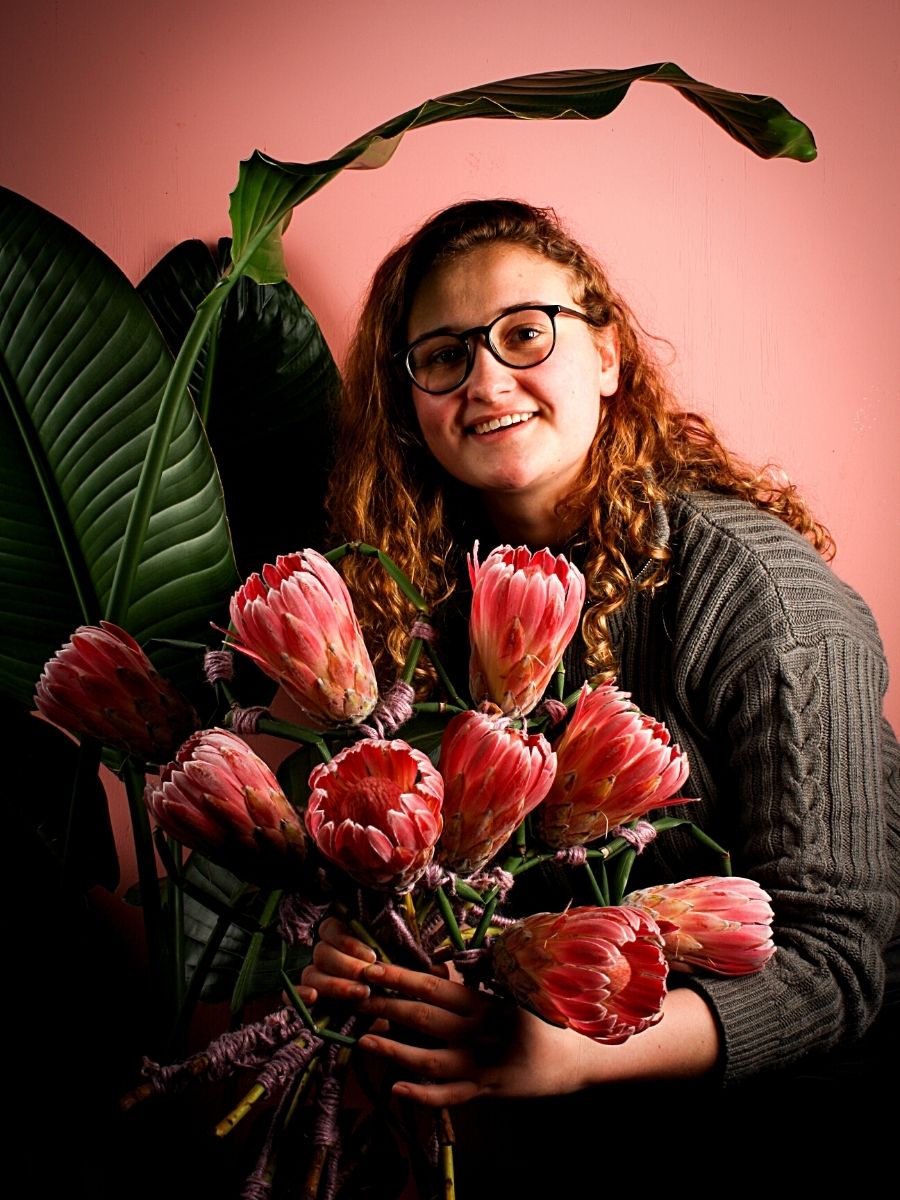 Join Me to Relish the Beauty of This and More Floral Masterworks
Participating in this project was an exhilarating decision for me. I thrive on the thrill of creating something extraordinary from scratch, using the materials at hand to craft a breathtaking work of art. However, this project posed a unique challenge as it involved working with a client's materials and specifications, with the protea flower taking center stage.
Dear flower enthusiasts, I invite you to engage in the infinite beauty of floral artistry. This Protea Carnival creation could serve as a motivation for your own exploration of nature's magnificence and an inspiration to break free from the confines of tradition. It is an innovative floral design that could imbue your arrangements with the vibrant, robust beauty that nature so generously offers us.
As my journey continues to unfold, I eagerly anticipate the next chapter in my blooming floral career. But for now, let us take pleasure in the artistry of the protea, and relish the wonder that this magnificent flower elicits.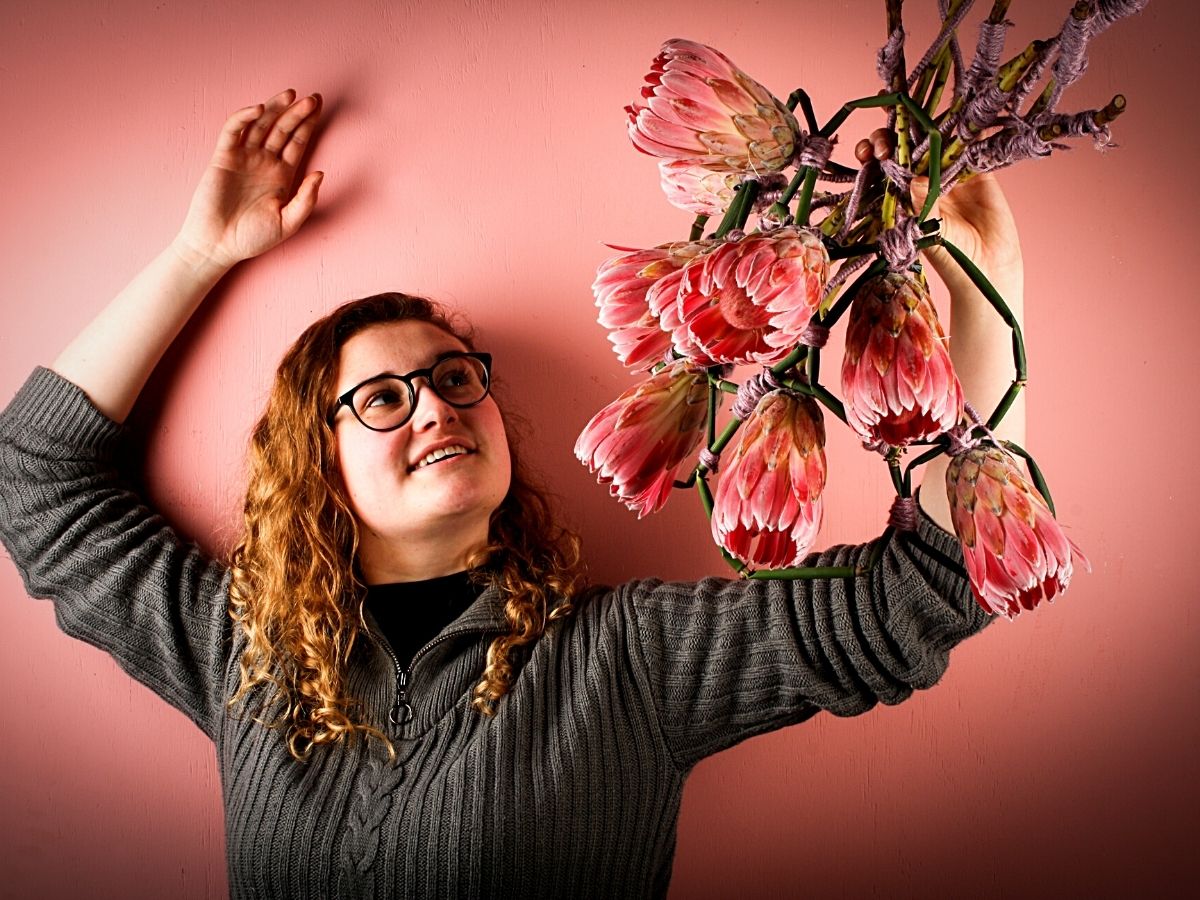 You can get in touch with me through Instagram: @Creations.by.noor and get a feel of more of my designs and floral innovativeness.
All photos by Yuverta.