Florists hardly use red roses in their everyday designs, it is more often for first dating, Valentin's day, engagement, or weddings. It has always a touch of some special meaning and responsibility. Everybody knows that rose is a queen of flowers and all the bouquets with roses are for some special occasions. And a red rose is the queen among queens and especially such awesome red rose as Monte Carlo produced by Rosa Plaza! It's always an association with love and passion, to be translated with flowers.
My Targets Designing With the Red Rose Monte Carlo
It's in particular that special meaning that puzzles me. That's why while working on the designs with this perfect rose I thought about how to take off this sort of arrogant sense, but not simplify it. And that's why the target number one for me was to show the real perfect beauty of roses and to reduce just a little of its strong responsibility. The second target was for me to make the designs as much as possible organic.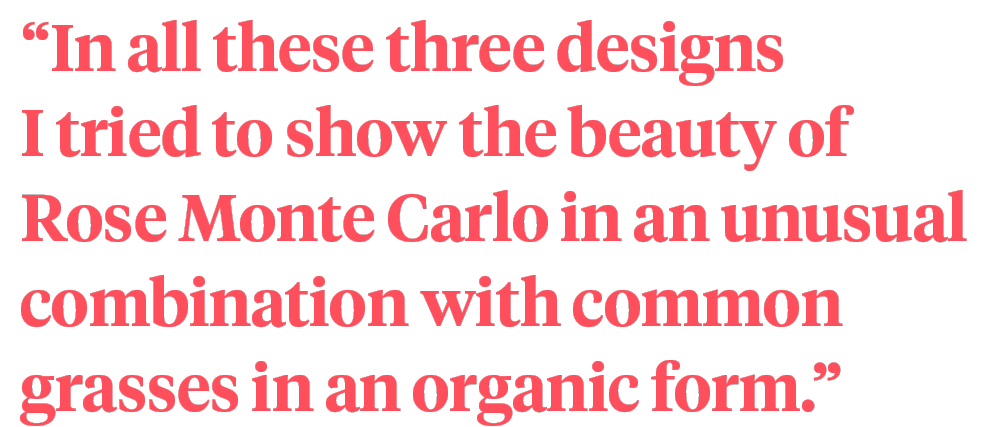 Inspired by a Beautiful Woman
As I thought deeply about this rose, I got a very definite association of it with a beautiful woman with a wonderful shape, elegant long legs, and a beautiful face. Then I thought: "Does the beautiful woman always have to be well dressed and wear high heels to stay still very beautiful?" And I decided that a beautiful woman wearing torn jeans and a common top is still beautiful. That was my inspiration!
In my designs, I used common grasses that should work as contrast and intensification of the color and beauty of the roses.
Design #1 - The Room Decoration
The first design is a room decoration from 120 stems of Monte Carlo roses by Rosa Plaza that could stay in the lobby of a hotel, restaurant, or in the reception zone of a wedding. In this design, I wanted to show the length of the stem, so I used a natural structure of big ammi inside of the vase. Then I could put the flower on the whole stem, as high as possible! The contrasting fresh green color of the big ammi seeds made the roses so wonderfully more colorful and textured! The long miscanthus made the roses even visually longer.
Design #2 - Interior Arrangement
The second design is an interior arrangement with 40 Monte Carlo roses. For this design, I made a long green-gray tatami mat from different grasses and rolled the roses in it; the stems are not to be seen, but the heads need to be high positioned. This contrast of colors and surface textures makes the design not so arrogant as if the roses were alone. This one could be used for modern interior design.
Design #3 - Handtied Bouquet on a Structure
The third design is a hand-tied bouquet on a structure. The structure is in a volcano shape decorated with sunburnt avena and on the top 31 Monte Carlo roses with some jasmine lianas that are involved from the top till the structure. This bouquet could also be a bridal bouquet as well. The color of avena makes a tricky play with roses making the color more bright.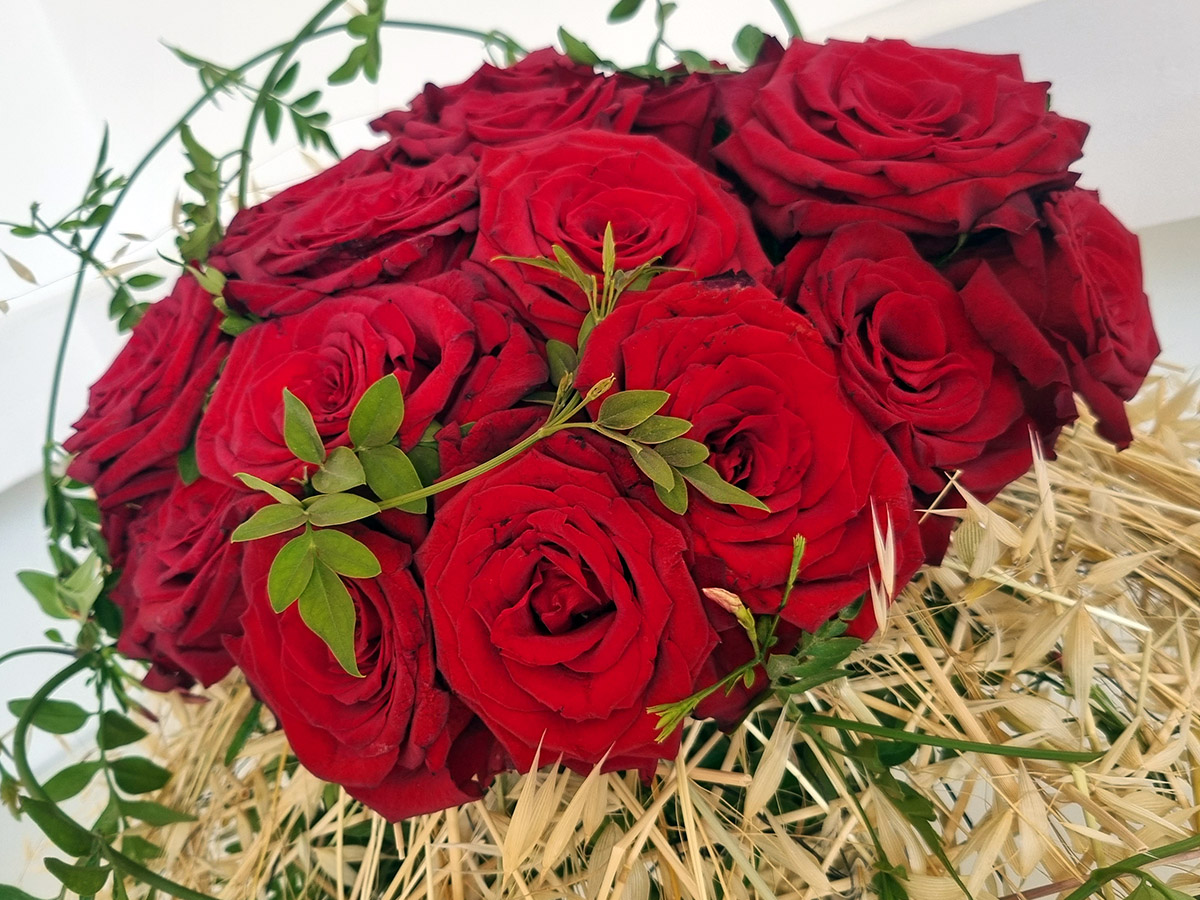 Showing the Beauty of Monte Carlo Roses
In all these three designs I tried to show the beauty of Rose Monte Carlo from breeder Jan Spek Rozen, produced by Rosa Plaza in an unusual combination with common grasses in an organic form. Not to simplify it but to make its beauty more suitable for any case, not for something special.
I would especially like to thank Marina Taratynova from Marina's Flower Creations for being my inspiration, wearing torn jeans and a common top, and still being beautiful.