Unlimited Creativity
My name is Mickaël Rault. In my flower shop
Art & Végétal
me and my colleagues let flowers reign supreme with unlimited creativity. Here, we work according to the seasons, and to the demands of our customers. I am pleased to show my skills on the chrysanthemum Pina Colada with my seasonal touch.
Density and Lightness
The petals of the Pina Colada chrysanthemums
white
and
yellow
overlap each other in order to become one... The basin is fully lined with chrysanthemums, in a gradient from white to bright yellow, with a green central strip on the outside.
Floral Dome
Dome of tender
Pina Colada Yellow
chrysanthemums in its casket of bleached bark. A "blade" of bright yellow chrysanthemums and wooden branches break the roundness and softness of the dome, bringing both strength and tenderness.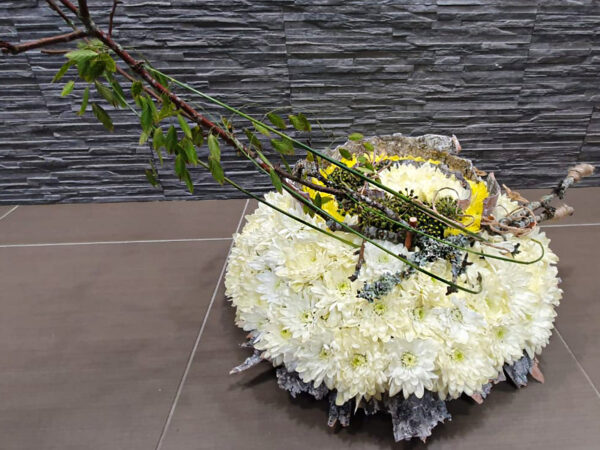 In order to bring a "signature" to the work, chasmantiums, and butterflies made of bind wire come to rest delicately on the whole.
Pina Colada Growers
The chrysants
Pina Colada
and Pina Colada Cream used with these creations are supplied by
Fred van Paassen
/
Vannova
. The
Pina Colada Yellow
is supplied by
MG Grand
/
Zentoo
.