Snowstorm+ is the new white rose that will be launched in 2020. White roses are often associated with mourning and with love, I wanted to give a different perspective with my bouquet.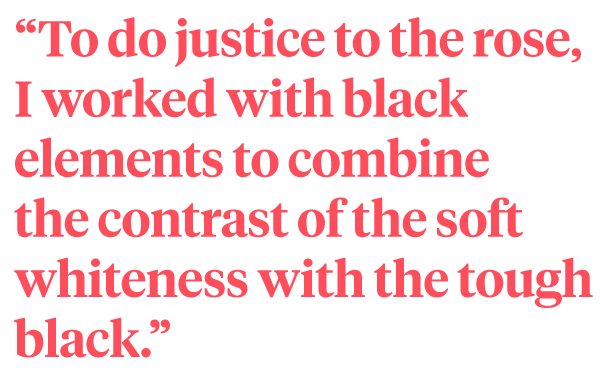 Expert in Flower, Green & Styling
My name is Alexandra Morel. I am a student following the course Expert in Flower, Green & Styling at Helicon Opleidingen in 's-Hertogenbosch, Netherlands. This year I am taking my final exam and getting my diploma. After this training, I want to broaden my knowledge and choose a direction outside the flower profession. Of course, the flowers remain a big part of my life and I certainly don't want to lose this. In addition to my education, I also like to share the love and passion for flowers with other people and I work in a flower shop as a florist.
The Beautiful Rose Snowstorm+
Well, we have talked enough about me. So now your full attention to the beautiful rose Snowstorm+! The rosebud is very slim. To me, it has a tough look with a clear shape. The stem of the rose is also sturdy. That is why I want to give the rose a tough look instead of the sweet and soft side, as a rose is often seen and as I actually am. I wanted to do something outside of my comfort zone. For the photo, I chose a red wall. This is a primary color that enhances the image. Red also stands for energy, strength, and determination, which is all reflected in this photo and in the bouquet.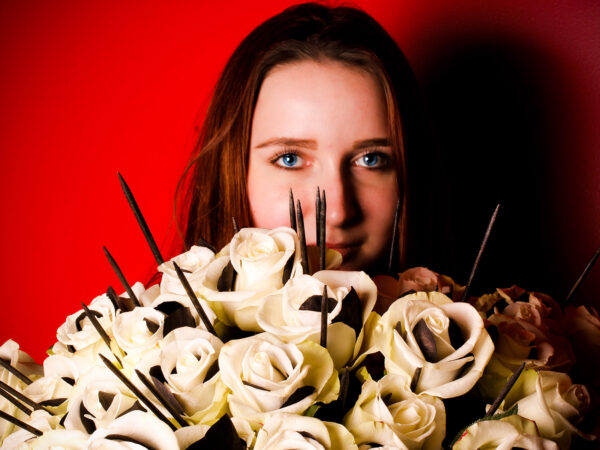 Black Elements
To do justice to the rose, I chose a bouquet in which I worked with black elements to combine the contrast of the soft whiteness with the tough black. By keeping it near the red wall, the image comes across as extra powerful. The black elements consist of eucalyptus and nails that reflect the toughness that I see in the rose. With the nails, I tried to mimic the thorns of the rose that are often removed when the rose is used. I think the pointed thorns also contrast with the normal association that a rose is sweet.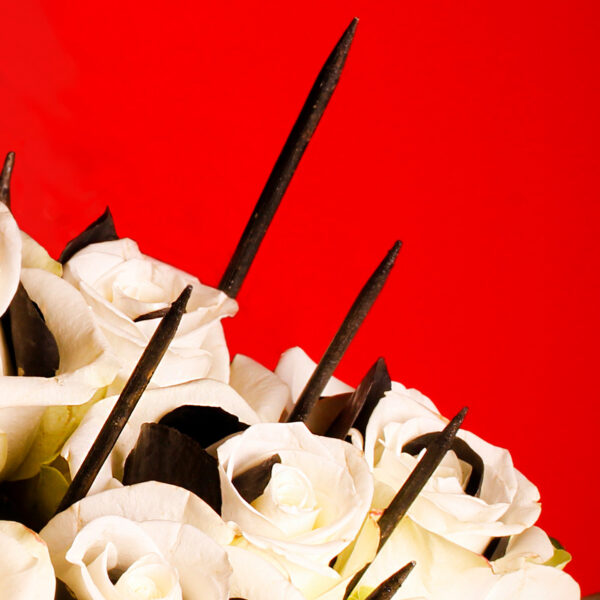 Thanks to Dümmen Orange for this nice challenge. Instagram: flowerbyAlexandra Follow Helicon Opleidingen MBO on Instagram: @bloemgroenenstyling @meester_in_de_bloemen @heliconmbodenbosch