Who said that Valentine's Day is just about red roses? For many people, their favorite flower happens to be a chrysant. And, since this flower has been in the top 3 of bestsellers for ages, they can't be wrong. So, what red chrysant would you as a florist pick for Valentine this year? This is what growers and breeders would offer.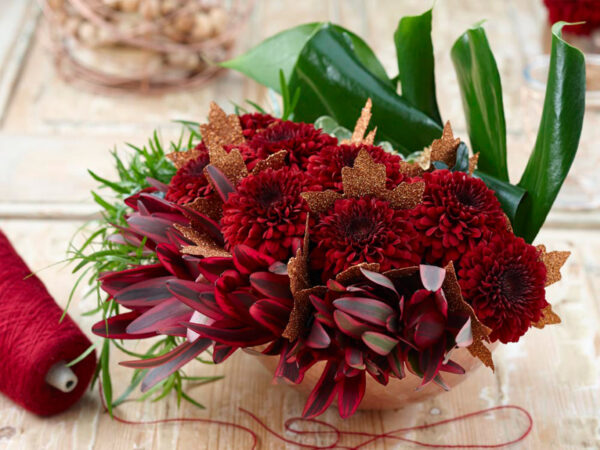 Passionate about Red Chrysanthemums
Chrysanthemum breeders and growers are passionate about their products, although they realize that it is often difficult to get this mainstream product a place truly in the spotlight. Too often the chrysant plays just a supporting role in supermarket bouquets. So, florists around the world, pick up the challenge and look closer at the many magnificent faces of chrysanthemum, especially for your Valentine's bouquets. The biggest breeders in the world in collaboration with
Just Chrys
help you picking your favorite chrysant: big or small, spray, disbudded, or santini, but very red indeed! Here are the top suggestions from
Dümmen Orange
,
Royal Van Zanten
,
Deliflor
, and
Dekker Chrysanten
.
Spray Chrysanthemums
Sprays are the best known and most sold chrysants. They're easy and resilient and know little issues during transport. Mostly you would buy them already in full bloom. Spray chrysants are probably the most versatile flower in the world.
Chrysanthemum Ruby Star
Breeder: Dümmen Orange
Although you can spot many colors of stars in the night sky, red stars can't be seen because of the way humans perceive visible light. So here we have the next best thing: Chrysanthemum Ruby Star. This exciting spray combines a bright green center with a unique shade of red in its petals. It's a very deep, saturated, and stable color, perfect for year-round supply. Ruby Star is a strong and appealing spray with lots of star-shaped flowers and an excellent vase life. A superb star with endless possibilities in floristry is born!
Chrysanthemum Alamos Yellow
Breeder: Deliflor Grower: Zentoo
Did you just ready 'yellow'? Yes, you did, but don't be mistaken about the name. Alamos Yellow is a red spray chrysanthemum with yellow tips in the petals. Together with the green heart, this creates a beautiful color composition. A striking variety in the two-tone segment and a real flavor enhancer in a bouquet! Alamos Yellow is the red sister of the purple and white Alamos.
Chrysanthemum Barolo
Breeder: Royal Van Zanten Grower: VDL Fleurs
Barolo is a warm red spray chrysanthemum with a contrasting fresh, bright green center and many flowers per stem. A lovely eye-catcher in every arrangement and fully available, so she's ready for each occasion. As great chrysanthemums do, she too will shine in the vase for at least two weeks. Emphasize her fresh, green center by combining her with some other materials. A gem!
Chrysanthemum Memphis Red
Breeder: Dekker Chrysanten Grower: Kwekerij Cornelis Jan
Single-flowered red chrysanthemum with a heart-warming flower.
Disbudded Chrysanthemums
Disbudded basically means that the flower has a large fluff on it. But besides this, this type of flower is always one stem with one single flower on top. Mostly this is a huge flower, so disbudded chrysants are impressive and luxurious.
Chrysanthemum Barca Red
Breeder: Deliflor Grower: Arcadia Chrysanten
Barca Red is a disbudded chrysanthemum with a beautiful bright red color. It is a color mutant of the successful dark purple Barca. The full flower shape makes Barca Red unique in its appearance. An ideal color to use in all flower arrangements for Valentine's Day!
Chrysanthemum Rabelo
Breeder: Dekker Chrysanten Grower: Arcadia Chrysanten
Lovingly decorative red chrysanthemum that fills the heart.
Chrysanthemum Baltazar Flame
Breeder: Deliflor Grower: Zentoo
Baltazar and Baltazar Intense are Deliflor varieties that are widely appreciated by florists for their unique appearance and color scheme. This series has recently been expanded with the no less eye-catching Baltazar Flame. A beautiful red flamed variant with the characteristic green edges on the petals.
Chrysanthemum PIP Red
Breeder: Deliflor Grower: Voort Chrysanten
The PIP family now has an extensive color palette. PIP Red is a beautiful red variety in this family of disbudded chrysanthemums. The extensive family also consists of PIP, PIP Sunny, PIP Pretty, PIP Purple, and PIP Salmon. PIP Red has a very striking color, which offers good possibilities for Valentine's Day.
Santinis
The cute and often tiny part of the chrysant family is called santini. They come with a massive number of flowers on a quite short stem, bringing excellent value for money and a bunch full of lovely flowers.
Madiba® Dunga Red
Breeder: Dekker Chrysanten Grower: Van de Westeringh Flowers, Kwekerij Kees de Jongh, Monnikenwaard
Single-flowered red Santini, overflowing with warmth with its sweet little flowers.
Santini Marek
Breeder: Dekker Chrysanten Grower: VHC
Single-flowered red Santini, warm and sweet in color.
Santini Purpetta Red
Breeder: Dekker Chrysanten Grower: VHC
Pompon red santini, round and compact as love should be.
All images courtesy of Just Chrys, Dümmen Orange, Royal Van Zanten, Deliflor, and Dekker Chrysanten, Russian florist Akber Soelymanov, and Just Chrys.