My name is Nanne Olislagers. I am 19 years young and I live in Vessem. I follow the Flower, Green & Styling course at Helicon Opleidingen in 's-Hertogenbosch, Netherlands. I am in my third and final year. After my studies, I would like to work as a florist, in order to gain (even) more knowledge and experience. I would also like to take a photography course. During my training, I did an internship at Oogenlust in Eersel and De Vier Mennekes in Oirschot.

A Beautiful, Full Rose
We had the opportunity to work with a beautiful new rose from Dümmen Orange. I like the rose Snowstorm+ very much. It is a beautiful, full rose. The rose has a fresh white "color". I have incorporated the rose into a construction, namely in a spatial cube. I welded this cube all by myself. In previous training, I learned to weld, so I would like to show this in my design.
The Shape of a Cube
I opted for the largest light-dark contrast, namely black and white. This makes the white rose to stand out more and plays the leading role. I also found inspiration in the cube houses in Rotterdam. You can see this in the shape of a cube. The cube can stand on a stand, but can also hang from the ceiling, to create the floating effect. In this setup, the cube stands on a stand, completely in balance.
The Rose in Its Purest Form
I especially want to show the black and white contrast. The roses should take center stage. The roses are white; in this way, they come into their own, with the black added. If you look at the symbolism of the white rose, it stands for "trust", "purity" and "affection". That is why I have chosen to show the rose in its purest form, without too much additional material.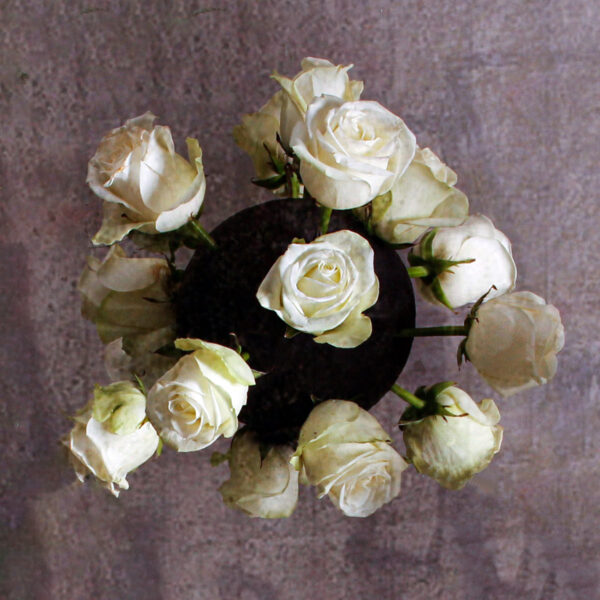 Proud of the Result
The assignment was very fun to do, but it was also quite tough to make quick choices and then quickly make something that you support. Especially since I am a perfectionist. I think it worked out well and I am proud of the result. Nanne Olislagers Instagram: Flowers_Nanne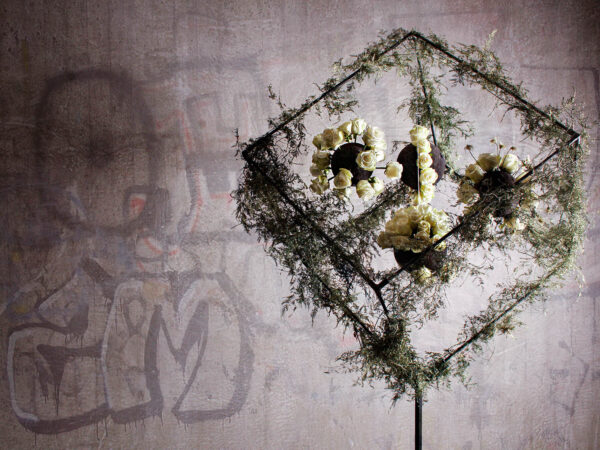 Follow Helicon Opleidingen MBO on Instagram: @bloemgroenenstyling @meester_in_de_bloemen @heliconmbodenbosch