I must confess, I am under the spell of a new chrysant. I never thought this would be possible, but it happened. The luminous heart in the center of Chrysanthemum Pastela Rosé allows me to play with the light with my designs, enchanting me with its luminous softness.
Chrysanthemum Pastela Rosé
Pastela Rosé is an exquisitely sweet variety of chrysanthemum by breeder Dümmen Orange. A few weeks ago I received a box from Dutch grower Zentoo.
The first thing I noted was that this double-flowered spray chrysant is generous with the quantity and quality of flower buds, and it offers us flowers with a multitude of petals of a very soft pink color collected by a heart of a tender and luminous green and yellow. In a vase the quantities and qualities of this flower allow us to take optimal advantage of its luminous softness.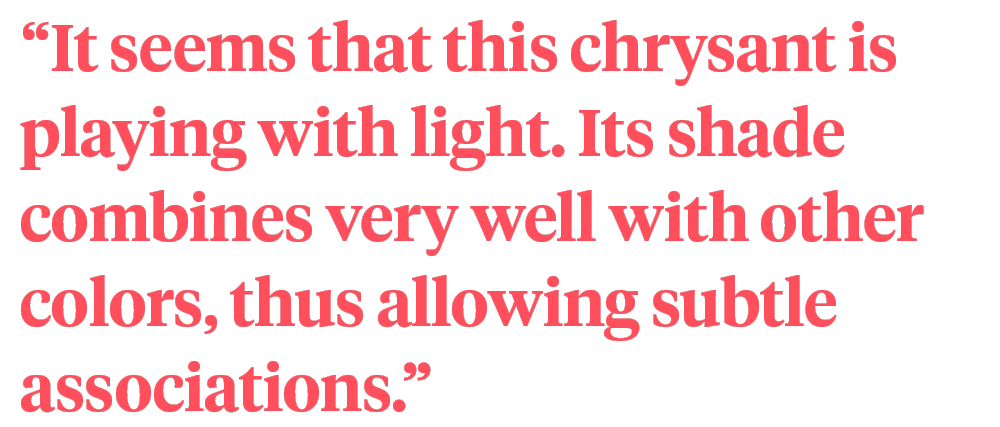 Under the Spell
I am under the spell of this chrysanthemum that offered me all its generosity in my designs. Indeed, Pastela Rosé offers possibilities for a wide range of designs: poetic, classic, modern... Generous in the number of flowers on a robust stem it adapts very well to any bouquet and offers a vase life of at least fifteen days to three weeks. For more precise designs, The fine detailing on each stem is perfect for precise and refined designs.
Sophisticated and Reassuring Designs
With the roundness of its flower holding multiple petals, Chrysanthemum Pastela Rosé quickly becomes a tender and luminous setting for more sophisticated and reassuring designs. Its shade varies according to the light: I would describe it as a very pale pink which can vary to a more nuanced pink tone depending on the light, without forgetting its luminous heart going to a soft and radiant yellow. This way it seems that this chrysant is playing with light. Its shade combines very well with other colors, thus allowing subtle associations. The softness, the luminosity, and the generosity make it a variety of confident and reassuring.
Playing With the Light
The same flower, but different light brings a different color. That is the attraction of Pastela Rosé. Every type of light unveils a different shade of pastel pink from this spray chrysanthemum, putting you under its spell.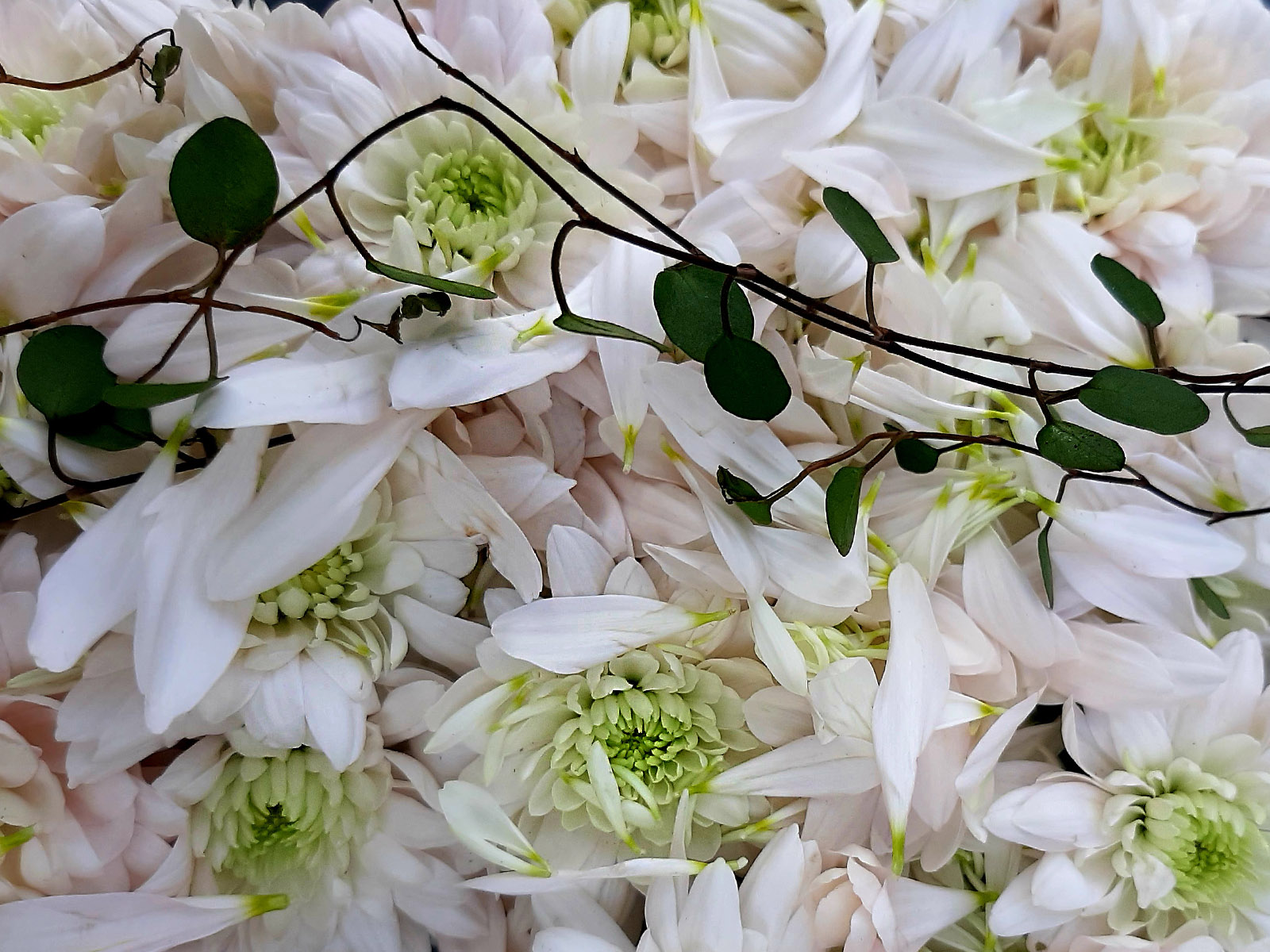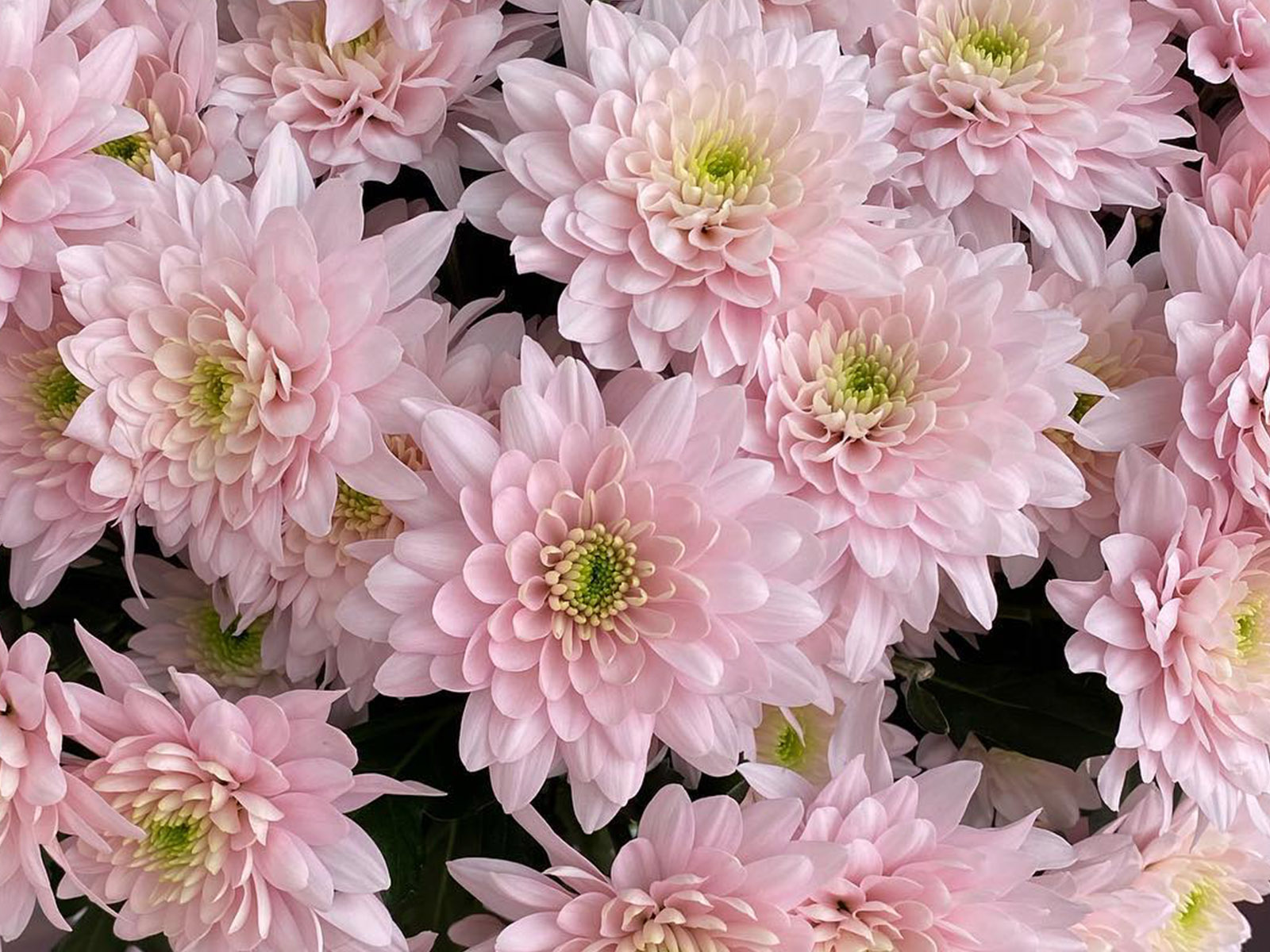 The Pastela Series
Dümmen Orange is developing a series of Pastela varieties, all with softer pastel colors and a bright green heart. The colors that are available are this wonderful Chrysanthemum Pastela Rosé, the white Chrysanthemum Pastela Cava, and the yellow Chrysanthemum Pastela Bellini. All three varieties are grown by Zentoo.