Greetings, fellow flower enthusiasts! It never stops to amaze me what the power of Instagram can do. After visiting hydrangea grower Pico Bello, it was clear this was going to be the best reel ever. Millions of views! Wow, thank you world! And thank you, Danny Kouwenhoven for the invite!
Now get ready to dive into the hydrangea world. Danny Kouwenhoven is a 29-year-old master of cut hortensia cultivation. Let's uncover his story among these enormous blooms!
Crafting Beauty Through Cut Hydrangea
Danny's life revolves around nurturing and cultivating the finest cut Hydrangea flowers. Are you excited already? Wait till you see the Insta Reel! Here's a clip from it:
You can watch the full reel here. What is the number of likes? Already over 400k? What a joy!
The roots of Danny's nursery trace back to his father, Paul Kouwenhoven, who initially ran an amaryllis nursery. As fate would have it, the winds of change brought about housing development, and alongside their neighbor Johan Zwinkels, they ventured into the world of cut hydrangea. A family affair was set in motion.
As the story unfolds, Danny's older brother Richard begins his own hydrangea journey, founding his own nursery named Pico Bello Hydrangea. In 2021, Danny took the reins, stepping into the family tradition. Paul and Richard combined forces and shifted to a new location in Kwintsheul, starting with 2.7 hectares. Soon, brother Bob joined the ranks. In 2018, they spread their wings once more, relocating to Bleiswijk with 6 hectares. The year 2020 brought with it a new acquisition, a 4-hectare location, ensuring both variety and growth.
A Journey Through Hydrangea: Colors and Cultivation
At the heart of Danny's nursery is where 35 splendid varieties of cut Hydrangea thrive. Imagine the beauty: As an example of their sheer assortment, they have 4 white varieties, each chosen for different periods of blooming. The hydrangea dance extends from April to December, a symphony of colors and stages. Imagine the magic: freshly cut hortensia or the classic allure of matured blooms. Mid-September marks the entrance of the classics.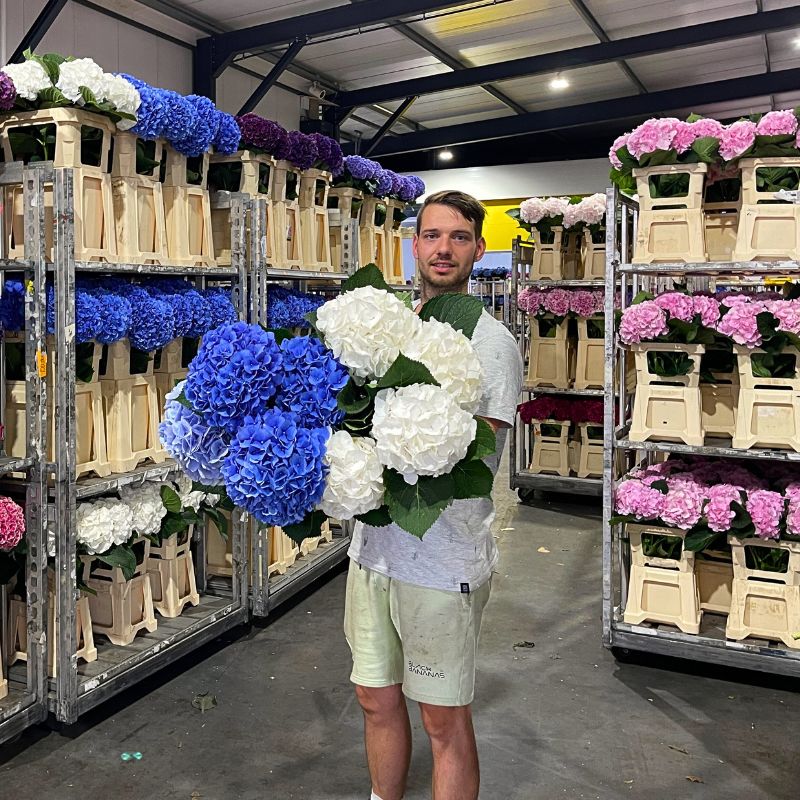 The selection of blooms is an art, curated to thrive both for fresh hydrangeas and as well the classic Hydrangea harvests. Meet Verena Pink, a chameleon of sorts, transitioning through stages: pink (fresh), pink/green (classic), green (classic), and green with red edge (classic). And here's a secret: Verena Pink transforms into Verena Blue...
Thanks to the touch of aluminum sulfate in the nourishment, it turns the blooms a mesmerizing blue. And that's the hydrangea revelation! Lavender, purple, and blue shades don't naturally occur in hydrangea. The magic is in the aluminum sulfate, the grower's touch.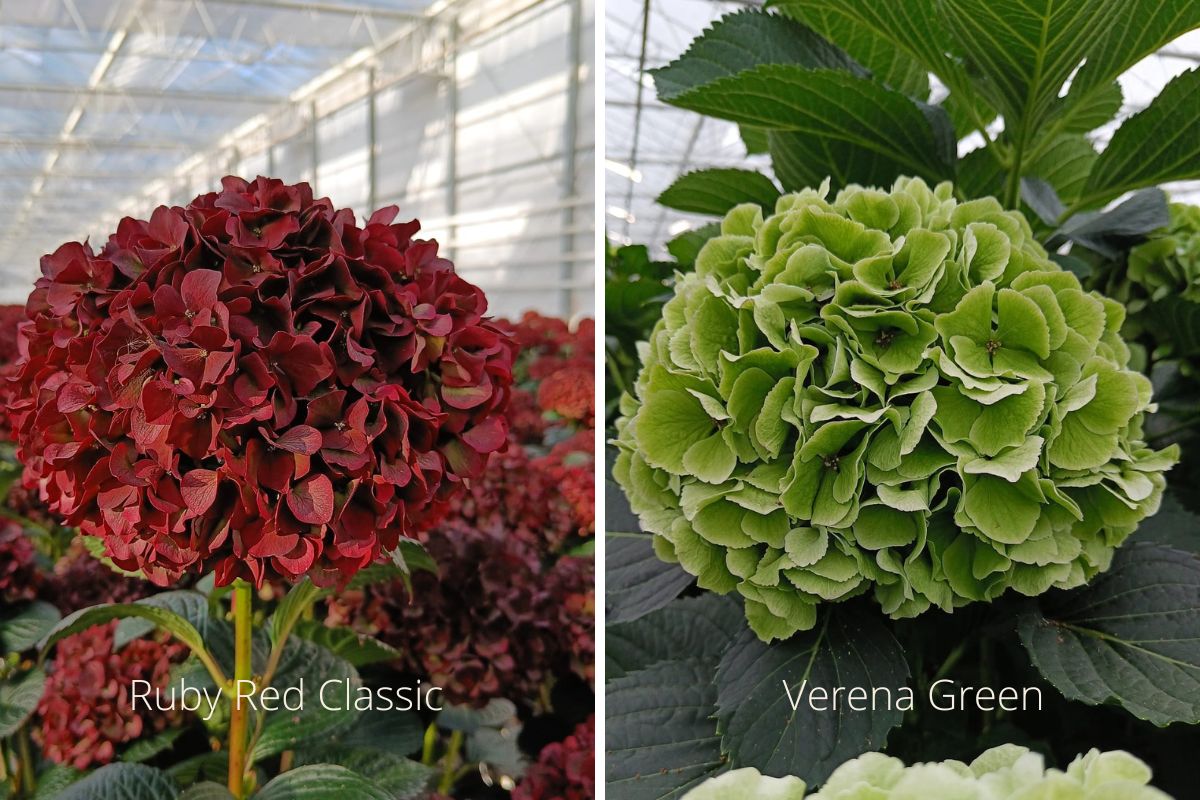 Collaborations, Dreams, and the Trade's Perspective on a Blossoming Reputation
Collaborations make the hydrangea universe bloom even brighter. Danny's nursery thrives through partnerships with visionary breeders: Ko Kolk, Agriom/HBA, Kolster BV, and Perla Nova.
And what fills Danny's heart with pride? A true family legacy, where father, mother, and three sons unite to deliver the finest quality. The name Pico Bello speaks for itself – a promise of excellence.
The trade can't stop raving! It's a world of convenience – order today, delivered tomorrow. Top-tier quality, a vast array of choices, whether you need a bounty or a sprinkle of blooms. And the best part? A feast for the eyes throughout the seasons!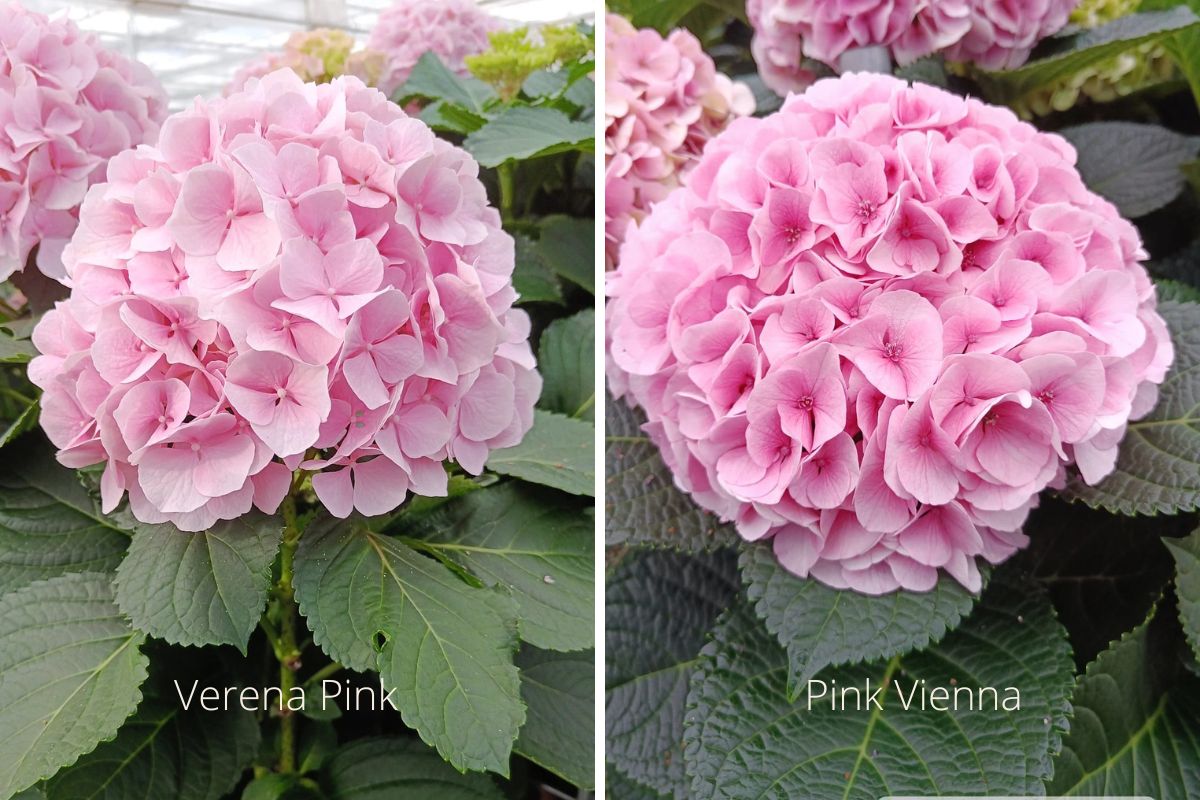 A Flower That Speaks to the Soul
Among these exquisite blooms, one captures Danny's heart – the Vienna. This radiant beauty has a special place in Danny's heart, and its charm is truly captivating.
The future unfolds with a green promise. Danny envisions a journey with minimal pesticide use, every drop of water cherished and recycled. Certifications like Planet Proof already adorn their path. The dream? To steer towards 100% organic growth – a tribute to nature's perfection.