My name is Sara van Hees, an end-of-year student at Yuverta. In my last project, I was busy creating an innovative product line involving one of my favorite flowers: ranunculus. It is the main flower used in my works, and my trend forecast contains a powerful message you'll read about in this blog.
Learn More About My Trend Forecast - Climate Change
From the ranunculus and the trend forecast, I made a series of flower arrangements. The main idea of this work is to bring together ranunculus and plastic waste in order to raise awareness about the waste problem in the world. I also want to show that plastic waste can have a decorative value. By bringing two opposites together in my work, namely flowers and plastic, I have created a decorative but realistic series of flower arrangements.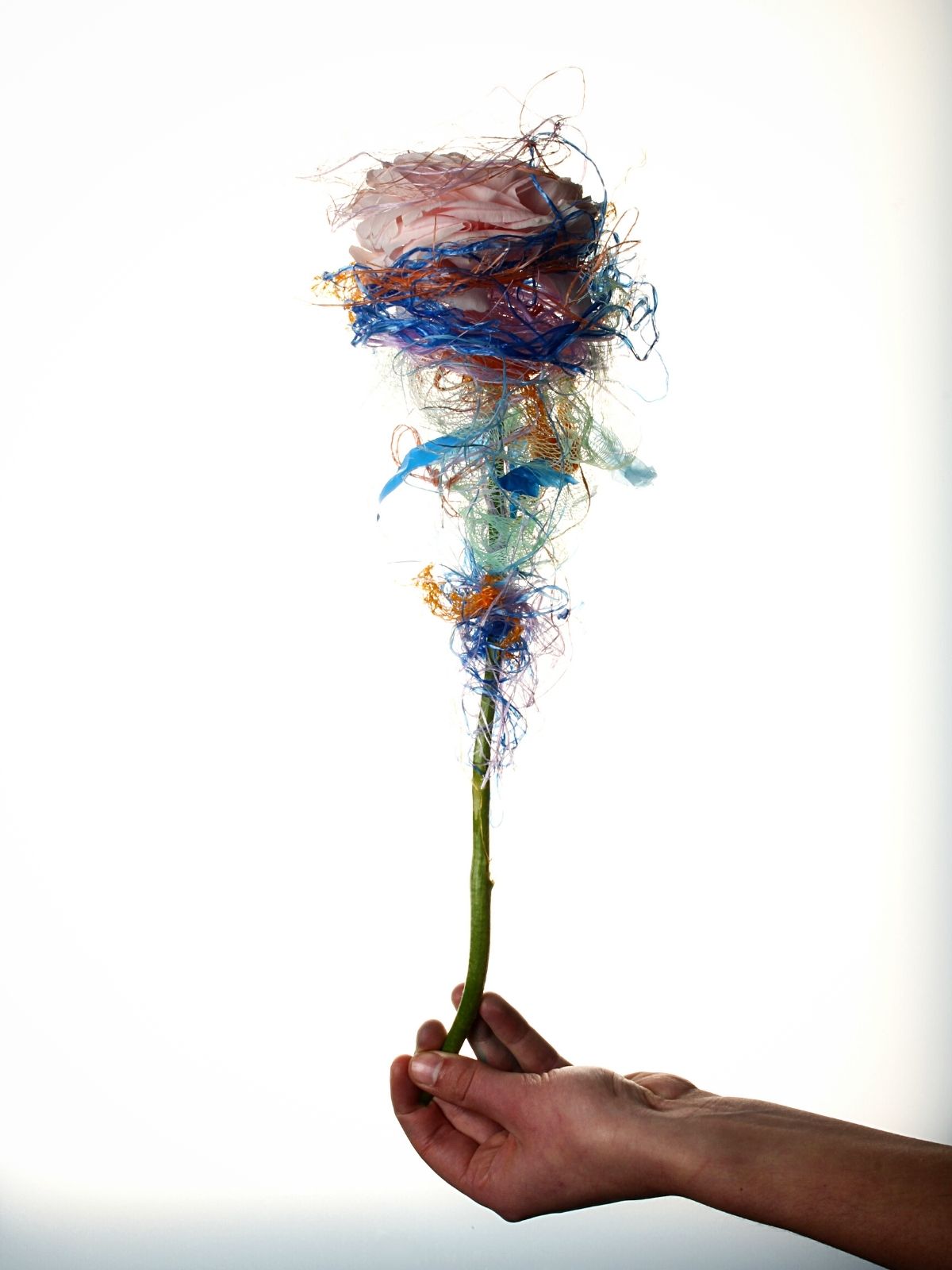 Why I Chose Ranunculus for My Climate Change Project
The ranunculus has a small ecological footprint and with its sustainable character, it fits incredibly well in this trend forecast. The plastic waste and the ranunculus reinforce each other in these works. I have reused materials because these materials can have a much longer life. All we have to do is give it a new lease of life. Waste is a huge ongoing problem in the world and still, not everyone is aware of this. Have you noticed you can find trash everywhere you look? Many people have become accustomed to the waste in their environment and therefore do not look after it quickly. It has become one of the most normal things in the world, and in my opinion, this must change now!
There are an awful lot of people, actions, and movements in the world that are already doing something about this. I also want to contribute by collecting plastic waste and making beautiful flower arrangements out of it. So, with this trend forecast, I want to shake people up and show them that things can be done differently.
My Works of Art
In my coffin lid decoration, the ranunculus comes together with waste material. Ranunculus is the main flower in the work, thus completing the work with its elegance and pure appearance. I opted for a chicken wire construction for optimal strength. Using the techniques of knotting, braiding, and weaving, I guided all the plastic waste through the substrate. Consequently, the detergent bottles ensure a quiet hole in the work.
I chose plastic because it is easy to work with and there are many different types in all kinds of colors. This work exudes calm and peace to me while also being hard and realistic. You can see the flower arrangements as the ground on which everything grows, but then from all the waste that ended up in nature through us. Through my works of art using ranunculus, I want to show that nature always wins.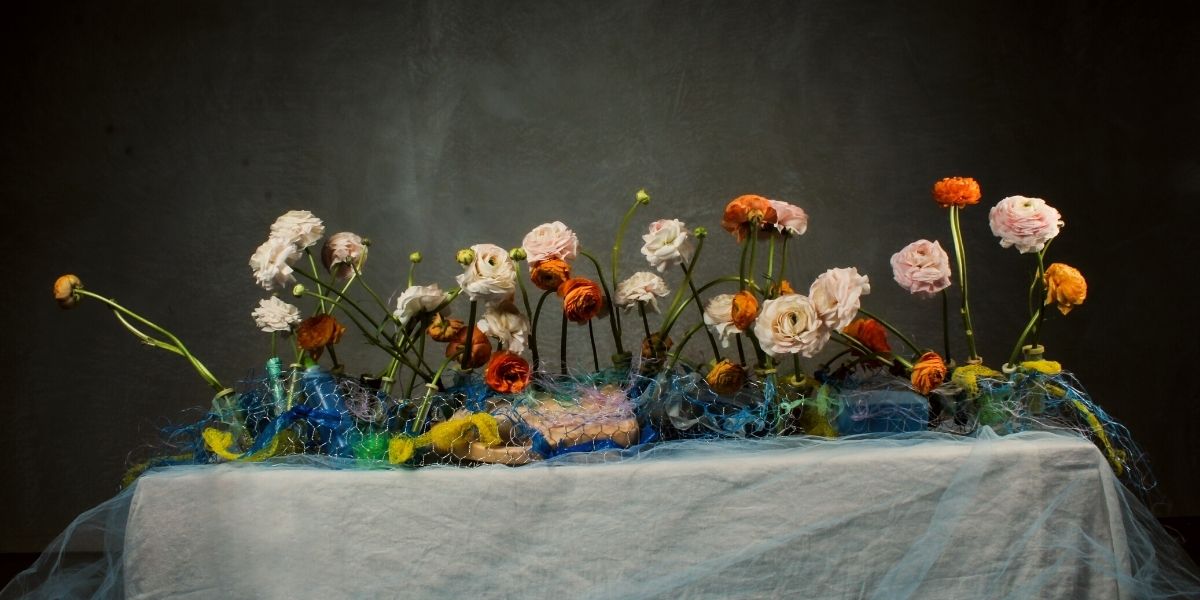 Mourning Accessory
Remembering is central to the mourning accessory, by giving people actually something to hold on to. The ranunculus is also in the spotlight in this work, as I almost completely wrapped the flower with plastic waste.
I also especially want to show that plastic also has a decorative value and looked to create a lasting memory for the bereaved. Ranunculus will dry nicely in its jacket so it can be stored for a long time.
I learned that reflecting on someone's death brings people together. By attaching a special work to this, I want to stimulate these thoughts.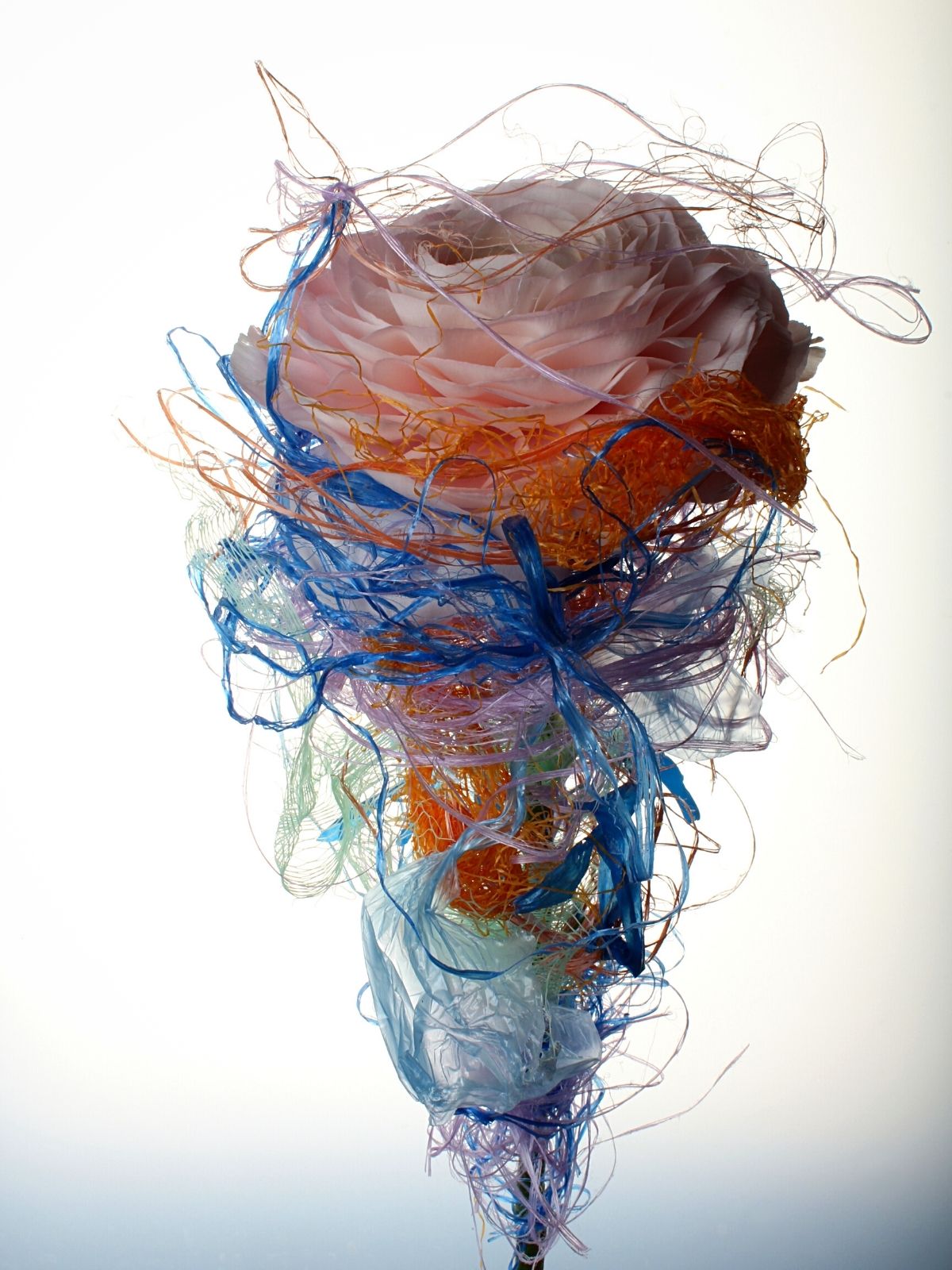 Beautiful Bridal Bouquet
In my bridal bouquet, I have opted for all kinds of refined plastic waste materials like straw ropes and other fine materials. I began by first making a frame out of these materials and then choosing a long waterfall shape that continues on both sides of the hand.
In this work, it is very important that the waste is clearly visible, but the ranunculus is central and seen as the main flower, therefore, appearing everywhere in the bouquet. The colors of the plastic material contrast with the color of the ranunculus, which makes the flowers stand out even more.
The techniques I have used in my work are mainly weaving, braiding, and knotting. To me, this bridal bouquet exudes elegance and refinement, but with a cool edge.
Unique Bridal Accessory Reflecting Climate Change
The bridal accessory is a refined diadem. It is an elegant work in which the ranunculus stands out as the main flower. I have also opted for cold warm contrasts and material contrasts in this work to reinforce my trend forecast. The work can be worn by both men and women!
This specific work of art contains dried ranunculus leaves with the intention of keeping the ratio of flour and plastic in balance. This beautiful piece is filled with passion and love for a special day.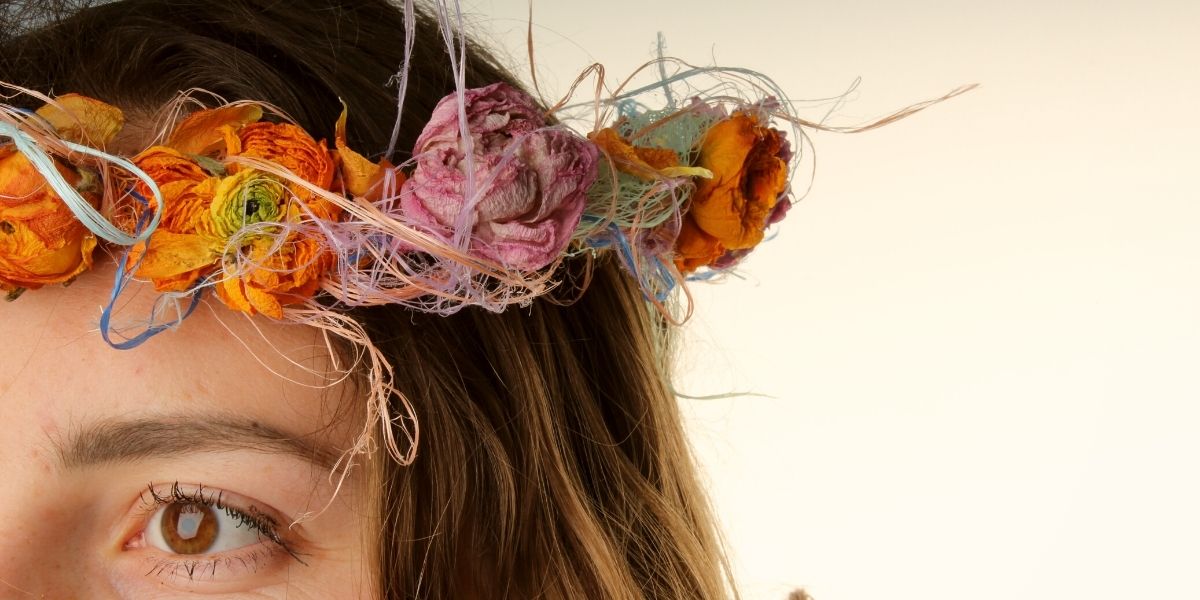 Follow Me on Instagram
Do you want to see more from me? Then take a look at my Instagram account @bloemensaar.

Practical support/advice: Coby van Otterdijk. Styling & photography: Elfi Voermans. Textual guidance/editing: Ruud Teutelink.