Fall in Love
Every year Italy welcomes more than 90 million visitors. Among them, there are lots of couples of young (and also not so young) lovers. When they visit the amazing cities like Rome, Florence and Venice (just to mention the most renowned), or the small hidden towns and medieval villages, they fall in love with their life partner again. And also with our beautiful country. Weddings in our beautiful Italy are highly recommended.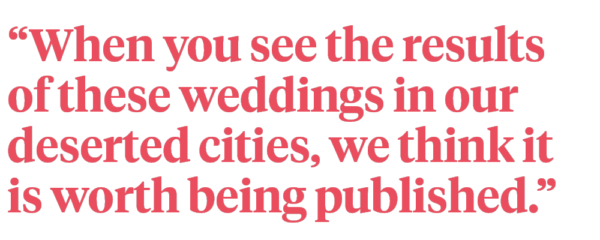 The Italian Weather Does the Rest
Italy is one of the most popular destinations chosen by the groom and brides to live their fairy tale. First of all renowned cities or hidden village gems get men into the perfect romantic state of mind for a proposal, the Italian weather does the rest. Every bride knows how difficult it can be to wear a long dress and maintain perfect make-up and hair when storms risk affecting "your day". Fortunately, also if you want to celebrate your wedding in our beautiful Italy during the summer months, some Italian regions boast a cool and pleasant climate, even in the middle of August.
Vatican State Churches or Ancient Cathedrals
'Val Pusteria' villages, in Trentino South Tyrol, for example, are real jewels, and still uncommon wedding destinations. Moreover, for those wanting to celebrate eternal love before God, you can have the chance to get married inside the Vatican state churches or ancient cathedrals spread across the country: small or impressive constructions suitable for those who prefer an intimate wedding and also for those who have a long list of guests.
Italian Cuisine
Impossible not to mention the delights of Italian cuisine, from north to south. Every woman desires to be perfect, magnificent, and radiant for one of the most important days of her life. That's why many brides, during the run-up to the wedding, follow strict diets to be ready to wear their dreamy dresses. Therefore, after months of sacrifice, the wedding lunch (or dinner) must satisfy the sins of gluttony, and to do this, Italian cooks are the best ever.
Surprise Intimate Elopements
Lately, during last season many weddings were postponed or canceled, we started making surprise intimate elopements. Unique for deceived brides and when you see the results of these weddings in our deserted cities we think it is worth being published!