I can hear your thoughts: "Snowstorm+ roses for Easter?" Well, I say a big yes! I love working with these roses from breeder Dümmen Orange. They surprise me with their quality. These delicate, long-lasting - they lasted four weeks and in three different places for photo sessions! - flowers will fit right in with spring decor, and they will make a statement.
Welcome Easter With Snowstorm+ Roses
The Snowstorm+ roses stepped up for me. Long-lasting and strong... They are sophisticated in this centerpiece. They are a sign of innocence and hope to me. Hope for peace in our world. The blue eggs and yellow mimosas create the kind of arrangement that makes us think about Ukrainian Fear. But we need to have hope for better times. The meaning of the white Snowstorm+ roses to me is very important. I hope to Welcome Easter - it is time to celebrate a new beginning with a Snowstorm+.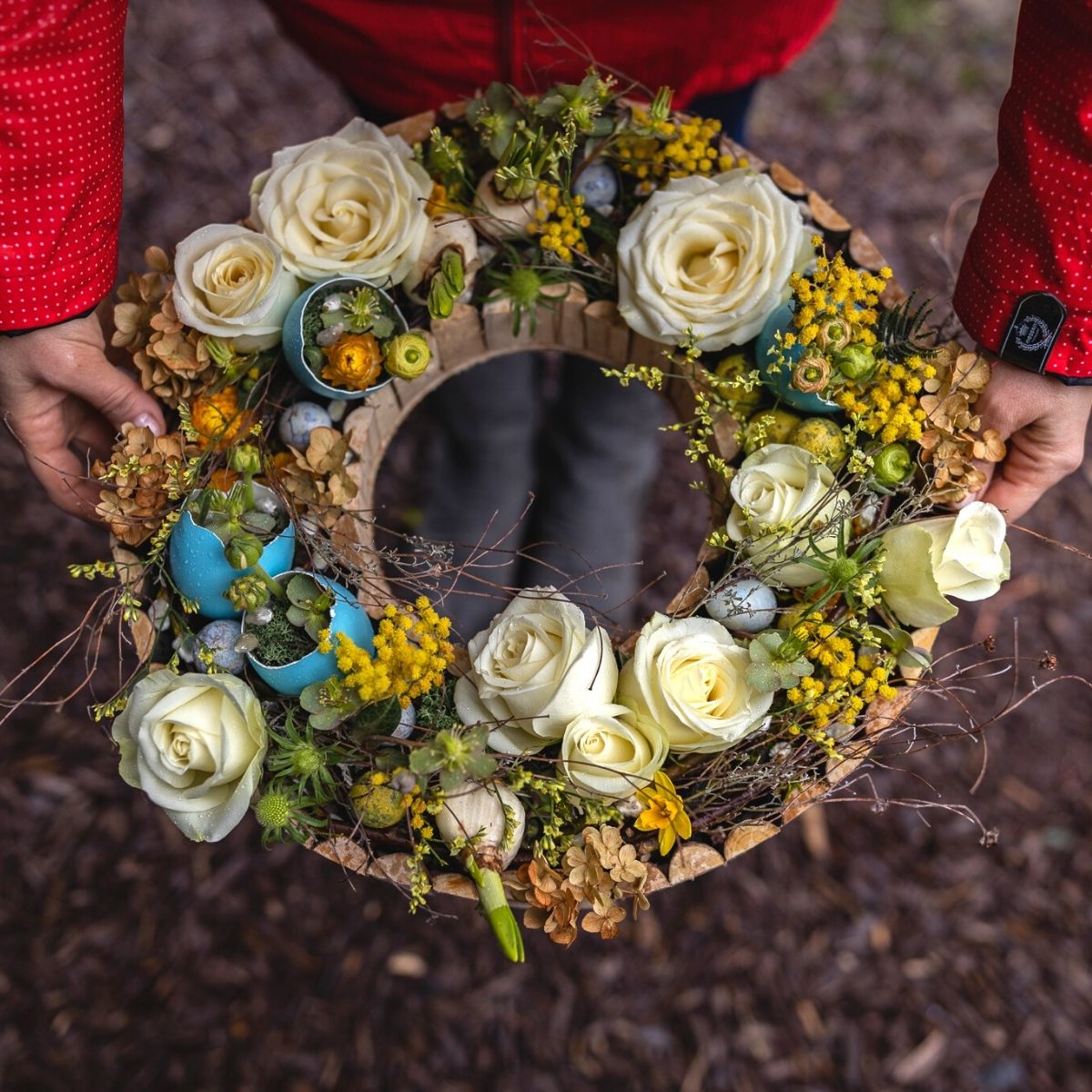 The Meaning of Each Flower
Every flower has its unique symbolic meaning and significance. Rose Snowstorm+ symbolizes innocence and hope, and mimosas are calling for sun and peace. Dry hydrangea represents deep emotions and understanding while beautiful hellebores signify what we all need - serenity.
Flowers Are Emotion
Flowers should not only be used as a decoration and be seen as something that makes our living area beautiful. Flowers are emotions, many different emotions... And they do not need to be hidden. Go ahead, and explore Snowstorm+ roses in different arrangements and with various emotions.
Floral Design by Anna Lamot-Bach
My company Floral Design by Anna is based in Dublin, Ireland. We provide a selection of beautiful flowers for all occasions: birthdays, anniversaries, weddings, funerals, etc. Whatever the special event, we can tailor a stunning arrangement to suit you. I have a personal interest in art, interior design, and traveling the world. And I try to bring a creative and artistic perspective to planning and designing an event. International events and inspirational shoots are among my favorites.