China's cut-flower industry can be traced back to 1984, its roots based in Beijing, Shanghai, and Guangdong. The wholesale flower industry has been growing steadily since then, developing especially quickly after 1990. Cut flowers are grown all over the country, including Hainan, Heilongjiang, Shandong, and Xinjiang, with freesias, gladiolus, calla, roses, sunflowers, orchids, and peonies being among the 30 species that are commercially grown. Keep on reading to discover how the wholesale flower industry in China operates, the success stories that have come from the nation, and the challenges it faces moving forward.
The Yunnan Province: A Chinese Success Story
One of the major catalysts of the growth of the wholesale floral industry in China was the Yunnan province's booming flower industry. The province, located in southwest China, is now one of the largest cut-flower centers in all of Asia. The rural area once faced extreme poverty. According to the International Trade Centre (ITC), its cut flower industry is now valued at
$415 million
. Furthermore, 50% of China's domestic cut flowers come from the Yunnan province.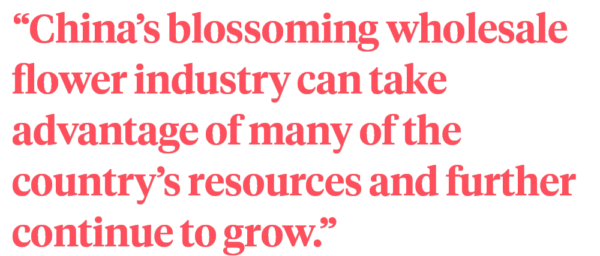 This success story unfolded over a decade. Once, Yunnan's wholesale flowers consisted of 16 hectares. Now, wholesale flower production takes up more than 10,000 hectares. It's also known for its exports and partnership with the world's biggest flower-cut action, Royal FloraHolland in the Netherlands. One of the most impressive statistics from this is the
increase of cut-flower exports by 400%
in only four years. This highlights the importance of a concrete export strategy, streamlined production, and support services.
Issues That Chinese Floral Wholesalers Must Tackle
Despite China's flourishing floral industry, there are areas it can improve upon. While it has the potential to compete with international markets like Holland, there are certain issues it must tackle before this is possible.
1. Lack of Innovation and Development
To differentiate flowers and increase sales, it is integral for flower production companies to innovate. In addition to investing in research and development, this involves cultivating new species and varieties of flowers. China has the resources to accomplish this and should do so if it wants to become more competitive globally.
2. Few Large-Scale Production Companies
According to Daxue Consulting in China, only
17.7% of Chinese production companies are medium-sized or large
. The majority of production companies are small and family-owned and operated. Increasing production can significantly increase revenue and allow China to be more competitive.
3. Marketing and Consumption
Figures from the Food and Agricultural Organization of the United Nations (FAO) show that despite China being such a large producer of cut flowers,
90% of the flowers grown in the country are sold domestically
. This has continued to rise as the per capita wealth of the Chinese population continues to grow. They're sold through both retail and wholesale options, with seven major wholesale markets established in Shanghai, Beijing, Fujian, Kunming, Liaoning, Guangzhou, and Chengdu. The price of flowers within China is considerably higher than expected. This leaves only 10% of Chinese-produced flowers for export, mainly to Singapore, Thailand, Japan, and Hong Kong.
4. Potential for Growth
Wildflowers like lilac and forsythia can be developed into cut flowers and sold both in the country and abroad. Additionally, the different regions in China can produce a variety of cut flowers throughout the year because of their unique climatic conditions. Taking advantage of these and further reducing the cost of air freight can propel the wholesaler flower industry to new heights. Therefore, China's blossoming wholesale flower industry can take advantage of many of the country's resources and further continue to grow.
For more floral industry news and consulting, contact New Bloom Solutions and Above All Flowers here – we can help you grow your business and market your products globally.
Header image by Michael Gaida on Pixabay.