Flowers—what can't you do with them? They're edible and taste great in a salad, malleable and fun to create crafts with, and simply beautiful when put in a vase. But if you want to keep your favorite arrangements around forever, you can photograph and display them in your home.
How to Display Photos of Flower Arrangements in Your Home
If you want a room full of flowers, hanging plants, and trees, you don't necessarily have to care for them. Simply display photos of your favorite floral arrangements using the following ideas.
1. Lights and Clothespin
Decorative lights bring a lot of joy to a room and are a fun way to display photos. You can either use Christmas lights or string lights as long as there's enough space between bulbs to clip clothespins. Get creative by using square photos and rotating them 45 degrees on the line.
2. Create a Photo Book
Photo books aren't just for weddings! In fact, they're the perfect way to show off your beautiful arrangements to your friends and family. Online photo book company Mixbook makes it easy for non-designers to create fully customized designs using templates and drag-and-drop elements.
3. Try a Photo Easel
Want to display floral photos on your desk or table? Use an easel. Photo easels are a great alternative to tabletop frames, and you can easily swap photos without unscrewing the back. Just print out a stack of your favorite photos and place them on top of each other on the easel.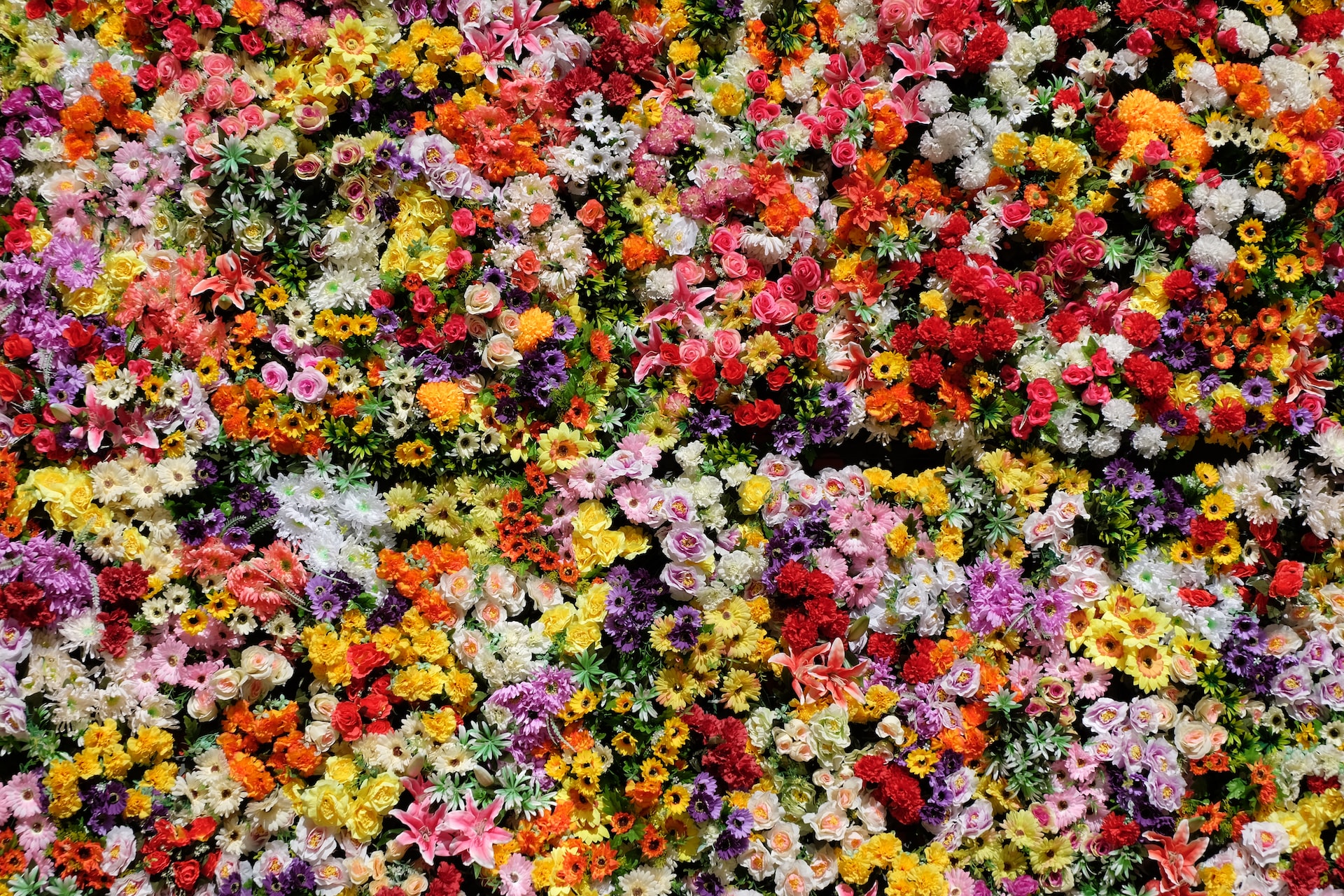 4. Arrange in a Grid
Symmetry is very attractive to the eye, and a grid-style photo display can really scratch that organizational itch. To keep your grid clean and consistent, use a ruler to space out your photos. Consider experimenting with angles and spacing if you want a more creative photo display.
5. Hang a Photo Ledge
A photo ledge is a thin piece of wood or plastic that hangs on the wall like a shelf. They have tiny grooves that let you place photos inside. If you don't want to hang it up, they can sit on your mantle. Make sure you use different print sizes so your flower prints don't look too formal.
6. Table Place Settings
Do you have someone coming for dinner? Consider swapping out your traditional table place setting for flower photos. Not only is this a creative way to dress up your dining room when guests aren't present, but they're also the perfect gift for flower enthusiasts like yourself.
7. Over-the-Top Display
If you're someone that likes to "go big or go home," try filling a whole wall with picture frames. An over-the-top display looks best with different frame sizes and shapes. Choose between one frame color or two, but consider using black or blue to bring out the hues in your photos.
8. Find a Display Box
A display box is a fun twist to a tabletop frame, as you can display more than one photo at a time. Choose 6 floral photos you're fond of and put them in each window. You can even put more photos inside the back slot and swap them out. To see a new photo, simply rotate the box.
9. Paint or Print a Mural
Make your flower arrangements stand out with a wall-size display. If you're an artist, you can paint or draw the photos on your wall using an overhead projector. If not, speak to a home designer, artist, or custom wallpaper company to create a mural for your living or dining room. Another option is to purchase a large piece of artwork from an online art gallery for high-end artwork such as Singulart, which can make a striking statement and bring an element of sophistication to your space.
10. Grab an Old Ladder
Go to a vintage or used furniture shop and grab an old wooden ladder. After painting or refinishing it, string wire behind each rung and use clothespins to hang your photos. Or, use traditional frames and sit them on the rungs, but only if the ladder is secured against a wall.