Flower farming is demanding work in every aspect. These women have taken the leap to become cut flower farmers and farmer-florist. They are (co-)running their flourishing flower farms and are the decision-makers of their own lots filled with flowers. With the run-up to International Women's Day, what better way than to hear it from the women of our industry, like these inspiring female flower farmers?
Empowering Female Farmers to Flower the World
Here are a few of our favorite female-run flower farms across the globe. All these women are particularly impressive, and they are listed in no particular order.
1. La Musa de las Flores
The journey of Gabriella Salazar started in her early childhood. With a mom who used to show her how every flower, stem, and petal would transform as the days passed. She learned to discover that each day a different sense of movement revealed from the next. In those early days of her childhood, Gabriella would see its unique beauty in every stem.
"My mom showed me how to see the beauty in flowers at their full bloom, but also as they age, the wilting stage revealing another charming angle." - says Gabriella.
In Valle de Bravo, Mexico, she runs her business La Musa de las Flores and has a small cut flower garden on 1/3 of an acre of land. When first starting, in 2014, she didn't know anything about growing. Still, the desire to cultivate her own flower garden helped Gabriella overcome her fears she found the confidence to grow.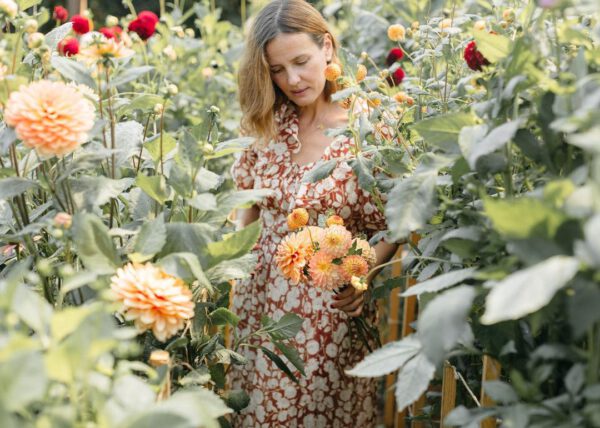 Gabriella Salazar - La Musa de las Flores - in her flower garden
Gabriella about the start of her flower garden:
"I bought seeds and tubers and simply started, learning along the way. It's been a big learning curve, and alongside the mistakes, I have discovered a whole new way of looking at floristry. By growing my own flowers, I get to witness their life cycle; how they change color, size, texture, what they like and don't. I can observe the flowers' relationship with each other, how long they live, and how to take better care."
Learn more about Gabriella and her business in her interview on Thursd: Her Name Is Gabriela Salazar, Founder of La Musa de Las Flores.
2. Flourish Flower Farm
Flourish Flower Farm is owned by Niki & William Irving. After years of working in education and outdoor education, Niki finally turned the dream of becoming a farmer-florist into reality. As the daughter of a landscaper and tree farmer, you could say that Niki's love of plants was inevitable. Niki loves growing, nurturing, and creating beauty. William spent his childhood helping his grandfather tend a giant vegetable garden and he is the master of the farm-maintenance tasks.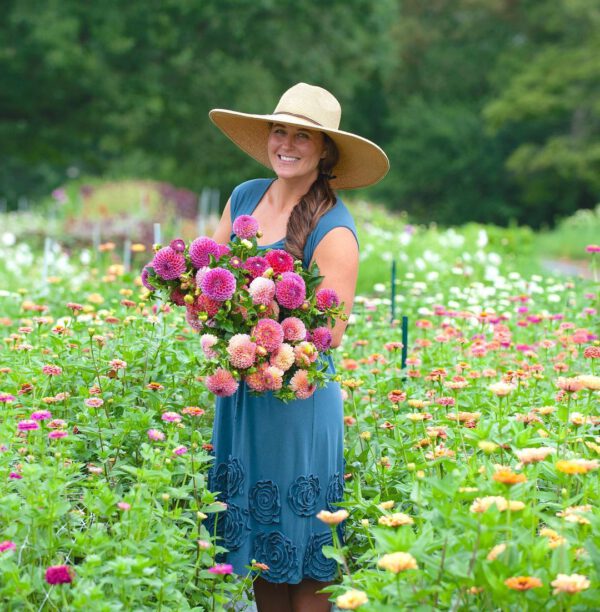 Niki Irving surrounded by her flowers of Flourish Flower Farm
Together, they balance a love of nature, hard work, creating beauty, and spreading joy at the farm. They believe that flowers make the world a more beautiful, enjoyable place and are inspired by the way a fresh bouquet of flowers lights up someone's entire face. Niki loves creating lush, seasonally-inspired arrangements for weddings and special events with their gorgeous farm-fresh flowers, and William is always behind the scenes helping to make it all run smoothly. Flourish Flower Farm is truly their labor of love.
3. Floret Flower Farm
Floret Flowers is set in Washington's beautiful Skagit Valley, with flower farm fields bursting with flowers that reflect the season. Floret Flowers is a family-run farm and founded by Erin Benzakein. From fragrant sweet peas in the spring to magnificent dinner plate dahlias in the fall and countless varieties in between, this family celebrates the best of what's blooming each day.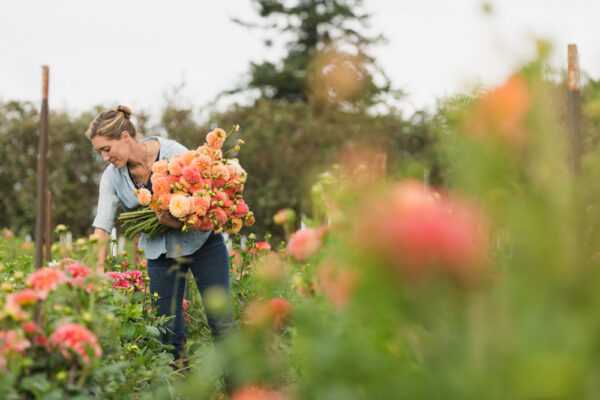 Erin Benzakein, founder of Floret Flower Farm
In 2001 Erin and her husband Chris moved to the farm to pursue a slower, simpler lifestyle where their children could be raised surrounded by nature. "Little did I know that the small backyard cutting garden I planted so many years ago would eventually turn into a thriving teaching farm and full-fledged seed company," - admits Erin.
4. FAM Flower Farm
Marlies and Linda are the driving forces behind FAM Flower Farm, which consists of two Dutch FAMily flower farms located in the flower bulb region, next to Keukenhof in Lisse, Holland. They have been friends since middle school and we both married a grower. The idea of FAM Flower farm started when they both wanted to share more of their beautiful products with the world.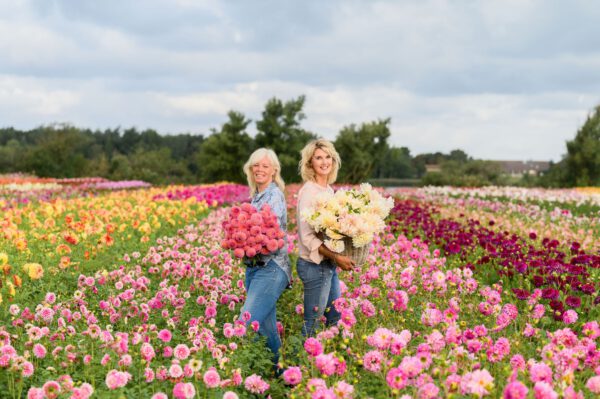 Marlies and Linda of FAM Flower Farm
With a following of over 80.000 flower lovers on social media, it became possible to tell their story, share pictures of their fields and beautiful flowers with other flower fans. The flower bulbs and dahlia tubers were now not only sold all over the world but Marlies and Linda now also got in direct contact with their end-users. The bulbs and tubers are a hit amongst their flower fans and FAM shows how easy it is to plant bulbs and how long you can enjoy the flowers. The ladies keep growing their business, even in these challenging times and are happy to further improve in the future.
"FAM not only stands for 'family' but also for feminine because we like to give a feminine touch to our photos, stories, and packaging." - admit Marlies and Linda
5. Wild Rabbit Flowers
Carli Spielman is the owner and founder of Wild Rabbit Flowers and an internationally recognized event designer and flower grower who truly lives for her work. Both her family and floral studio are nestled in the mountain community of Hope, British Columbia. Her love for her gardens, natural expression in design, and desire to work independently brought her to opening Wild Rabbit Flowers. She pulls her inspiration from the natural beauty of the wild earth and the untamed heart. Carli is a strong advocate for local and seasonal products, sourcing flowers first from local and North American farms and of course, growing her own, wedding-specific specialty blooms in her private cutting gardens.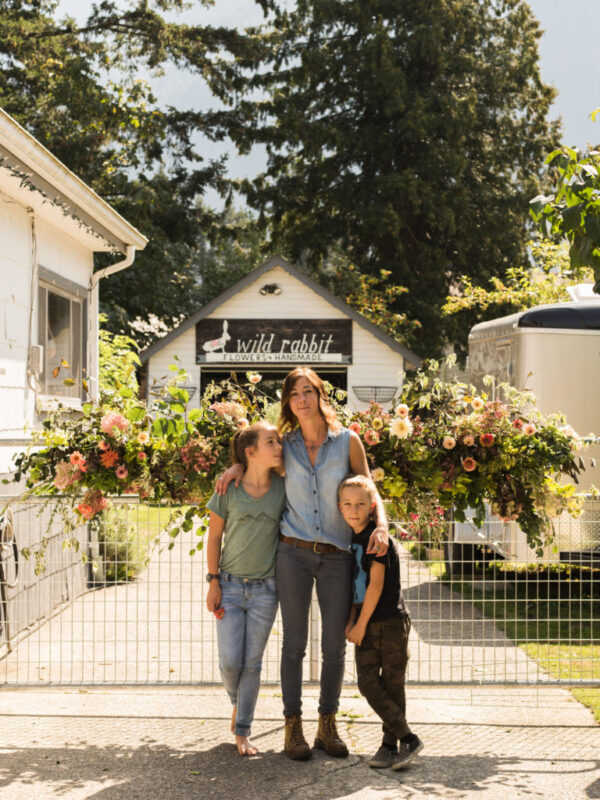 Carli and kids in front of Wild Rabbit Flower Farm
Carli's floral style is heavily influenced by the wild and whimsical nature of flowers. Movement, flow, and layering are all components in her arrangements, and great care for color in its truest natural shades comes shining through in her work. A great amount of care and effort goes into every piece, each stem placed with thought, and every event executed with passion and professionalism.
6. Crowley House Flower Farm
What started out as just a flower design hobby ten years ago, has grown over time into the family farm of Crowley House Flower Farm of today. Founder of the flower farm, Beth Syphers, had the need to produce high-quality blooms for designs, and an ever-changing parade of color, texture, and fragrance; plus the appeal of the slower, simpler lifestyle for her family. Combine that with the need to feel the soil on her hands and feet, to see the sunrise and set on our fields, and the smell of the country morning dew and you have the recipe for success for this female flower farmer. This has headed her down the path of flower farming and the amazing adventure that has become Crowley House.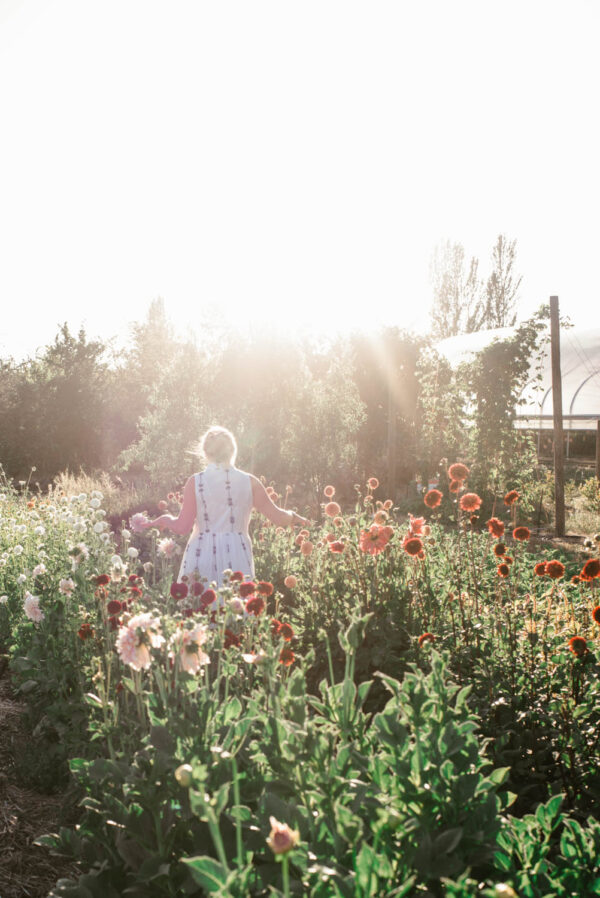 Beth Syphers on Crowley House Flower Farm - photo by Kyle Johnson
Beth's Crowley House offers a wide range of services from a simple bucket of flowers for the DIY creative folks, to full event styling and coordinating floral service – for weddings, corporate events, and various family events. Beth grows and offers many garden heirloom roses, sweet peas, flowering vines, delicate woodland blooms, and gorgeous berries in dozens of varieties, all of which represent just some of the flower varietals that her family grows and which makes up the framework and style of our farm and design work. Beth beautifully describes the moments on her farm to us:
"I catch myself daydreaming, standing at the kitchen window, stopping by a bed to ponder, just staring out at next year's bounty. It will come in time, the Rose's, Peonies, Poppies and more, it's going to be fabulous! The scent of winter daphne wakes me and makes my heart leap with joy and my day goes on. I do often wonder what folks might think of me from time to time, just standing, staring, and muttering to myself, lost in my own world. It's just what we crazy gardeners do. Right?"
7. Muddy Acres - Lynsey | Flower Farmer
Muddy Acres Flower Farm has created a blooming flower farm and shares it with everyone in need of some flower inspiration. While the founder of Muddy Acres, Lynsey, worked a full-time job at the American government she had a side juggle with designing wedding invitations. After growing the business over a couple of years she was able to quit her job to create wedding invitations full time. While moving out of her house in the center of the village to a home situated in the countryside, she starting having various farm animals and growing her own flowers.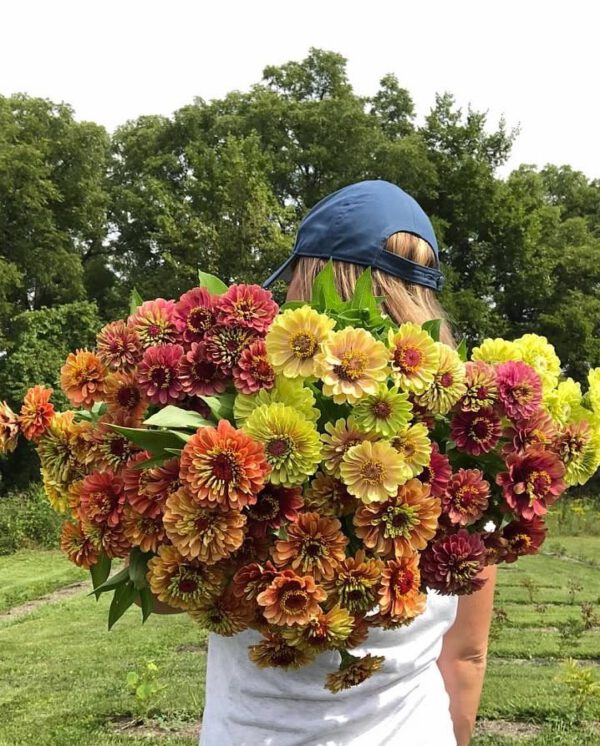 Lynsey and her zinnias at Muddy Acres Flower Farm
Lynsey and her family were ready to leave their sense of security to do what they love. The flowers were starting to sell, and leaving with only flowers and chickens, Muddy Acres started to grow. Follow Lynsey to have a peek into her hilarious, down-to-earth behind the scenes glimpses into the realness of flower farming.