The Conscious Creative Community of
EMC
hosts a monthly challenge where we encourage designers to be active and constantly work on their creativity and their growth. The winner of this challenge is given this amazing opportunity to show the floral world just who they are.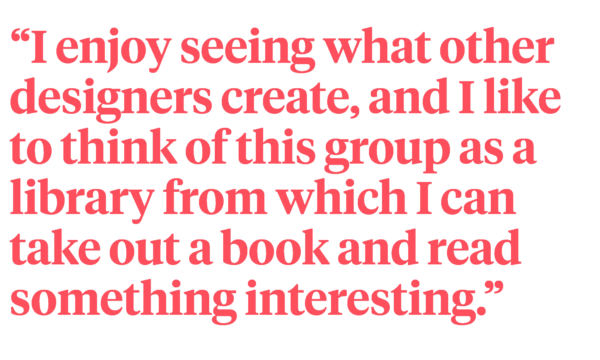 Laura Draghici in a Floral Interview About Herself and Her Conscious Creative Mind
Laura
is a talented Romanian floral designer whose love for flowers made her change to a 15-year-old career in finance and banking for one in the floral industry. Ever since she worked in the bank, she would buy flowers for herself and put them in a vase on her desk to make her very long office days pass by easier and nicer. Laura has always been in love with flowers. She loves to ''see them, feel them, and admire their colors, textures, and shapes."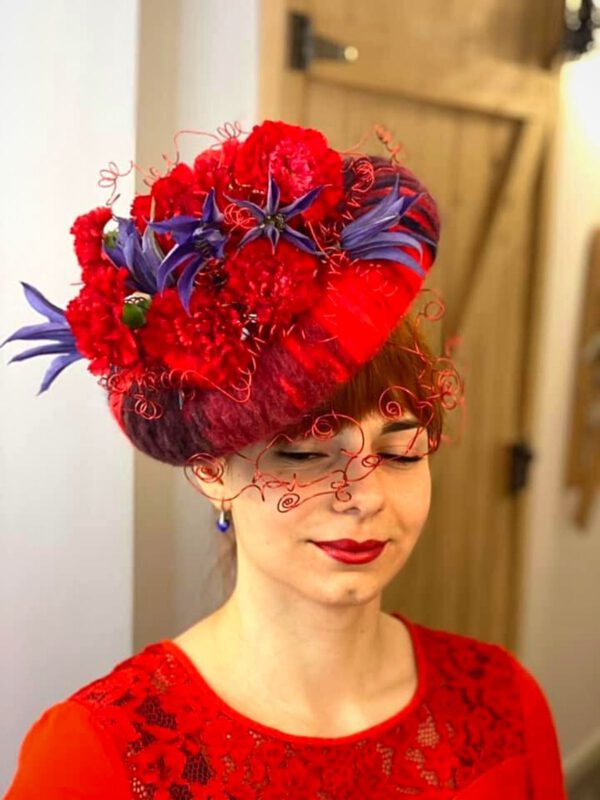 She is the winner of 3 EMC challenges put out monthly on the
EMC Conscious Creative Community Facebook Page
and she is not planning to stop here! She is giving us a brief peek into her life and sharing her experience of participating and winning some of these monthly challenges.
Chic Fleuriste
in Ploiesti, Romania is the brand that Laura has created over the last 8 years. She is the owner of a one-of-a-kind floral studio that attracts clients who are searching for unique and creative floral designs. Laura's passion for floral jewelry is well known among her customers, who come to her floral studio always for something new with the 'wow factor''.
Who is Laura Draghici?
I am a Romanian floral designer now, but my background is in Finance and Banking. I am married to a wonderful man that has always supported me in my passion for flowers, and also, I am the proud mother of a 20-year-old young man. Ever since I was a little girl, I have always loved flowers and I started my floral career in 2013. And I have to say it's a beautiful journey and I can't wait to see where it takes me.
What Made You Consider Starting a Career in the Floral Industry?
After 15 years of working as a bank director, I thought that it was time for a change in my life. I wanted to get rid of all the stress and to do something that would make me smile every day. So, I thought about the fact that I love flowers and that they have always brought a smile to my face, and that's when I decided to become a floral designer.
What's Your Main Business? Floral Studio? Events? Weddings?
I have my own floral studio in my hometown, Ploiesti, Romania, where I offer my clients unique designs for every occasion. I also like to design for weddings and events, this being also a big part of my business. I challenge myself to take on unique works and am open to new opportunities to develop.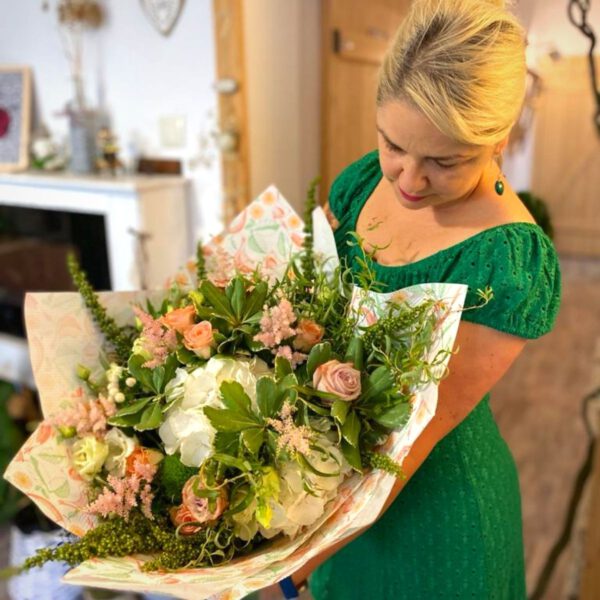 What Made You Join the Conscious Creative Community?
I enjoy seeing what other designers create and I like to think of this group as a library from which I can take out a book and read something interesting. Seeing what other colleagues create inspires me and make me think about so many different options in creating something new and beautiful.
Why Did You Decide to Participate in the #Ccjuly Challenge?
I like competitions and whether I win or not, participating in these challenges is an evolution for me.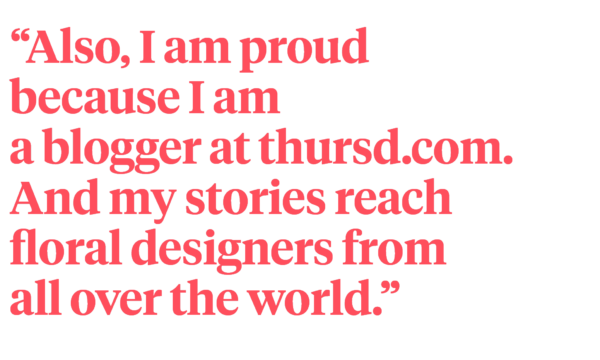 What Is the Thing You Like the Most About Participating in This Challenge?
I like very much that I have the chance to meet with Tomas and the EMC team, and that my design is analyzed by them and seen by all my colleagues. Receiving feedback from them is very important for me, as this is a great way to learn new things and to evolve.
You Won!!! Did You Expect That Winning Could Be a Possibility? I Mean: Are You a Winner if You Play?
Both of my parents are math teachers and they have always urged me to participate in competitions because, as they say: '' There is no chance of winning if you don't compete.''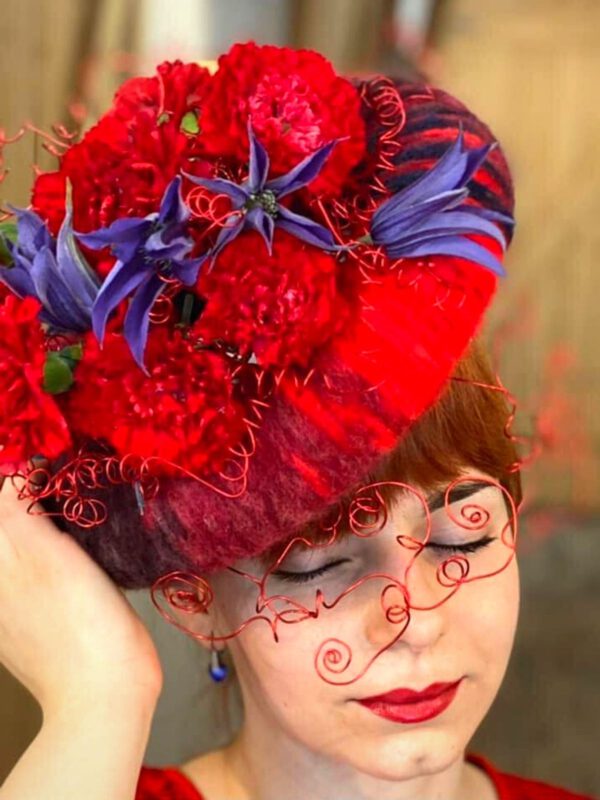 What Is Your Thought of the Theme Chosen for This Month's Challenge? (Theme - Building an Armature Using Wire and Must Have 80% Dianthus in the Design)
I thought about what to create with Carnations because last month's challenge was also with Carnations. So, I chose to use the red ones that are my least favorite, to prove to myself that I can work also with something that I don't like at all.
What Do You Think About Having Your Design Analyzed by Tomas de Bruyne Such a World-Renowned Designer and, Also, Teacher?
The fact that a world-known designer like Tomas de Bruyne analyzes my work makes me feel very proud of my work, even if I am not such a famous designer. The live feedback sessions are an amazing personal experience, yet shared with the entire community!
How Do You Keep Yourself Motivated During These Rough COVID Times?
I had to close my floral studio during the pandemic, but in order not to lose my motivation I continued to work at home with what flowers and plants I had in the yard. I participated in competitions and I made my brand Chic Fleuriste known internationally as well, trying to reach out and create new connections and new opportunities.
Do You Think It's Important for a Florist to Keep Up With Trends?
Of course! First of all, we orient ourselves every year according to the color given by the Pantone, and this is a starting point for us. I always suggest to my brides to be in trend with the colors of the year.
Do You Have Your Own Signature Style?
Yes, floral jewelry is my signature style. Everybody knows me for that. I love to create necklaces, earrings, headpieces, flowers to wear, hats, etc.
If You Got to Choose a Song That Would Play Every Time You Entered a Room, What Song Would You Pick, and Why?
Bryan Adams - Summer Of '69. I love the rhythm of it.
If You Were a Brand, What Would Your Slogan Be?
''Be chic!''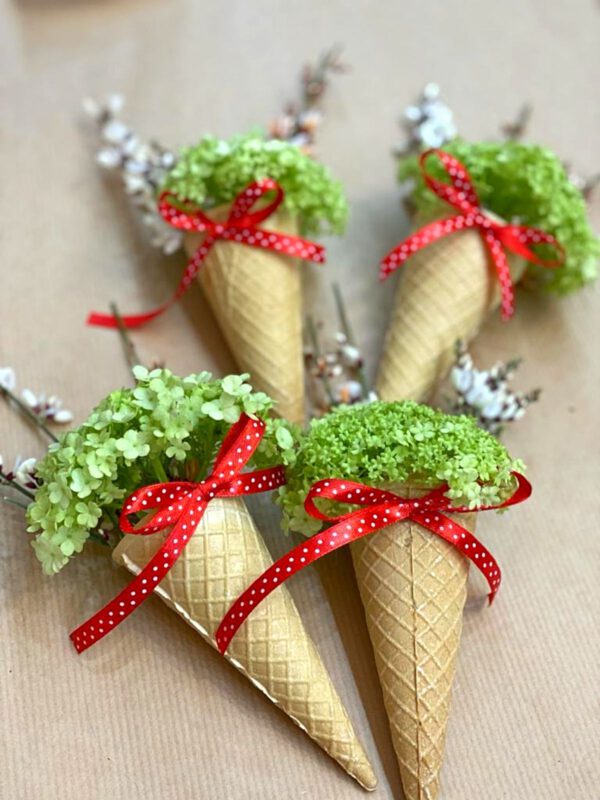 What Is Your Favorite Flower and Why?
Gloriosa is my favorite flower because I am fascinated by the multiple colors on the petals and by their shape.
What's Your All-Time Movie?
Dirty Dancing.
What Is Your Favorite Food?
Bacon and eggs.
Do You Like to Travel?
Yes! I love to travel, and my dream destination is Cuba, where I would love to go and dance salsa.
Do You Like Plants Too?
Of course. I have a lot of plants in my home and also in my garden. I have 25 Phalaenopsis in my living room that I just adore! I also have a Pakira, 3 Japanese Roses, a Yuka, 4 Kalanchoe, and 150 Petunias in my garden.
How Do You Source Your Flowers?
I work with flowers that I buy direct from Flori Holland Romania's webshop and with flowers that I get from the local wholesaler.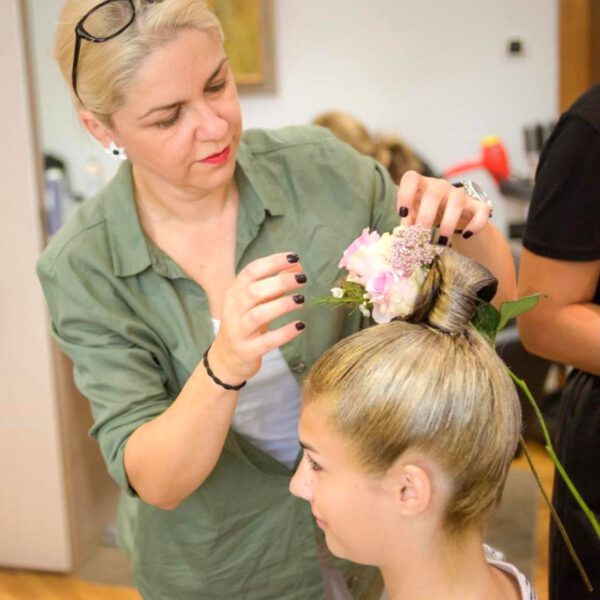 Which of Your Floral Achievements Are You Very Proud Of?
I am very proud that my designs have been published by the well-known magazine Florists' Review 3 times now, and also in the book called ''Flowers to wear: The fascination of Floral Couture''. Also, I am proud because I am a blogger at thursd.com and my stories reach floral designers from all over the world. And generally, I am proud of all the educational journeys I have embarked on as I grow from them as a designer, as well.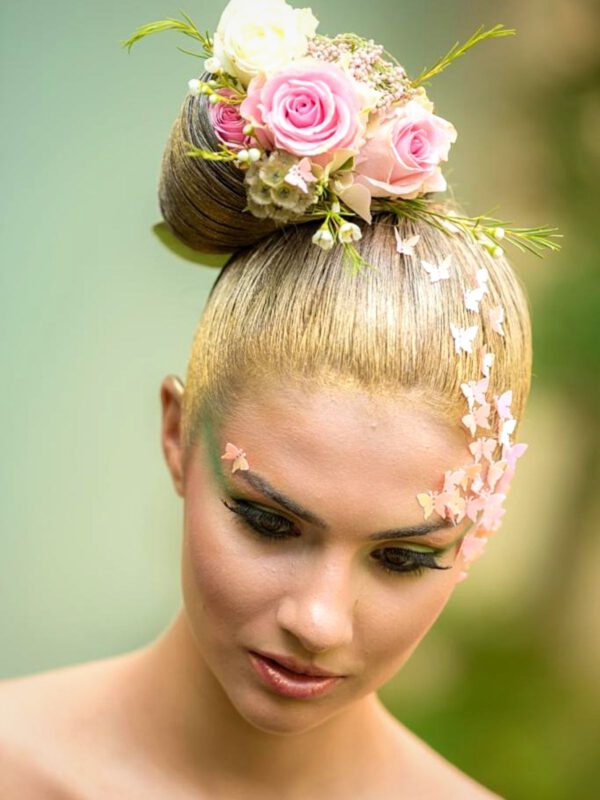 Tell Us a Funny Story That Happened While Working With Flowers
When I won the #ccjune challenge, Tomas was analyzing my design and he was saying that the color harmony is active. I knew that according to the picture that was right, but in reality, the colors were pastel and because of the picture they looked much more vivid than in reality, misleading the viewers. So, I was thinking.. should I tell Tomas, or shouldn't I?! And I did.. I contradicted him and it was funny because my colleague was telling me that contradicting the teacher is not such a good idea 😊
Is There Some Special Goal or a Big Dream You Want to Pursue?
My big dream is to be part of the EMC team and together with them to participate at floral festivals and to visit flower farms all over the world, especially Alexandra Farms in Columbia.
Where Do You See Yourself in 20 Years?
I see myself living on an island in Greece, admiring and smelling the perfume of Frangipani Flowers (Plumeria sp).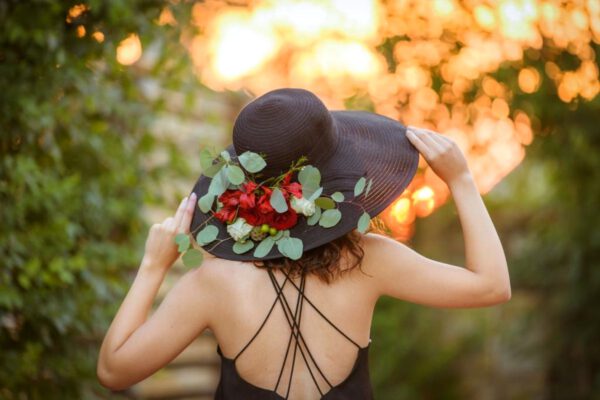 Is There Something Else You Really Want to Share With Us?
I have been working with flowers for 8 years already and during all this time I have never regretted the fact that I left my job at the bank to follow my dream by working very hard at becoming a floral artist.
CC Challenge by EMC
The Conscious Creative Community of EMC hosts a monthly challenge where we encourage designers to be active and constantly work on their creativity and their growth. Analyzing, reviewing, and discussing our work among other professionals in a closed Facebook group is a great opportunity to learn from each other and constantly improve our techniques and creative skills. Along with an interview with the designer on Thursd, each winning design of the challenges is analyzed by Tomas de Bruyne and one of the EMC Coaches in a live session on the Conscious Creative Group, and the designer gets invited to the session and receives one-on-one feedback. The comments section is open for questions from the viewer and EMC likes to add a third guest to the live broadcast by inviting growers, marketing people, and other interesting people from the industry into the conversation. And every now and then, the challenges get more spicy as EMC throws in a prize in it as well. Laura Draghici and Kat Castagnoli AIFD, CCF both received a free ticket to the
EMC Go Live Event 2021
.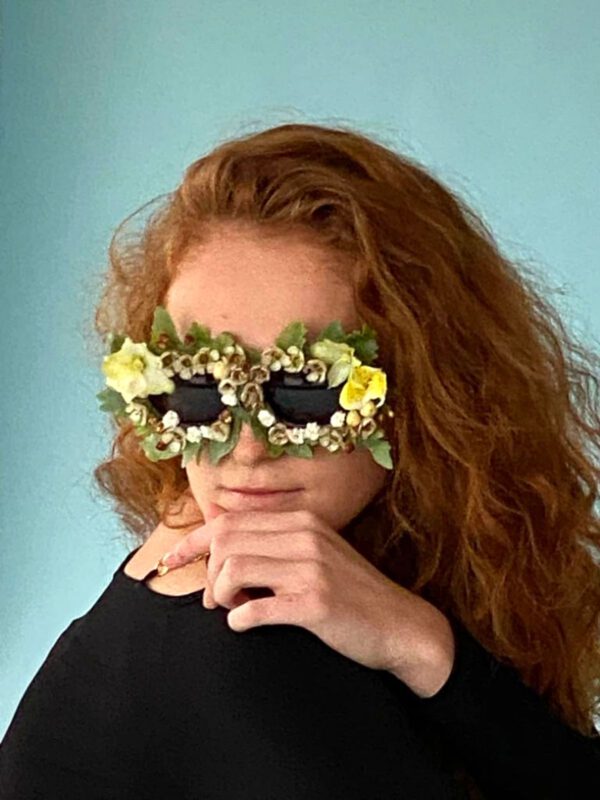 'The thing that I love about this design is that texture wise Laura used the carnations but also the wool, that is so tactile and soft. The wool is adding extra softness to the carnation – the flower that she doesn't actually like. She made them look more elegant, more subtle and even more feminine. Although the design creates a feminine feeling by seeing it, thanks to the textures that she used, if we look at the color wheel, Laura played with colors and went from red to the purples and almost blue. This is what she did by choosing to cover the base with wool in different tones. Laura added tints and shades of reds, going to purples, deep purples almost black and this makes the connection between the red and the deep purples. This is quite clever and this is something that we also teach in EMC: how to create connections color wise by working with colors in a 2D or a 3D manner. Great design, Laura!'
If you also want and participate in the monthly challenge, join us on our
EMC Conscious Creative Community Facebook Page
and have your creativity brought to action!