It was June 1969. This month marked history for the LGBTQ+ community. Since then, LGBT Pride Month has been celebrated around the world every June with amazing parades, events, and memorials to commemorate and celebrate the triumph of the community. The biggest symbol that has been seen since the start of this celebration is the rainbow flag, considered an icon for LGBTQ+.
Growing a Rainbow of Colors for Pride Month
Are you looking for a more creative and distinctive way to show your loved LGBTQ+ community some extra love and support? You can support the rainbow of colors movement through flowers! Here's a list of seven out of the usual flowers you can buy to support the happiness and life of your LGBTQ+ friends. PS: you can also grow the rainbow of colors for Pride Month in your garden to have them light up and cheer your house at all times. Most of the varieties below do well in a garden also!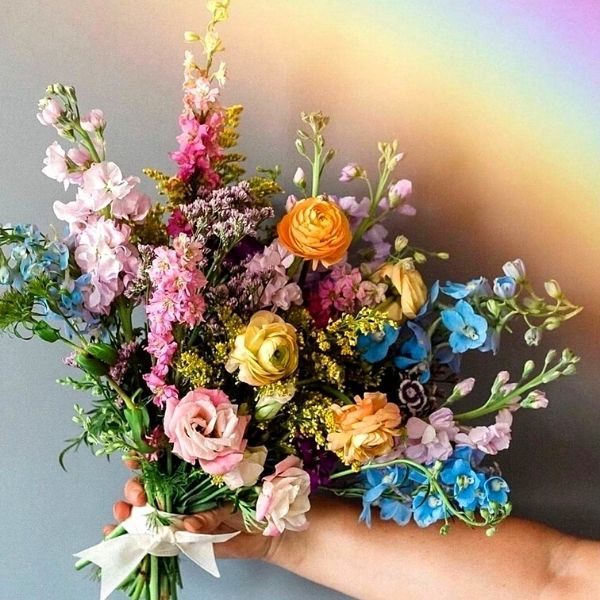 1. Red Zinnias
When you start looking for a gorgeous red bloom to represent true love, the red rose is what usually pops up at the top of the list, however, there are thousands of other red flowers that are just as stunning. Red Gerberas, Dahlias, and Tulips are most common.
Zinnias are popular thanks to their wide variety of colors, shapes, and endless, cascading petals. Zinnias represent thinking of friends and loved ones, so what better way to make your LGBTQ+ friends know how much you care about them, and their special day than by giving them a handful of red zinnias, mixed in a bouquet of all colors of the rainbow? Although not yet easily available in June, wait a few weeks, because zinnias flower in mid-summer.
2. Orange Dahlias
Following the red color in the LGBTQ+ rainbow is orange. As a beautiful representation of this color, we've got the orange dahlia flower. These breathtaking blooms are known to symbolize lasting bonds and commitments to another person or yourself. Dahlias also represent standing out, forging your own path, and embracing what makes you unique. So, to all the LGBTQ+ friends out there, remember to always commit to what you believe in!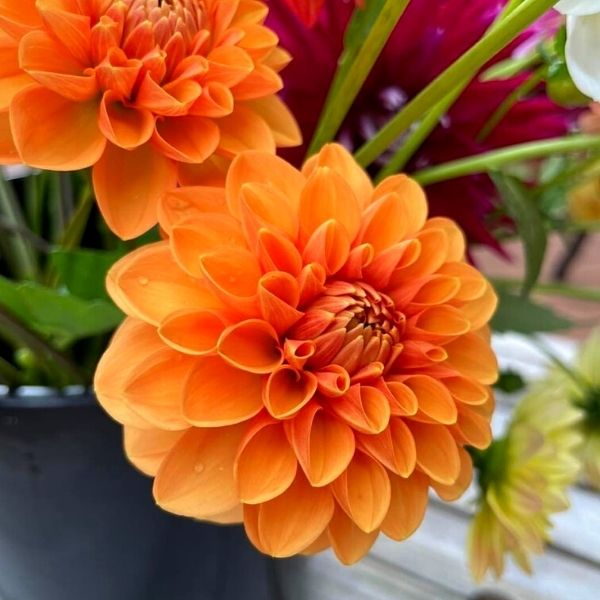 3. Yellow Gladiolus
Following the path towards creating the rainbow of colors for Pride Month is the yellow color. Cheerfulness, happiness, and enthusiasm are just some of the words that describe the feeling of yellow flowers, especially when it comes to gladiolus blooms. Its tall, striking stem can grow a staggering five-foot-high in the right conditions. Their meaning? Strength of will and determination. Like most yellow flowers, the color means happiness and positivity, making these flowers a great gift to give to someone to remind them that they have your love and support.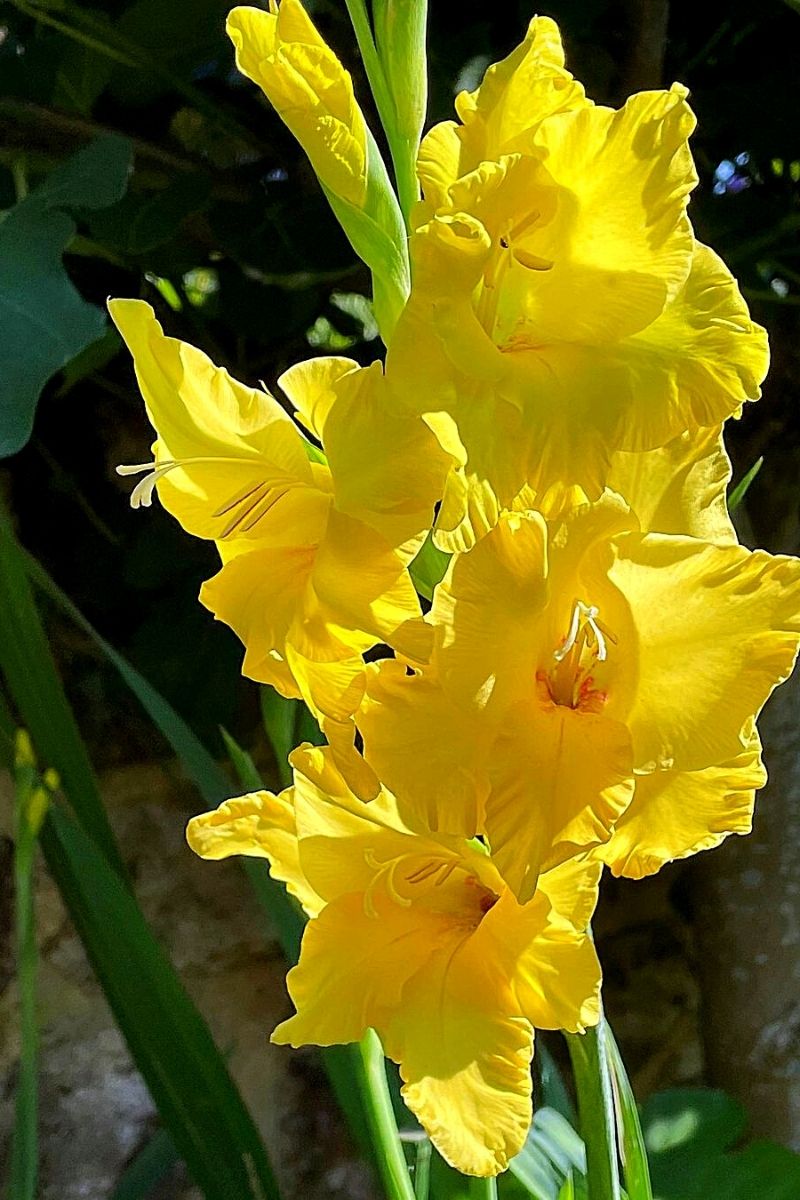 4. Green Carnations (Dianthus)
The first choice for the green flower in the rainbow is the striking green carnation, which was famous by playwright Oscar Wilde in the 1890s. He popularized wearing a green carnation as a gay symbol in 1892. Subsequently, it became a coded symbol that a man was attracted to men. In Victorian floriography, carnations were given to show friendship and to pass on your good wishes to the recipient.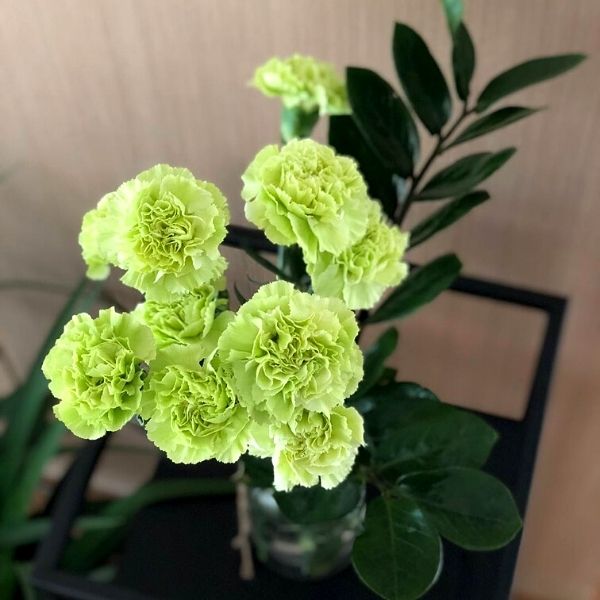 There is also a series of green dianthus barbatus' which are non-petalled flowering forms of Sweet William. With its green dianthus barbatus varieties, the breeder Ball has transformed these dreams into reality. The new green flower created great excitement in the world of flowers. You can find more about green dianthus here: 'These Are the Four Greenest Balls'.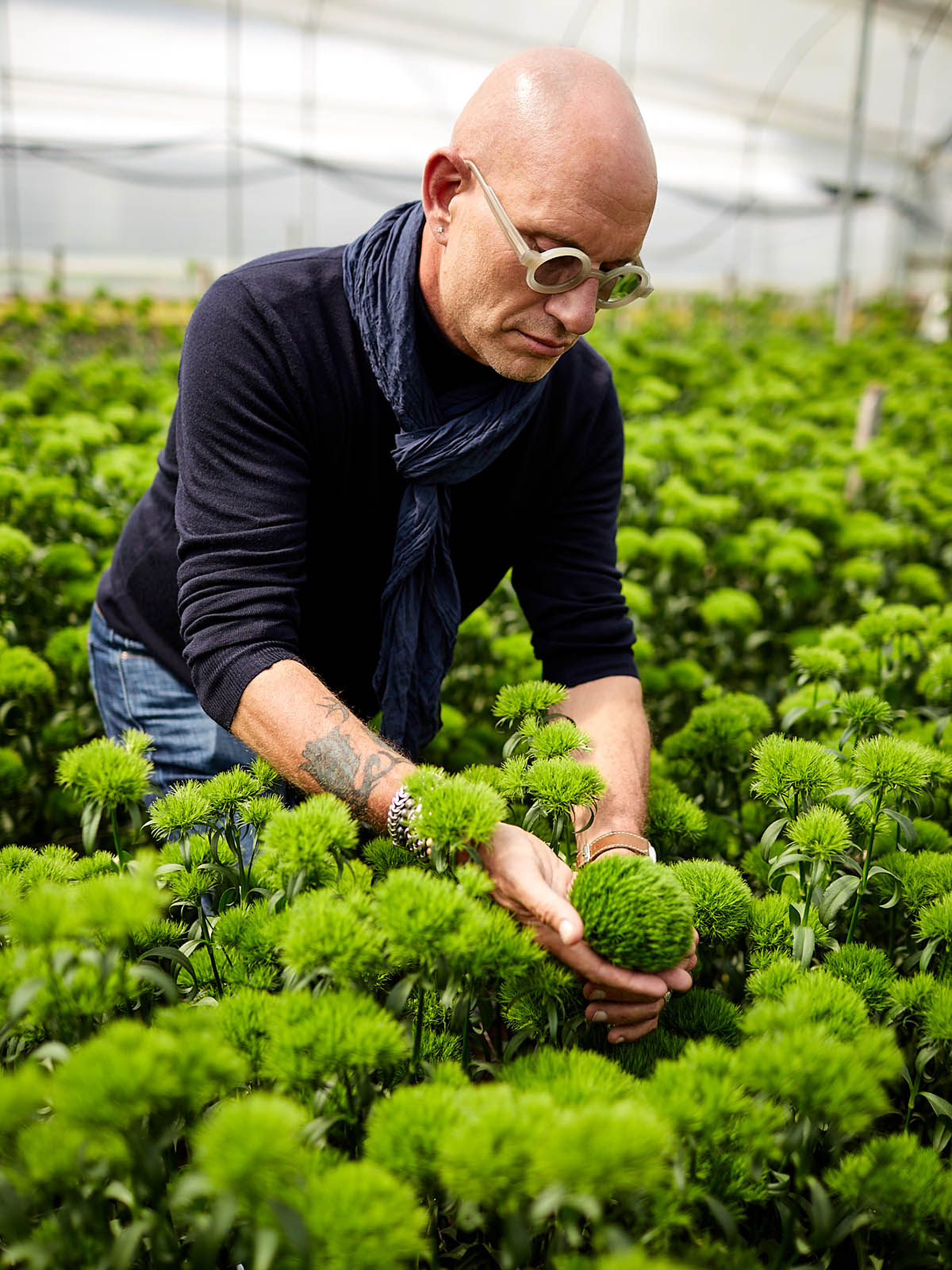 5. Blue Love-In-A-Mist (Nigella Damascena)
Also known as spiderflower, chase-the-bush, the devil in a bush, or kiss-me-twice-before-I-rise, this is a unique blue bloom that represents the blue color in the rainbow for Pride Month. This somewhat bizarre little flower features soft blue petals surrounded by feathery flowerheads. Love-in-a-mist symbolizes deep affection and love towards a person.
6. Purple Delphinium
Purple delphiniums step in to end the rainbow of colors that represent Pride Month. These fancy, yet particular blooms are found all over the world, with many unique species. Delphiniums are a symbol of cheerfulness and goodwill, as well as a protective plant. Delphiniums are used to communicate encouragement and joy, as well as to remember loved ones who have passed. And back in the early days, giving purple flowers was a message that the giver was completely preoccupied with their love for the recipient.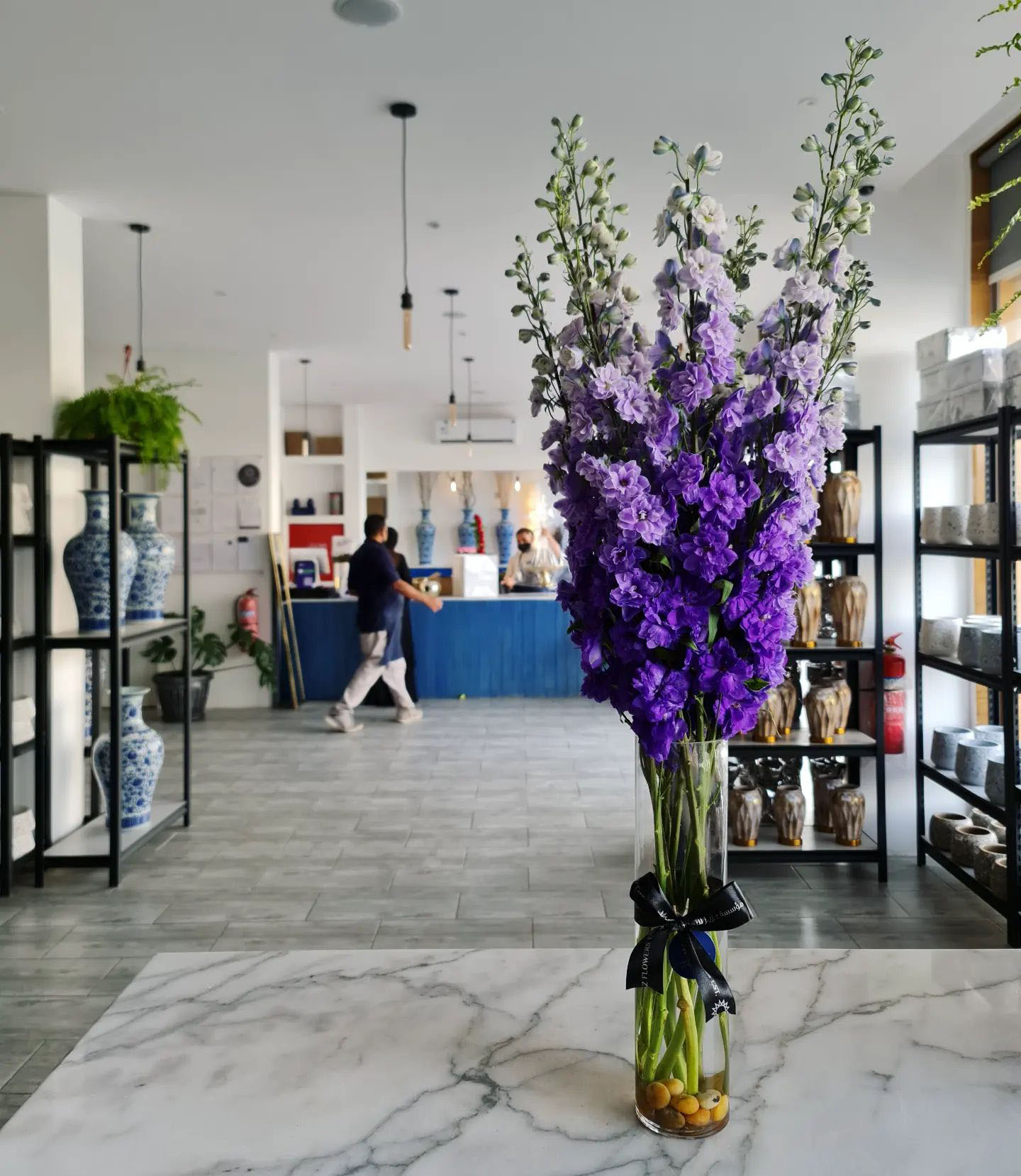 (For the garden perhaps violets are a better choice to symbolize LGBTQ+. They have been associated with women who love women for many years.)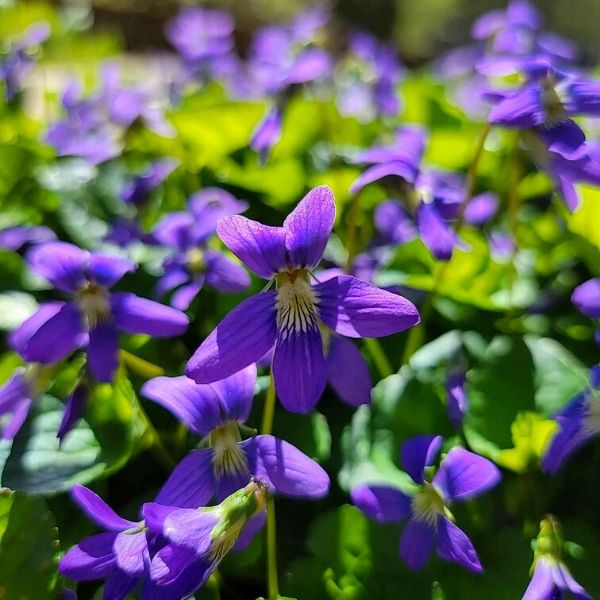 7. Rainbow Rose
With this rose, you'll be celebrating the LGBTQ+ community with the full rainbow for Pride Month. With their vibrant, multicolored petals, rainbow roses mean happiness and joy. The kaleidoscope of colors brings an immediate sense of brightness and fun which makes them the ultimate flower to celebrate Pride Month. The beauty of diversity is seen entirely in the rainbow rose, featuring all of the above colors in one single bloom.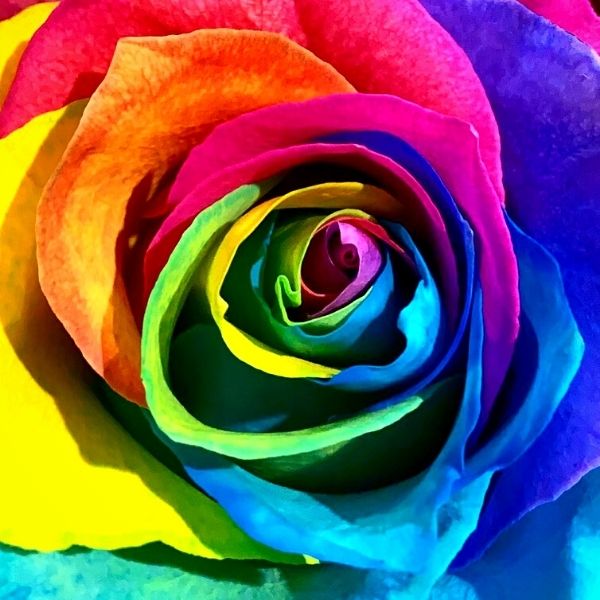 Ready to support Pride Month with a rainbow of colors? Get your favorite flowers to commemorate, celebrate and support your LGBTQ+ friends.