One of the top selling items of Malima Ecuador is the Xlence Rainbow. Malima's own marketing, import and export consultant Thomas Sonnabend explains.
First to China
"Malima has been shipping this product since 2018 with great success to its customers in China. We sent samples free of charge to our regular customers in Europe, but did not receive much interest in the sense of regular orders at that time." Now, read on very closely, because this dead-end story is about to take a surprising twist. Being around for decades in the floricultural business, Thomas Sonnabend must be able to tell quite a few stories of unexpected market moves. This one is one we all can learn from: Never write off a product, because some don't like it.
Unexpected Results
Thomas continues: "Apparently, there was no interest in Europe for gypso Xlence Rainbow. But last year - at the end of shipments for the Chinese New Year - a shipment of Malima Rainbow got stranded in Miami missing the connection to Shanghai. The farm decided to send it to Holland with unexpected results. Flowers were presented at the Aalsmeer auction clock and fetched right away good prices. More surprisingly, we received phone calls the next day asking for more Malima Rainbow!"
Hot Selling Item
Since then it has become a hot item selling at stable prices and good quantities on a daily basis both to direct customers all over Europe as well as via the clocks of Royal FloraHolland Aalsmeer and Naaldwijk. Initially, the main demand started coming from Denmark but gradually other markets have come in, showing a strong interest.
What is Special About Malima's Rainbow?
It is a common misconception that for painting, old and low-quality flowers are used to disguise their flaws. Thomas Sonnabend explains the grading and tinting process: "Only the strongest stems coming from the field are selected to produce the Rainbow. Stem ends are cut in three parts up to 10 cms. Each stem end is put in a small pot with different colors for the stem to absorb. Since we use primary colors, once they get absorbed and mixed together the end result is a flower that shows approximately five different shades of color.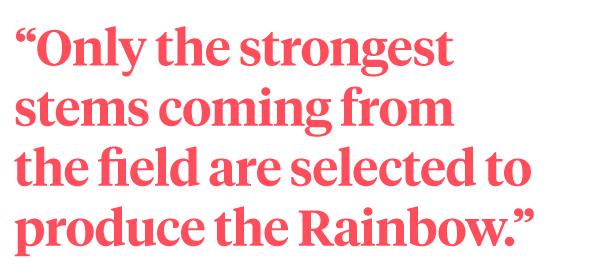 Given our careful flower opening and tinting processes, Malima's Rainbow maintains the suppleness and appeal of our natural-white flower. It gives almost the same vase life, which ads to customers' preference for Malima's Rainbow.
More Tones of Rainbow
Besides the original Rainbow which has pastel color tones, Malima Ecuador also offers its Rainbow in the 'Indian Summer' color tone which shows a mix of autumn colors like red, orange, yellow and brown. And, of course, all twelve Xlence Rainbow colors are also available as different solid-color options which Malima's customers mainly use for special occasions.