The gala show of the Lithuanian so-called Fulfillment Campaign ('Issipildymo Akcija') is one of the most beautiful and meaningful charity events each year broadcasted on Lithuanian national TV and watched by an audience of almost one million people. The goal of the campaign is to raise funds for children facing very serious health issues. Kristina Rimienė, a Lithuanian floral designer and host of a famous lifestyle show, with her team decorated the stage with 3,500 fresh flowers.
Fulfillment Campaign Decorated by Kristina Rimienė's Team
During the gala show, children with health issues and their families as well as celebrities were interviewed on a bright and shining stage. For the last 4 years, this was decorated by the team of Lithuanian floral designer Kristina Rimienė who, by the way, is hosting herself one of the lifestyle shows on Lithuanian TV. The Fulfillment Campaign 2021 was held just before Christmas and it took place in the Lithuanian city of Elektrėnai, in the local Elektrėnai Ice Arena. So, the stage and the studio were established straight on the ice, where the performances of small skaters and professional artists took place.

A Huge Challenge
Since the ice arena was chosen as a concert hall, the ice and cold became a huge challenge not just for florists, but also for all the teams working behind the stage. Notwithstanding that, Kristina Rimiene managed to make the studio bloom in fresh flowers. As we all know, flowers, especially exotic ones, are not very fond of the cold. The temperature in the arena was raised up to 13-14 degrees of Celsius, so the anthuriums delivered by the Dutch growers' association Anthurium.info came directly for this show and performed perfectly.
Thankful With Anthurium.info
Kristina Rimienė
"Thanks to the efforts of Anthurium.info we had a huge number of anthuriums amounting in 2,000 flower stems and that is already the second time that Anthurium.info kindly provides flowers for Lithuanian Fulfilment Campaign."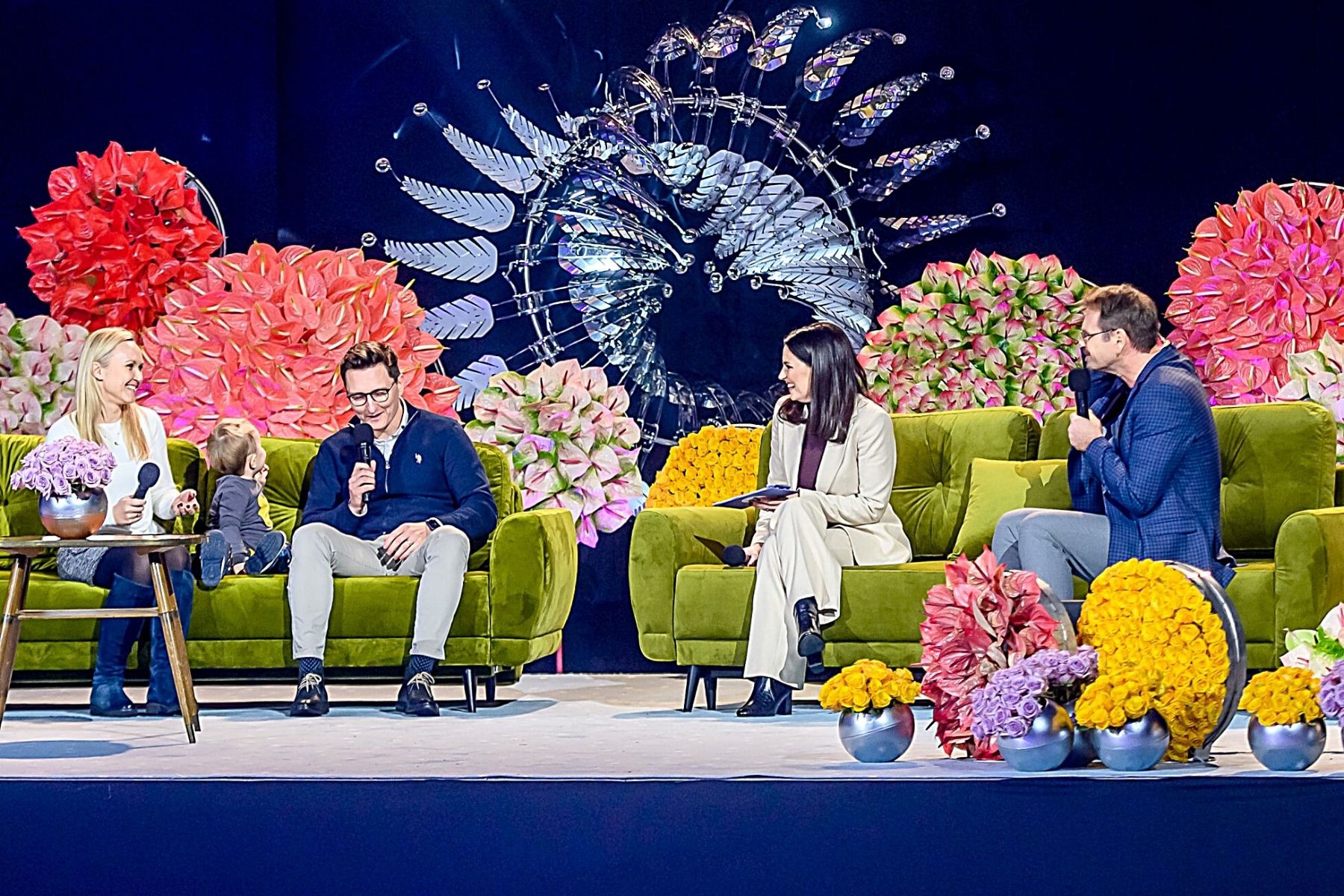 Roses as Sunshine
Also, 1,500 roses were chosen to expand the variety of patterns. And yellow roses, in particular, to fill one of the big circular structures and provide some sunshine. And as far as the diversity of colors used was concerned, a vast pallet of different anthurium varieties was shown on stage – pinkish to green, green to pinkish, pink, red, light, and dark green. Flowers were also installed in Globee pots newly presented to the market.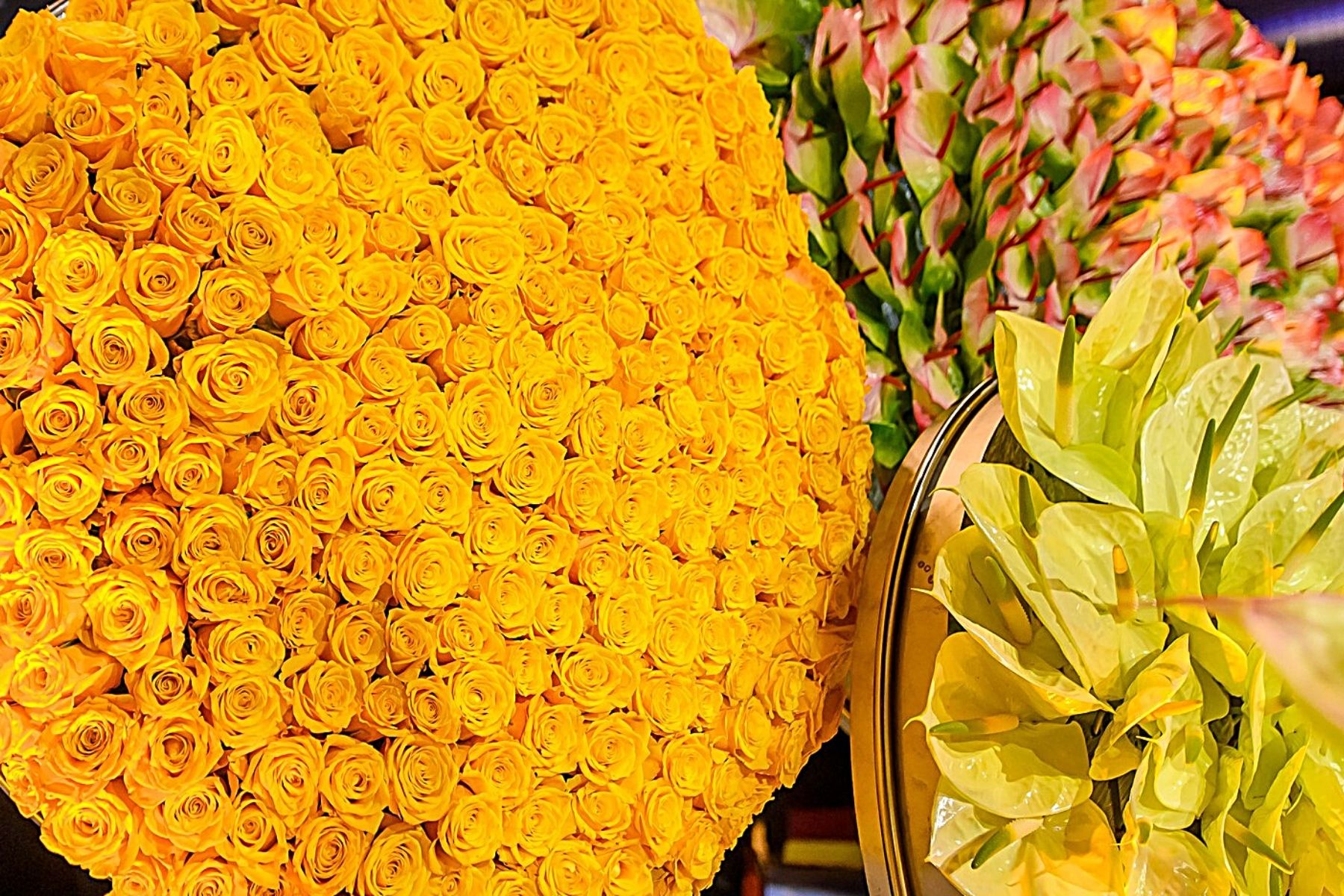 A Fairytale Come True
Kristina Rimienė is happy with the result she has created: a project with more than twenty big circular structures that were merged into a floral panel for the broadcast. Kristina is known for the floral designs that incorporate moving kinetic sculptures. One of those sculptures was used for the floral decoration of the Fulfillment Campaign as well.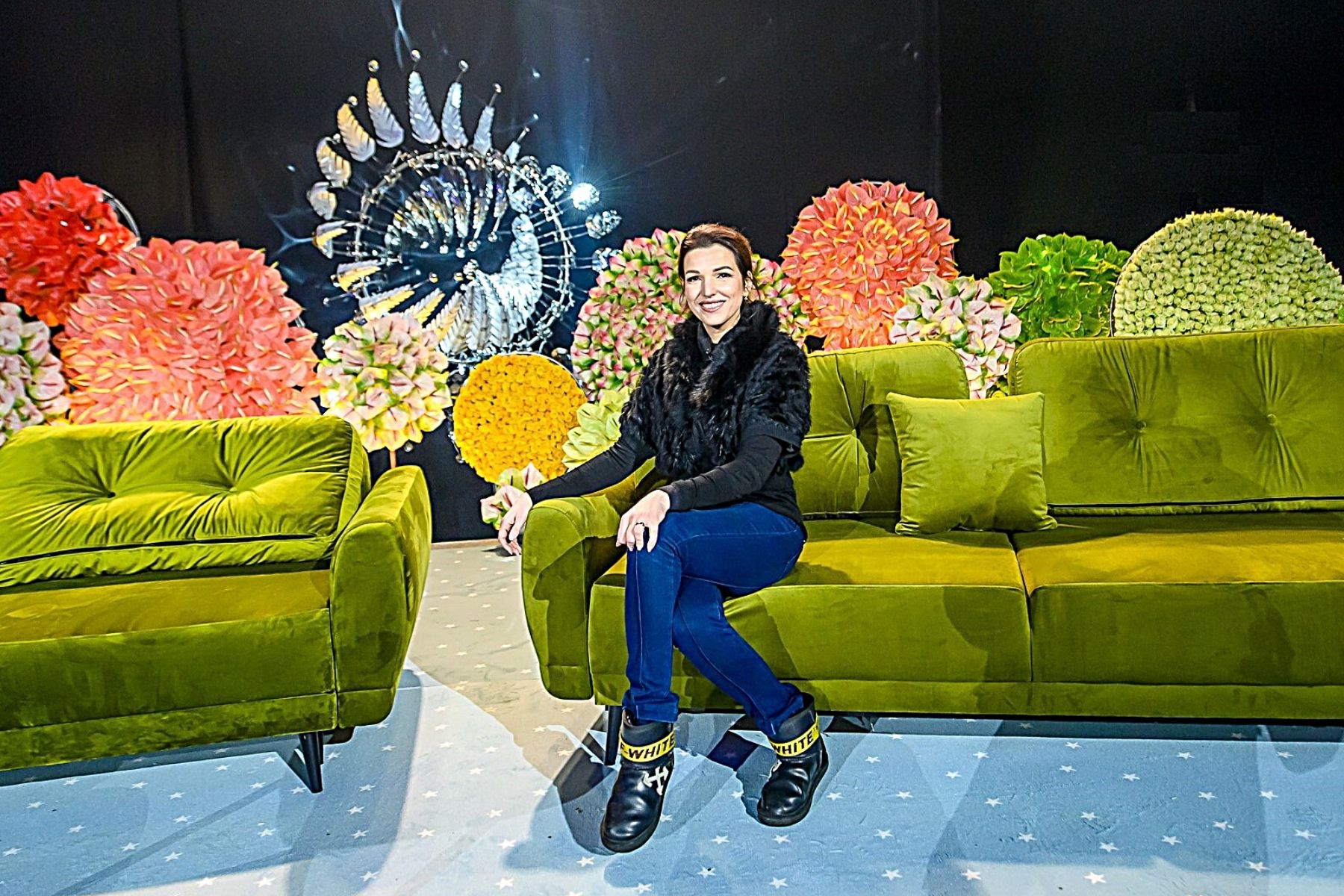 A fairytale of 3.5K flower blossoms colored the TV screens in all Lithuania and particularly aroused the interest of young spectators. The Fulfillment Campaign organized by TV3 Television and SEB Bank has been successfully running since 2003. Over the years of the campaign, people of goodwill have donated more than 10 million euros. The Fulfillment Campaign turned into a phenomenon that became known and loved by many Lithuanians. And the mission of all of us is to help Lithuanian children.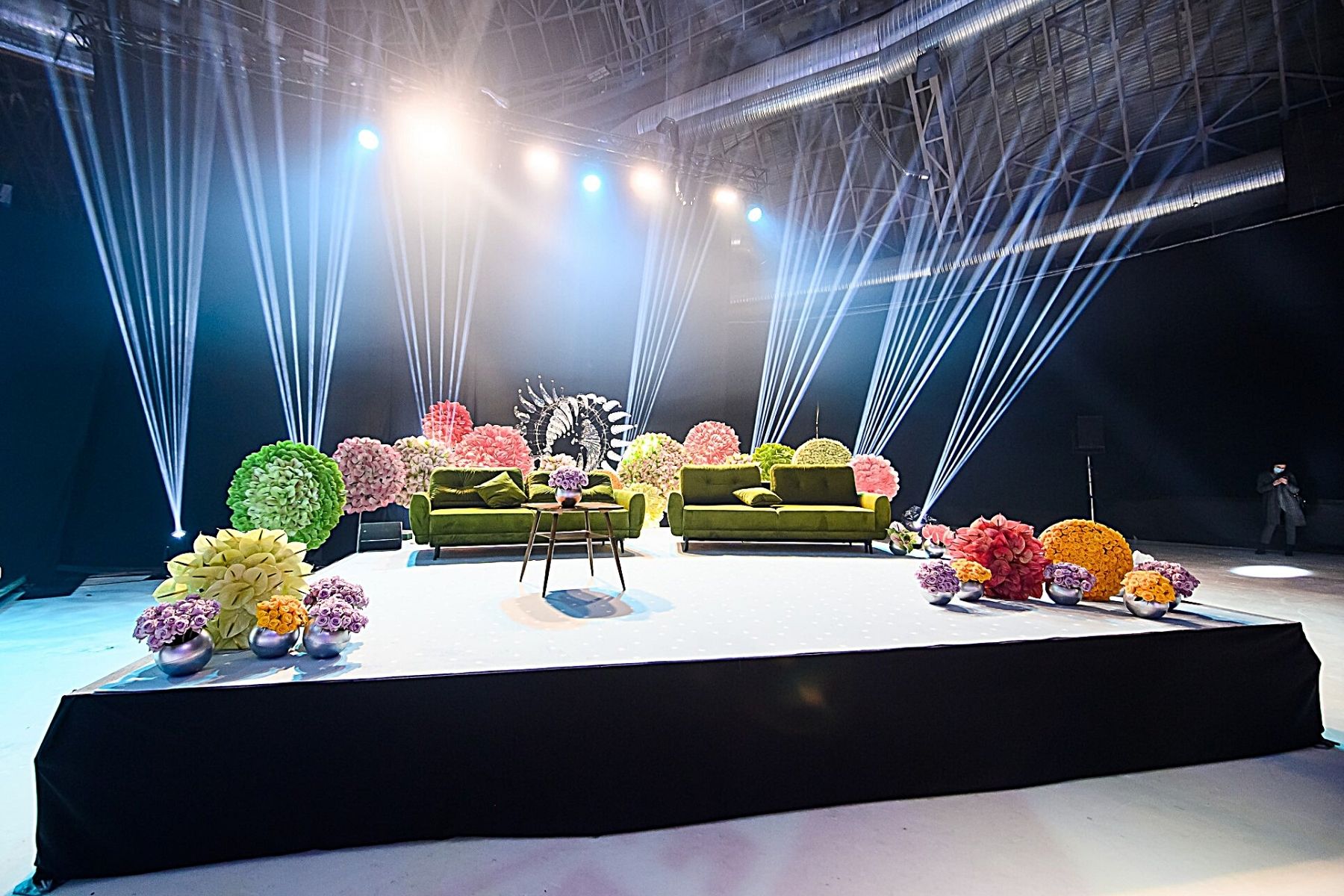 Kristina Rimienė
"What else could better represent the idea of life than delicate blossoms of flowers stretching upon the cold ice? I am so blessed that I could become a part of such a meaningful project myself and involve people – flower growers – from other countries and even other continents for such a great cause. International floral community with people like this for me is something special. And I am happy that this kind of cooperation brings out not only beautiful floral design projects but also can help experience a joy of life for children in need."
Thanks to the florists' team from Karalius Mindaugas Vocational Training Center in Kaunas who provided some help for this project implementation.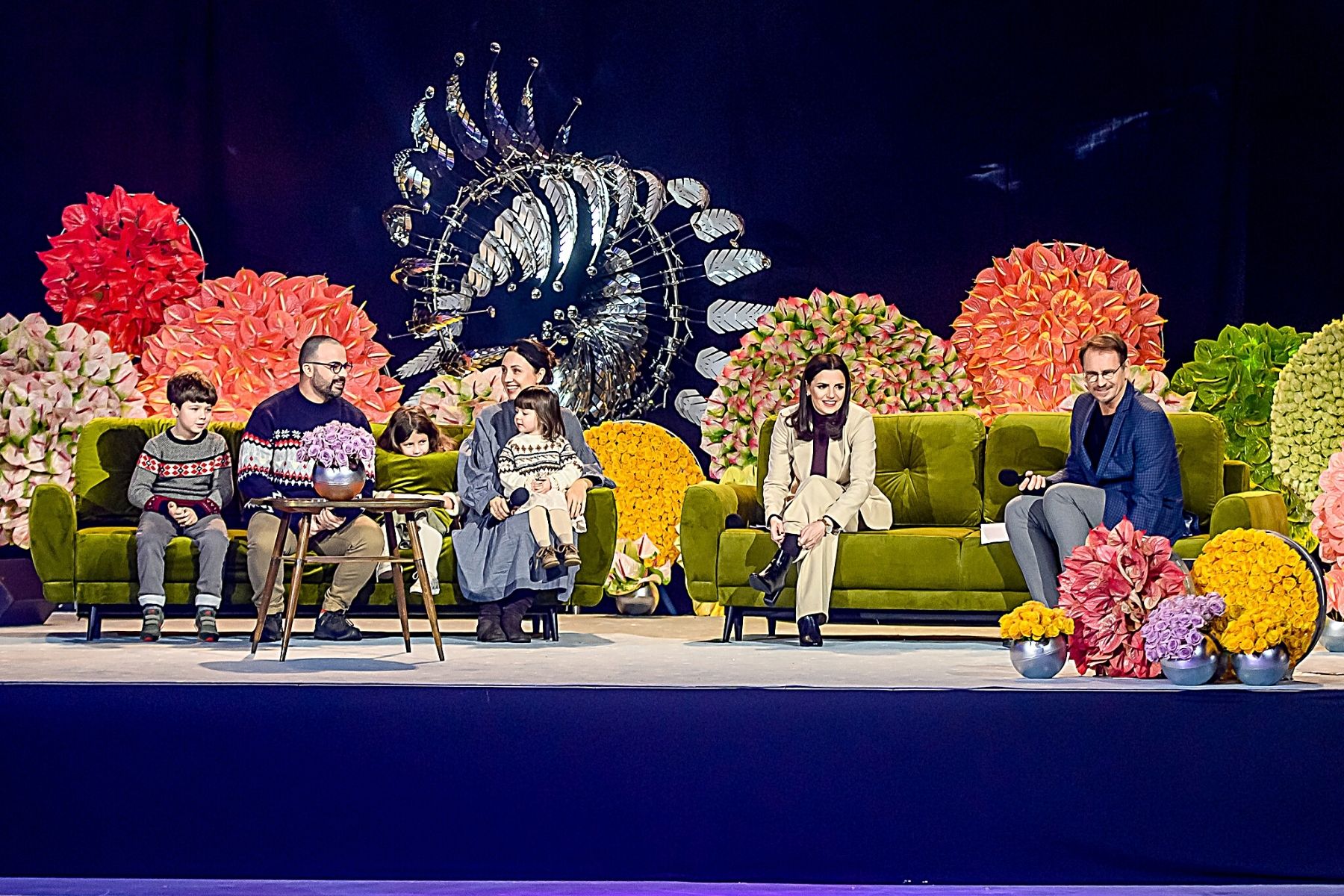 Just a Few Stories From Children During the Gala
Children are still so innocent. Yet, so many have had a lifetime of pain already. These are just some of the stories that were told during the gala.
... Little Ona Marija. Her weight was only 500 grams when she was born and until today. She lives only with a help of lots of medical equipment.
... Rimantas is always in pain. His disease is incurable.
... Dreamer Kamile. She was dancing ballet and now only lives to wait for a donor. Yes, it is hard... But such is life.
… Veronika. She was born without a leg. When she was born, we saw that there is only one leg. I went outside and it hurt.
And these are just a few children that need help. The goal of the Fulfilment Campaign is to get people together and collect the money for those children to live. All the preparations were held in Akmeniu Manor (@Akmeniu Dvaras) in the Kedainiai district. The constructions for a floral design were built there. That way, the goodness that you all donate can come back tenfold. All the teams that have created this beautiful spectacle were doing their best.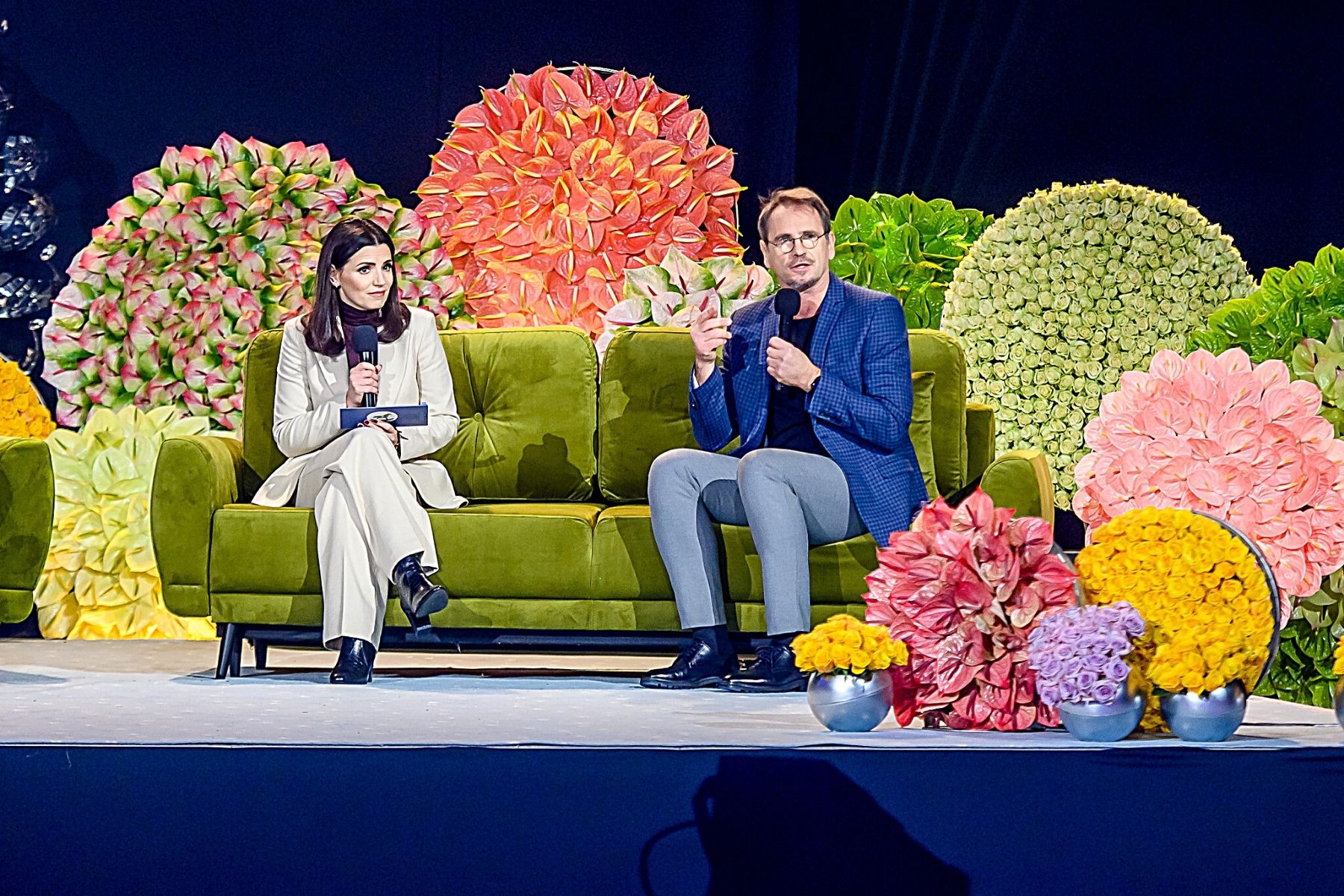 Kristina Rimienė
"Here it is – the last anthurium has found its place in this circle. I guess this is the sixth one. And we have more than twenty of them, so my next job is to choose a different color and fill in another circle with them. Technical solutions for safe transportation and quick assembly were sought. Because the flower of anthurium is extremely fragile, only Monterosas roses could be used to fill the circles in advance. The final result was created in the ice arena, where the remaining flowers found their place."
To whom? - To children! To whom? - To children! To whom? - To Chi-il-dren!