A&Z Flowers Michalscy is a young and dynamic flower trader in the Netherlands. Founder - and owner - Zbyszek Michalski tells his tale about the struggle for recognition, and how he found this with serious growers like Kwekerij Sensation. No wonder Zbyszek is so enthusiastic about and charmed by their chrysanthemum Ilonka too.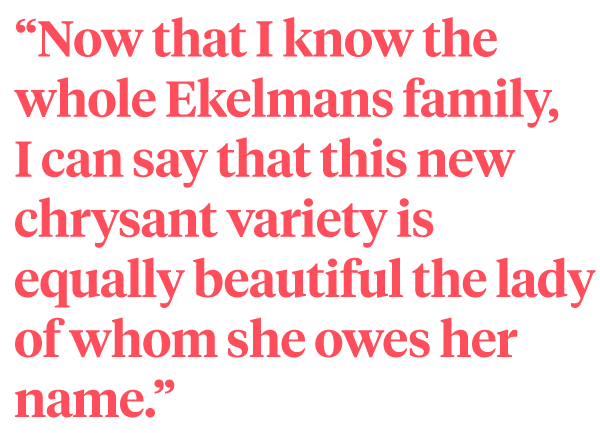 A Young Company
Zbyszek Michalski: "Our company is a relatively young and not large company. However, we operate very dynamically and develop from month to month. We started out in one location in the flower auction or Royal FloraHolland with several other companies, literally having just a few trolleys and shelves of our own. At the moment, we have our own location - this is called 'a box' - at the Aalsmeer auction."
Being Taken Seriously
Zbyszek tells about what a startup company in faces these days in the floral industry: "The beginnings were not easy... Not all growers took us seriously. A new company, plus young owners from Poland. However, there was a group of growers who were willing to cooperate with us from the very beginning, and today I can say that this collaboration has proven to be successful. At the moment we have many more clients and we have turned from a tiny, insignificant business to a company that has a lot to say. We are a family company and we focus on quality, service, and personal approach to each client. We sell both cut flowers and pot plants to our target market Poland. Our customers are smaller and larger wholesalers."
Selling a Lot of Chrysanthemums
Zbyszek: "These days we sell a lot of cut chrysanthemums. From the beginning, we found a common language with one grower, which is Kwekerij Sensation. Why? First of all, because, like our company, this is a family business. Of course, this is not the only reason that we like doing business with them... The quality and weight of the products play an important role here. I can confidently say that this is one of the best cut chrysanthemum growers in the Netherlands.
The New Chrysanthemum Ilonka
When asked about this new chrysanthemum Ilonka that Kwekerij Sensation grows - and bred by Dümmen Orange -, Zbyszek from A&Z Flowers Michalscy expresses his feelings for both the flower and the lady after which it is named: "Particularly noteworthy is their new variety "Ilonka", which arouses more and more interest among our customers. "Ilonka" is very durable and perfect for dyeing. And now that I know the whole Ekelmans family, Aalbert, Jan, and Ilonka, I can also say that this new chrysant variety is equally beautiful the lady of whom she owes her name." 😊
Read also this story about How Chrysanthemum Ilonka Got Her Name.