"Metamorphosis is the most revolutionary and profound accomplishment in the life of a person, a society or the world at large, and art and design are its main interpreters." With this in mind, Bulgari asked four international artists to represent their own ideas of metamorphosis at Galleria D'arte Moderna (GAM) during Milan design week. One of these artists is Azuma Makoto, a Japanese floral artist known for his unique botanical sculptures.
Azuma Makoto Creates The Garden of Eden
Azuma Makoto
has worked with flowers since 2002. He owns "JARDINS des FLEURS," a haute-couture flower shop in Minami-Aoyama, Tokyo. Since 2005, Azuma has been exploring the expressive potential of flowers and plants, developing his own type of "botanical sculpture." After a solo show in New York, his work has been featured in numerous exhibitions in Europe. In 2009, he opened the experimental botanical workshop AMKK while continuing to display his work in art museums, galleries, and public spaces around the world. All of Azuma's creative activities focus on emphasizing the value of flowers and plants, of their unique, mysterious forms. In recent years, Azuma has concentrated on projects that explore the connections between human beings and flowers.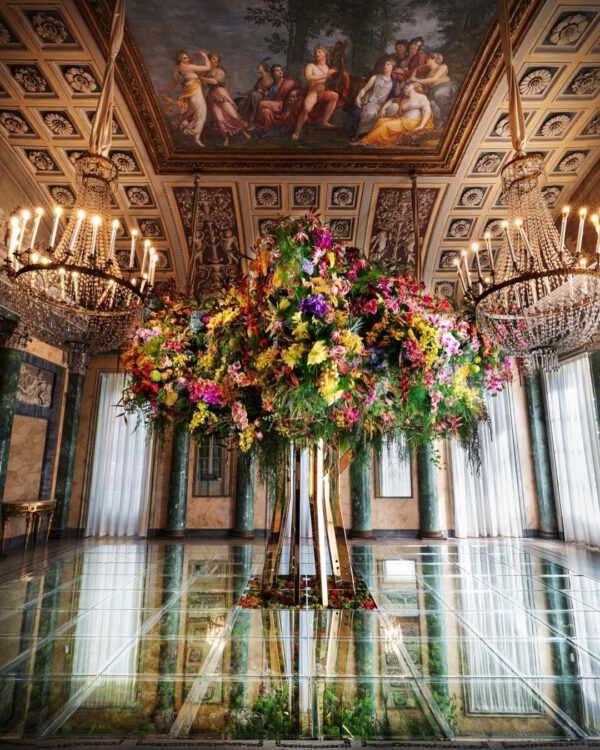 His Interpretation of Metamorphosis
For Azuma Makoto, "metamorphosis" is the word that encapsulates and expresses the notion of "life" in all its precarious fragility. Nothing lasts forever, we are beings in continual evolution, and it is this very metamorphosis that contains the essence of beauty.
Azuma Makoto's Floral Installation
The installation features a huge brass tree sprouting real fruits and flowers. This combination accentuates the original beauty of the natural elements. Being living creatures, the flowers change their form, color, and fragrance over time. The goal is to transmit to the visitors a metamorphic sense of "time" through the contrast between the artificial materials and the vitality of the fruits and flowers. In Japan, flower fossils have been found in the prehistoric tombs of the Jomon period from about 10,000 years ago. Indeed, the ancient peoples believed plants to be sacred. This cannot be explained rationally it is a sort of hidden feeling, a "motion of the soul".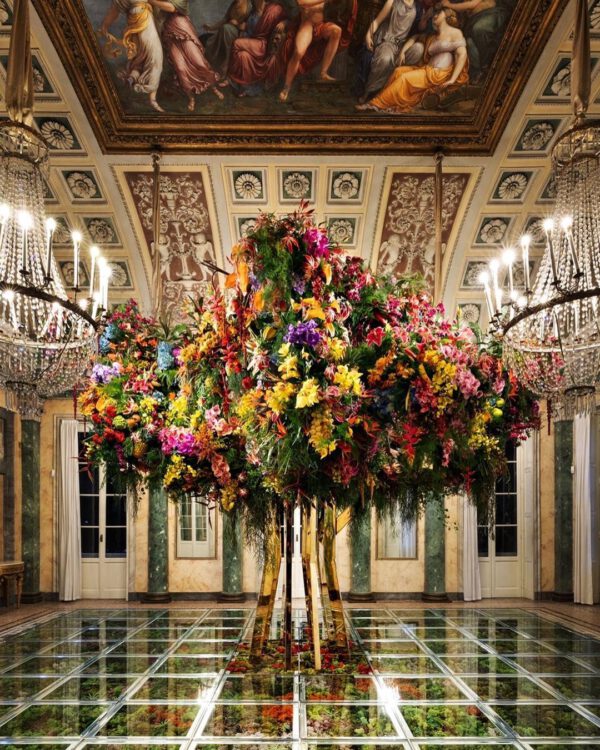 Azuma Makoto's work aims to establish a bond between human beings and flowers, bringing the floral poetry of his ancestors into the contemporary world. The artist finds constant inspiration in flowers for his jewelry and fashion creations. But while jewelry and fashion are a direct reflection of our times and change with the evolution of style, flowers remain a constant, capable of touching our soul regardless of time, geography, language, or religion. Quite simply, flowers are universally and instinctively recognized messengers of beauty.
Bulgari's Virtual Tour
Besides striking installation aptly titled 'The Garden of Eden' in the courtyard of the Gallery of Modern Art (GAM), Azuma Makoto continues his work at The Bulgari Hotel Milan featuring a stunning interpretation of the brand's emblematic snake in lush botanicals called 'Golden Eden'. For more information about the exposition or to see the virtual tour, go to the
Bulgari
website.