Dümmen Orange knew it when they developed this small-flowered black Anthurium. Marco and Jaap Evers of Evanty knew it when they added this to their Lovely's assortment. With its unique color, Black Love will be at the center of attention.
From Big to Small-flowered Anthuriums
The Evers family has been cultivating anthuriums since 1970. First with seedlings and then soon with refined varieties that were propagated in a laboratory. These varieties were mainly large-flowered varieties of various colors and shapes.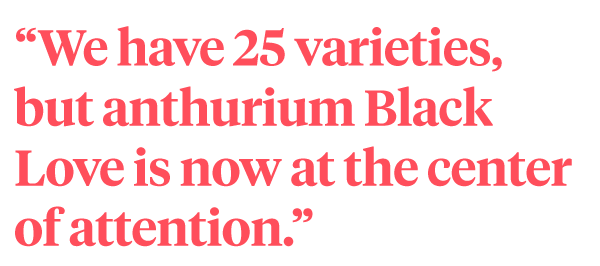 Evanty's owner Jaap Evers: "Around 2000 we came across Rijnplant, a breeder of pot anthurium, to discover very beautiful small-flowered varieties in all kinds of colors and decided to test whether they were suitable for growing as cut flowers. It soon became clear that the market appreciated this innovation, but that our work as a grower had to be done in a completely different way. For instance, the packaging had to be smarter, so we started packing the small anthuriums in bunches of 10 per bucket."
Branding the Small Anthuriums
After a few years, Evanty had enough new varieties and colors available. The company entirely stopped growing large-flowered anthuriums. That was also the time when they started thinking about a brand name. This then became 'Lovely's'. Jaap Evers: "During the introduction at the Aalsmeer Trade Fair, we started packing each bunch in a sleeve. On it, we printed very small, but 100x, the name 'Lovely's' to get more attention value. Everyone is now so familiar with our small version of the anthurium that Lovely's are much in demand."
Black Love at the Center of Attention
Jaap then comes to the point where he introduces the black small-flowered variety: "As Evanty we now have more than 25 different colors and shapes available, also in small quantities. This counts as well for the black-colored
Black Love
which is now at the center of attention." The flower has unusual black-to-dark-chocolate flowers, varying in size from 7 to 11 cms. Our Lovely's are available daily in our webshop and through all wholesalers in Europe and beyond. Our products are also available on the clocks every day at all auctions in the Netherlands and Germany so that the florist who buys the product himself can work with our Lovely's in the bouquets. Jaap Evers: "The color black gets more accepted in the flower business. Two years ago we started making ready-made bouquets in all kinds of color sleeves and recently a black sleeve has been added. The reactions are very good so far."