Because they're so rare, black-colored blooms add instant intrigue to a bouquet or garden arrangement and suggest mystery, elegance, and power. However, it's impossible for a bloom to be completely black, and what many perceive to be black, is, in fact, a deep shade of red or purple.
The 15 Best Black Flowers
From black roses to deep, dark orchids, here you'll find a list compiled a list of the best black flowers to experiment with, in your next arrangement. Or garden. Check out the list below to find your next favorite!
1) Black Calla Lily Odessa and Others
The black calla lily or zantedeschia makes a dramatic statement when used in a bouquet, especially a wedding bouquet. Definitely one of the best black flowers in existence. Calla comes from the Greek word "kallos" which means beautiful. It certainly lives up to its name. Since they have a trumpet-like shape, they are also related to victory. Calla lily can also be seen in paintings and depictions of the Virgin Mary; they depict resurrection, faithfulness, and purity. Besides the variety Odessa, also the varieties Black Diamond, Escape, Cantor, and Captain Beretta are available in the trade.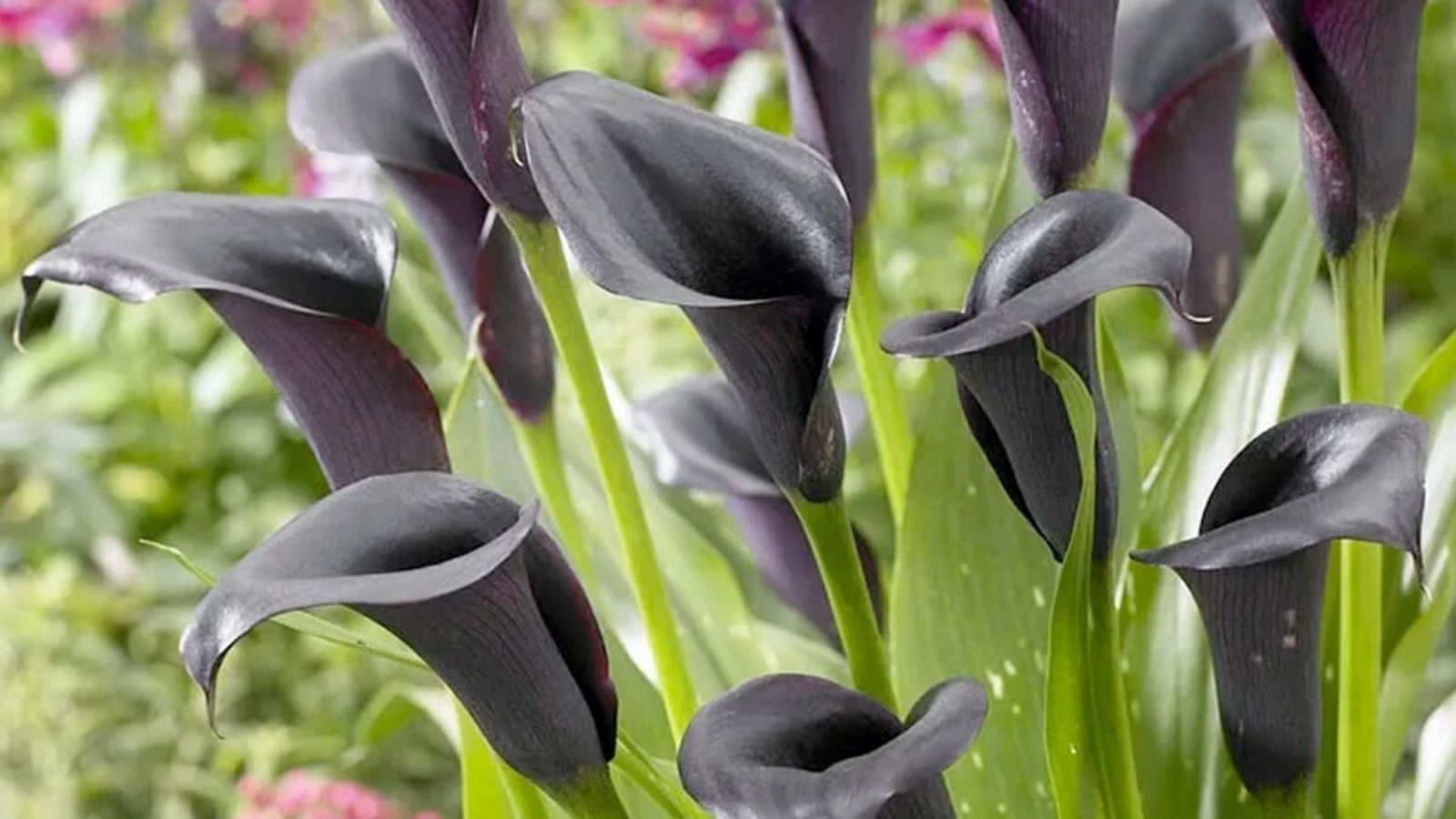 2) Black Pansy - Viola Cornuta 'Molly Sanderson'
Although pansies are one of the more common garden flowers, a unique version of this specie also exists – the black pansy. Appearing in the spring, the black viola or "Molly Sanderson" complement multi-colored pansies or yellow flowers due to their light-colored center. These best black flowers do well both in and out of containers—perfect for table centerpieces or aisle decor!
3) Black Anthurium Nero
The black Anthuriums Black Love and Black Queen are both very dark purple and red in color, looking almost black. Even more so when the flowers are a bit older. These are plants, the Anthurium Nero is an almost black variety and is available as a cut flower.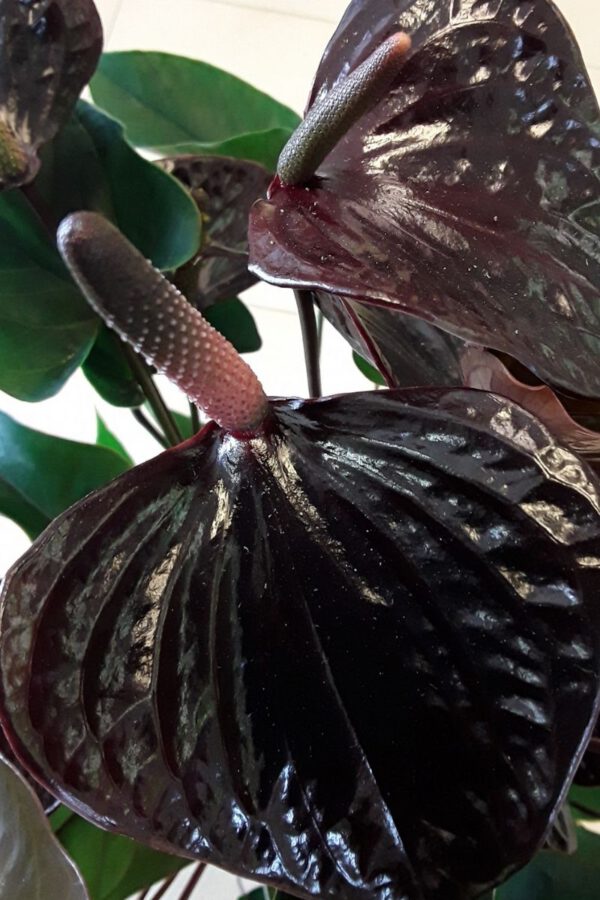 4) Black Hellebore Kissi Royal Maroon
The majority of Helleborus species are pink or white. (Common name is Hellebore.) However, this rare form is a deep purple. Almost black. Although lovely to look at, this black flower is very poisonous – which only adds to its intrigue. The botanical name of Black Hellebore is Helleborus Niger and is commonly called the Christmas Rose. This perennial plant, which blooms in early spring, can be easily grown in containers, in both part and full sun. Florists love to use it as a cut flower.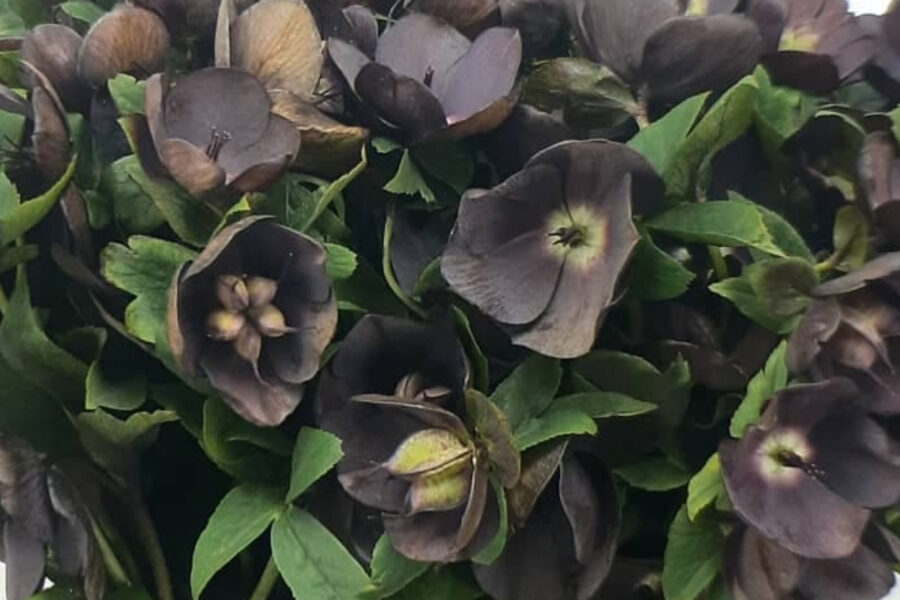 5) Black Lisianthus or Eustoma 'Bohemian Black Violet'
This fairly new variety of Lisianthus is grown by Montana. Lisianthus Bohemian Black Violet is one in the Bohemian series of this grower and an enormous hit with floral designers from all over the world.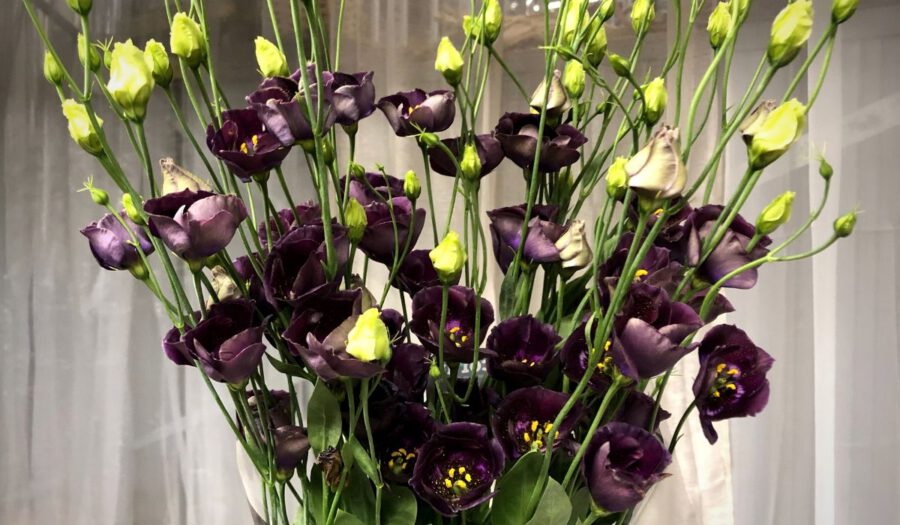 6) The Black Tulip Queen of Night
The oldest and most famous black tulip was La Tulipe Noire, which appeared in 1891, and is no longer in production. The Queen of Night, which appeared in 1955 is the darkest of all tulips and is still in production and available. The Queen of Night is very tall and the form of the flower is classic and striking. It is a truly spectacular choice that every tulip enthusiast should try at least once as one of the best black flowers for your garden or vase.

7) Black Dahlia
Even though this beautiful black dahlia looks to be as dark as the night, it's, in fact, a very dark shade of red. It's an extremely mysterious-looking flower. During the Victorian time, the flower was believed to represent a commitment and an everlasting bond. The flower is so beautiful, that a movie was named after it called "Black Dahlia" released in 2006.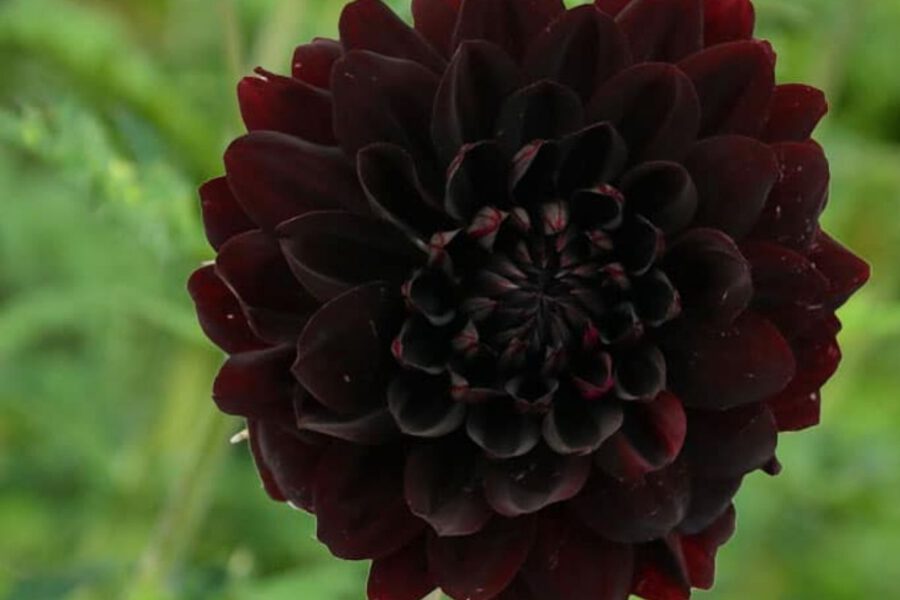 8) Black 'Orchid' Tacca Chantrieri
This species isn't really a member of the orchid family, it comes from Asia, and is family of the Dioscoreaceae. The Tacca is an interesting breed and bears a close resemblance to a bat in flight. It's a deep shade of brown and to the untrained eye, looks ebony black. It's also often referred to as the 'Devil Flower' or the 'Cat's Whiskers'. Asides from its distinctive appearance, some scientists also believe this flower to have cancer-fighting properties.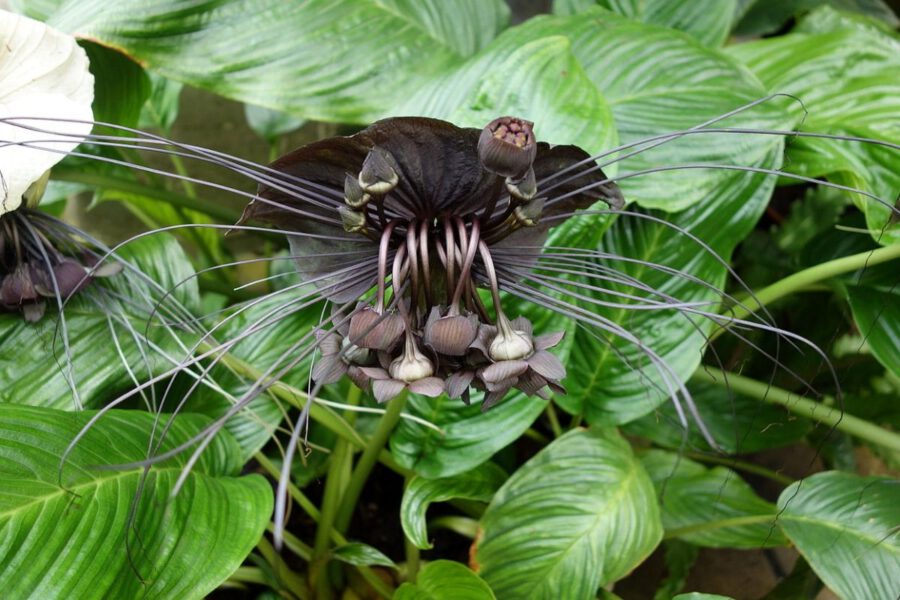 9) Black Hollyhock - Black Magic
Again, the black holly flower is near to black but is actually a deep purple flower. These gorgeous flowers bloom throughout summer. Although Hollyhock flowers symbolize friendship, the deep purple hollyhock symbolizes nobility. Nigra Hollyhock is a very popular variety with historical gardens. The rich-colored flowers were mentioned in 1629 and they were also seen in the Monticello gardens of Thomas Jefferson. Black Hollyhock is probably one of the rarest flowers that can look almost black in certain lights.
10) Black Petunia
It was only in 2010 that these black flowers were created. The Petunia Black Velvet is the blackest flower in the world. UK-Scientists from flower breeder Ball Horticultural Company have created this world's first all-black petunia plant, and called it Black Velvet; the new flowers were developed using natural breeding techniques to turn them into a dark black color. You can see more about the first black petunia in the news item of Channel 4 of 2010 here.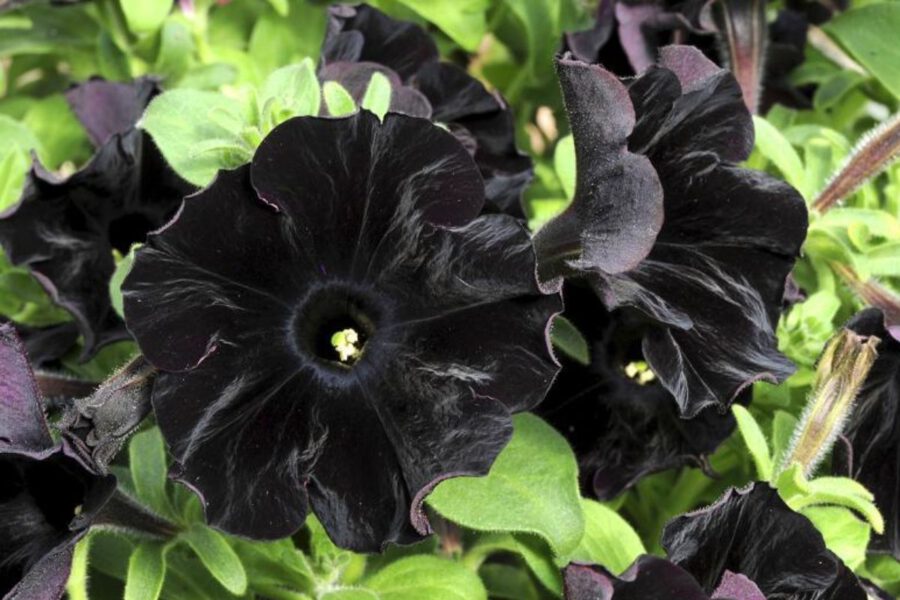 11) Black Chocolate Cosmos
This beautiful maroon bloom is native to Mexico. However, they are being declared extinct. They were brought into cultivation in the year 1902 by a single clone, via vegetation propagation. Not only does the Black Chocolate Cosmos share the same hue as the sweet treat, but it also has a chocolate-like scent! Definitely one of the best black flowers in the world!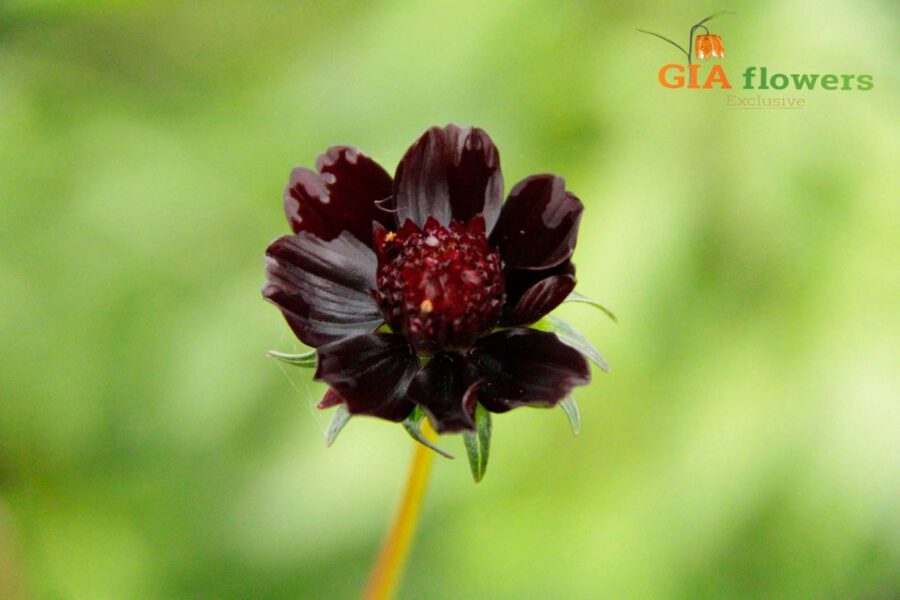 12) Black Rose Baccara
This stunning tea-hybrid rose from breeder Meilland adds a dramatic look to any bouquet, vase, or garden. It is one of the most loved black flowers on the market. Asides from their attractive appearance, the flowers also have a very wonderful and soothing fragrance. The flowers of the Black Baccara Rose are complemented by pretty green-reddish foliage, and the blooms themselves actually appear darker in cooler weather. Read more about black roses here: 'Black Roses - Do They Exist Naturally?'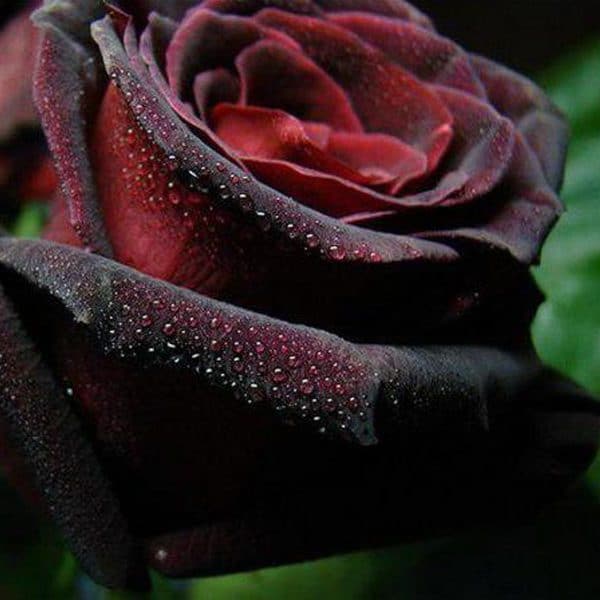 13) Black Iris 'Before the Storm'
The iris is a flower that is obtainable in almost every color imaginable, including a deep shade of purple-black. Native to China and Myanmar, Black Iris is a sweet-scented purplish-black flower. It is the national flower of Jordan and is considered the epitome of beauty. The black iris flower is also known for its toughness and its survival ability in the harshest of environments, such as the Arabian Desert.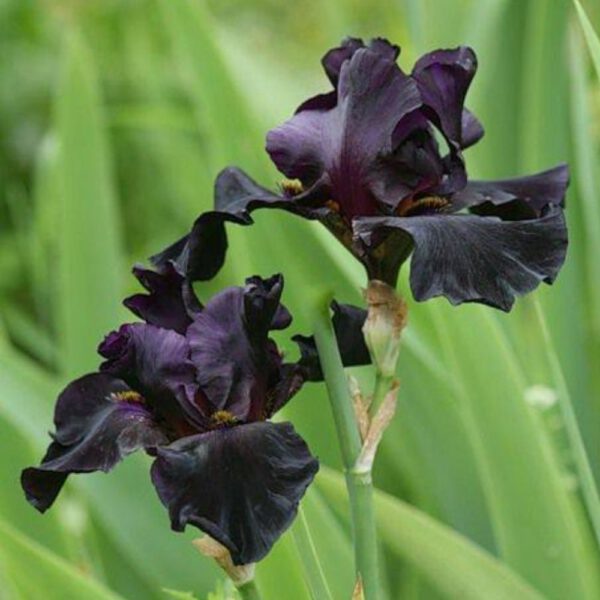 14) Black Geranium Phaeum
This beautiful flower is also called Mourning Widow or Black Widow and is native to Southern, Central, and Western Europe. It grows in shady damp areas. They have deeply-cut green foliage, bearing unique dark maroon-purple clusters of flowers. Plants need to be cut back after blooming to encourage fresh new foliage. The clumps are easily divided in spring or early fall.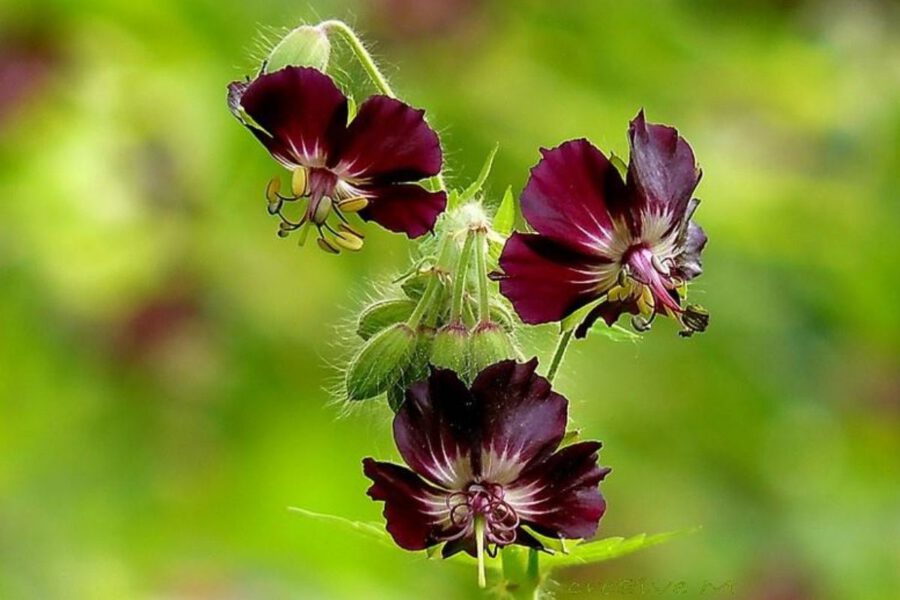 15) Black Fritillaria Persica Purple Dynamite
The last on the list of best black flowers is the Fritillaria Persica. Commonly called Persian lily is a bulbous perennial of the lily family. This Persica strain is a very special one. It is a deep dark purple and very shiny on both the flower and the leaf, making it very special. The flowers look, in some lights, almost completely black. Definitely one of the best black Flowers in the world.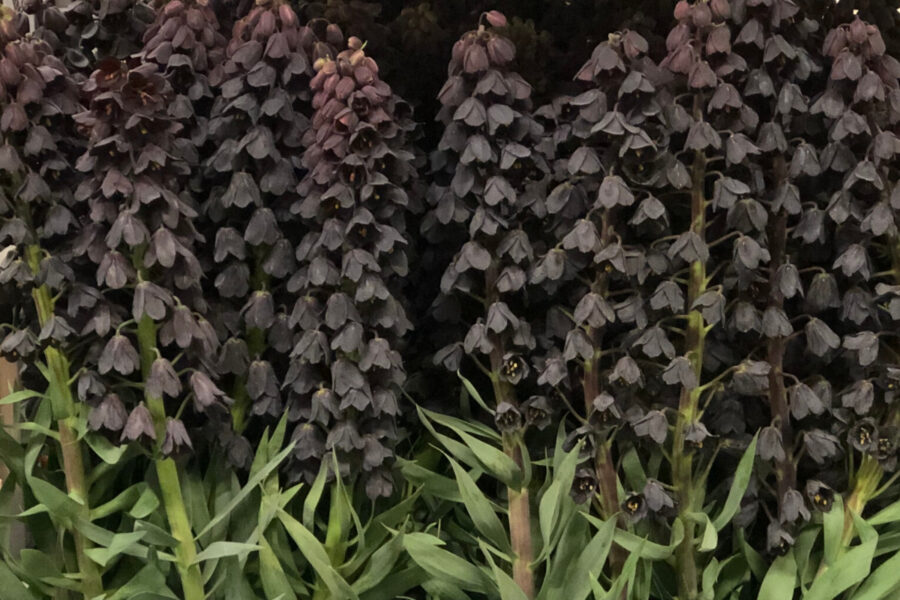 Some of the 15 best black flowers are also to be found in kat von D's garden, about which you can read more here: '20 Gothic Garden Flowers by Kat Von D'.