Black flowers are like magic, and when those black flowers appear in spring in a garden, it is even more dramatic. Although many gardeners and landscapers would say that using black flowers in your garden wouldn't be something to recommend, because black in your garden tends to 'disappears' all too readily into the background, and the same is true for floral design, still, many contemporary floral designers love the use of black flowers in their work.
Do Black Flowers Exist? Are Black Tulips Really Black?
The answer is: "No". In truth, no flowers in nature can be completely black – most are deep purples. There just aren't any black pigments in flowers, but the appearance of black can be created with high concentrations of various darker pigments. The Queen of Night for example is more eggplant in color than true black.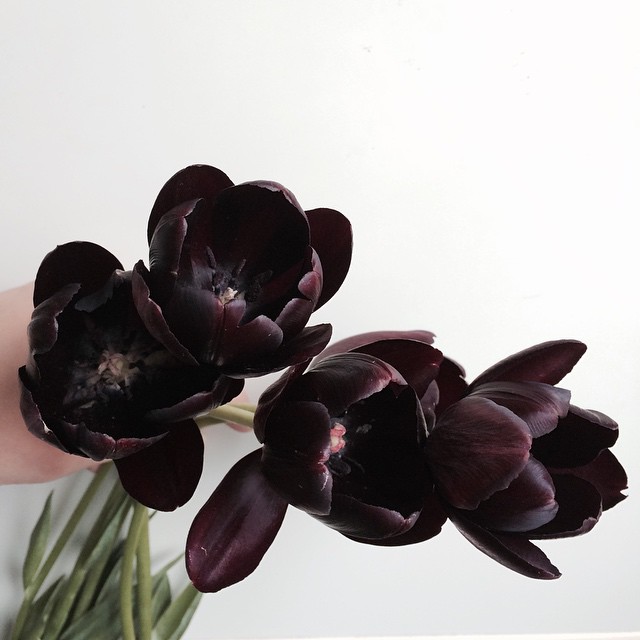 Picture by: @elisavetaaaa
Creating Black Tulips
Although black tulips are relatively rare (and as said before technically more eggplant than true black), there are, nevertheless fantastic cultivars out there. Creating any new and durable variety of tulips is considered a triumph in the bulb trade. First, you have to transfer pollen: taking it with a paintbrush from the anther of one tulip and placing it on the ovules of another.

Then the breeder has to decide when the fertilized seeds are ready to plant, and then it takes five years or more for a flower-producing bulb to mature. Tulips are bred not only for color, length, and shape but also for qualities like the firmness of the leaf and disease resistance. For one thing, tulips do not always abide by Mendel's laws of genetics. Two red tulips can produce offspring in a wide range of colors: yellow, pink, and white, striped, and so on. So you understand it is very difficult to breed black varieties.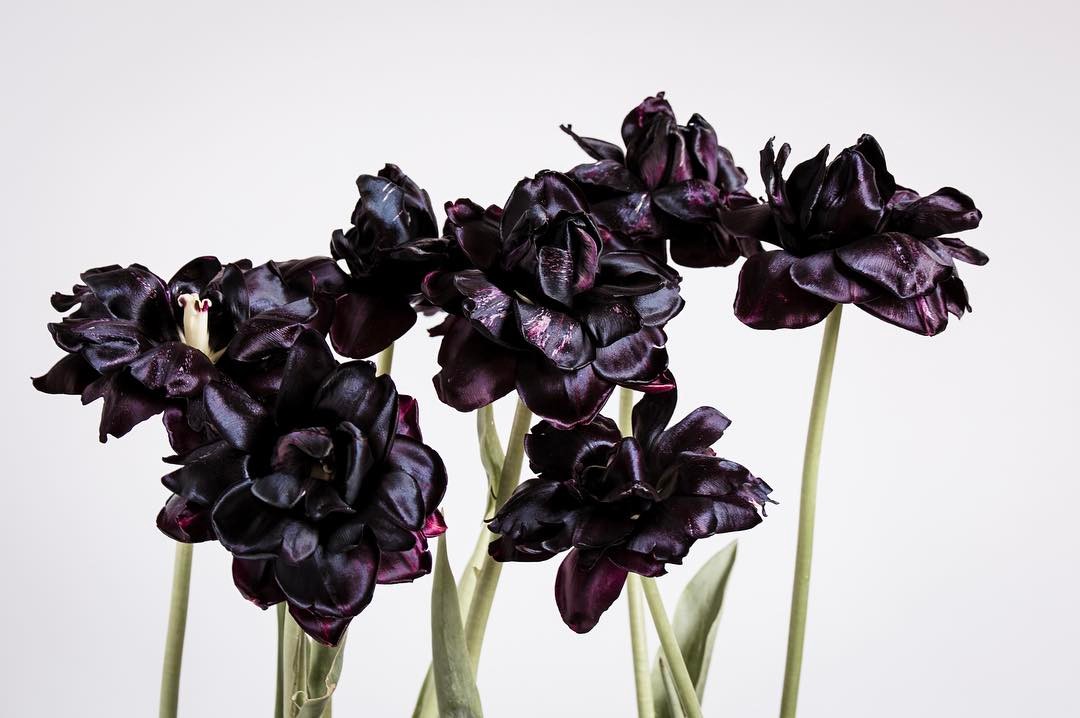 A Short History
The oldest and most famous black tulip was La Tulipe Noire, which appeared in 1891, and is no longer in production. The Queen of Night, which appeared in 1955 and is still in production and available. The Queen of Night is very tall and the form of the flower is classic and striking. It is a truly spectacular choice that every tulip enthusiast should try at least once.

More Black Tulips
Besides the most famous black tulip called 'Queen of Night', in the trade, you can find some other varieties of black tulips. Sam van Schooten, a Dutch bulb supplier is also offering the Black Parrot which is shaped with feathery petals, a little lighter in color than the Queen of Night tulips. A black double tulip is called Black Hero, a little darker than the Black Parrot. It's a deep, purple-black with flashes of wine red. And there's a Van Gogh tulip. Named after one of the most famous Dutch painters, no doubt Vincent would be very proud to be named after such a beautiful tulip variety! It is a black Fringed tulip. Depending on the photographer (and paint shop), the flowers are more or less black.
And Even More (but Lesser) Black Tulips
Tulip 'Ronaldo' is also quite an impressive dark-blooming tulip. In deep carmine-crimson. ' Havran' is a beautiful, silk-satin almost black tulip with two or three flowers per stem. With deep blackcurrant blooms, it has a similar coloring to the very popular Queen of Night tulip. Labrador is also a fringed tulip and is reddish-brown to black-colored. Tulip Labrador has a very fringed and sturdy flower. The unique shape and color make this variety adorable.