Life is short, it can be over before you know it. The many symbolic values of the dianthus that are used all over the world have one thing in common: They remind us of life's fragility and urge us to cheer up, love, and blow our troubles away.
Carnations can be very strong, when well treated, to bring enjoyment for a long time. With a little help from us humans, we can enjoy life in itself by just looking at these wonderfully fringe-petaled flowers. But what, when, and how to do this?
Dianthus Standard, Spray, and Barbatus
As a cut flower, the dianthus comes in various shapes, forms, and many colors. It will get you puzzled sometimes to learn that a flower has 'Dianthus' as its first name, while it does to even resemble the kind of dianthus that you are familiar with. Let's sum them up first, for everyone's sake.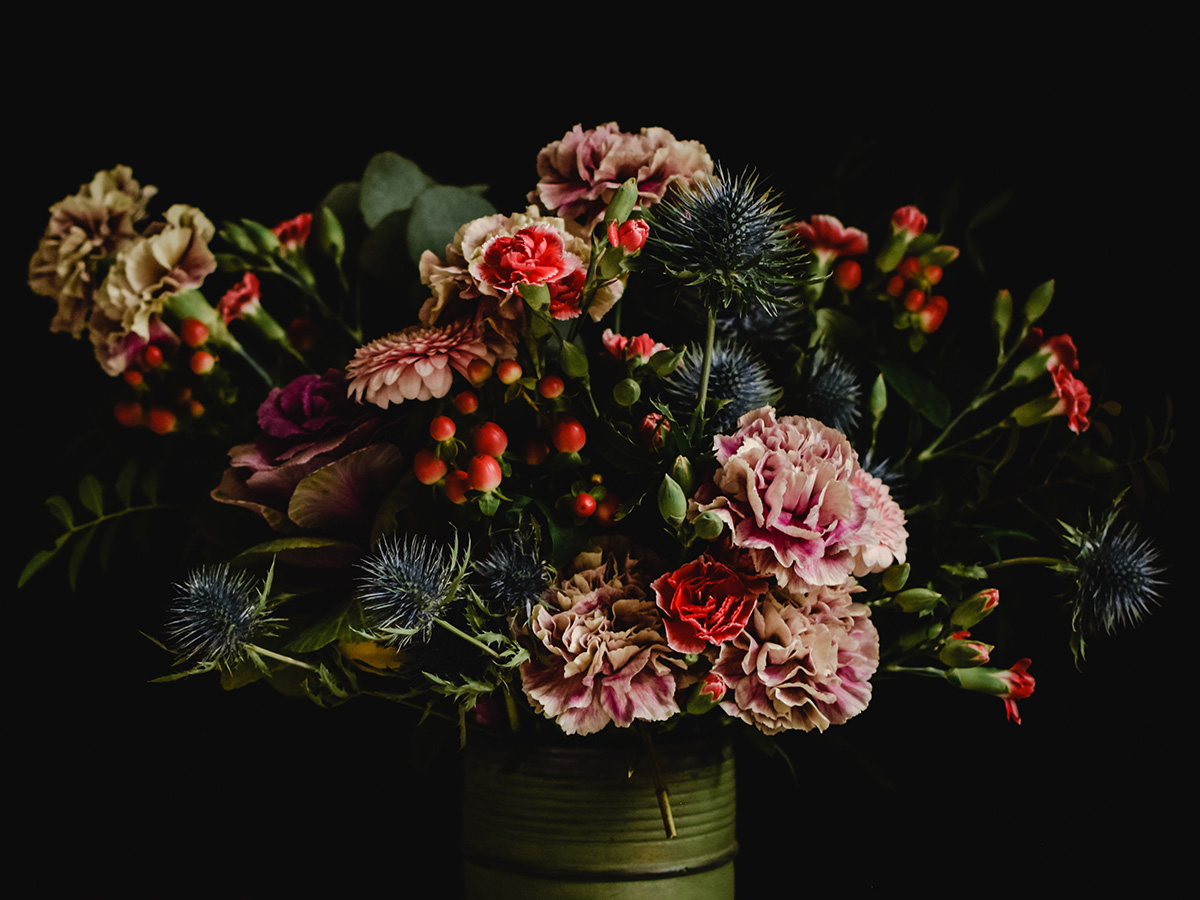 Standard Dianthus - A standard dianthus is the one most people would immediately recognize as 'carnation'. It's one big fringe-petaled flower on top of a wiry, stiffly erect stem.
Spray Dianthus - The spray variety of the dianthus consists of numerous miniature versions of the standard dianthus sprayed over one stem.
Dianthus Barbatus - In many countries, dianthus barbatus goes by the name of sweet William. It remotely looks like the standard and the spray carnation, because of its fringed petals and the typical wiry green stem and leaves.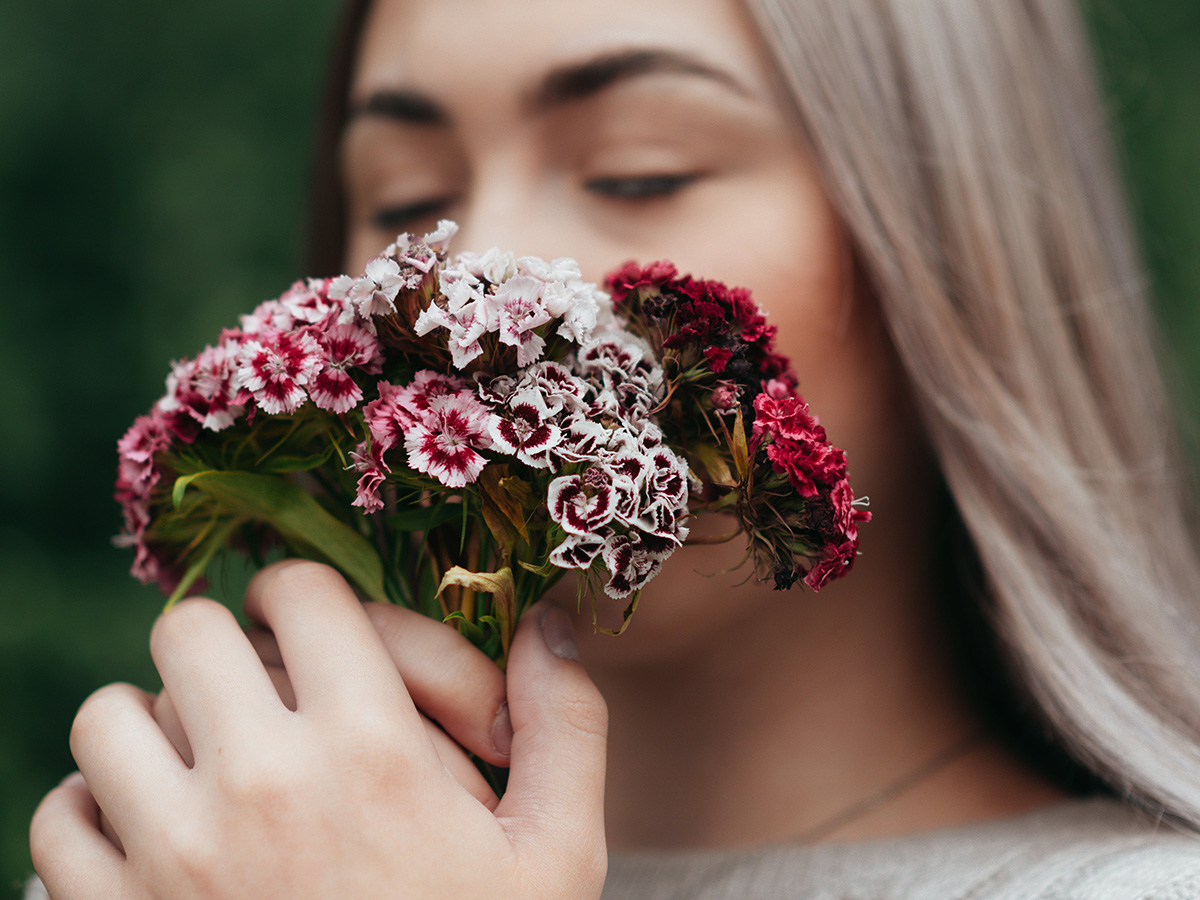 Celebrate Life With Long-Lasting Carnations
Have you ever heard of 'hana-fuki'? Well, at least in Japan they have. The dianthus flower is known there as hana-fuki, which translated means 'to blow away'. The name comes from the belief that when one smells the sweet scent of this flower, all the troubles get blown away. The many more associations with this flower all over the world are pointed more or less in the same direction: to celebrate life... and death.
In ancient Greece, dianthus flowers were often given to the ill and the dying, as a symbol of life's fragility. Greece is also where the name dianthus originally comes from, meaning 'Flower of the Gods, being a combination of the Greek words 'dios' (god) and 'anthos' (flower).
For centuries carnations have been used in wedding bouquets, just as they are worn at funerals. With this flower, you are reminded to enjoy life as well as fondly remember someone dear who has just passed away. Both occasions have the strong power of love in them, so it's not a paradox at all. You see the dianthus more and more often worn as a tattoo - a popular way of expression these days - to immortalize this feeling of love and commemoration.
Love and death show the fragility of life in itself. But despite its image of fragility, fresh-cut carnations are quite long-lasting on their own. When treated well, they will outlast many other flowers.
Dianthus Barbatus of Ball SB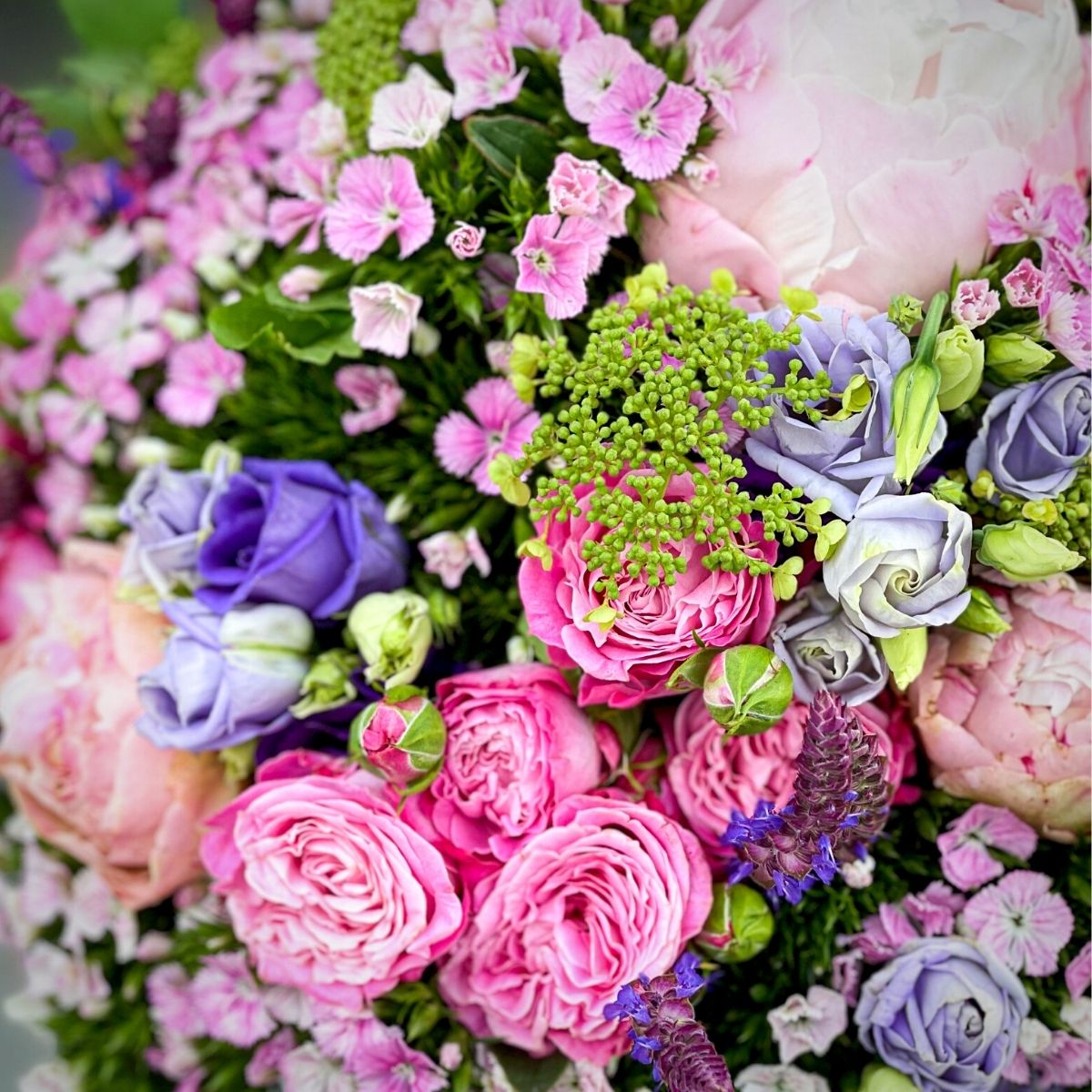 How to Get the Best Out of Your Carnations?
Here's a simple test, recorded in a 30-second timelapse video. Three vases with mixed carnations. Vase #1 holds only water. Vase #2 has had a dose of Chrysal Ethylene Buster. Vase #3 has had a dose of Chrysal AVB. The results are amazing.
It is a fact that carnations are strong flowers; just in water, they remain well for a day or 10. The added value of 4-6 more days comes from Chrysal Ethylene Buster and particularly from Chrysal AVB. An easy two weeks of enjoyment is astounding, but your customers will appreciate you for it.
For Growers: Chrysal AVB
Perhaps you don't realize it, but many flowers you have bought (in)directly from Royal FloraHolland did already get a shot of AVB before you purchased them. Treatment with AVB is mandatory for many flower varieties at Dutch auctions.
Chrysal AVB is a post-harvest conditioner for ethylene-sensitive flowers, such as carnations, lilies, and alstroemeria. It improves vase life, diminishes the dropping of blooms, leaves, and buds, and it improves bud opening.
Chrysal AVB Booster improves the performance of the post-harvest conditioner Chrysal AVB. It stimulates the water and AVB uptake.
Divine Flowers is a Dutch carnation grower. Indeed, the name 'Divine' relates directly to the name 'Dianthus' that the ancient Greeks used for this flower. Arnoud Vooijs, co-owner of Divine Flowers, explains how his farm gets the perfect flowers for its customers:
"We know that Chrysal does a lot of monitoring and testing with carnations. They regularly visit us to collect flowers that have not been pre-treated yet.

Pre-treatment is absolutely very necessary to extend the shelf life of carnations. These flowers are extremely sensitive to ethylene, so we make them more resilient with a post-harvest agent like Chrysal AVB. When treated well - and not put close to a fruit bowl! - our carnations will last easily at least two weeks."
For Florists: Chrysal Professional 2
In your flower shop carnations can best be put in buckets with Chrysal Professional 2. This ensures that the carnations are kept in good condition, but don't open too much yet.
For Con
sumers: Chrysal Paper Sachet Flower Food
Consumers will get the most out of their carnations with the content of a single sachet of flower food. The sachet is produced from 100% industrial compostable film made from two organic layers. This means the sachet can be thrown away together with your garden and organic waste. The sachet is fully industrial compostable in 12 weeks' time; just as quick as a banana or orange peel.
Flowers and buds open more beautifully, it mixes easily and clearly in water and is odorless. This Chrysal Flower Food provides all the necessary ingredients for the full development of buds and blooms. Accurate dosing is essential for maximum satisfaction, so these packets should be used with 1 liter of water.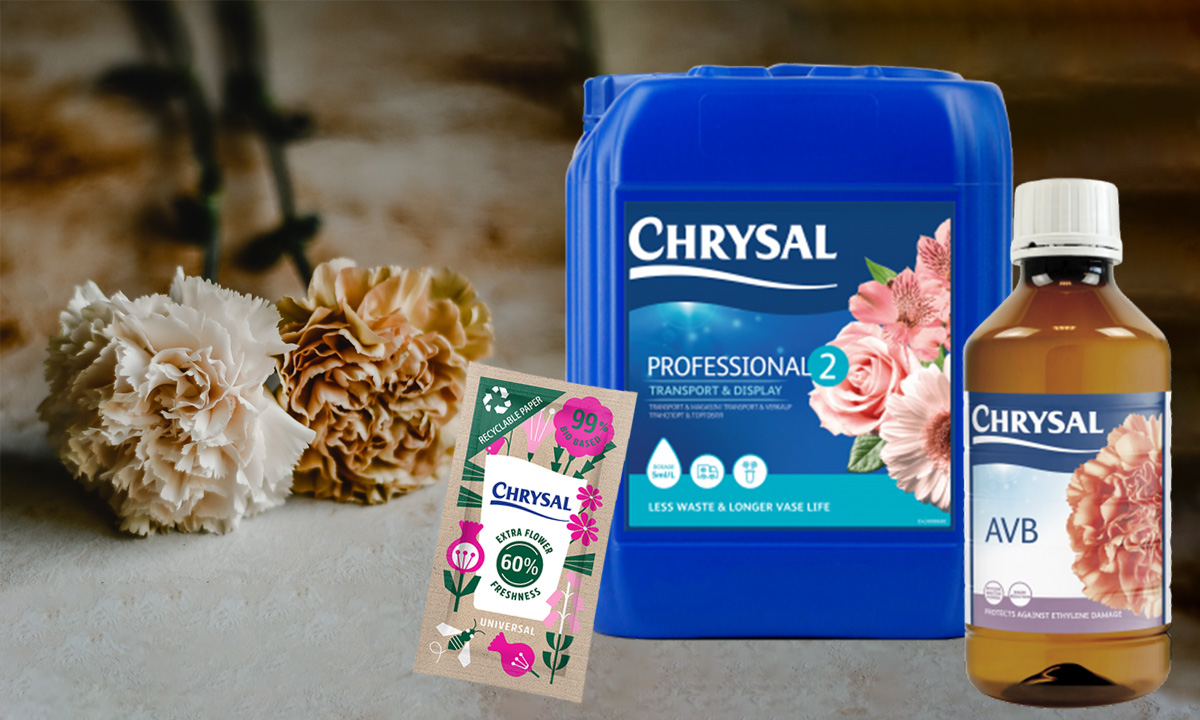 Enjoy Your Carnations to the Max
As you've read in the previous paragraph, the dianthus belongs to the ethylene-sensitive category of flowers. To be exact: carnations are extremely sensitive to ethylene, so don't forget to keep it away from the fruit bowl! Enjoy your carnations to the max!