In four Cities across America, leading florist and USA's representative at the 2023 Interflora World Cup, Jenny Thomasson AIFD PFCI EMC AAF will teach you to take your bouquet and personal flower skills to the next level. During Spring, 2024, her unique vision of building creative confidence in this specialized and curated experience will guide all the attendees to insights into mechanics, technique, and the business of bouquet floristry.
The Bouquet Tour With Jenny Thomasson
For those who haven't met Jenny Thomasson yet, she is traveling the world using and teaching traditional forms and shapes, with trends layered in to create a new modern approach to floral design. To find creative confidence, and a new and fresh way to design, Jenny's Bouquet Tour will be the perfect place to attend to level up your bouquet skills.
What Should You Expect From the Bouquet Tour With Jenny Thomasson?
Personal instruction and full explanation on how to create some of the most sought-after designs for Wedding bouquets and personal flowers. In two days Jenny will share with you the tips and tricks on how to accomplish fresh and innovative styles and mechanics. This will give you the tools and confidence to sell, design and produce each as well as how to price and make money providing this line of floristry.

Jenny explains what will happen:
Day One:

"We will discuss how to manage your costs to be profitable, organize your flower ordering, and how build your botanical selection. You will be walked through the steps to conceptualize one-of-a-kind bouquets, the material selection, and examples of presenting the composition to the client. There will be a wide array of examples that Jenny herself has created, where you can gather inspiration and hands-on time with assistance to design some of your very own."

Day Two:

"The day is spent with an in-depth discussion on proper mechanics for Cascade, Teardrop, Asymmetrical, Crescent, Loose & Airy Bouquets and how to customize your very own holder for any shape you can imagine, Also included is a time to explore the wonderous world for Avant garde personal and body flowers. This is meant for sharing the fantasy of floristry with the customer and the floral designer that wants something unique to show. With the knowledge of Day One and Day Two there will be hands-on time to explore your creative vision and inspiration."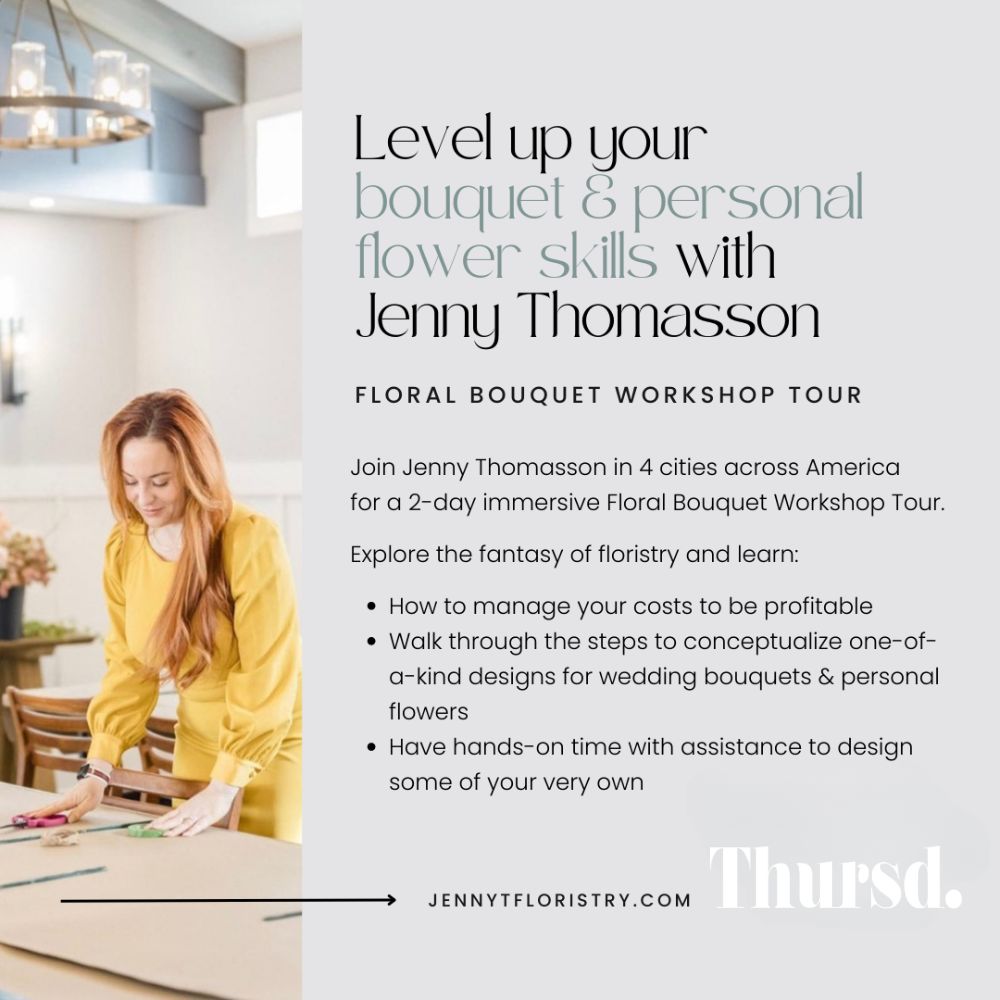 Pre-Workshop *Optional* Business Chat
Plan on coming early to spend some time with Jenny Thomasson and Charles Ingrum for an informal roundtable-style discussion on areas of the flower business. You must pre-register for this portion with an additional fee of $95. The roundtable will be a minimum of 2 hours and held at a secret location to be shared at a later date. No questions are off the table so come ready.
How to Sign Up
There's a limited number of attendees for each of these workshops so spaces are exclusive. You can visit Jenny's website to view the locations and snag your seat there.
January 22nd & 23rd in San Diego @ Allen's Flowers, 5225 Lovelock St, San Diego, CA 92110
February 26th & 27th in Philadelphia @ Pennie's by Plaza Flowers, 263 N Keswick Ave, Glenside, PA 19038
March 11th & 12th in Chicago @ Kennicott Brothers Wholesale, 452 N Ashland Ave, Chicago IL 60622
March 25th & 26th in Orlando @ Orlando Wholesale Florist, 541 W Grant St, Orlando FL 32805


Is There a Big Investment Involved?
Investment in your knowledge is an investment in yourself.
The price of $1,100 'Early Bird Pricing' & $1,400 from Sept 30th includes all flowers and supplies. Two full days of lecture, demonstration, and hands-on instruction. Handouts and lunch on workshop days, a Meraki floral tool, an apron, and a lot of fun.

*Optional: Pre-Workshop Business Chat*

Of course, there are payment plans are available. Please note that the Investment does not include the Pre-Workshop *Optional* Business Chat, travel, or accommodations. That is something every person has to take care of themselves.
To Learn More About This Tour
Jenny Thomasson will be hosting a limited number of attendees for each of these workshops so spaces are exclusive.
Find out more about the Spring Bouquet Tour by Jenny Thomasson.