Rick and Karolien Tesselaar of Tesselaar Alstroemeria are very active growers. Not only active in producing great alstros, but also in paying a lot of attention to both the environment and the long-lasting quality of their flowers. Alstroemeria Mistral is a perfect example of a bright white and CO₂ neutral grown alstroemeria that will stay on the vase for a long time. The unique new white Alstroemeria variety from breeder Royal Van Zanten is called 'Mistral'. The intense white flower with its dark green leaves fills every living room as a mono bunch or as the shining centerpiece of any bouquet.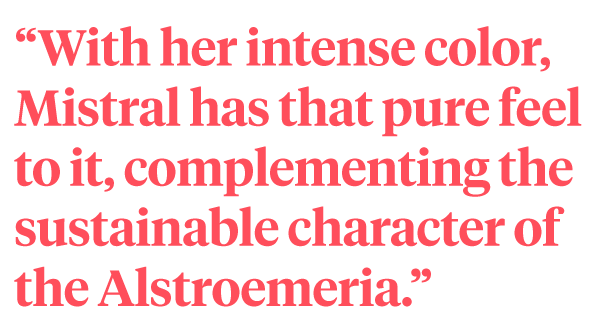 Selected by Royal Van Zanten
The cultivation of alstroemeria in the Netherlands is one with the lowest carbon footprint within floriculture. Royal Van Zanten is always searching for ways to improve the cultivation, making it more sustainable. Not only has Mistral been selected from thousands of seedlings because of her appearance, but also because of the strength of the plant which makes it possible to be grown in cold conditions worldwide.
CO₂ Neutral
These days, an important extra asset to any flower is an environmentally friendly neutral production. Mistral meets all demands for this new era since the flower is produced CO₂ neutral. For three years, Tesselaar Alstroemeria has been calculating its environmental footprint and has made large steps in terms of sustainability. The CO₂ during the production of Mistral is entirely compensated by planting forests in Bolivia through the Trees for All Foundation. This makes their alstroemerias, and especially Mistral, a good choice for environmentally conscious florists who wish to offer their customers sustainable flowers. This definitely adds extra shine to the snow-white flower.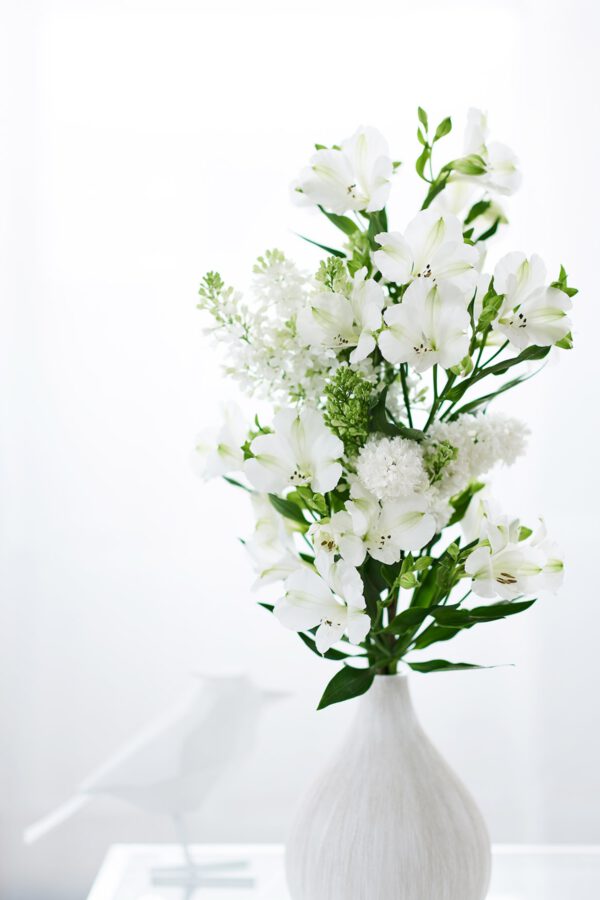 Masterly Mistral
With her intense color, Mistral has that pure feel to it, complementing the sustainable character of the Alstroemeria. Mistral is bright white, has a long vase life, and even when the flowers are still in the bud, the color is easily recognizable for florists. The promise of crisp white flowers is a true inspiration for florists. The same goes for the name 'Mistral' - diverted from Magistralis, meaning masterly - which invites florists to create something out of the ordinary with this majestic alstroemeria.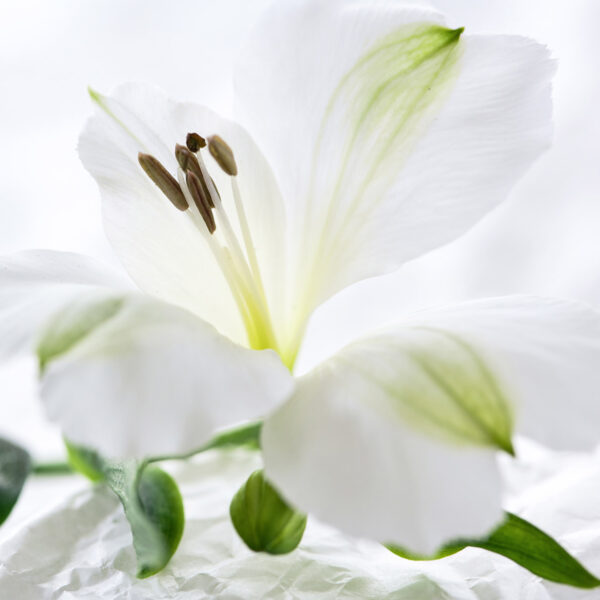 The Longest Vase Life
Which alstroemeria has the longest vase life? That is an important question when you are a florist or a consumer. You want to enjoy this magnificent flower to the max because you paid a good price for it with your supplier. Maximizing the life span of a flower is called 'increasing the value for money'. So, you want to have the best alstroemeria too, right? The answer to that question is, in fact, really simple. It requires no test, just some common knowledge, and trust. The common knowledge is that when a grower gives his flowers more time to grow, they will get more vital nutrition and will grow stronger. As a result of this stretched time in the field or greenhouse, a flower will be more mature, in other words: with (slightly) more open buds. The trust part in this is that you - as a florist - should realize that this more mature, more open flower is not It is stronger and has better odds to bloom fully for a very long time. It takes a level of trusting your flower supplier to think different and dare to buy your flowers in a more mature state, especially if they come directly from the grower. Try it, slowly, and you will see for yourself that more mature flowers like alstroemerias do stay pretty for a longer period. Dare to ask your customers about the vase life and find out that this is true.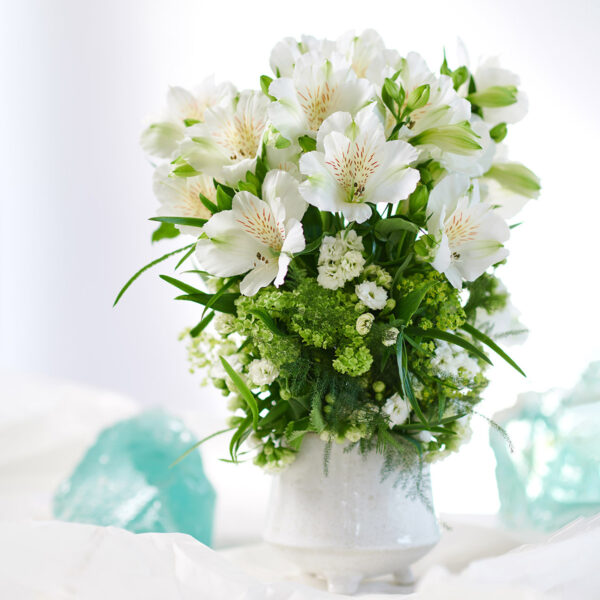 Alstroemeria Mistral by Tesselaar Alstroemeria is year-round available at the Aalsmeer and Naaldwijk auctions with an expected supply of 10,000 stems a week.