De Ruiter is a breeder of Roses, cut flowers, and shrubs. Many well-known roses are created, but also rosehip, hydrangea, anigozanthos, and hypericum. De Ruiter's vision is: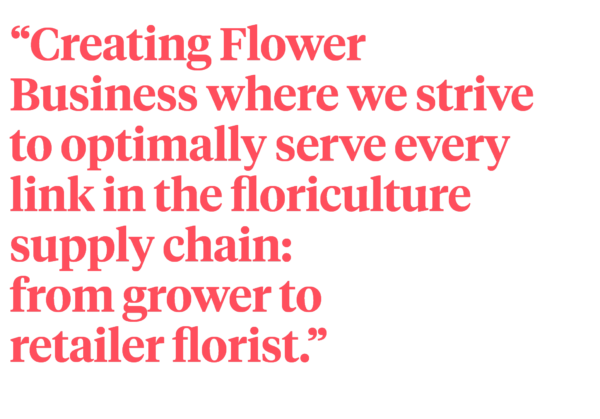 And that is precisely what they do!
Wide Range of Roses
De Ruiter has a very large assortment of roses, suitable for different climates, markets, and usages. After their first famous introduced spray rose Alegria® 22 years ago, now, De Ruiter has some popular sprays: Bubbles®, Kheops®, Dimension®, Colorosa® and Essence®. You've probably heard of them and have the roses in your shop.
Holex
De Ruiter's Spray Roses: The Bubbles® Line
De Ruiter likes to inform you about their line of spray roses,
called the Bubbles® line
, which is well known for their big head sizes. But also for their strong, and long stems. They come in many colors and trendy shapes such as peony-shaped, roses with a 'fresh-from-the-garden look and some with really, really big head sizes.
40 Different Varieties
The Bubbles® collection consists of approximately forty varieties as of today. Expected is that this line will continue to expand in varieties in the coming years. De Ruiter aims to crossbreed the strong character traits of the roses between the roses already existing. The specific characteristics of the roses are so good, we just have to wait until new exciting varieties are discovered in the new selections.
You can find all the spray roses from de Ruiter here
.
Demand and Production
Regions where Bubbles® are in high demand at the moment, and where markets are expanding rapidly at the moment are Russia, Ukraine, Uzbekistan, Poland, Azerbaijan, and Moldova. But, of course, Bubbles are being sold and bought throughout the world. Every wholesaler has access to the spray roses from de Ruiter. They are grown at different farms in Ecuador, Colombia, the Netherlands, Armenia, and Kenya.
Demand and Production
De Ruiter will continue breeding, developing, and introducing spray roses for every grower in every region in the world in the coming years. Every country and region has its own characteristics and is suitable for different varieties of the Bubbles® selection. Are you a grower, and are you interested to learn more about these roses? Then contact De Ruiter
here
. To florists around the world De Ruiter says to visit your local wholesaler, they should easily have access to the roses.

People from De Ruiter Are Present Around the Globe
Because De Ruiter owns several offices and greenhouses all over the world, this is a company that is always able to visit, service, and guide their grower customers where necessary. This can be crop supervision, but also simply providing information in the broadest sense. There is so much to mention and the people from De Ruiter tell you that you are always welcome to come and see the roses live at the farms, or by visiting
their website.