Florist spotlight is a segment on Rose Stories dedicated to highlighting the work of floral designers and artists who outdo themselves every day creating works of art with Rosaprima roses. This month's florist spotlight presents Carmel Doyle Vandale, the brilliant woman who owns and directs
Mt. Lebanon Floral Shop
. Together with
Heather Tabacchi
, Model and Photographer, they came up with this project: The Rainbow.
The Rainbow Series
As last Carmel and Heather did the blue series. The end result is amazing. Take a look at the gorgeous rainbow series and keep an eye on the next article to come: "How the Blue Series Is Done."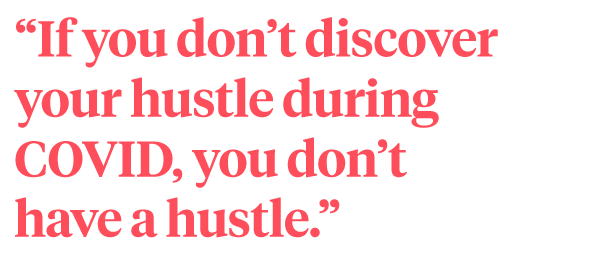 Tell us about your passion for floral design. How did you start working with flowers?
My passion for floral design comes from my mother and grandmother who were both serious gardeners. I remember my grandmother used to let us plant our own gardens when we were 7 or 8… She instilled in me a love for gardening and florals that has only grown since then! When I turned 22, I began working at the shop (which was initially family-owned), begging for a job as a designer. Instead, I was assigned tasks that were usually for assistants, like cleaning and arranging the shop. It was hard starting at the bottom, but I learned a lot and eventually made my way up into becoming a floral designer. Years went by and after working at the shop for 13 years, my husband and I were given the opportunity to buy it. I was passionate about having my own shop and devoted myself to the challenge. It was a big transition having to suddenly become the manager of a team of 13 people… It definitely took some getting used to before I could begin changing some things. Now, I have a core team that I can completely trust and rely on. It's been 25 years since I bought the shop from its previous owners, and I love that I get to work here every day.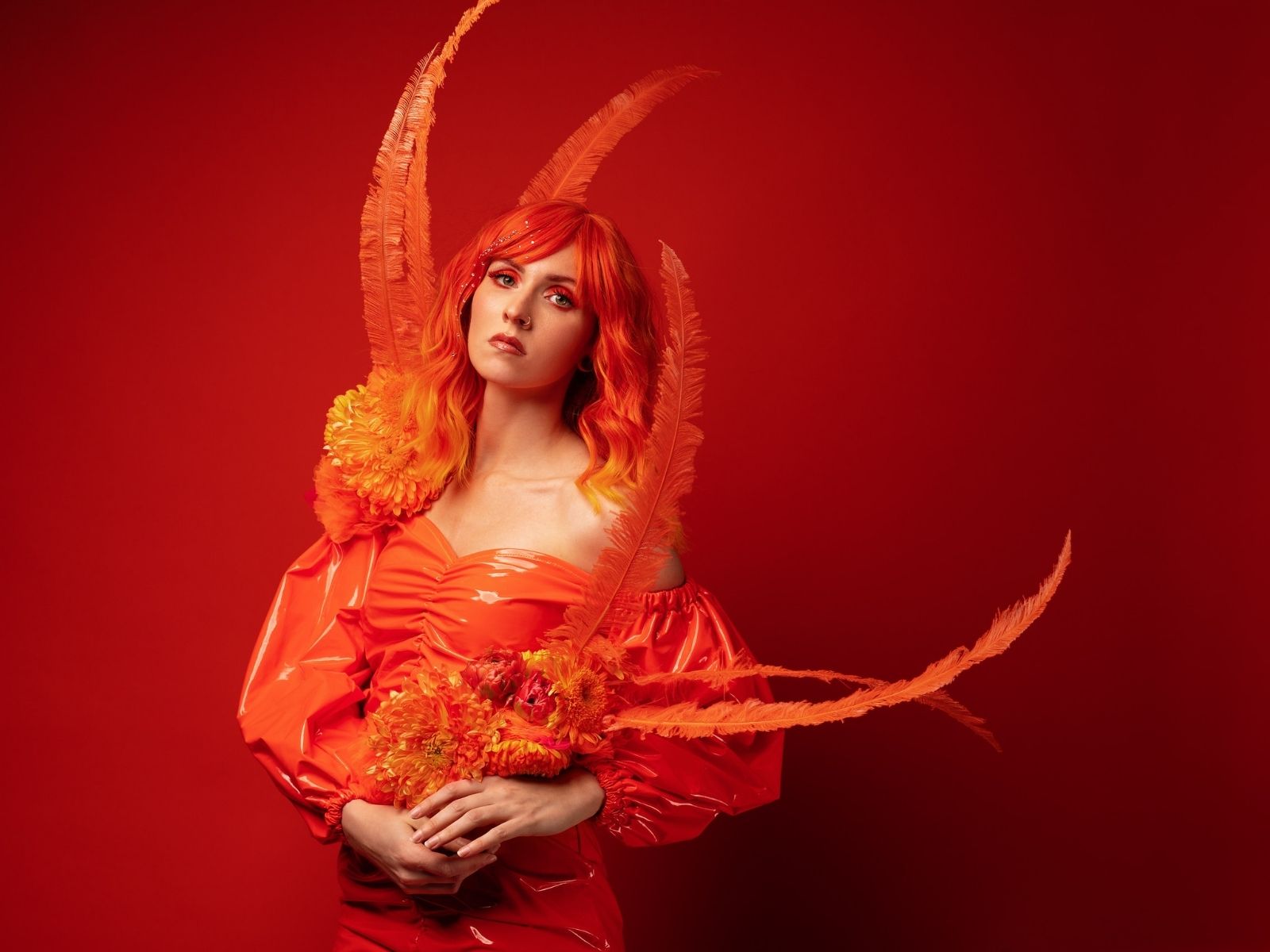 What do you like to do best when working with roses?
Headpieces and pieces people can wear have become a form of escape for me. I love working on creative and unconventional creations! Here at Mt. Lebanon we also do lots of funerals… and we like them. Other shops say they would rather work events such as weddings or other cheerful gatherings, but I believe a funeral is just as important as a wedding: it is a tribute to honor a person's life, and that to me, calls for something splendid. Believe it or not, some clients come up to me and tell me: "Oh, I would love to have Esperance at my funeral."
What inspires you to create such beautiful designs?
One of my main sources of inspiration when working with roses is the shop itself! Our shop has been in this building (which is over a hundred years old!) for 70 years and I absolutely love how the architectural details lend wonderfully for display. When walking into the shop and looking around, our clients expect us to "bring it" when working on their orders. And how do we "bring it"? Having a great work environment is important to us because we feel it translates into the quality of our work. When working with the team, we like to light candles and set up a beautiful space where creativity can bloom. Then we can really focus on crafting floral arrangements that meet and exceed our client's expectations.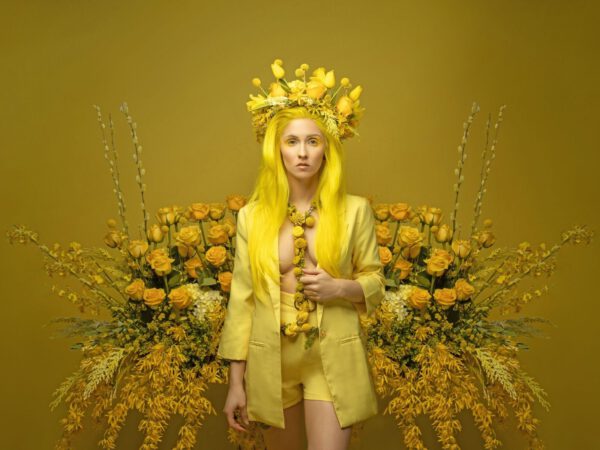 Did your business change during the pandemic?
During the pandemic we had to find ways to reinvent ourselves, so we started working on our website and adding our own creations! We tried to come up with clever theme names for each one. I have also been taking the opportunity to follow some of my favorite designers more closely on Instagram and have been taking the time to drop personal notes of praise because I know there is hard work behind the scenes that needs recognition. It is so important in a creative industry to share ideas and techniques when you can and to try and be an inspiration to others. It is also so important to not compare yourself to others and not feel threatened by other people's talent. I've heard people say: "if you don't discover your hustle during COVID, you don't have a hustle." I think this year we are going to see what people are passionate about! There is so much talent out there.
Can you tell us about your latest floral installment with photographer Heather Tabacchi featuring Rosaprima roses?
The Rainbow Series focuses on the colors of the rainbow. The idea is to create stunning photographs, captured by the young and talented Heather Tabacchi. The proceeds from the Rainbow Series will be donated to a cause that is important to us (we're still deciding on the right foundation). I have been working with Heather for 7 years and I love it! She has a wonderful team (complete with a stylist and a makeup artist) and she beautifully conveys the message that "beauty is not what everyone expects it to be." So far, for the Rainbow Series, we've covered almost all colors. I have to say, once I send the pieces I have created, I never know how Heather will use them. I know the color, I know the roses will be spectacular, I know what Heather will be wearing, but I usually have to wait to see the results. We are in such sync that the entire collaboration is completely exciting! The days after the shoot I am so pensive while waiting for her to send me the edits. I never know what to expect and I love her take! For example, for me yellow has always been a very sweet, soft color; and in the Yellow shoot for the Rainbow Series, Heather had such an empowering take on yellow that fascinated me. Up next in the series is definitively blue!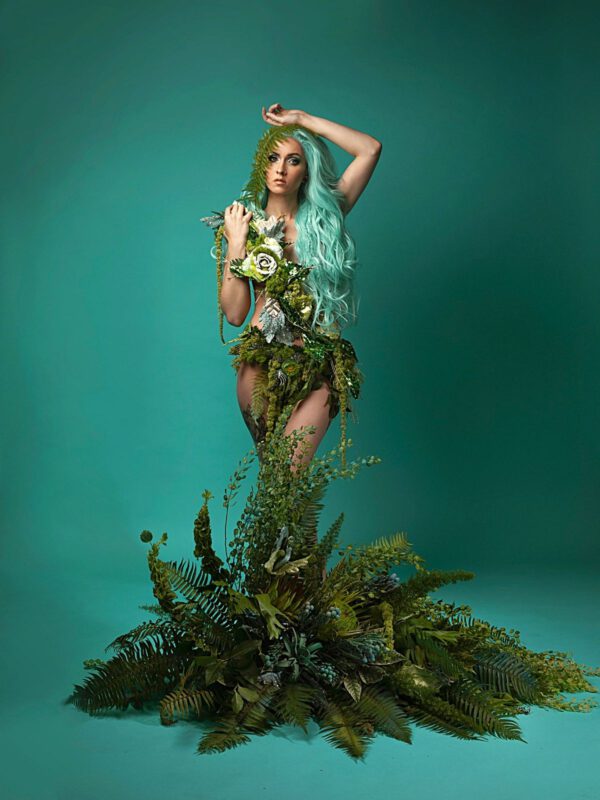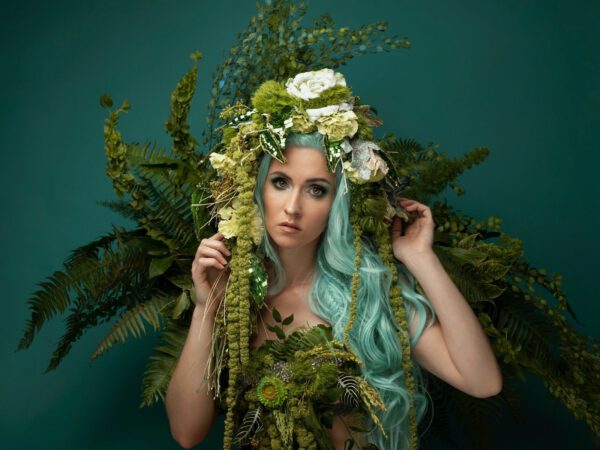 Why do you like roses? What's your favorite Rosaprima variety?
I like roses because they are so dependable, often smell heavenly, are long-lasting and they bring beauty to your life! As for my favorite varieties, I will forever be in love with Cherry Brandy, and I love Free Spirit because it performs the same every time!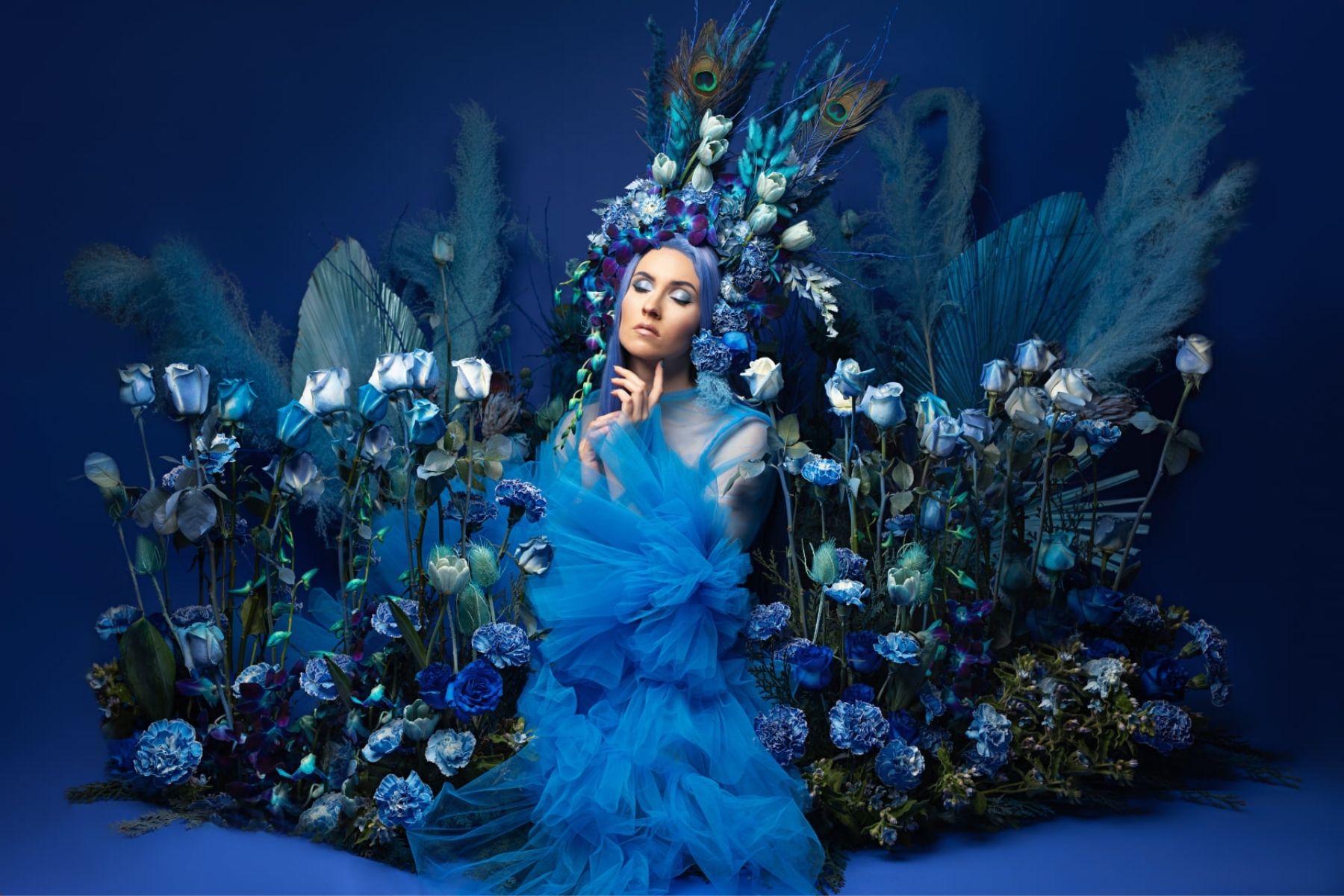 I am not much of a "pink" girl but Rosaprima varieties seem to convert me. *laughs*. I also love reds. Freedom is my favorite for Valentine's Day because it is velvety, and it is such an elegant flower.
What can you tell us about the benefits of having flowers in your life? How have they impacted yours?
Roses and flowers, in general, are so important. When COVID started I had to close my shop for 4 weeks… people were passing away or locked up in their homes and didn't have flowers around. I wrote a letter to the governor, stressing the point that flowers have been proved to be mood boosters. I didn't get the response I had been waiting for, but I knew I had to give it a try. Even though my shop was closed, I came here every day. Being surrounded by plants has done so much for my anxiety. I am a very tactile person and I just love touching flowers! This is one of the reasons I love Rosaprima. Their petals have texture and fragrance, and it doesn't get better than that. To tell you the truth, I've worked with other roses before, but since buying Rosaprima I now make sure I write in my orders (for my wholesaler) "MUST BE ROSAPRIMA" as a requirement. I put that in every color because I have my team spoiled and my customers spoiled as well… I want us all to have the best of the best!