What do campfires, sunsets, and the dahlia 'Fireball' have in common? They all look alike with their gorgeous shades of red, yellow, and everything in between. This large-flowered beauty from Baars Dahlias definitely lives up to its name, easily setting the beholder of this stunning variety on fire.
Dahlia 'Fireball' From Baars Dahlia's
The dahlia 'Fireball' is not only special due to its spectacular spiny leaves and eye-catching colors, this variety is currently also only grown by dahlia grower Patrick Baars, meaning that when you get your hands on this beauty you have something truly unique to work with. Even when you visit the greenhouse to watch this dahlia grow, you'll be a little bit blown away. These flowers almost go through the roof! With long stems and large flowers, it is a very impressive crop to see.
Quality Over Quantity
Baars Dahlia grower is a 3rd generation family business that Patrick runs with his wife, sister and of course, his father comes in every day for a few hours. When in the season he also employs 6-10 part-time, mostly students. Patrick grows 10 varieties of dahlia's from +/- May 1st until October 15th, 700.000 to a million stems on a total of 6000 m2. Patrick does not want to grow into a bigger operation, quality is first priority, not quantity.
A Longer Than Average Vase Life
Quality has definitely been reached with the dahlia 'Fireball'. The vase life of this dahlia is even longer than the average, which is generally between 7 and 12 days, depending on the variety and flower care. Patrick says that the dahlia 'Fireball' is cut riper than the average dahlia, causing the vase life of the 'Fireball' to be much longer.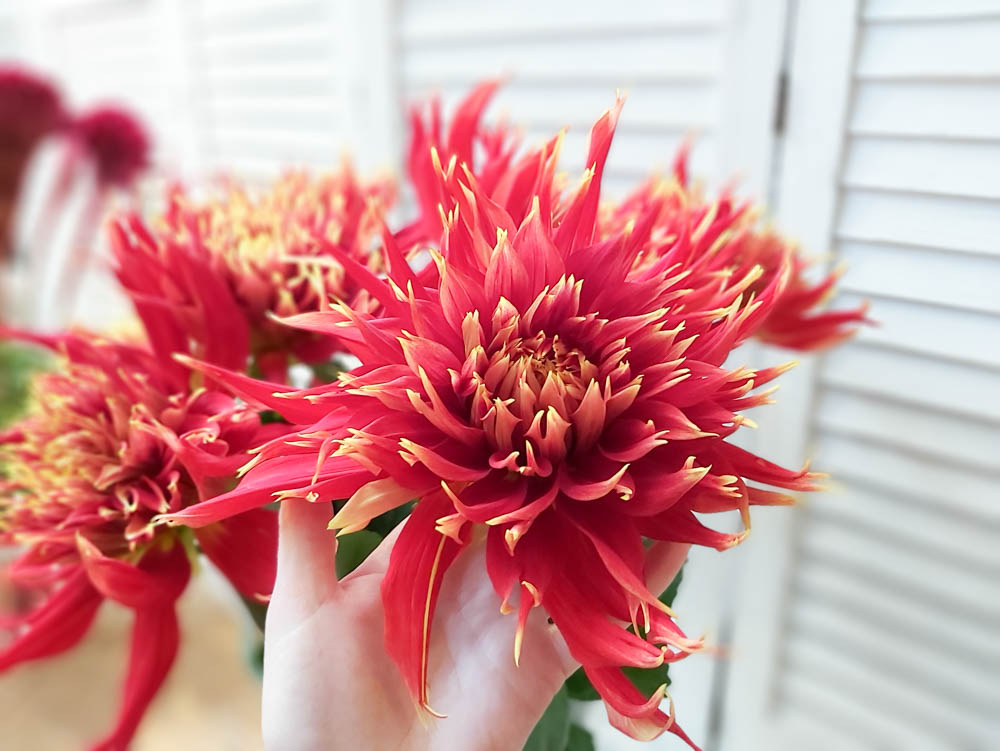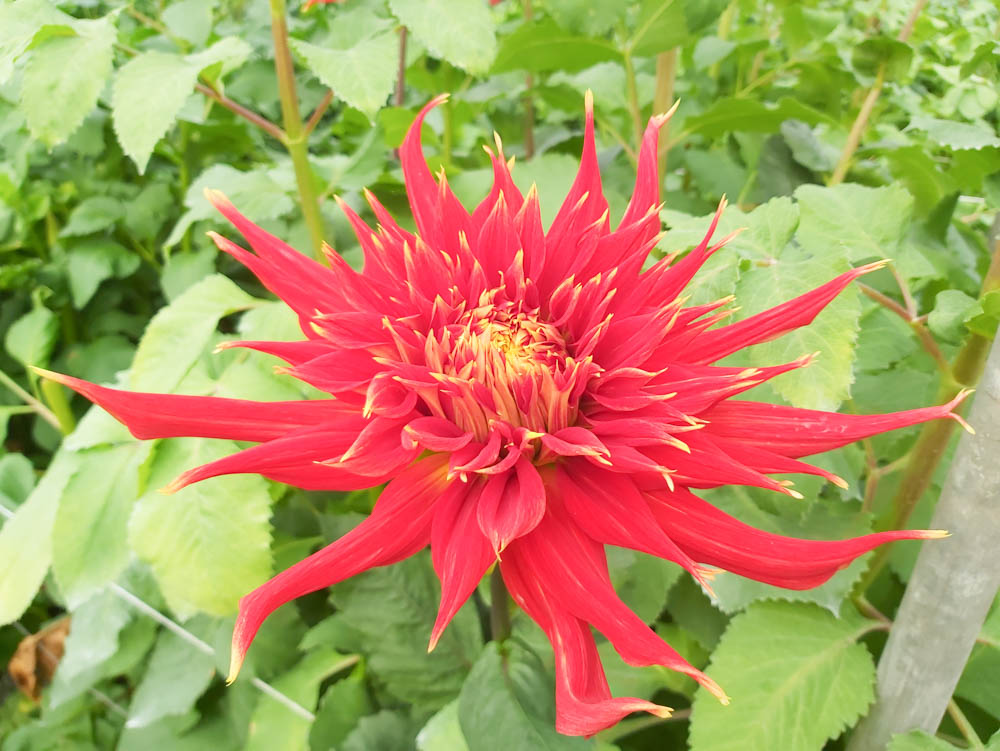 The Meaning Behind Dahlias
Did you know that the dahlia belongs to the Asteraceae family and is related to the Chrysanthemum, Zinnia, and Helianthus? Long before the dahlia became a popular cut flower, it was grown as food by the Aztecs. But thanks to Swedish botanist Andreas Dahl, who aptly named this flower after himself, the dahlia got back on the map and gained even more popularity around 1830 when Empress Josephine de Beauharnais of France started to plant them in her garden.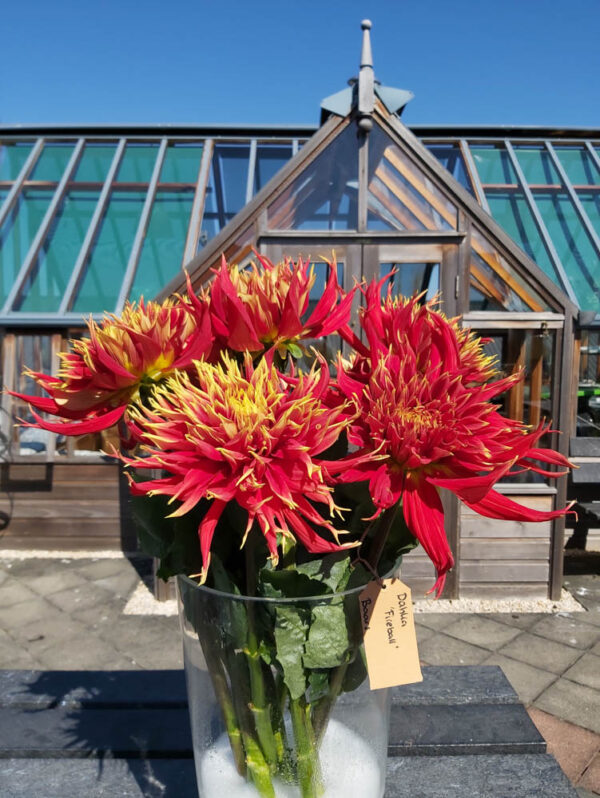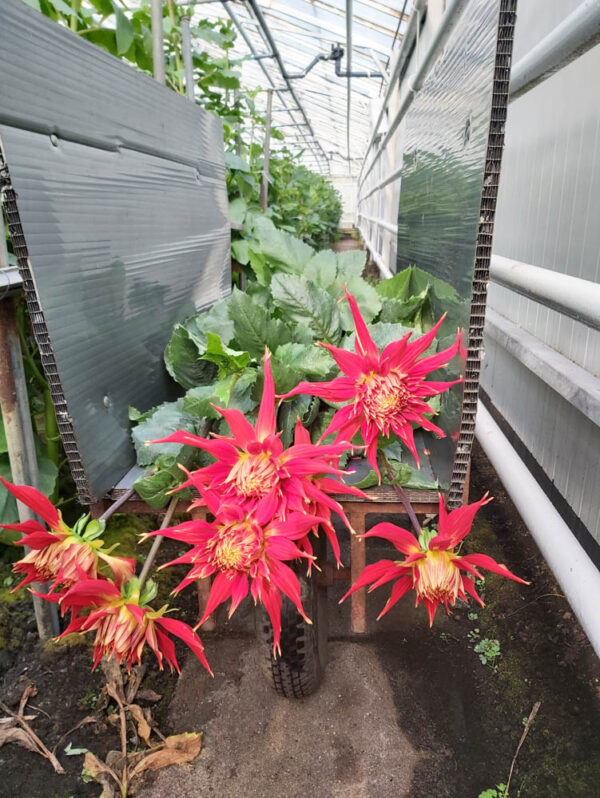 Dahlias are also called the 'Houdini of the garden' due to their wide range of choices in color, size, and shape. In the flower world, dahlias have rich symbolism. The flower stands for wealth and elegance, but also for love and involvement. Red dahlias, in particular, convey the message of strength, power, and love, making them an excellent flower to incorporate in gifting bouquets.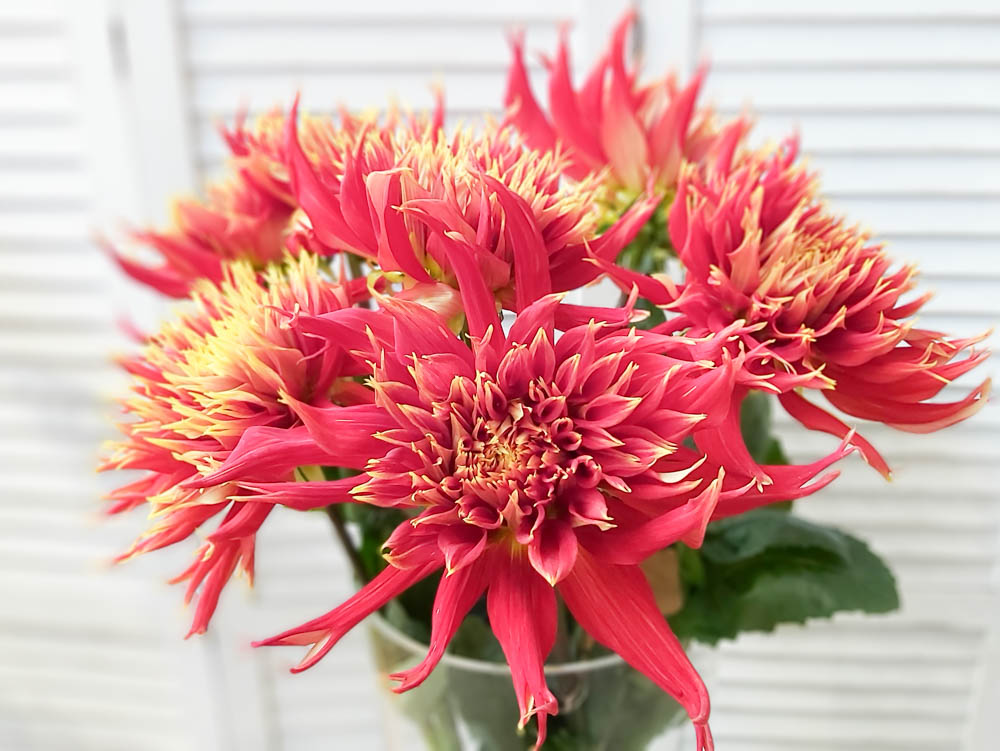 Availability of Dahlia 'Fireball'
Patrick from Baars Dahlias is not dissatisfied with the cultivation either, although the crop is not as stable as the other varieties he grows. Most Dahlias give a second cut fairly quickly, the dahlia 'Fireball' takes a little longer. The variety is therefore available from mid-May to mid-October. (Information about the dahlia 'Fireball' variety and images courtesy of
Florapodium
)