Advocate for American Grown Flowers
Debra Prinzing is a Seattle-based writer, speaker, and leading advocate for American Grown Flowers. Through her many Slow Flowers-branded projects, she has convened a national conversation that stimulates consumers and professionals alike to make conscious choices about their floral purchases.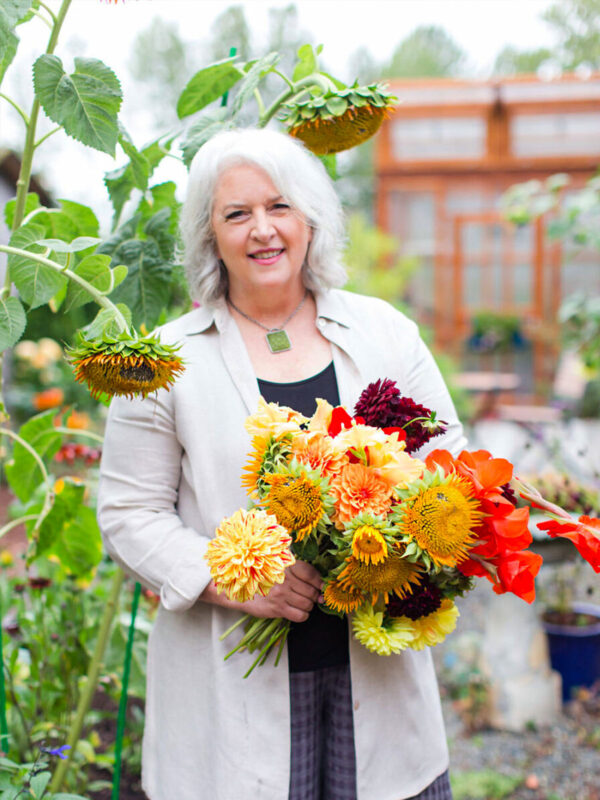 photo by Missy Palacol
Slow Flowers
Debra is the producer of SlowFlowers.com, the online directory to American grown farms, florists, shops, and studios who supply domestic and local flowers. Each Wednesday, approximately 2,500 listeners tune into Debra's "Slow Flowers Podcast," available for free downloads at her web site, debraprinzing.com, or on iTunes and via other podcast services.
Great American Gardeners
Debra Prinzing is the 2018 recipient of the American Horticultural Society's "Great American Gardeners"' Frances Jones Poetker Award, which recognizes significant contributions to floral design in publications, on the platform, and to the public. She is a 2016 inductee to the Garden Writers Association Hall of Fame and the author of 10 books, including Slow Flowers and The 50 Mile Bouquet. Next to that, Debra is a Florists' Review Contributing Editor for which she produces the "Slow Flowers Journal" section. In 2016, the Seattle Wholesale Growers Market, a farm-to-florist cooperative, honored Debra with the first Growers Choice Award for her "outstanding contributions to revitalizing the local floral community."
Video Trend Summit 2020
Trends through Community - Trend Summit 2020 feat. Debra Prinzing of Slow Flowers. Debra talks about community building within the flower industry and coming together to build trends.
Debra Prinzing on The Flower Podcast