Chrysanthemums are very versatile and they come in many varieties and colors, but nature wouldn't be nature if it would just give us every color we want. Some colors, like lilac, bright coral, blue and multicolored varieties aren't part of the ordinary palette. However, nowadays we can paint our flowers any color we want, using paint on a natural basis. This adds a colorful statement to the chrysant. The Floral Council Holland's trend 'Street Savage' focuses on bright colors with a hint of rebellious elements. In fashion as well as in interior and deco trends we see elements that don't fit in the 'ordinary' picture. Imperfect shapes or re-used elements are more than welcome. For flower arrangements, dyed leaves, flowers and urban influences along with imperfect shapes are your go-to elements for this colorful trend with a statement.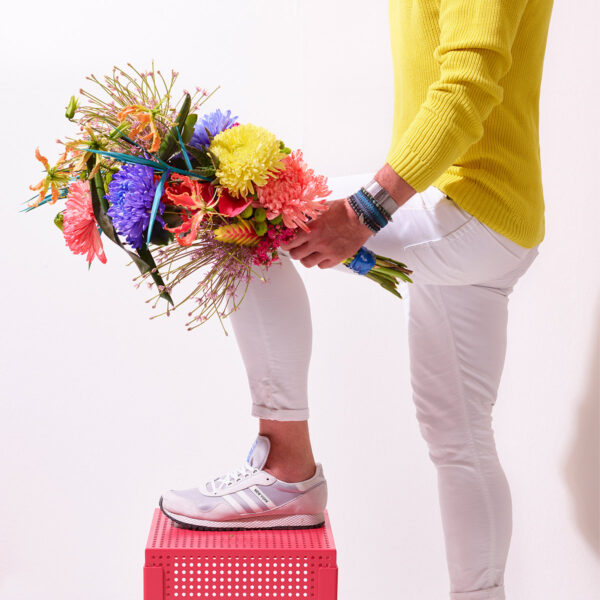 Color Outside the Lines
Decorative and big disbud chrysanthemums dyed in trend colors lilac and bright pink just bring that extra positivity in a bouquet. Add some other colored elements to really think out of the box. In this trend, nothing is wrong and nothing has to be perfect, as long as it creates a statement!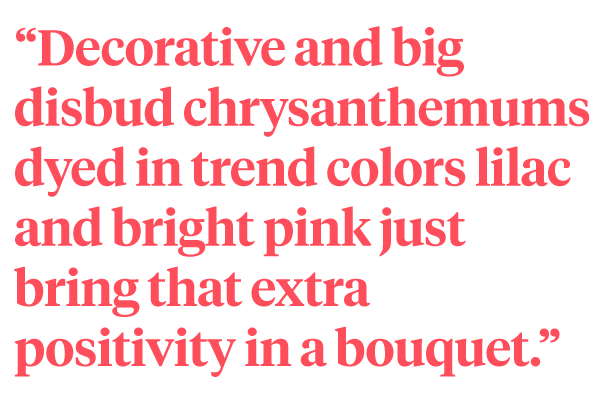 Bigger Is Better
In the tall creation below, a big disbud chrysanthemum is dyed bright blue, a real eye-catcher in your piece! Surround it by big and impressive monstera leaves - which also have been visited by several paintbrushes. To add an extra splash of color, use a few of the bicolored chrysanthemums, like for example the variety 'Baltazar'. Created by Manfred Hoffmann, creative director of the German florist association FDF.
Headful of Color
Sandra Attema from Divergent Flowers (NL) also joins in on this floral party. As you can see in the image below she likes to do things a little different... "I love color, bright and exuberant color combinations but I can also enjoy combining soft pastel tones in one harmonious creation." She gets her inspiration from her graphical background and her time at the art academy. "I'm always looking for beautiful compositions. This way I can really create a floral piece that is exciting and interesting." In this creation, Sandra combined brightly colored single-flowered spray chrysanthemums along with bicolored spray and disbud chrysanthemums.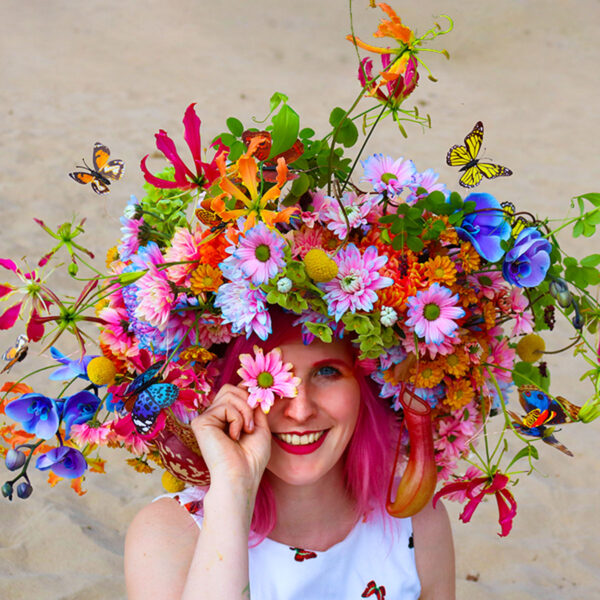 Do you want to give your chrysanths a colorful statement? Are you also convinced that there are 1001 possibilities with chrysanthemums? Or curious for more? Visit the link to www.justchrys.com on this page.