This remarkable guide features eight interiors with sensational balconies and terraces, ranging from a plant-enclosed terrace in Mexico to a vast rooftop garden beneath a metal pergola in Tokyo. Each of these balconies and terraces is reached through glazed walls or floor-to-ceiling glass and provides a physical and visual extension of the interior that integrates the in- and outdoors.
Eight Airy Terraces That Ignite the Power of Interior Spaces
Balconies and terraces provide an excellent opportunity to find interior inspiration while remaining connected to the natural world and its abundant beauty. These outdoor spaces, adorned with lush greenery create a seamless transition between the interior and exterior realms. Gazing out onto a balcony or terrace filled with nature's wonders can spark creativity and serve as a constant reminder of the wonders of the natural world.
Moreover, the tranquil ambiance of these natural havens can foster a sense of calm and serenity, which can be reflected in interior decor choices, such as creating cozy nooks or incorporating natural elements like wood and stone. Balconies and terraces, serving as living connections to the outdoors, hold the potential to infuse our indoor spaces with the beauty and serenity of the natural world, enriching our interior environments and fostering a sense of harmony and inspiration. Here are eight you don't want to miss out on seeing!
1. House in Xalap Mexico by Lopez Gonzalez
House in Xalap is a 528-square-meter home built on a modest incline. The exterior of the house was rendered in cement that was then painted black to resemble a rock formation. Maroon-framed glass doors lead out from a dining area dressed in black marble and wooden panels to a volcanic stone-tiled patio surrounded by lush and tropical flora and geometric sculptures.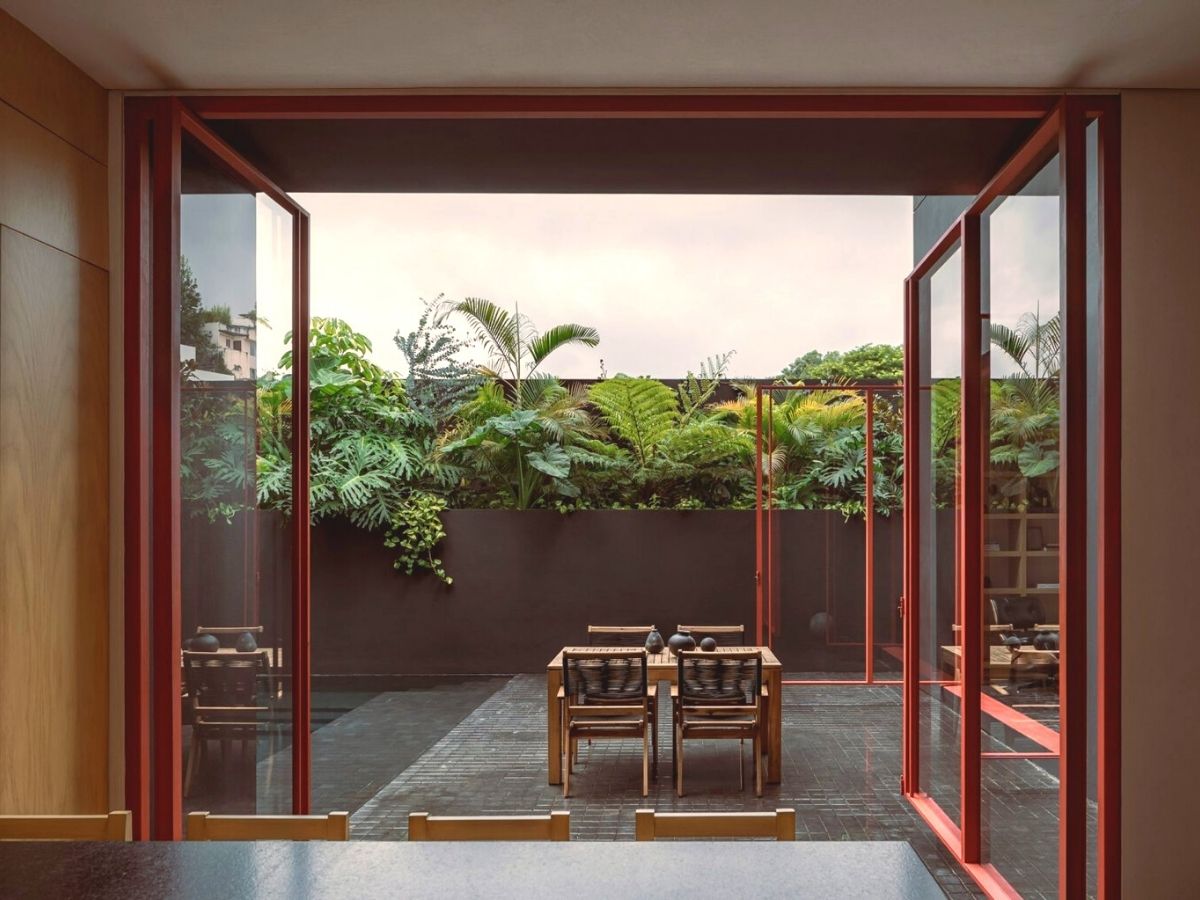 2. Espirit House in Tokyo, Japan by Apollo Architects and Associates
Espirit House in Tokyo, designed by Apollo Architects & Associates, has a vast roof terrace. The patio is shaded by a metal pergola, which turns the open-air space into an extra room in the house. The terrace is reached from behind a fully glazed wall on the third story of the house and is furnished with a sectional sofa, a dining table, and enormous planters filled with indigenous flora.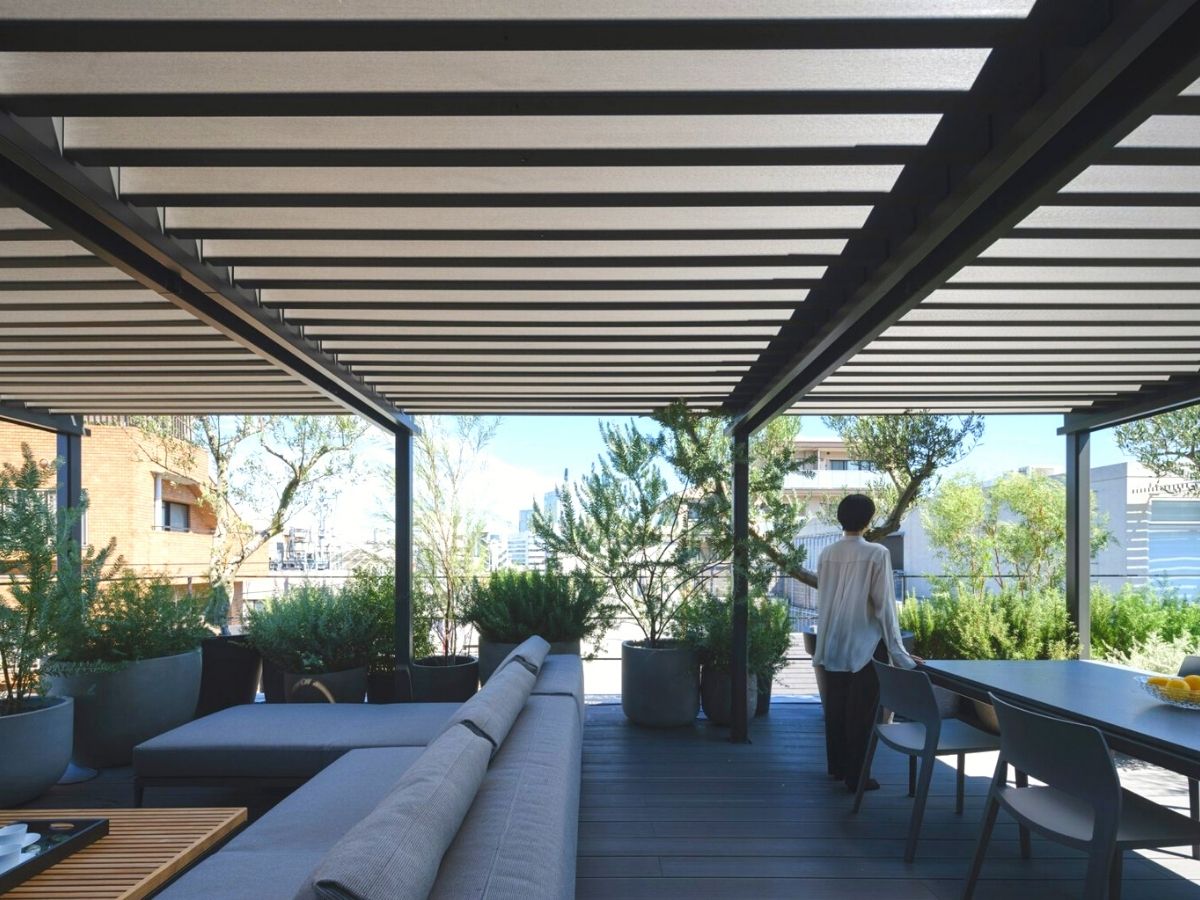 3. Villa KD45 in Delhi, India, by Studio Symbiosis
Studio Symbiosis designed this concrete home in Delhi for a large family of eight. The boundaries between the interior and outside are blurred as a result of thinly framed floor-to-ceiling windows and the home's outer concrete floors carrying through to the interior. Small terraces were also tucked between the two stories of the home by Studio Symbiosis. Residents have peaceful outdoor areas that are shielded from the Indian sun thanks to decorative seating.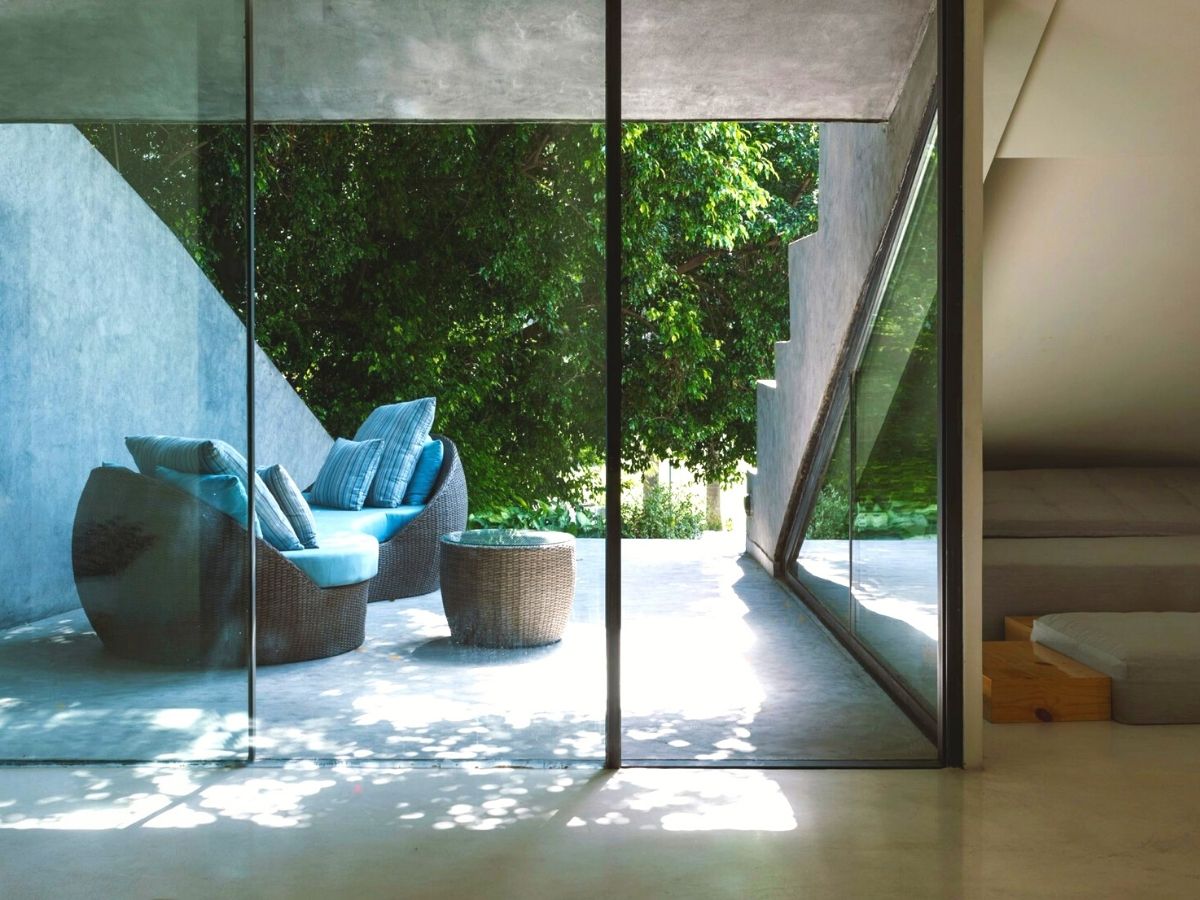 4. Rescobie Pavilion in Scotland by Kris Grant Architect
The facade of the two-story Rescobie Pavilion in rural Scotland is surrounded by a cantilevered balcony. The construction was designed as a free-standing extension of a nearby home, allowing its residents to immerse themselves in the surrounding surroundings. The pavilion is capped with a mono-pitched roof that orients the interior to the environment and is surrounded by expanses of glass that allow unimpeded panoramic views of the hamlet.
5. 835 High Street in, Melbourne, Australia by Carr
Carr, an Australian architecture company, wanted to play with perceptions of openness within the interior of 835 High Street, a residential apartment tower in Melbourne. It incorporated massive wrap-around floor-to-ceiling windows that open out to covered balconies to complement and contrast the interior-outdoor interaction. The interiors have a pared-back color scheme and designer furniture, including a Mario Bellini Camaleonda sofa.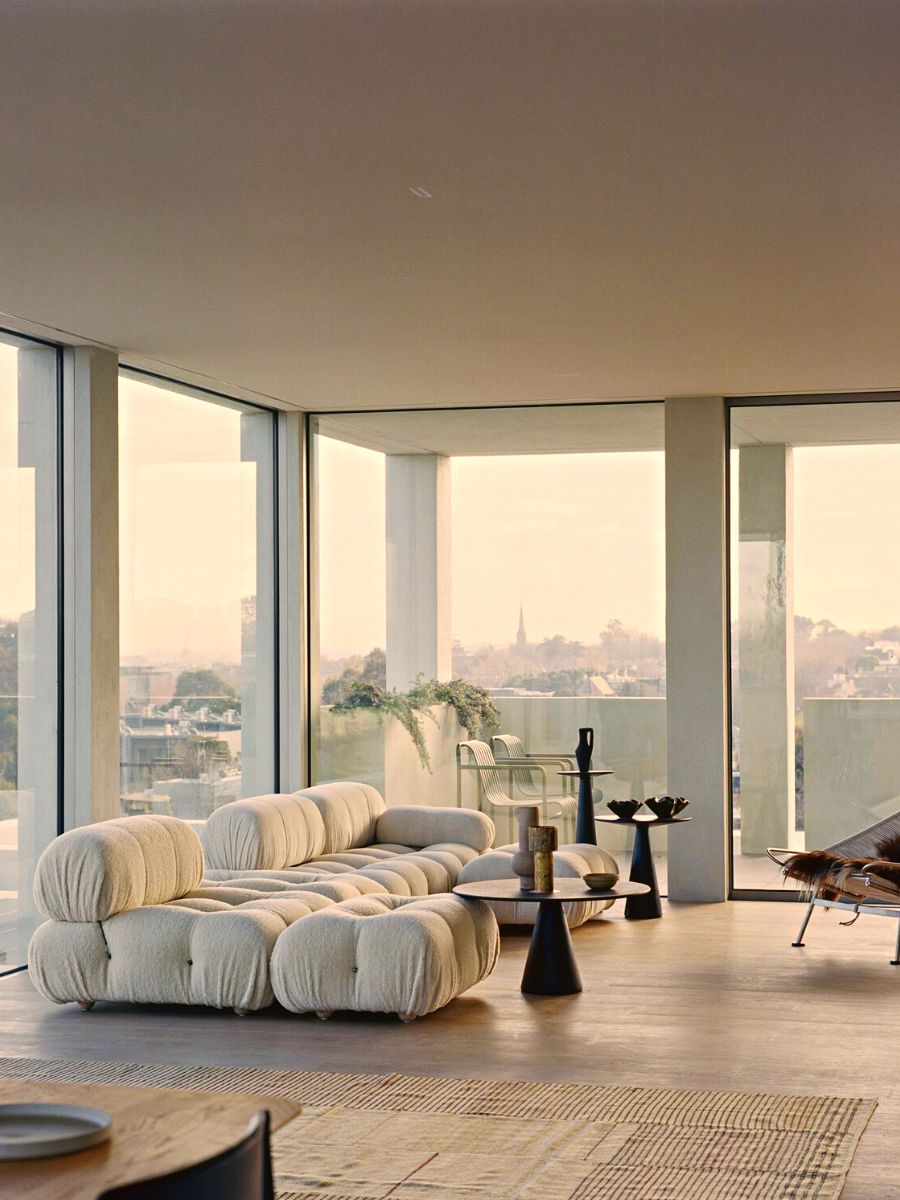 6. Moenda House in Brazil by Felipe Rodrigues
Felipe Rodrigues, a Brazilian architect, designed this split-level mansion in southeastern Brazil, which enjoys uninterrupted views of the Mantiqueria mountains. The open-plan communal living rooms are located on the bottom floor of the house. The open-plan kitchen, living room, and dining room are surrounded by a cantilevered wrap-around balcony covered in grey tiles that match the rest of the building.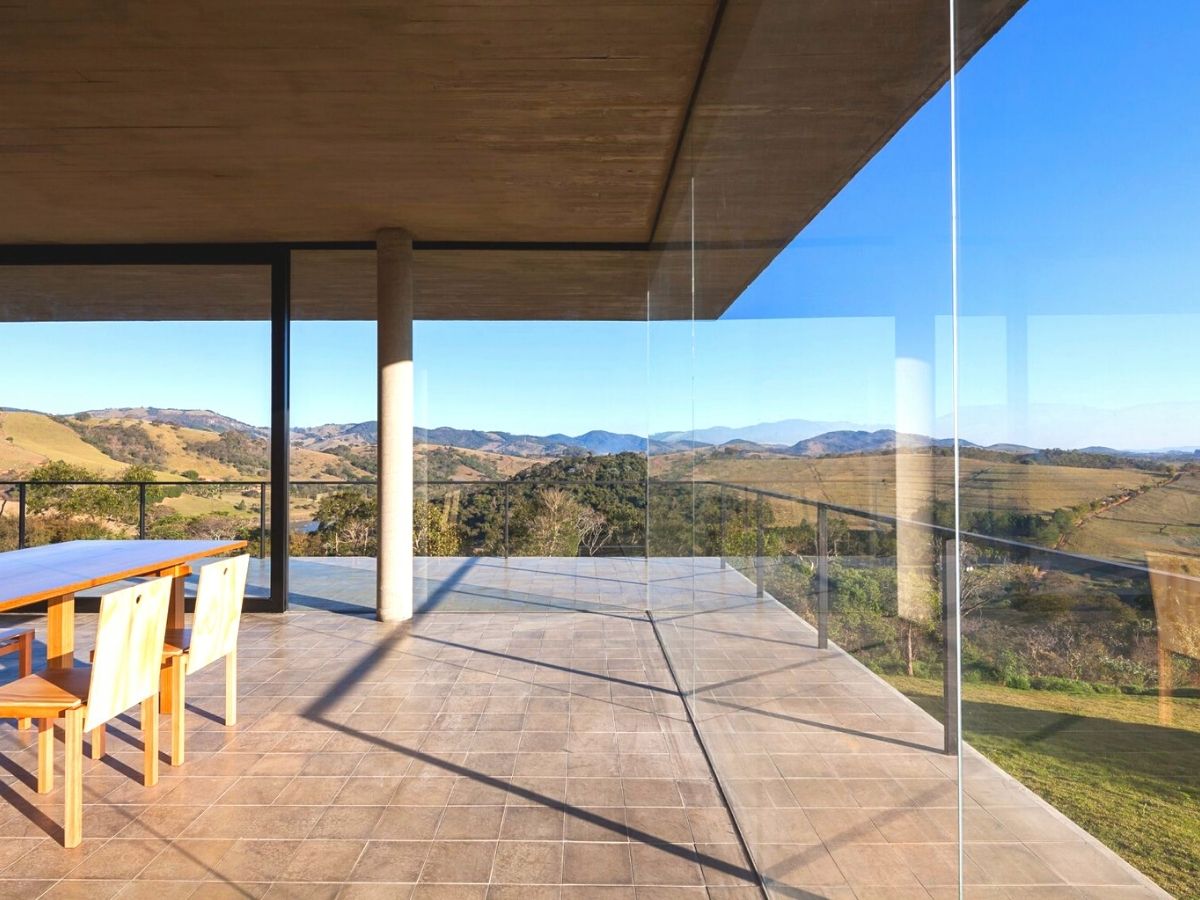 7. Ying'nFlo in Hong Kong by Linehouse
The inside of the Ying'nFlo guesthouse in Wan Chai, Hong Kong, features an angular balcony. Linehouse, a Chinese interior design studio, created the guesthouse with the goal of creating the feeling of a welcoming home. One of the guesthouse rooms has a moderate color scheme and includes hand-rendered walls, timber paneling, and linen cupboards. Glass sliding doors open from here to a beige-tiled balcony with a built-in bench and an olive tree in the center.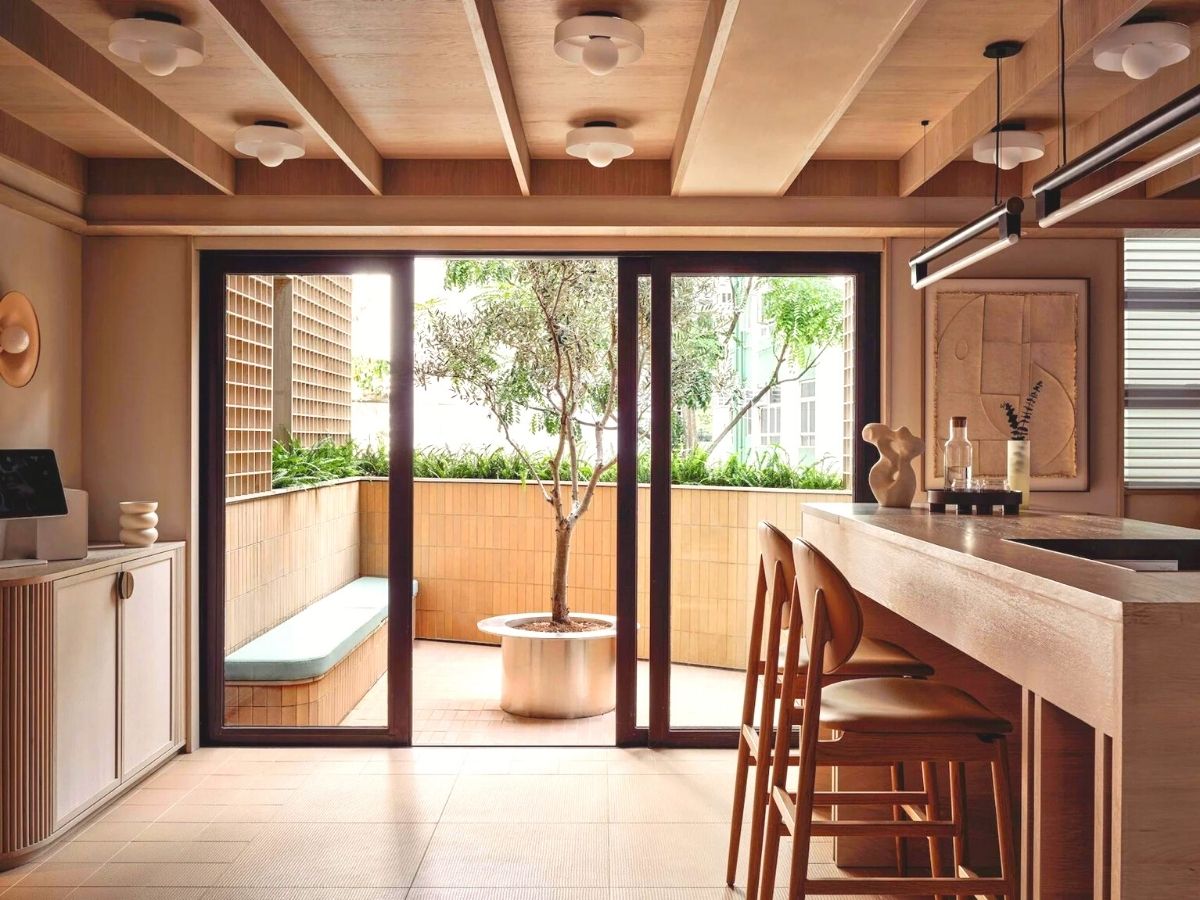 8. Terrace With a House by the Lake in Poland by UGO
This summer vacation home in Wielkopolska, Poland, was designed by Pozna Architecture studio UGO and is placed near a lake. A vast 120-meter-long wooden terrace is accessible from the main living area of the house via floor-to-ceiling glass sliding doors and double-height transparent walls. The patio was described by the studio as an additional room for the house.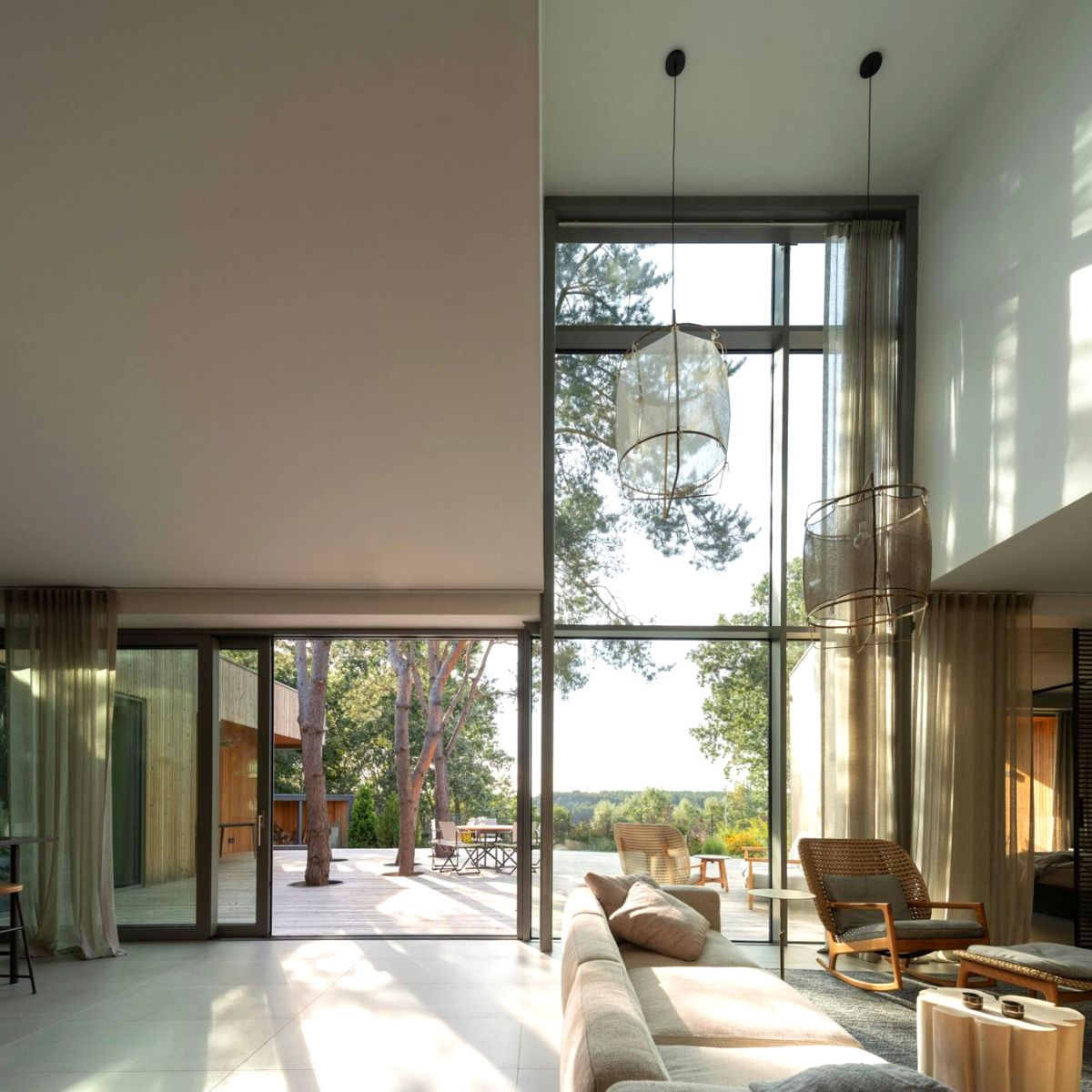 All of these are the perfect example of how seamlessly interiors and nature-filled outdoor spaces make the best combination. Make sure to have a balance of these in your next home to absolutely adore it!