Three garden rose varieties grown by
Alexandra Farms
claimed the top awards in the Garden Rose category of the Producers Awards during Proflora's 2021 Variety Contest.
Three Winning Garden Roses by Alexandra Farms
Effie
(Ausgray) was awarded first place. A cupped rosette-shaped rose with yellow and orange tones and a lovely scent of tea, Effie has been grown at Alexandra Farms since 2019 and was bred by David Austin Roses.
Tsumugi
took second place. This large, light pink, cup-shaped bloom has a pleasant lavender and rose fragrance. Tsumugi has been grown by Alexandra Farms since 2018 and was bred by Rose Farm Keiji.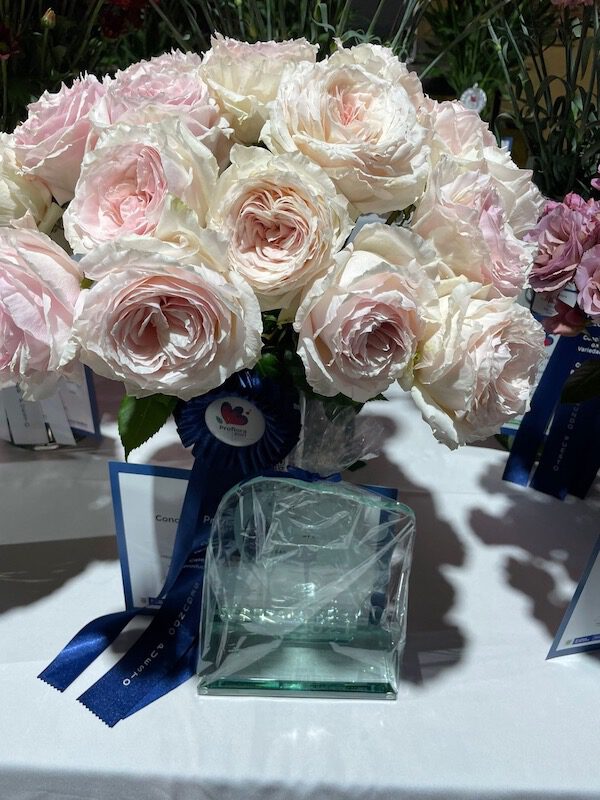 Placing third was Sola, a spray rose variety with wavy petals in shades of lavender and beige-pink. Sola has been grown by Alexandra Farms since early 2021 and was also bred by Rose Farm Keiji.
Proflora Variety Contest
An international jury of experts evaluated 286 varieties this year. Fourteen species of flowers were awarded in two categories: breeders and producers. Judges rated the health, uniformity, color, and hydration of the flowers, stems, and foliage, tallying the scores to determine which varieties would place in the contest. Hosted by Asocolflores—the Colombian Association of Flower Exporters—with the support of the Ministry of Agriculture and Procolombia, the contest is traditionally held during the biennial Proflora tradeshow in Bogotá.
About Alexandra Farms
Alexandra Farms
, located high in the Andes mountains of Colombia, is the world's largest grower of fresh-cut garden roses. Since 2005 they have been dedicated to producing flowers with the best appearance and performance possible. Their long-lasting, award-winning garden roses are available year-round through wholesalers across the world.