Singapore-based Wilmar International Ltd's new headquarters is certainly a masterwork of green design and sustainability incorporated in every aspect of its architecture. Conceived by London-based Eric Parry Architects, the construction is one of the numerous buildings in Singapore that merges architecture and verdure for a more biophilic kind of living. This is in line with the desires of Lee Kuan Yew, the founding father of modern Singapore, who was the brains behind the city-state's plan to become a garden city.
Wilmar is an investment holding company, that engages in the processing, merchandising, and distribution of agricultural products, and it certainly would be fitting that it incorporates green elements in its architecture. This is where Eric Parry Architects came into the picture.
A Sustainable Building That Merges With, and Enhances Its Surroundings
The architects design and create people-focused, sustainable buildings that enhance their surroundings. Their architecture, they say, engages with its context and interacts with its environs to create delight, and enjoyment, and enhance the well-being of its inhabitants.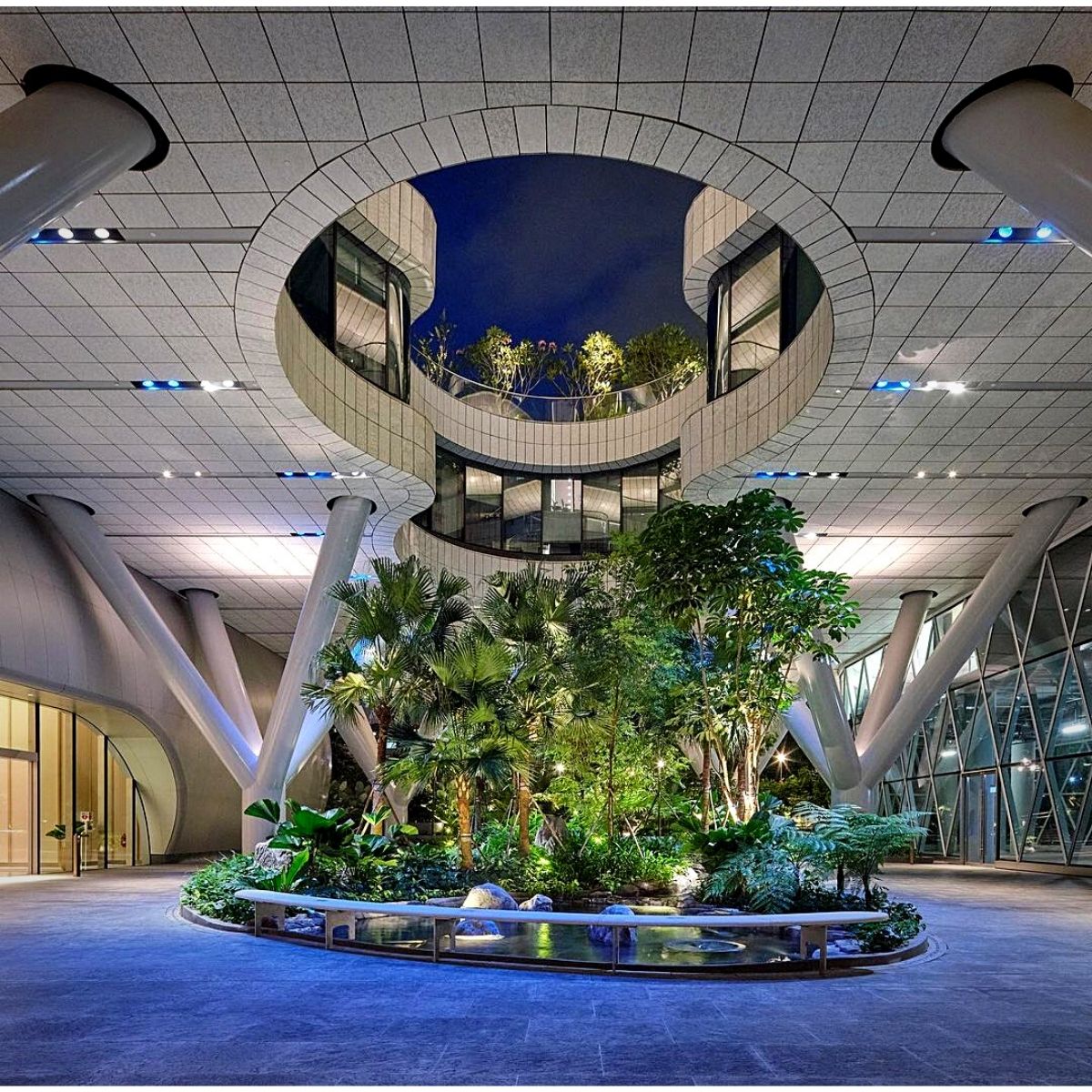 It does this by taking a holistic, sustainable approach and focusing on the building fabric, site considerations, energy use, and green technologies. Wilmar's headquarters entails a business park development located at Singapore's Biopolis precinct. It is a seven-story building that consists of research and development (R&D) labs and two basement levels.
The development also has a public thoroughfare between Biopolis Road and One North Park. In the headquarters' development design brief, Wilmar aspired to build a nature-inspired building that references terraced paddy fields and incorporates an organic façade design. The higher stories that consist of the labs sit above the thoroughfare and are held up by a sort of a 'pebble', a 'basket', and eight tree columns, while the terraced form at each level of the building allows for expansive landscaping to improve the working spaces internally.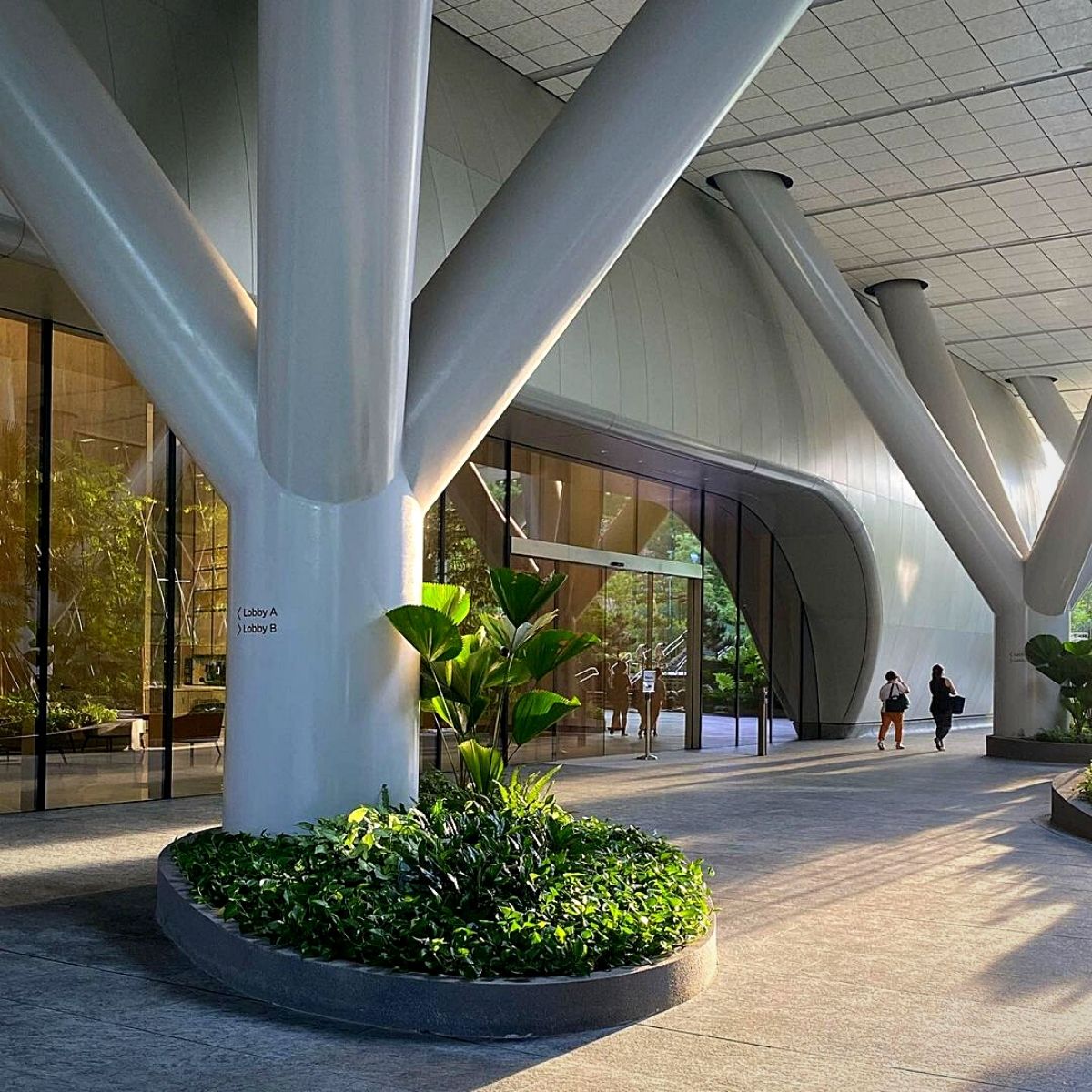 With regard to the design brief, this is just what the London-based architects delivered - a structure that incorporates (and merges with) as much nature and sustainability as is deemed requisite.
Incorporates Different Features That Are the Hallmarks of Green Buildings
The structure combines all the elements of nature, signature architecture, and public space to create a landmark headquarters building that offers world-class laboratories and office space. It is a building that is in an organic form characterized by tiered landscape terraces which provide a garden aspect to each of its office levels.
Its façade design incorporates ribbons of glass that bring the inhabitants a 360-degree view of the surroundings.
Eric Parry Architects:
"Landscape flows both above and beneath the building's seven stories, with a new garden square created by raising the main body of the building as well as a cascade of garden terraces that provide a continuation of the parkland environment up and over the building's roof."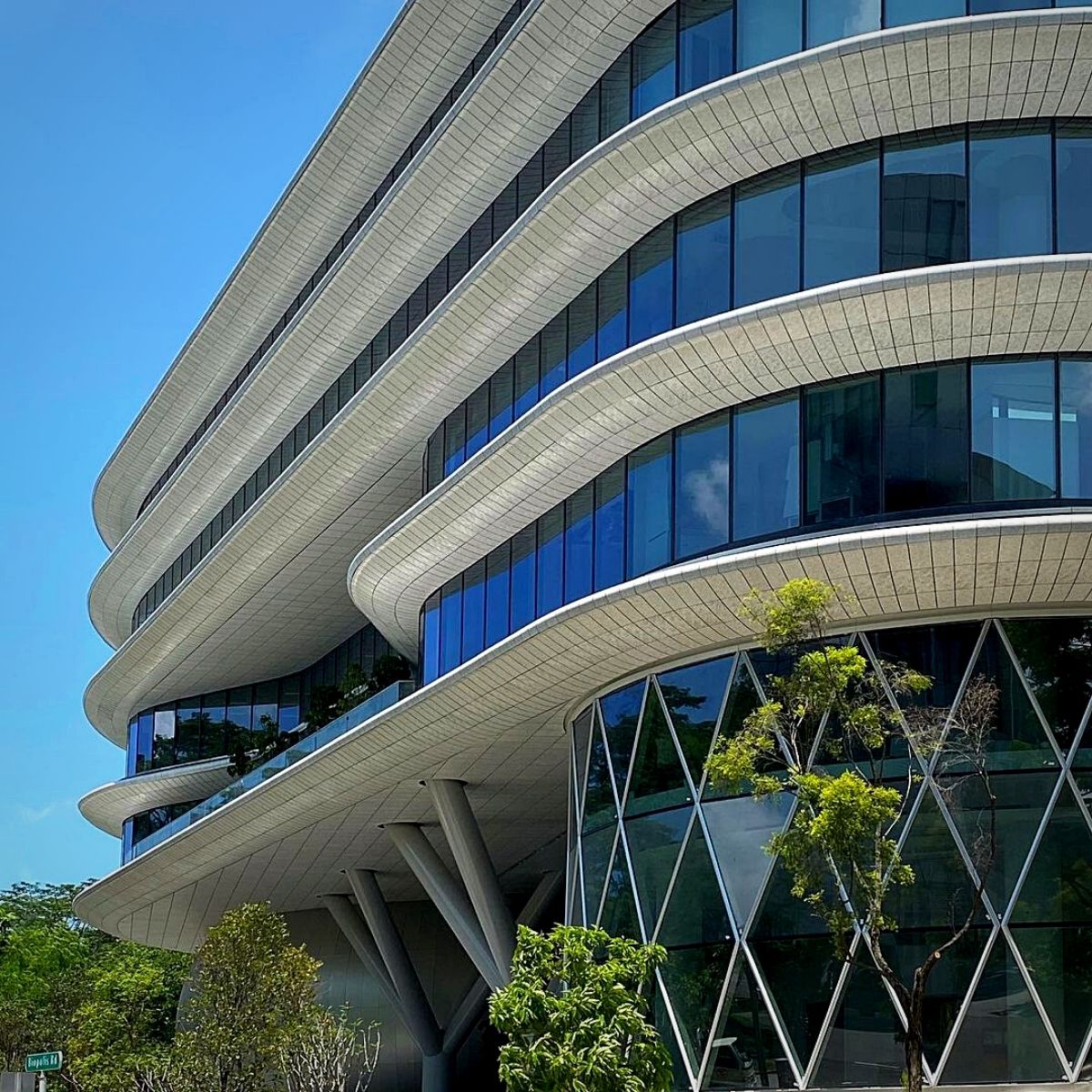 The building also adheres to its tropical climate conditions with its passive cooling effects through the continuous projecting fins that adorn each office floor.
These terracotta fins provide shade to the façade hence reducing solar glare while also protecting it from tropical downpours. The fins are manufactured without harsh pollutants and are 100 percent recyclable, according to Eric Parry Architects.
In addition, the central public thoroughfare linking the public park has tree-like steel structural columns lining both sides of the passage, while the south main entrance façade uses natural anodized curved aluminum panels to create a gentle pebble-like sculptural object.
Eric Parry Architects:
"The result is a building that gently floats above the landscape providing a ground experience that is in harmony with its surroundings. The landscape design promotes biological diversity of ecosystems, habitats, and biomes and butterfly conservation has been encouraged through the enhancement of habitats and planting."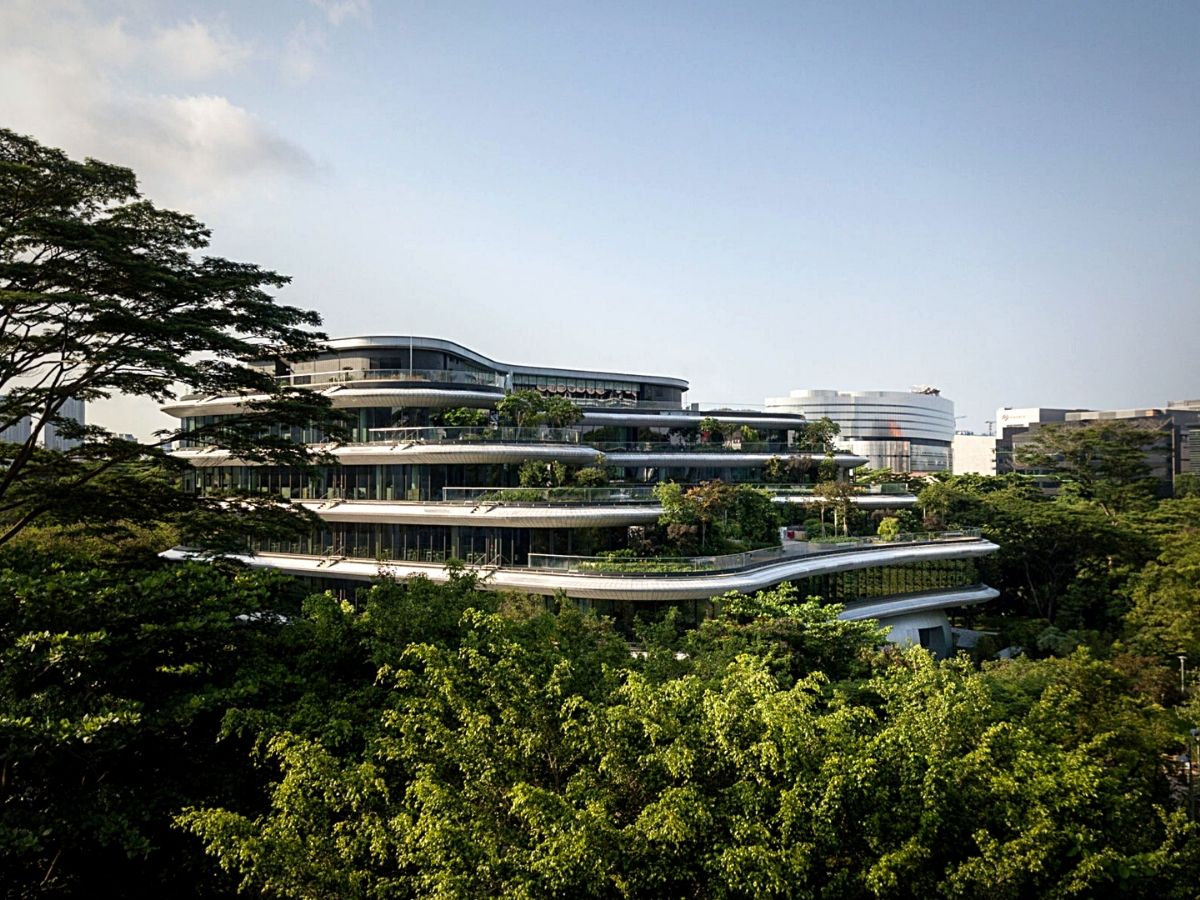 The architects also indicate that the tree density of the site was increased by 70 percent in the course of its development.
A Step Towards the Green City Vision
Singapore's Garden City vision included the creation of national and community parks and initiatives for tree planting. It is within this setting that exists this lush greenery-filled space upon which the new 20,000 square meters of office space featuring amenities including an extensive research laboratory, auditorium, a staff cafeteria, café, gym, and a jogging track on the rooftop is nestled. It also features plant-growing areas, and garden terraces as well as a central garden underneath a skylight.
In line with the Green City concept and being a 'city in a garden', the Wilmar office block project delivers a precise strategy for the future of green and tropical office architecture replicable for other similar developments anywhere across the world.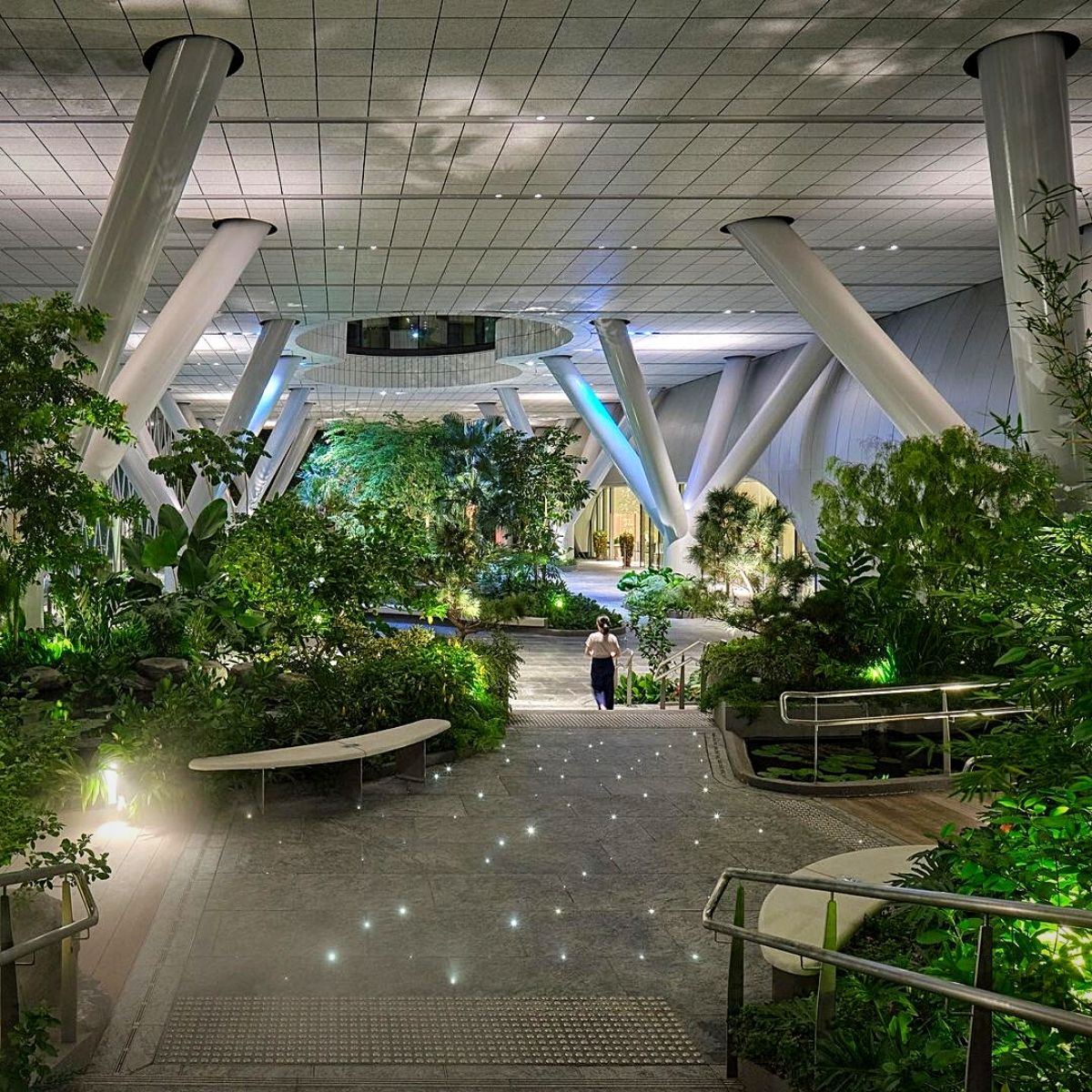 Additionally, according to the architects, it is Singapore's heavy rainfall that led to the use of covered walkways around buildings. This was in order to protect pedestrians from both the extreme sunshine and the rain. The design, accordingly, has walkways around its perimeter on each level. These are sheltered by the overhanging fins of the office floors.
With all these features and others including energy efficiency, the building has already achieved numerous recognitions including the Green Mark Gold Plus for its energy usage, and others.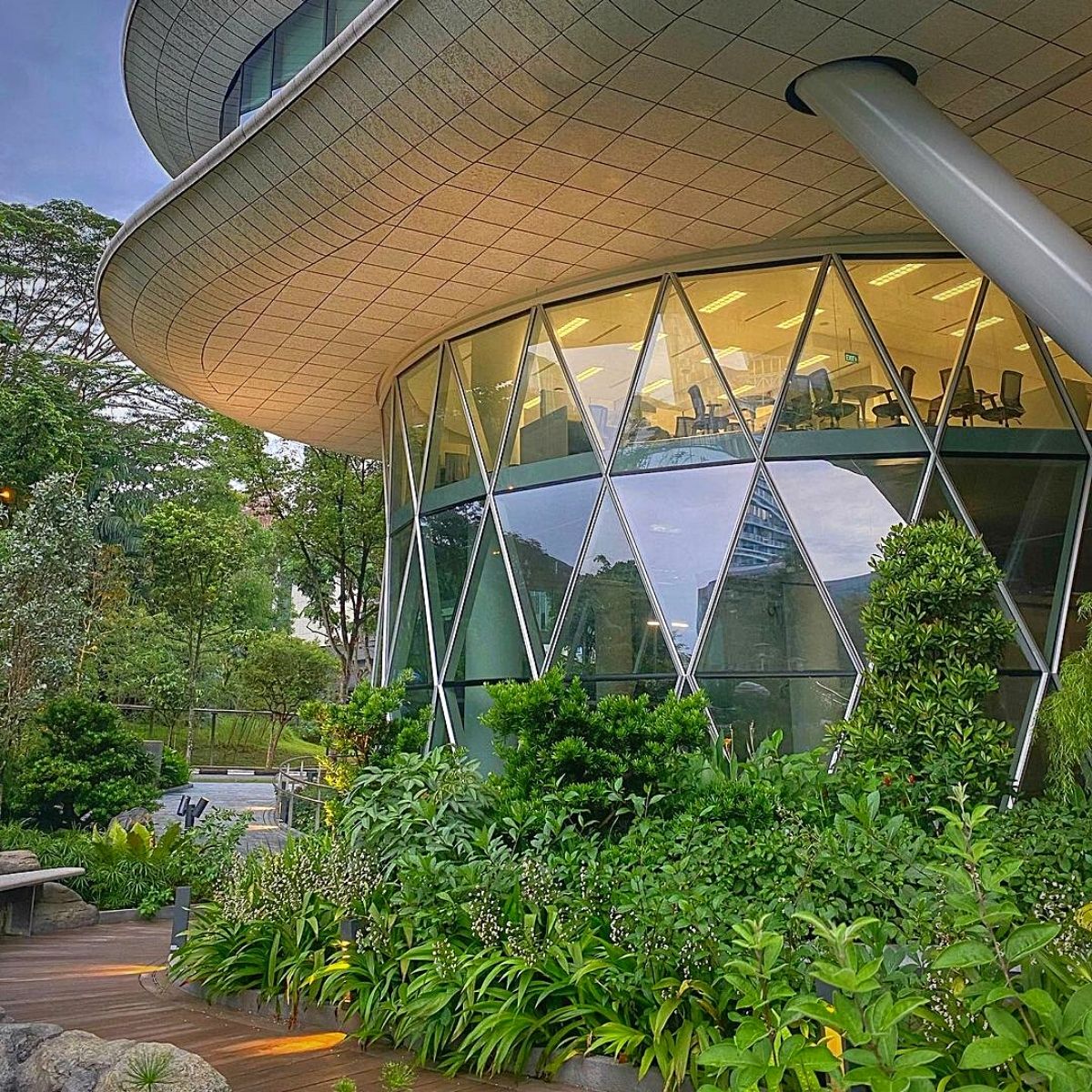 Such biophilic designs are definitely the way to go for a greener urban future.
Feature image by Eric Parry Architects, header image by @ericparrystudio on Instagram.