Vines and flowers are seen intertwining and being the main botanical characters in the newest skeleton drawing by Guno Park. The amount of meticulous detail imposed in this artwork is what gives it its eloquence and beauty. Tune in to see Guno Park's skeleton drawing, featuring lots of plants and flowers.
Guno Park's Newest Skeleton Features a Botanical World of Plants and Flowers
Based in Brooklyn, NYC, Guno Park has gained popularity with his artwork, and we have no doubts about it. In this specific art piece, Guno Park has drawn a uniquely botanical skeleton decorated with elongated plant leaves and flowers.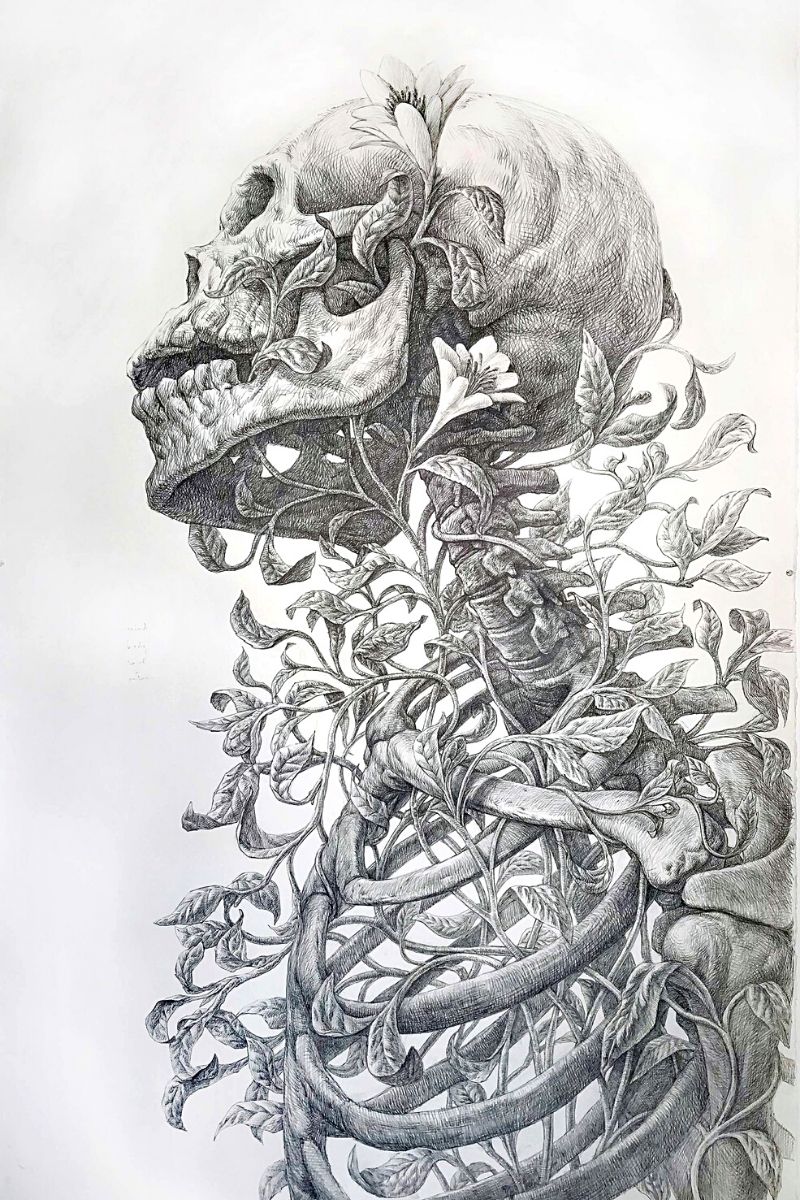 With this work, he aims to evoke and trace the fine line in a drawing of how close life and death are. Guno Park likes to say it's a "precarious line between life and death".
Introducing Guno Park's Botanical Skeleton- "Nature Of Things"
Titled "Nature of Things," Guna Park's skeleton drawing rendered in graphite has striking measurements that reach 85 inches, portraying the oversized human skeleton figure.
The best and most appealing part of the artwork is the use of botanical shapes including vine-like plants and flowers winding around its spinal column and through its chest.
Guno Park says:
Putting the skeleton together with vine, leaves, and flowers represents for me the power of nature and its inevitability of continuum. I find comfort in nature.
The Pandemic Was a Great Moment to Start Sketching Creatively
Park shares that his main inspiration for drawing skulls and bones initiated and completely manifested a few months professionally into the pandemic. All his drawings are masterpieces, but Guna Park's skeleton piece specifically has been a long journey, as many drawings are.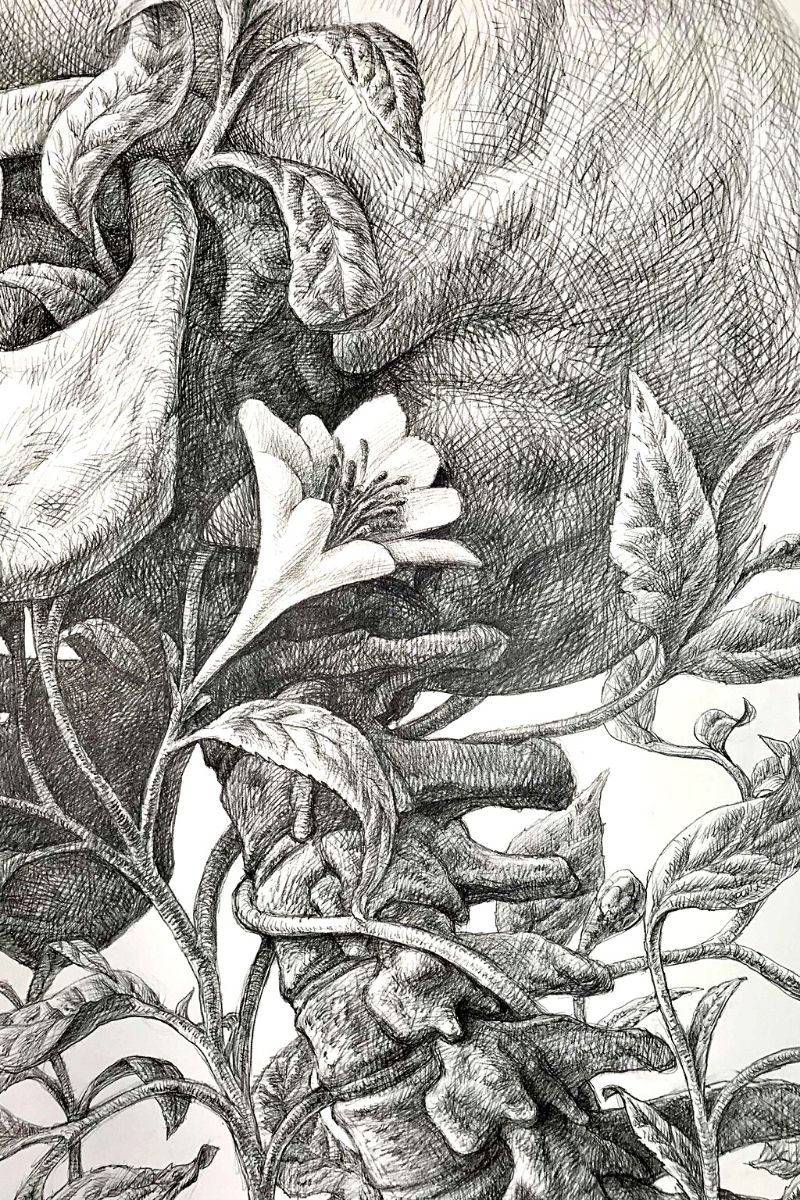 Guna Park's skeleton drawing started a little over a year ago, and as people have discovered this work of art, consciousness as to how close death can be has been the drawing's main influence.
About The Artist
Guno Park is a Brooklyn-based artist and professor who loves capturing the people, places, and things he encounters daily through fine-line drawing. His work has been featured in numerous publications and collections. In addition to his studio practice, Park teaches drawing at The New York Academy of Art, ArtCenter, and New York Film Academy. See more of his incredibly delicate drawings on his Instagram account.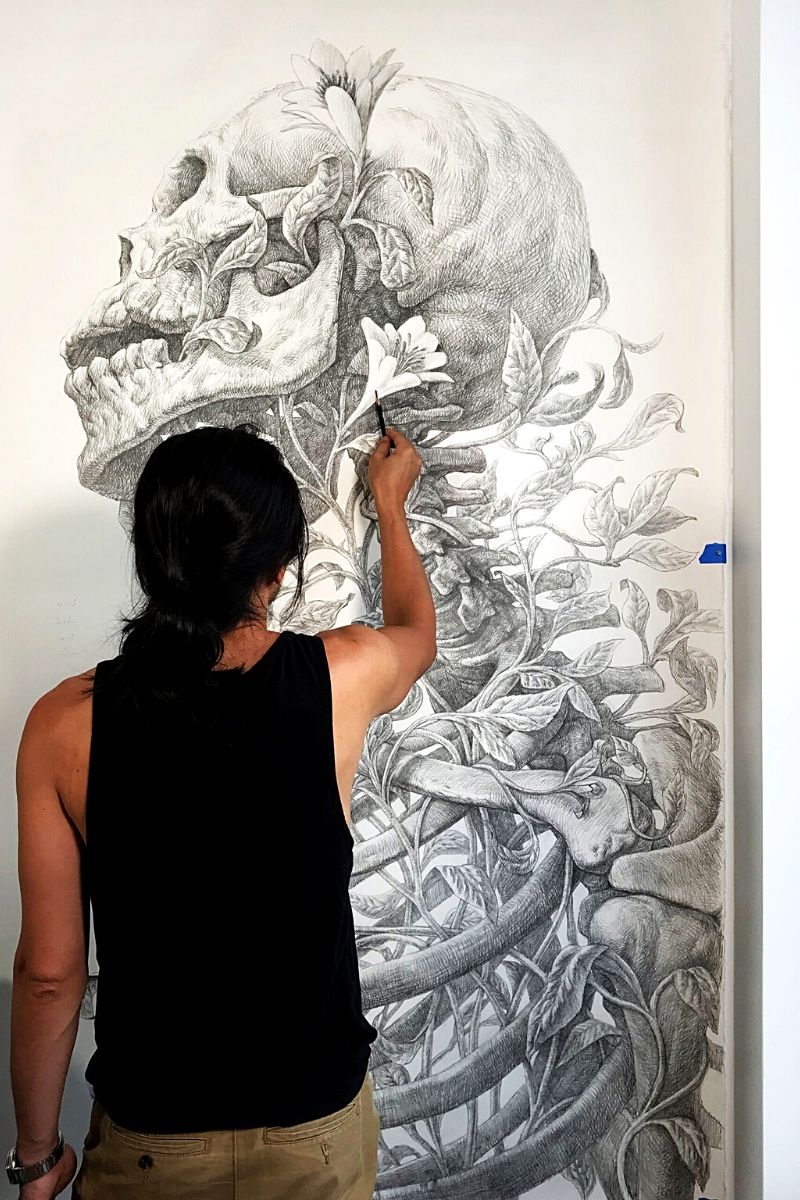 All photos by Guna Park