Mixing two of her lifelong passions- nature and her crafting techniques has allowed Hillary Waters Fayle to chase after her dream of embroidering botanical art on dried leaves. Her artwork ranges from more simple stitching, all the way to fully detailed designs.
Camellia Leaves - The Protagonists That Allowed Hillary Waters Fayle to Embroider Botanical Art
Hillary Waters Fayle dedicates her days embroidering botanical art on dried leaves with nothing else than a strikingly unbelievable result.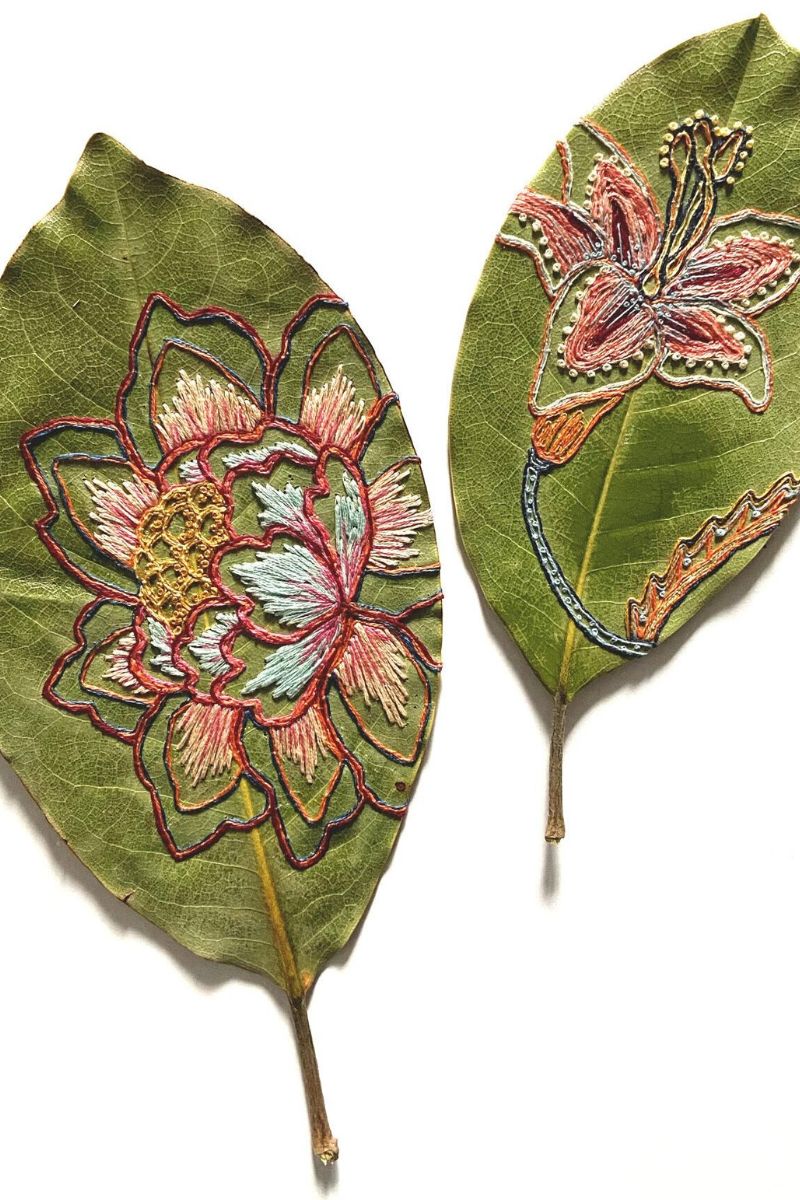 She is known to embroider botanical art with vividly colored blossoms onto found camellia leaves and other foliage using traditional craft methods and the abundant resources found in nature.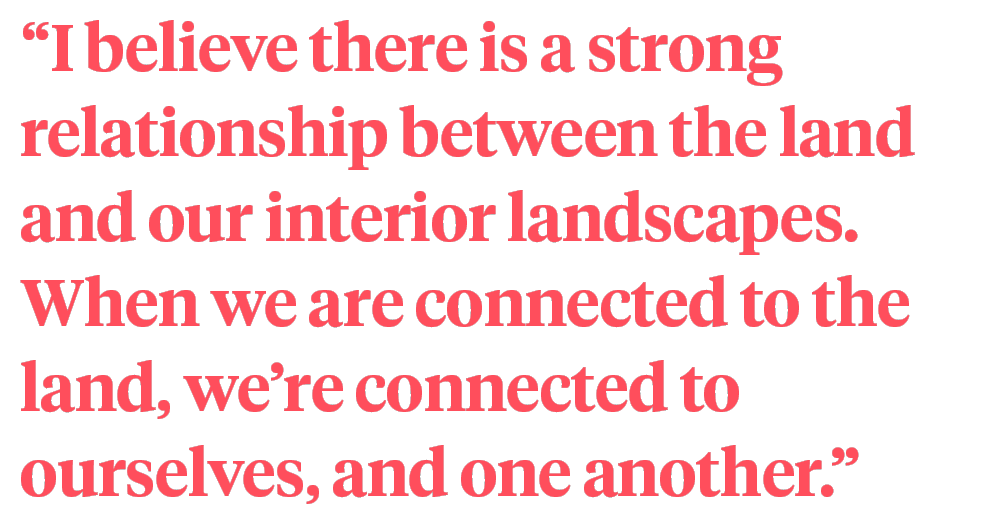 Structure of the Botanical Embroideries
The thread-based ornaments disturb the delicate substance, ranging from straightforward lines and ribbing to completely drawn botanics. The final sculptures contrast the organic material with the man-made additions, demonstrating the might of nature.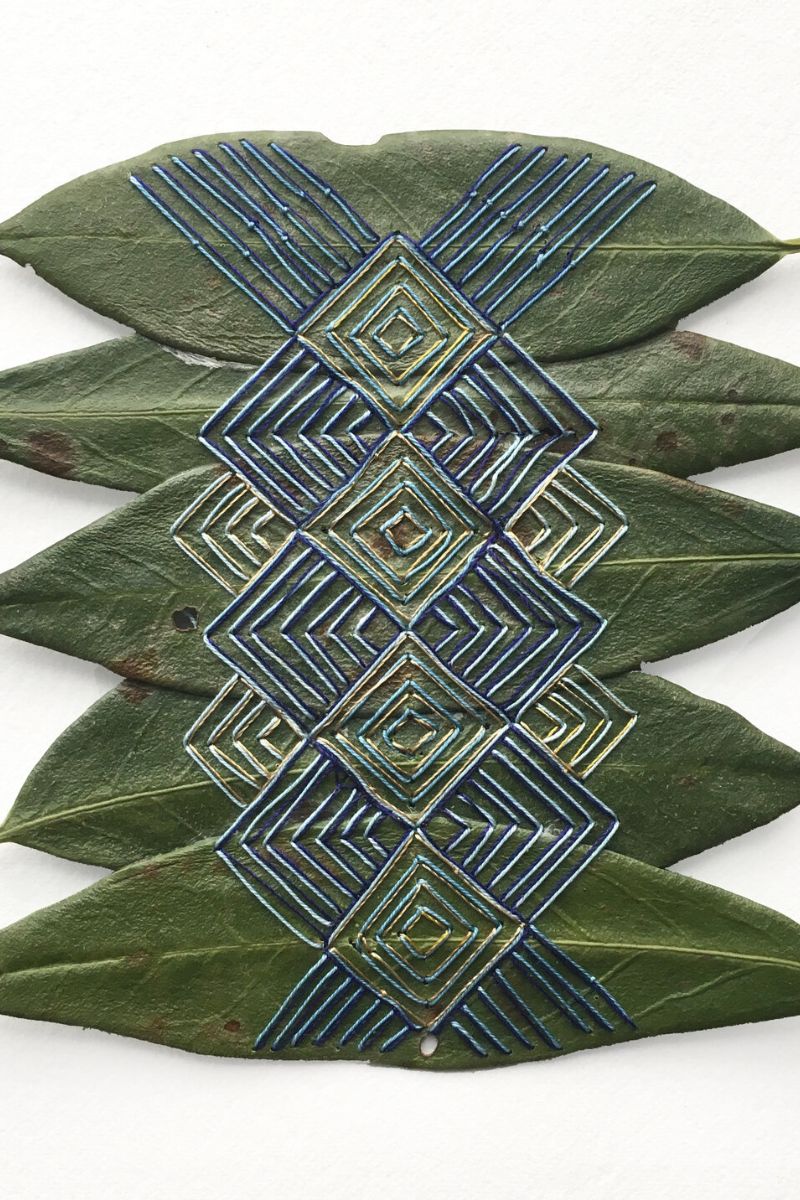 How incredible is it that artists can actually use leaves and give them a second life by drying them and then embellishing them with threads and colors?
Hillary States She Works With Nothing Else but Love and Creativity
For Hillary Waters Fayle to embroider botanical art on dried leaves, she finds a dose of inspiration in interior landscapes around her. She personally believes that interior landscapes and the world we live in are inextricably linked.
The most important point she makes is that whenever we are connected to nature the same way nature is naturally connected to us, great things happen and amazing things are created.
How Does Hillary Get Inspired to Embroider Botanical Art on Dried Leaves?
First and foremost, the skilled artist yearns in combining elements and techniques that represent the fusion of humans and the natural environment. The passionate hands behind the embroidered botanical art repeat the motions made from hands over thousands of years whether she stitches, draws, plants seeds, or harvests.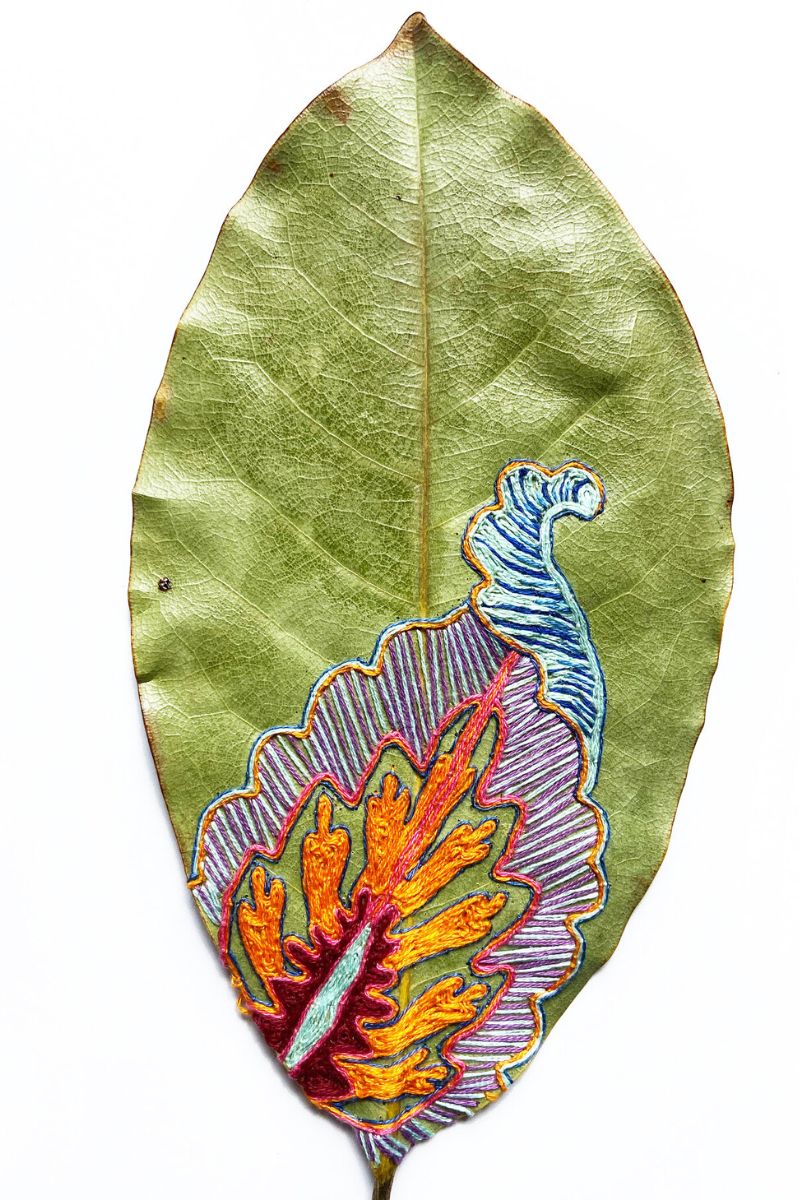 She Hand-On-Hand Works in a Sustainable Manner
In her account of how she gathers leaves and seed pods near her Richmond, Virginia home, Waters Fayle mentions the sustainable choices used in her method of work. The artist aims for zero waste in her work by employing readily available resources, such as thread from her grandmother.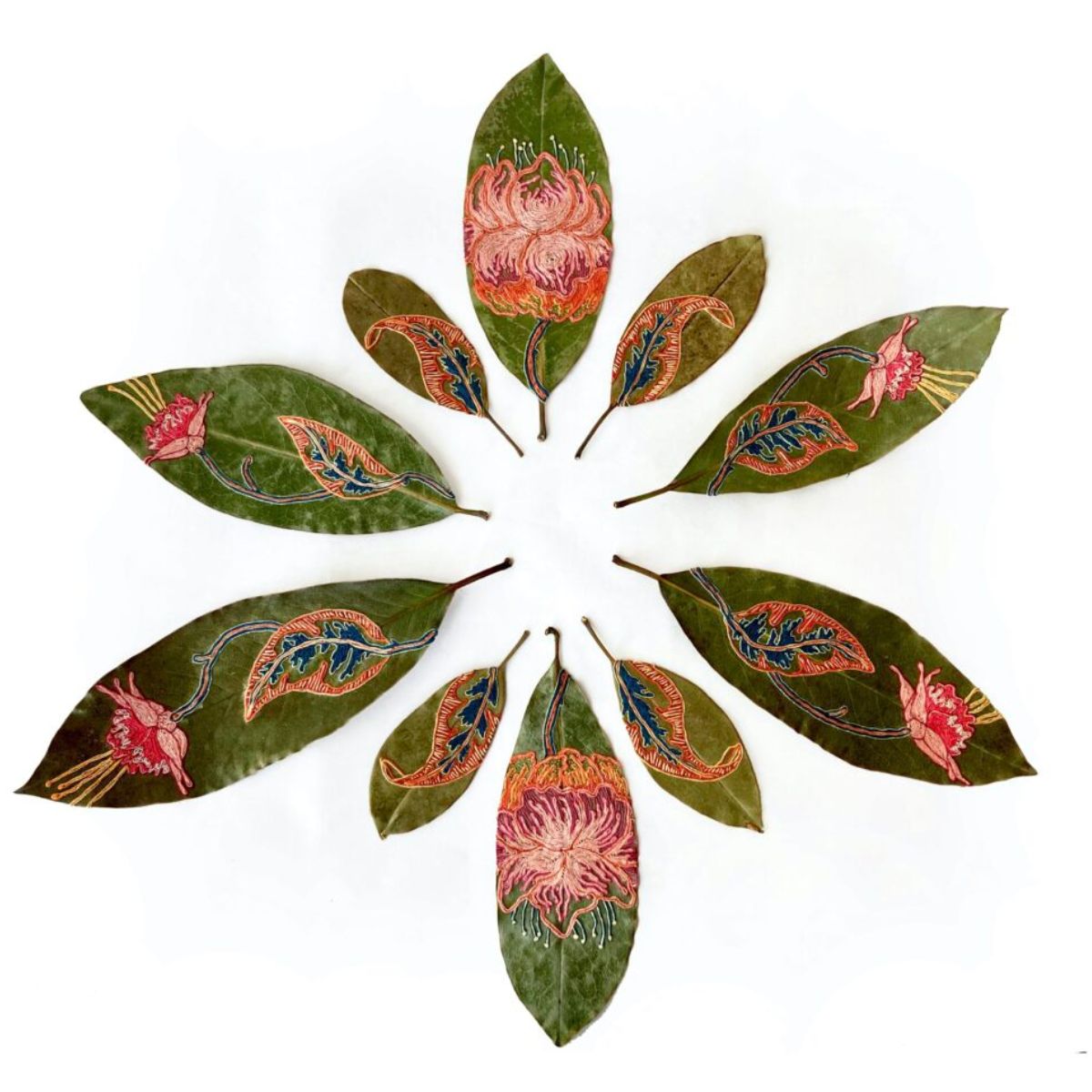 Her overall goal is to "connect nature and human touch," highlighting the ways in which they interact. Bravo because Hillary Waters Fayle embroiders botanical art on dried leaves as we've never seen before!
About the Artist
Hillary's work has been widely exhibited and is included in the permanent collections of the Burchfield Penney Art Center in Buffalo, NY, the Kalmthout Arboretum & Botanical Gardens in Belgium, the United States Embassy in Colombo, Sri Lanka, and several private collections.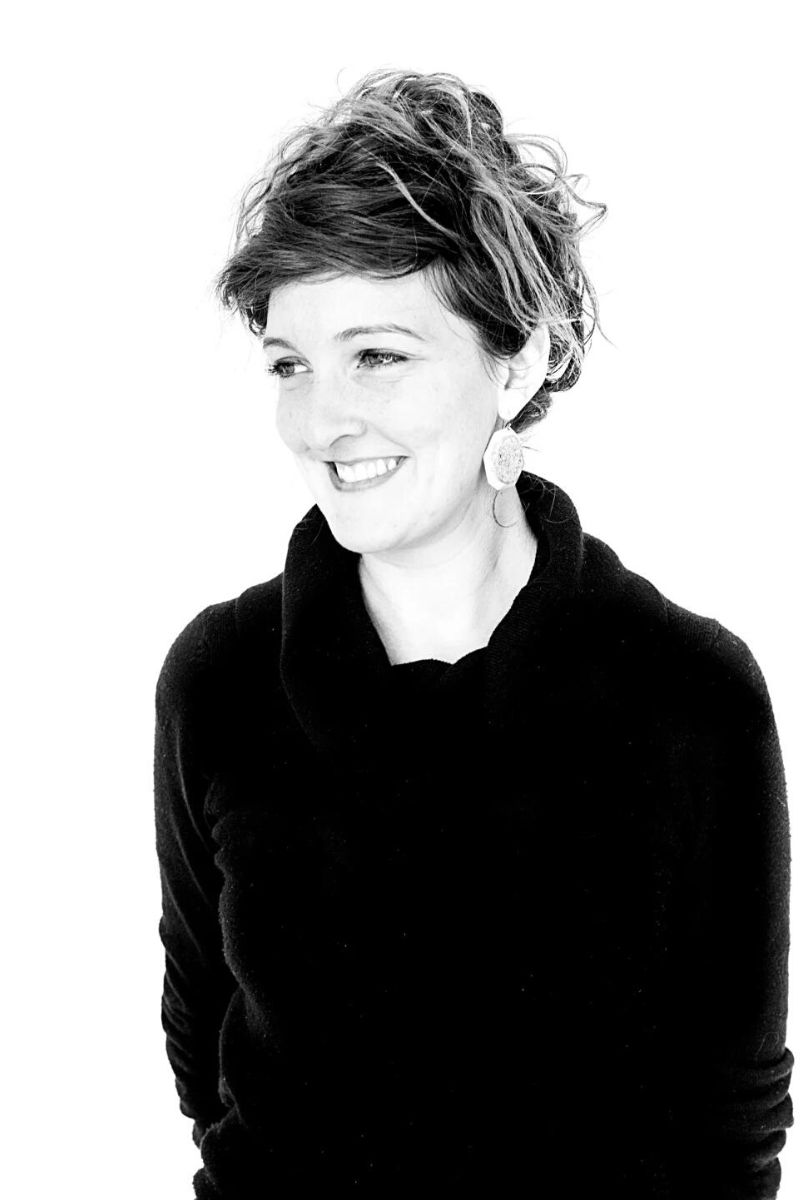 A public installation in collaboration with the AK Museum can be seen year-round in Buffalo, NY. Learn more about the artist on her website or discover more of her artwork on Instagram.