We likely all agree that a bouquet of fresh flowers makes a space more inviting. Whether a romantic bursting bundle or a simple low arrangement on a candlelit table, they add a touch of natural beauty. But we'd be the first to admit that how to properly arrange flowers can cause us a bit of stress. Luckily, the beautiful professional bouquets you admire at events or dinner parties are easy to recreate once you know how to arrange flowers. Read on to learn how to create a basic arrangement from the experts themselves.
We asked florists from top floral design companies with markedly different styles to teach us their tricks for getting a perfect bouquet at home. Get out the garden shears and start arranging!
How to Arrange Flowers
Materials
-Flowers of choice -Vase -Shears -Thorn stripper -Water -Preservative solution or bleach -Tape (optional)
Instructions
Select your flowers. In-season blooms will be less expensive and feel right for the time of year. Other varieties, such as roses and orchids, are available year-round.
Create a mix of complementary colors and varieties or choose one shade or variety. Don't forget to add greenery for texture and color.
Choose your vase based on the type of flowers you plan to use and the size and style of arrangement you want to create.
Cut the stems at an angle about an inch from the bottom using garden shears. (You may need to cut them shorter depending on the vase.) Remove any leaves that will sit below the water level of the vase.
Pour water into the vase. If your flowers came with a preservative solution, add it now. If you don't have any, you can use a few drops of bleach to kill off any bacteria and keep the flowers fresh.
Start by adding the largest flowers first, working in a circle, and turning the vase as you go to make sure the arrangement is symmetrical.
Layer in the next variety of flower and repeat until all flowers have been added.
Finish the arrangement by adding greenery, grasses, or berries.
How to Create Floral Arrangements
Style 1: Lush Bouquet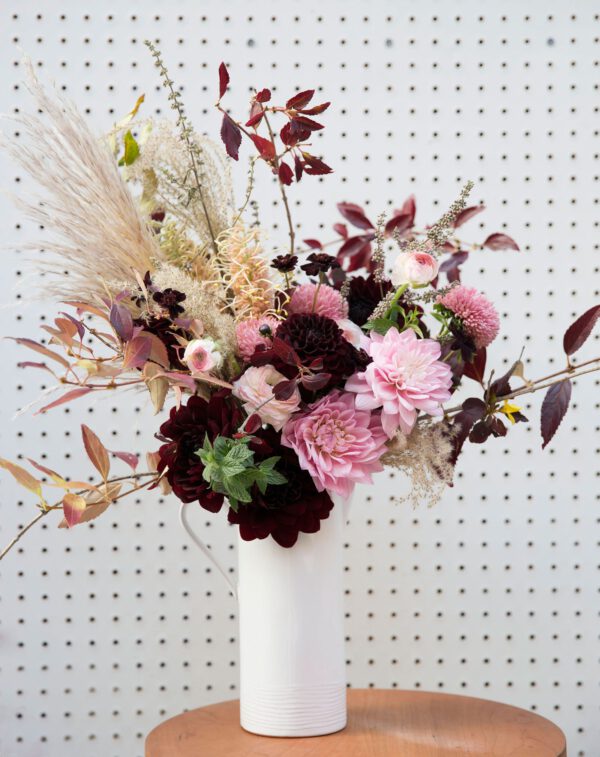 Arrangement by The Wild Bunch / Photo: Britt Lucas
Florist: Brooke Lucas, founder of The Wild Bunch, a New York-based floral-and event-design company
Flowers Used:
-Dahlias -Chrysanthemums -Grasses and greenery
Brooke's Tips:
Be sure to add different types of grasses for texture. Contrast lighter-toned flowers with deeper reds and chocolates to create a striking centerpiece. To create a lush asymmetrical arrangement, layer in greenery and grasses.
Style 2: Wild Beauty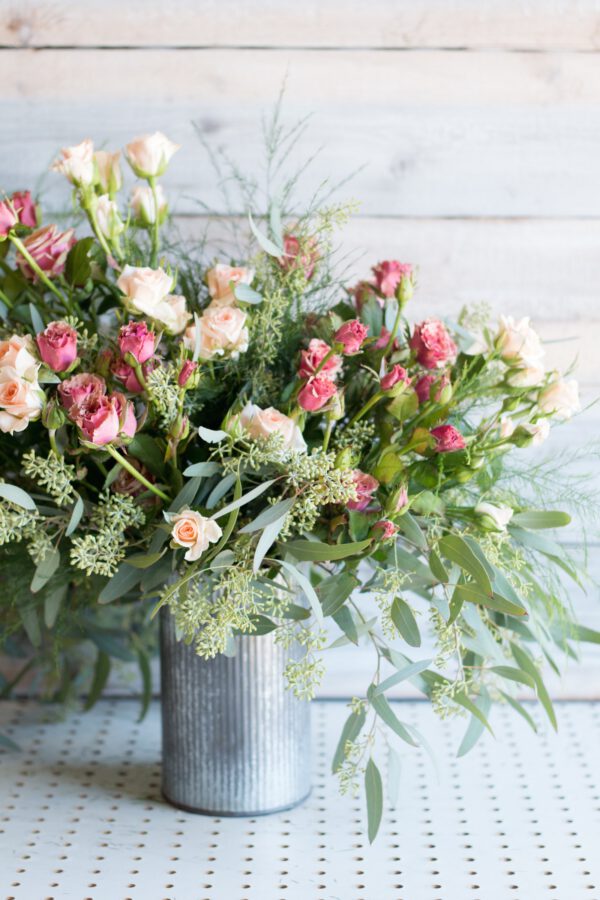 Arrangement by Farmgirl Flowers
Florist: Christina Stembel, founder of San Francisco–based Farmgirl Flowers, which offers simple U.S.-grown blooms hand-selected from local farms.
Flowers Used:
-Spray roses -Greenery
Christina's Tips:
-For a Farmgirl-esque arrangement, I recommend choosing one type of flower in either a single color or two complementary hues and two types of greenery, one that's typically hardier and one that's lighter and more whimsical. -Make the greenery higher on one side and let it spill over on the other to give your arrangement a slight S-curve design, which will make you look like a pro! -Arrange the greenery in the vase first. Though that may seem counterintuitive, it makes it easier to create a wild, asymmetrical bouquet. -Add much more greenery than you probably think you should. In this arrangement, it becomes the foundation to hold the flowers in place, instead of floral foam, tape, or a frog. (We like greens so much, we often want to leave them naked without the flowers!) -As flowers start to expire and turn brown, take them out of the arrangement to keep the other stems alive longer. Usually, the greenery will last a couple of weeks more than the flowers, so you can just trade the flowers out on your next grocery trip.
Style 3: Bursting Summer Arrangement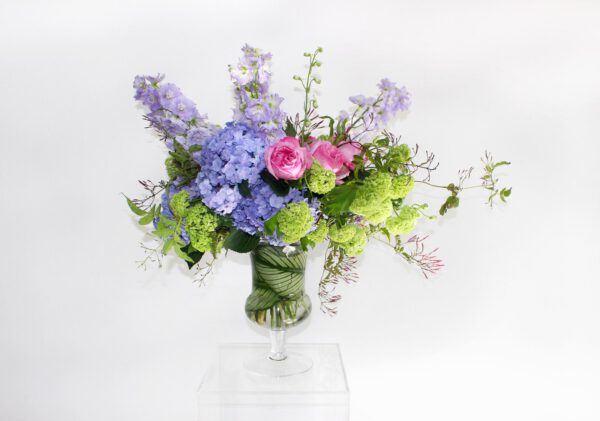 Arrangement by L'Atelier Rouge / Dayo Idowu
Florist: Caroline Bailly, owner of L'Atelier Rouge, a New York floral decoration and event studio.
Flowers Used:
-Delphinium -Viburnum -Hydrangea -Roses -Jasmine
Caroline's Tips:
-While the vase is empty, arrange a large leaf around the inside of the container to conceal the stems. -Make a grid out of tape—it's one of the easiest ways to construct a perfect arrangement. It's the best way to craft a bouquet with fewer flowers: It maintains a neat structure and prevents the drooping that can happen with long-stemmed flowers in wide-mouthed containers if they're left to stand on their own. It's also more budget-conscious. -To create a grid: Stretch lines of tape in a simple grid pattern across the mouth of the vase. There's no perfect number of lines to make; just consider the number of stems you're using. Then arrange the flowers within the different squares. Wrap a continuous length of tape around the upper perimeter of the vase, holding down the edges of the tape in the grid lines. Do this at least once or twice to make sure the grid will stay in place. -Be careful to keep the tape from getting too wet (especially around the edges), as this may cause it to slip.