The Interflora World Cup in Manchester will take place from September 7th to 9th. The competition, founded in 1972, is held every four to six years in different major cities around the world. The last two editions were held in Berlin in 2015 and Philadelphia in 2019, and this one will be held in Manchester.
There will be a public competition and an impressive flower exhibition, there will also be workshops, demonstrations, craft stands, creative zones, live music, entertainment programs, and gala dinners. Hyung Hak Kim is one of the twenty contestants and he will represent his country, the Republic of Korea.
Meet Hyung Hak Kim - Competitor for the Republic of Korea at Interflora World Cup
Hyung Hak Kim is a Floral Designer, a Land Artist, and the owner of 'Beyond N'. Also known as Leo Kim. He established his company in 1978 and has taken part in many competitions over the years, also working as a Professor at Sook Myung Women's University. He loves to help people find meaning through flowers.
As always, the process is the intersection of hope and despair. Push to the extreme to pull it out and bloom from there.
Hyung Hak Kim:
"You can design and create and build the most wonderful place in the world but it takes people to make the dream a reality. With all my work, I like to emphasize the margins and lines of nature to capture its true appearance."
Achievements He Likes to Look Back To
Hyung Hak Kim won a gold medal in the BUGA (Bundesgartenschau) competition in Munich, Germany in 2005. After that, he won many awards: A gold medal in the Korea Cup Flower Design Competition in 2011, he entered as a competitor for Korea in the Asia Cup Flower Design competition in 2014 and won a Gold Medal for the Best Color Award at the International Garden & Flower Show Japan in 2015. More highlights include winning twice at China's International Orchid Show (2015), winning Gold at the International Garden & Flower Show in Japan (2015), and taking part in the Danang International Flower Show in Vietnam and the Singapore Garden Festival in the same year (2016).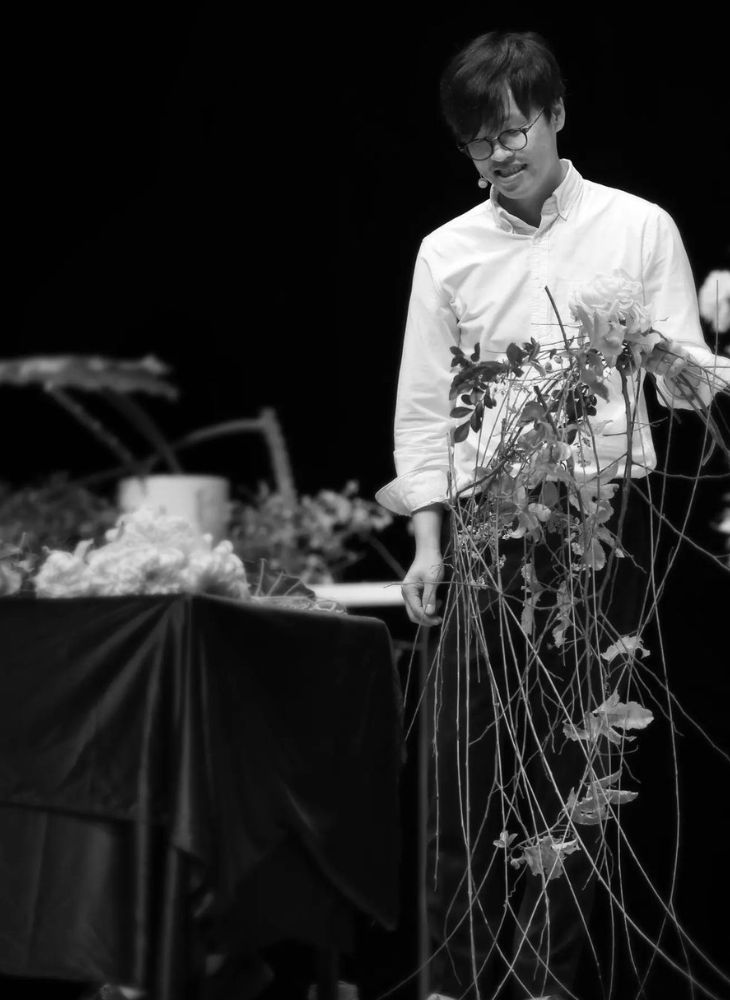 Leo Kim:
"It is an honor to represent Korea in the Interflora World Cup, known as the most prestigious competition in the field of floral art," he said. I will not stop expanding and taking on new challenges."
Exhibiting at the Guangzhou Flower Art Exhibition in China (2019) he's really proud of that. Also at the Royal Floria Putrajaya in Malaysia (2005 & 2018) as well as in various Art Exhibitions in Korea and across Asia over the years, as he recalls, it gave him lots of joy. 2020 International Floral Design Master Forum, Kohim (China), 2022 Bohol International Floral Master Series Korea Representative (Philippines), 2022 Malaysian Royal Floria Putrajaya Korea Representative.
Alongside competition work, Hyung Hak Kim has also had the honor of creating floral decorations for the Korean presidential residence ('Cheong Wa Dae', or the 'Blue House'), the Chairman of the National Assembly's official residence, and the American, EU, Chinese, and Japanese embassies.
Leo Kim's Beyond N
His company Beyond N is well known for decorating many weddings at the prestigious Shilla Hotel, Hilton Hotel Seoul, and Sheraton Hotel Seoul. This is a visit card for him. It gives him an excellent portfolio.
What Inspires His Style
He loves sports and reading books. Nature is a precious inspiration to Hyung Hak Kim. He looks deeply into nature and then creates personal philosophy and finds a way to create a Korean style. Throughout the process, he ensures that he expresses his own floral design.