On Friday, April 30, VannoVa grower Ed van Paassen delivered his first Ilonkas to the auction clock of Royal FloraHolland in Naaldwijk. To celebrate this moment with VannoVa's customers, a select group was invited to the nursery.
Confidence
According to Ed van Paassen, Master Grower with the chrysanthemum growers' partnership Vannova, the bar is set high: "Both shelf life and transportability are extremely important. Especially since most of our customers are located far away in Russia. In addition to the beautiful characteristics of Ilonka, the tests that this chrysanthemum has passed give us the confidence to start working with this variety. Our customers also indicate that they would like to work with Ilonka."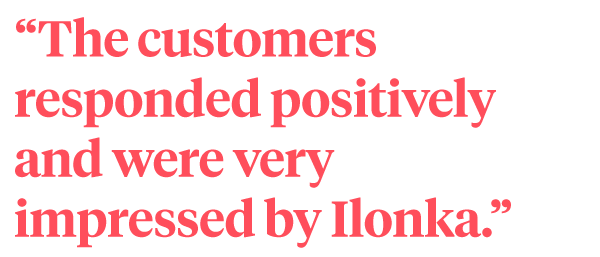 Last Friday, some customers could come and see - in a corona-proof setting - the new spray chrysanthemum variety Ilonka. The first cuttings of this variety were planted in the greenhouse of Master Grower Ed van Paassen at the beginning of March and the first flowers were harvested last week.
Positive Response
The customers were first shown around the greenhouse by Ed van Paassen. Subsequently, while enjoying a snack and a drink, Roy van Kester, the marketing manager from breeder Dümmen Orange, took the stage to explain all about the special characteristics of Ilonka. Afterward, the customers received an Ilonka promotional package. Ed van Paassen says: "The customers responded positively and were very impressed by Ilonka. Compared to predecessor Bacardi, the perfect white color and the greener flower heart are immediately noticeable."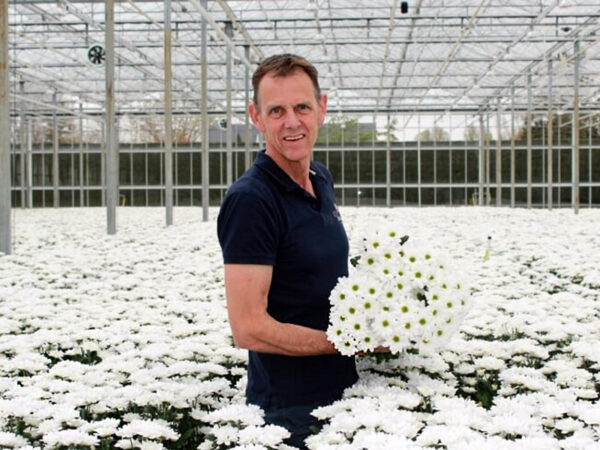 A Worthy Substitute
As a specialist in single-flowered spray chrysanthemums, Ed van Paassen has focused on the cultivation of the Bacardi variety for the past ten years. This breed has evolved continuously; in the field of selection, cultivation technique, and growing recipe. In this constant search for optimization and innovation, in close collaboration with Dümmen Orange, the new, fresh and pure white Ilonka came into the picture as the successor to Bacardi. Many trial crops, transport, and chain simulations took place before it could be shown that Ilonka is a worthy replacement. The first batch of flowers that is now on the market gives confidence for the future.