There's nothing quite like a charming rose to express all the emotions that the heart holds. A bouquet of entrancing roses definitely tells a lot about what the heart yearns to say. And Decofresh Roses knows this fact all too well.
With that, this rose trader that works with a group of leading Kenyan farms - sourcing and delivering a wide range of the finest roses from the East African country - is introducing the Rose Roxanne, an exquisite salmon-colored flower that has, without a doubt, left floral designers across the globe in awe of its unique qualities.
All floral designers who have tried this variety in their designs and arrangements certainly have something positive to say.
Nicu Bocancea: "The Powdery Color of the Petals Is So Special"
Nicu Bocancea from Floraris Iris kicks off as one of the nine top designers to review Rose Roxanne.
Nicu:
"A few weeks ago we received a new variety of gorgeous roses, called Roxanne. For this new variety of roses from Decofresh Roses we chose to create a natural grass structure. The powdery color of the petals is so special. Roxanne roses bloom very beautifully, have very large and strong flowers and they are very resistant."
Max Hurtaud: "A Rose With a Color That Brings Out Different Moods"
After sampling Rose Roxanne, floral event designer, Max Hurtaud also highly spoke of this rose's endearingly versatile qualities.
Max explains:
"Rose Roxanne is a very interesting rose with its color that can bring different moods. Some parts bring some light, some sweetness, and some rough sides to every design that I make with it. Plus, the tone is easy to work with."
Max infers that one can combine this rose with a lot of different other colors. And if you try and adopt it in your floral arrangements, you'll definitely like it.
Claudia Tararache: "A Gorgeous Flower That Is a Popular Choice for Wedding Colors"
Claudia Tararache who works with Romania-based Anthurium Flowers opines that this gorgeous rose is a perfect fit for wedding colors.
Claudia indicates:
"Rose Roxanne is a gorgeous rose with a delicate salmon color, making it a popular choice for wedding colors."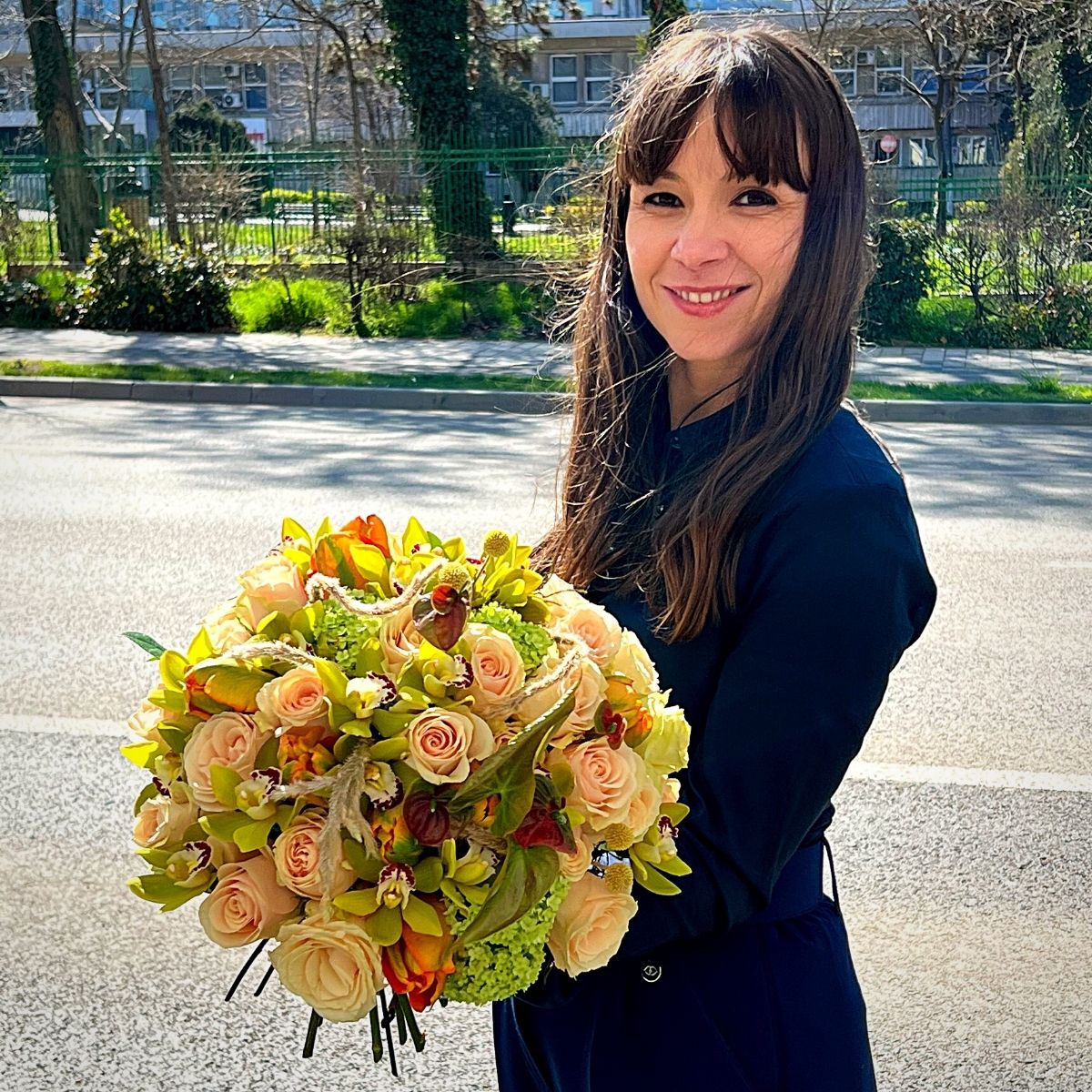 And, certainly, it truly is worth the acclamation!
Petri Rijsdijk: "A Highly Recommended Flower for Bridal Work"
Fiori Bloemen's Petri Rijsdijk, who also got the opportunity to use Rose Roxanne in her floral arrangements and bouquets holds that this rose is highly recommendable for modern bridal work.
Petri mentions:
"Rose Roxanne, a beautiful classic salmon-colored rose. It is quality and opens nicely. I think it's a beautiful rose to use for bridal work, both for a vintage bride and for a modern bride. Highly recommended!"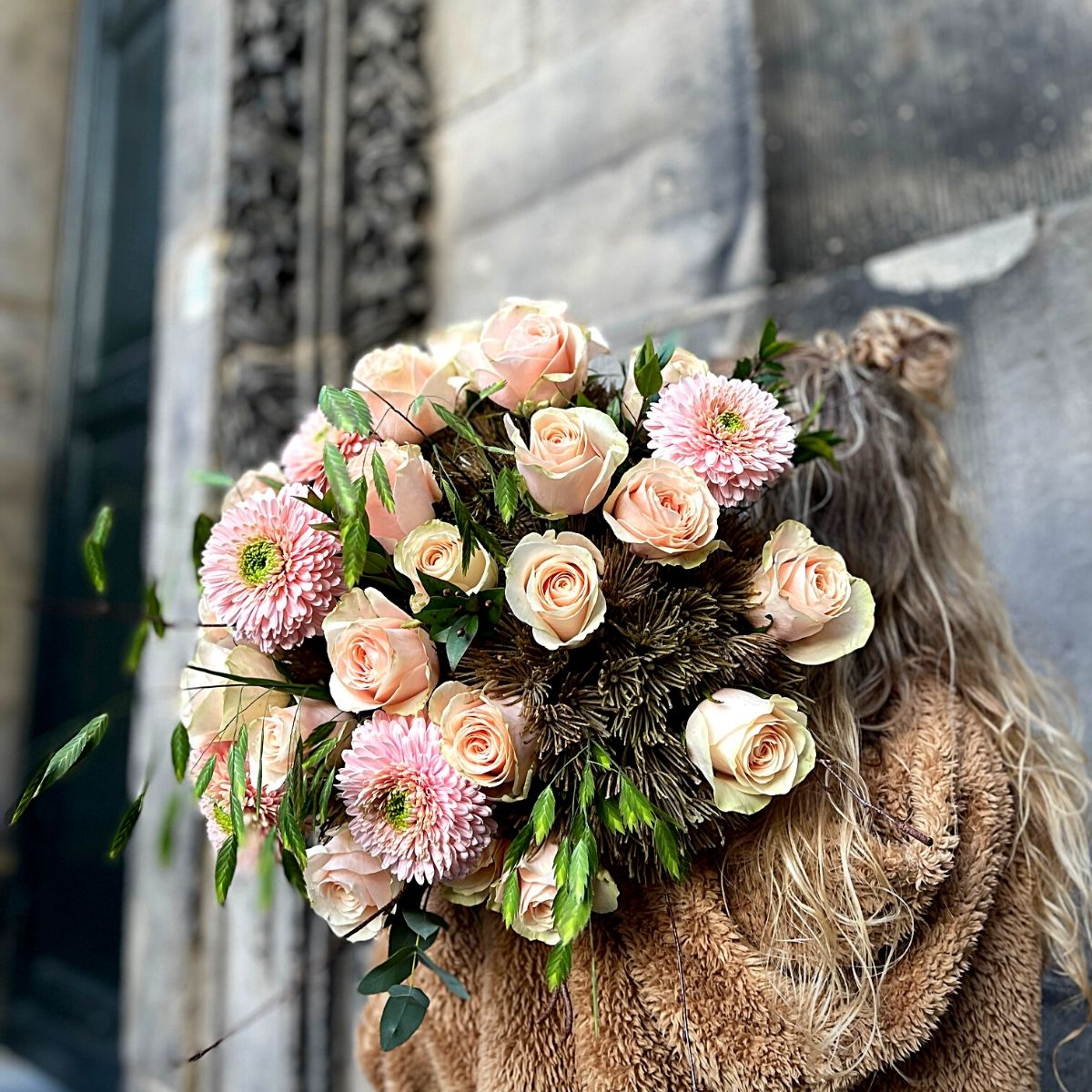 Elvira: "A Sturdy Rose That Easily Unfurls When it Matures"
For Loose Floral's designer Elvira, Rose Roxanne has likable qualities such as quite a nice soft color that makes it easy to incorporate into a white-colored floral arrangement.
Elvira says:
"Rose Roxanne is a nice sturdy rose that is easy to unfold when it matures. It has a nice soft color, making it easy to add to a light color pallet. I recommend working with this rose."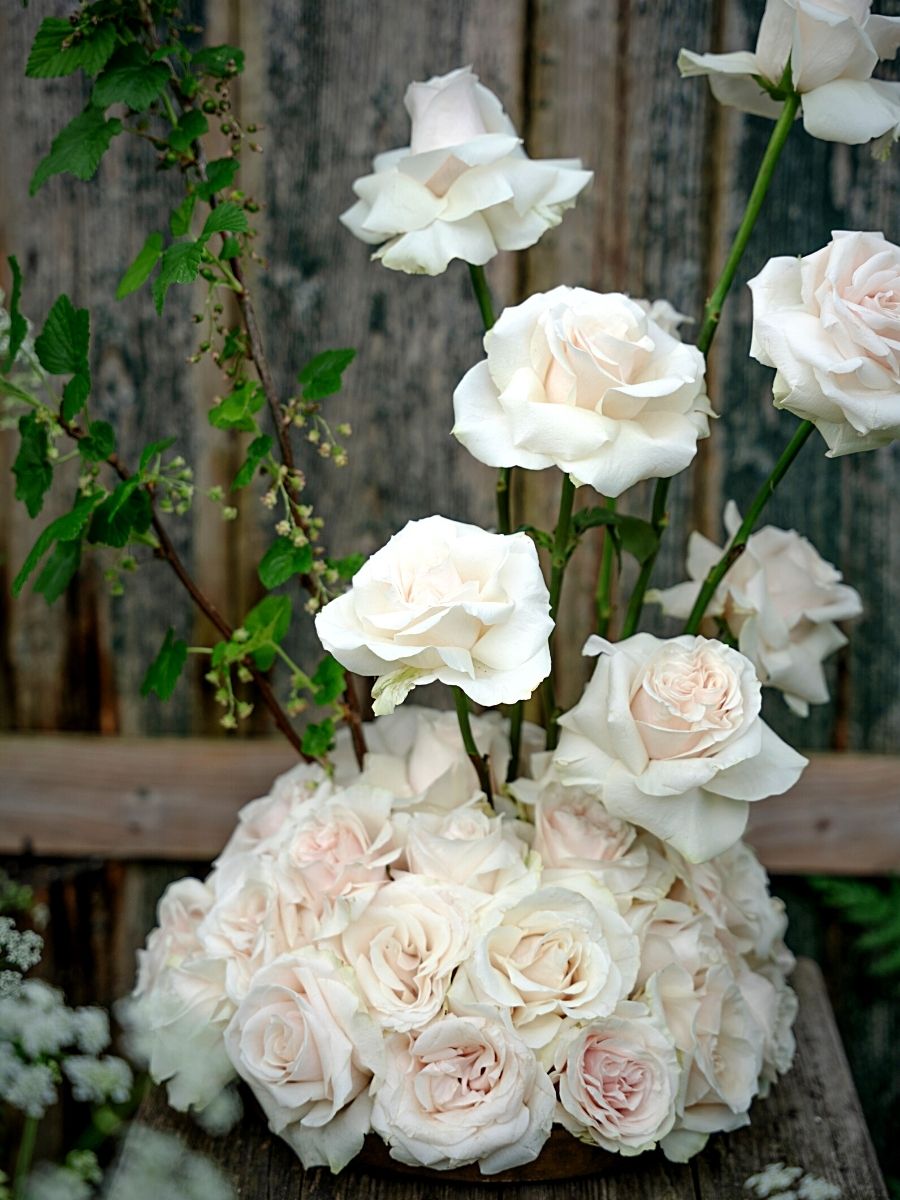 Erko Feigl: "This Rose Is a Complete Seducer Without a Red Light"
Erko Feigl from myFlorist just fell in love with the rose and got hooked the very first moment he was presented with an opportunity to work with it.
About Rose Roxanne, Erko Feigl says:
"You don't have to put on the red light. Who doesn't know the lyrics from the world hit by the Police and Sting? Also, this rose can seduce completely without a red light. She's a velvety soft fragrant rose dream made for a 'vintage style' wedding theme. I was immediately hooked. That's how it should be with enchanting beauties, right?"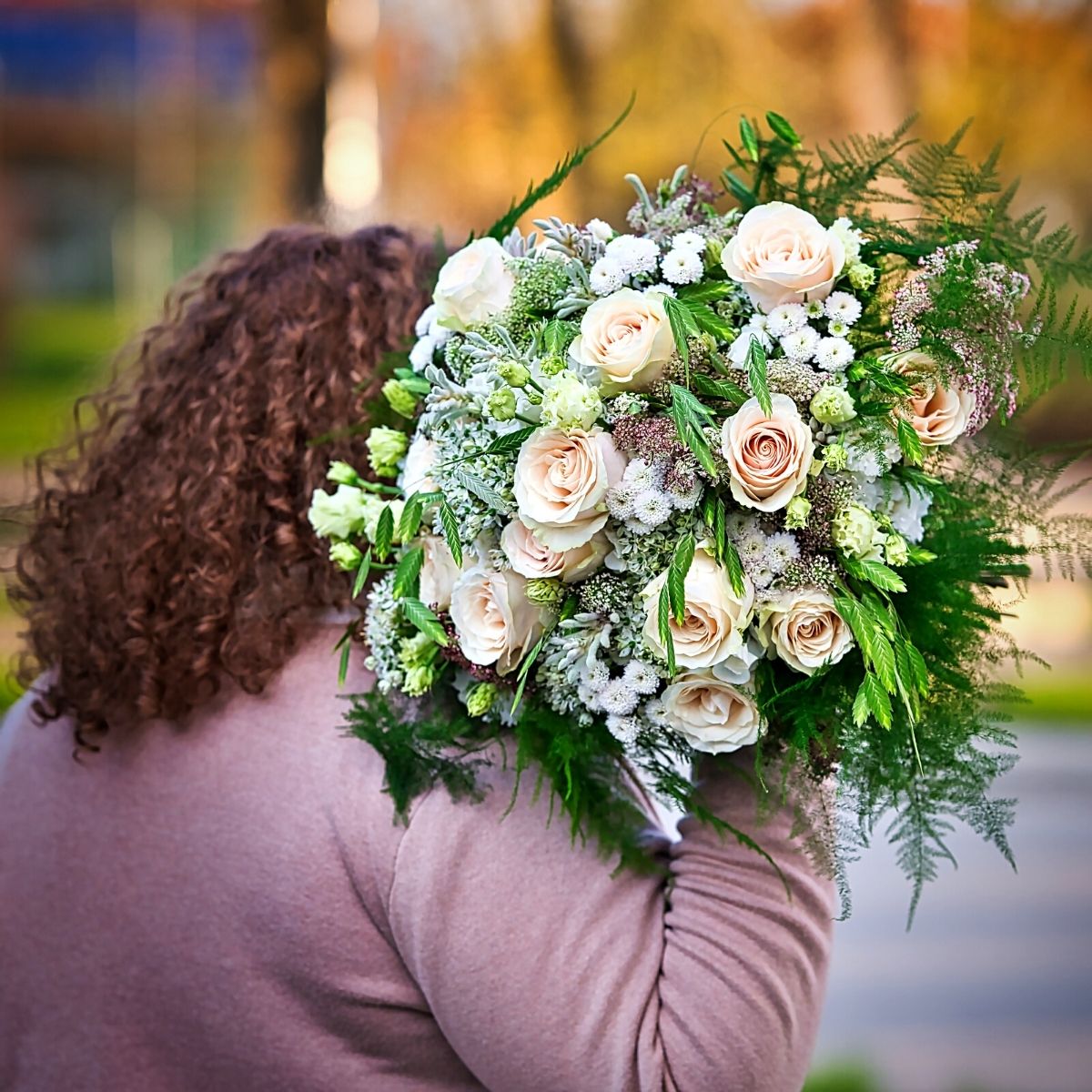 Erko adds that as a man and as a florist, he fell in love with this incredible flower anyway. And that he is happy that he was able to be one of the first to perform some magic with the rose.
Fleuriot Fleurs: "Rose Roxanne Is a Simple Yet Classic Rose"
Art florist, Fleuriot Fleurs had the prospects of testing Rose Roxanne earlier in the year as well, and the flower just blew their mind!
Fleuriot says:
"We had the pleasure of testing the rose variety Rose Roxanne and it just won us over! It is a simple and classic rose but that doesn't make her any less beautiful! Its delicate light peach color and its generous petals add a fresh touch to any floral arrangement or bouquet!"
Fleuriot holds the opinion that this rose variety is especially suited for large-scale decorations due to its generous size.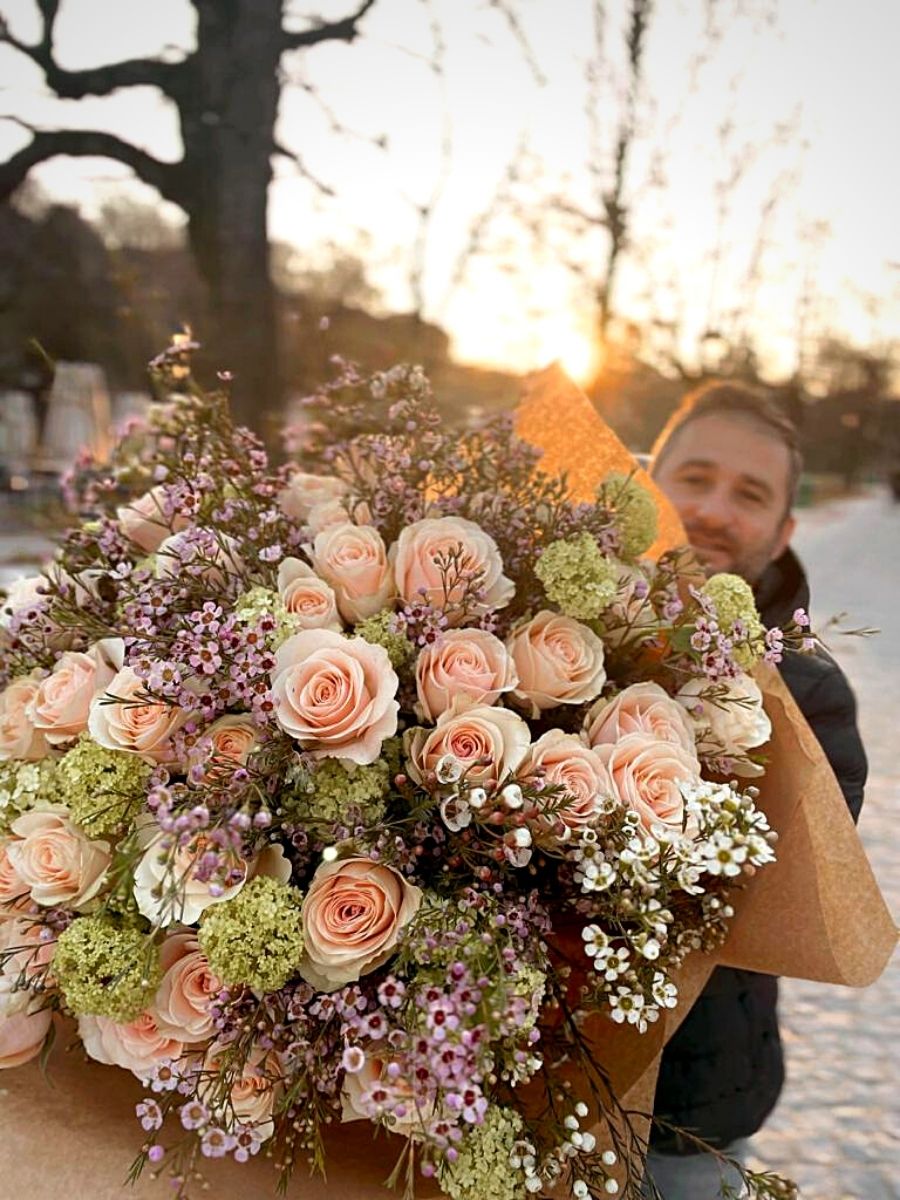 The florist adds:
"We 100% recommend her!"
Pauline Arkesteijn: "A Wonderful Rose to Work With!"
For Pauline Arkesteijn IMF, the director of florists, Pien Flowers Bloemstyliste, the soft pastel color of the rose, plus its other qualities makes it quite special and ideal for floral arrangements.
Pauline says:
"This is a very soft pink pastel-colored rose, with nice thick stems, lovely scented, and has no thorns."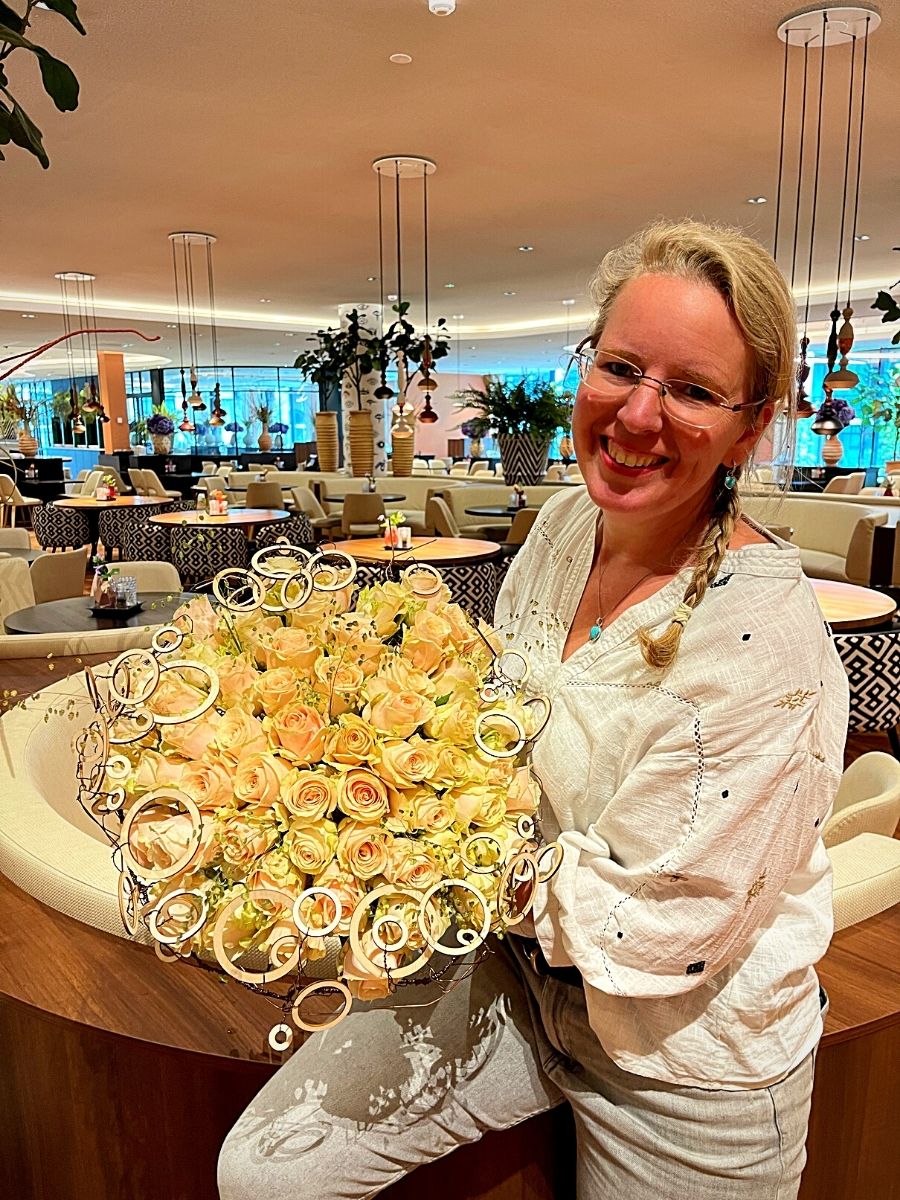 It definitely is a wonderful rose to work with, in your floral designs and arrangements!
Kristina Rimiene: "A Wonderfully Big Flower That Creates a Warm Creamy Emotion"
Kristina Rimiene a floral designer from Studio Flores had the chance to sample this exquisite rose and was quite awe-struck by its qualities.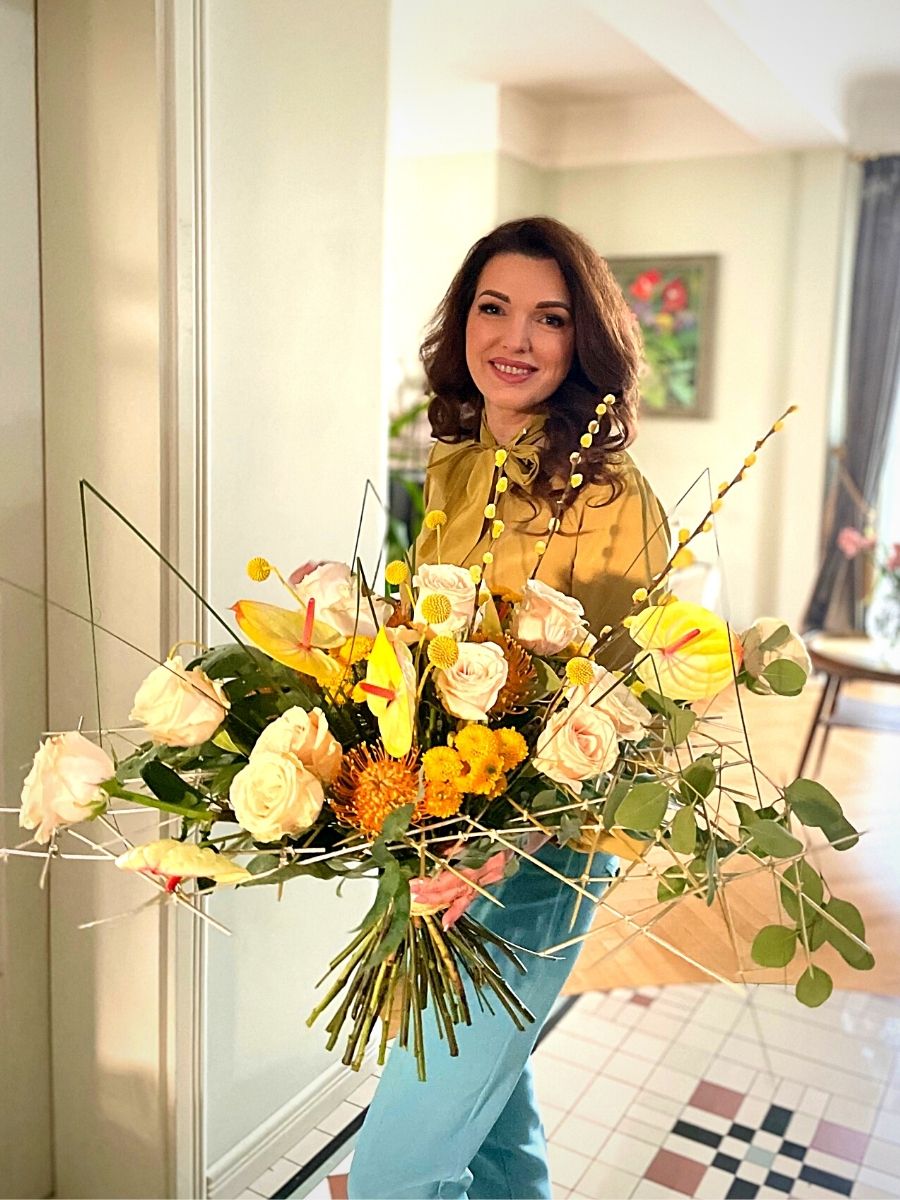 Kristina says:
"It has an indescribable color! This is the first description that comes to my mind when I think of this rose. A wonderful big flower and a warm creamy emotion that it creates. This rose is truly impressive, and it was a real pleasure to create with it."
Where to Get Rose Roxanne
Rose Roxanne is bred by Dümmen Orange, grown by Alisha, and marketed by Decofresh.
Header image by Pauline Arkesteijn, feature image by Kristina Rimiene.