Giant watercolor floral paintings anyone? Janet Pulcho is here to give you the floral art dose you need for this week, plus get a little side inspiration if you're an artist and love to paint by hand. Being an incredibly talented young Ukranian of only 26 years, she has devoted her entire talent and passion to what she adores most: florals and watercolors. Don't miss out!
Meet Janet Pulcho - A Floral Watercolor Master
Janet is a Ukrainian painter known for her massive watercolor paintings, but not only any paintings... All her paintings are primarily floral in nature and flourish in abundance of flowers which leave people impressed and in pure awe. As a young heart with a never-ending talent and passion for painting with watercolors, Janet Pulcho received a master's degree from the Odessa State Academy of Civil Engineering and Architecture's Fine Arts faculty along with studying in the Florence Art Academy. She is a member of the Ukrainian Union of Artists, now residing in Florence, Italy.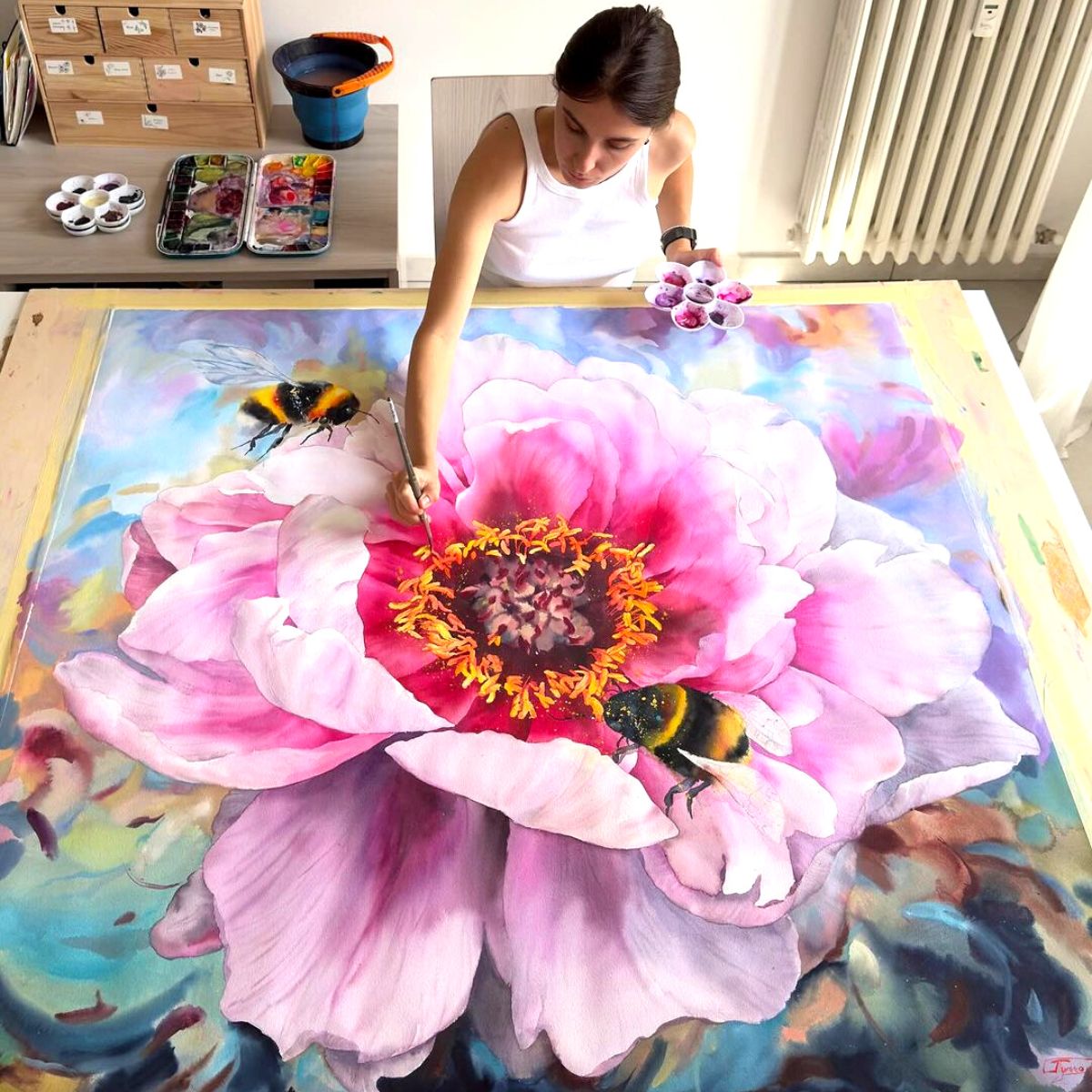 She states:
"There is enough ugliness in the world, and I hope that my paintings will bring something beautiful and inspiring into the lives of others."
Nowadays, Pulcho actively participates in exhibitions, and her fabulous, outstanding pieces of work can be found in private collections in the United States, England, Germany, Switzerland, Spain, Austria, Australia, the Philippines, Portugal, India, and Ukraine, among other places. If you were looking to fill up your interior spaces with floral paintings and designs, today's your lucky day because Janet is here to fill up your days with eye-catching and conspicuous art.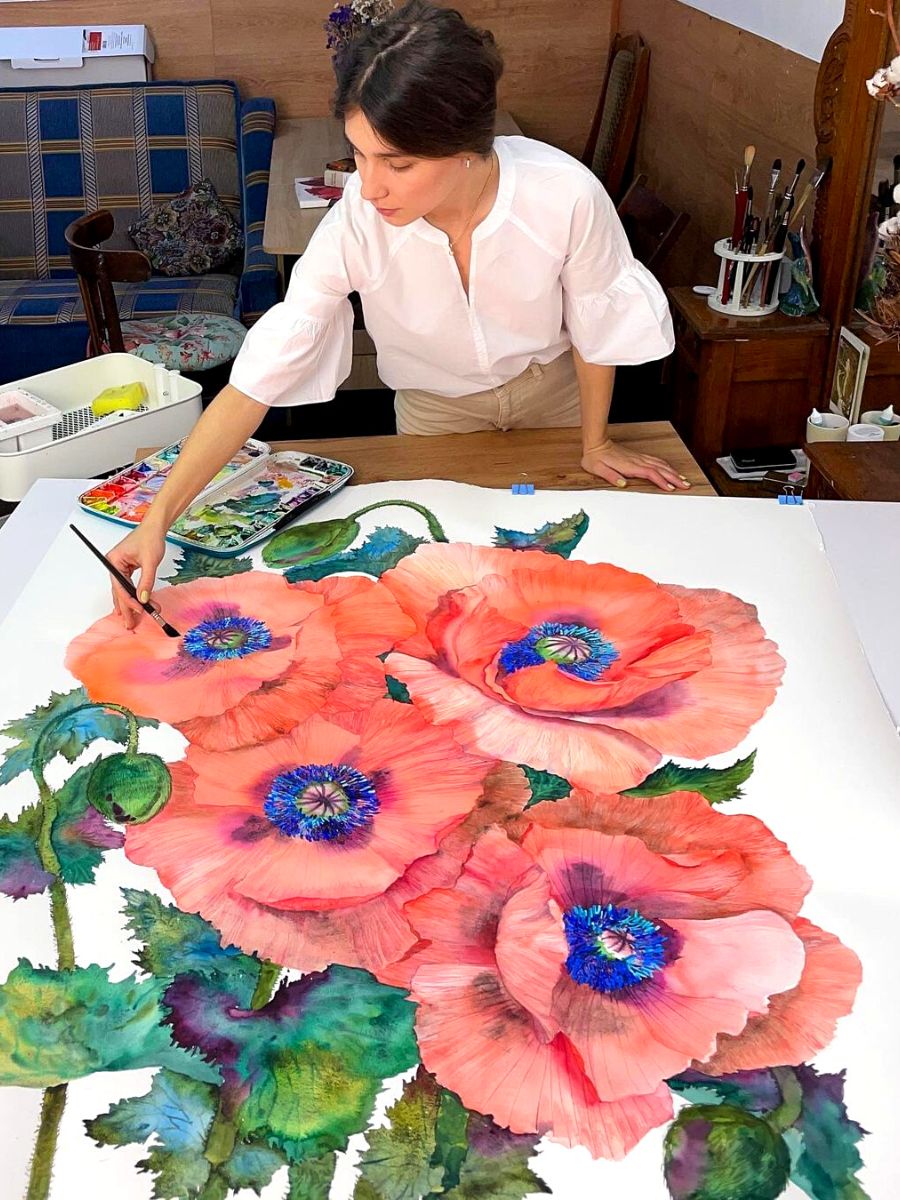 Flowers as The Main Characters in Her Paintings
Who doesn't love the idea of a bountiful bouquet? Well, artist Janet Pulcho creates massive, human-sized blooms that can live forever. Her series of large watercolor paintings capture the ethereal beauty of different flowers, from poppies to peonies. She likes florals for their aesthetics. In each piece, the flower stems are depicted as floating in the air with a white or black background. This simple composition highlights the complexity of each plant. Three of her favorite flowers include peonies, anemones, and red poppies specifically.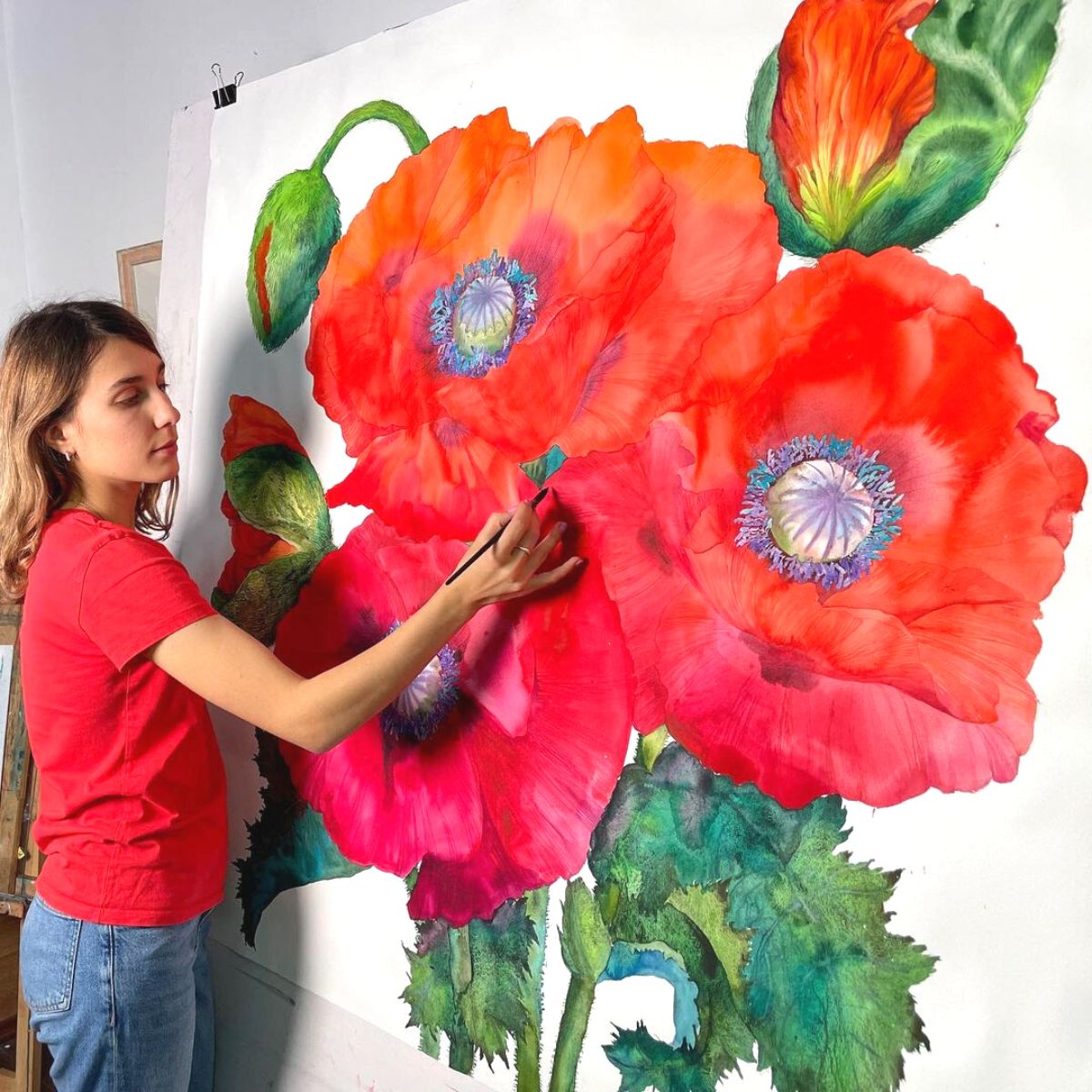 Pulcho's attention to detail is reminiscent of old botanical illustrations. In her paintings, all of the details that are often overlooked in real-life flowers are magnified and glorified so that viewers can map the veins in the leaves and the complex anatomy of a flower's center. She credits her mastery of still-life drawing to daily practice and painting from life whenever possible.
Which Decades of Art Influenced Janet as a Child and What Artists Have Inspired Her?
In an interview, Janet shared how she a big fan of studying the history of fine arts in general, and there isn't just one artist who has influenced her the most. Throughout her academic education, she was inspired by Sandro Botticelli, Alfhons Muha, and Redyte. Because of the war in Ukraine, Janet had to relocate to Italy, where I met many other interesting artists, particularly Jan Van Huysum. Jan van Huysum was the last of the notable still-life painters who worked in the Northern Netherlands during the 17th and early 18th centuries. Van Huysum specialized in flower still lifes, but he also painted landscapes.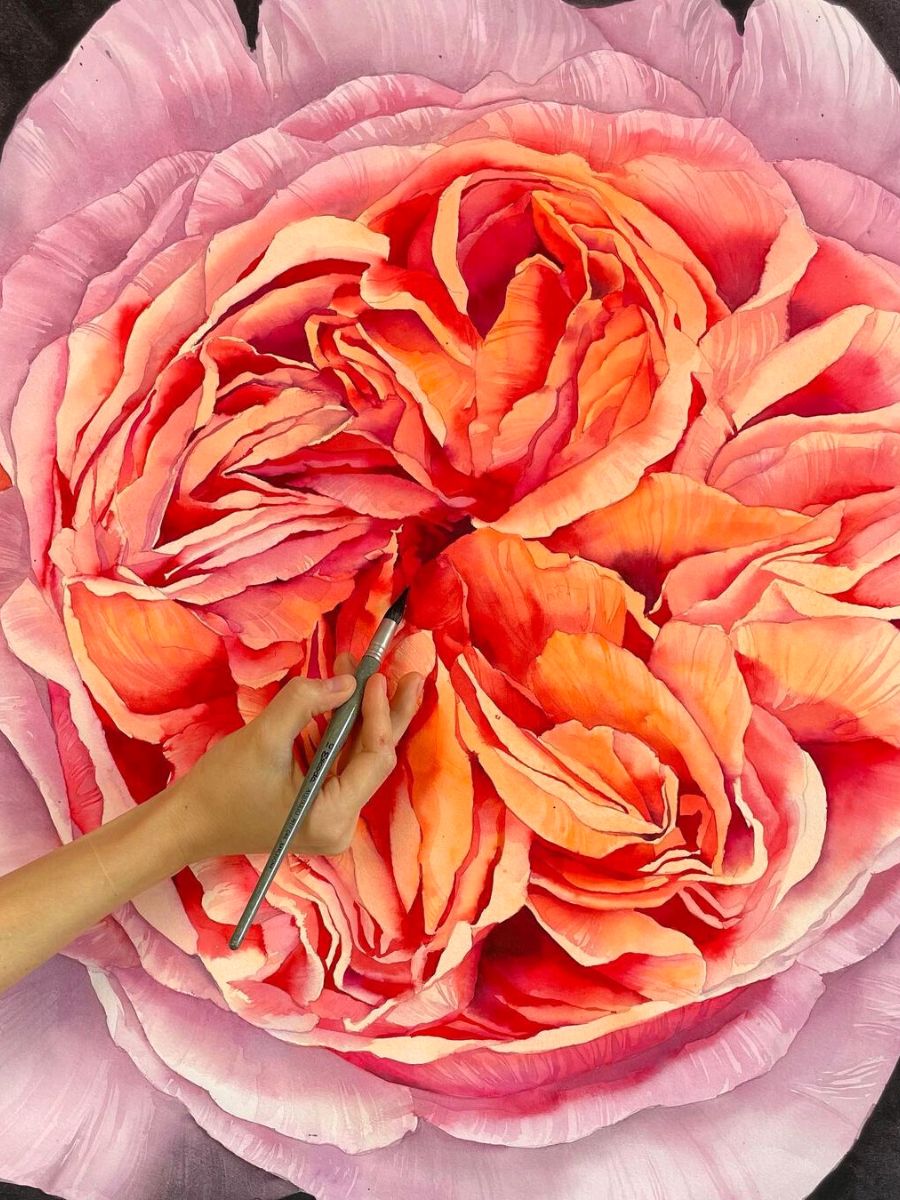 Based on the inspiration she got from several of her favorite artists, Janet Pulcho began working herself up into what she wanted to become: a master in watercolor paintings. After years of hard work and extreme dedication to perfecting each of her paintings, Janet is nowadays one of the few artists who paints large watercolors which seen today is so unique and rare.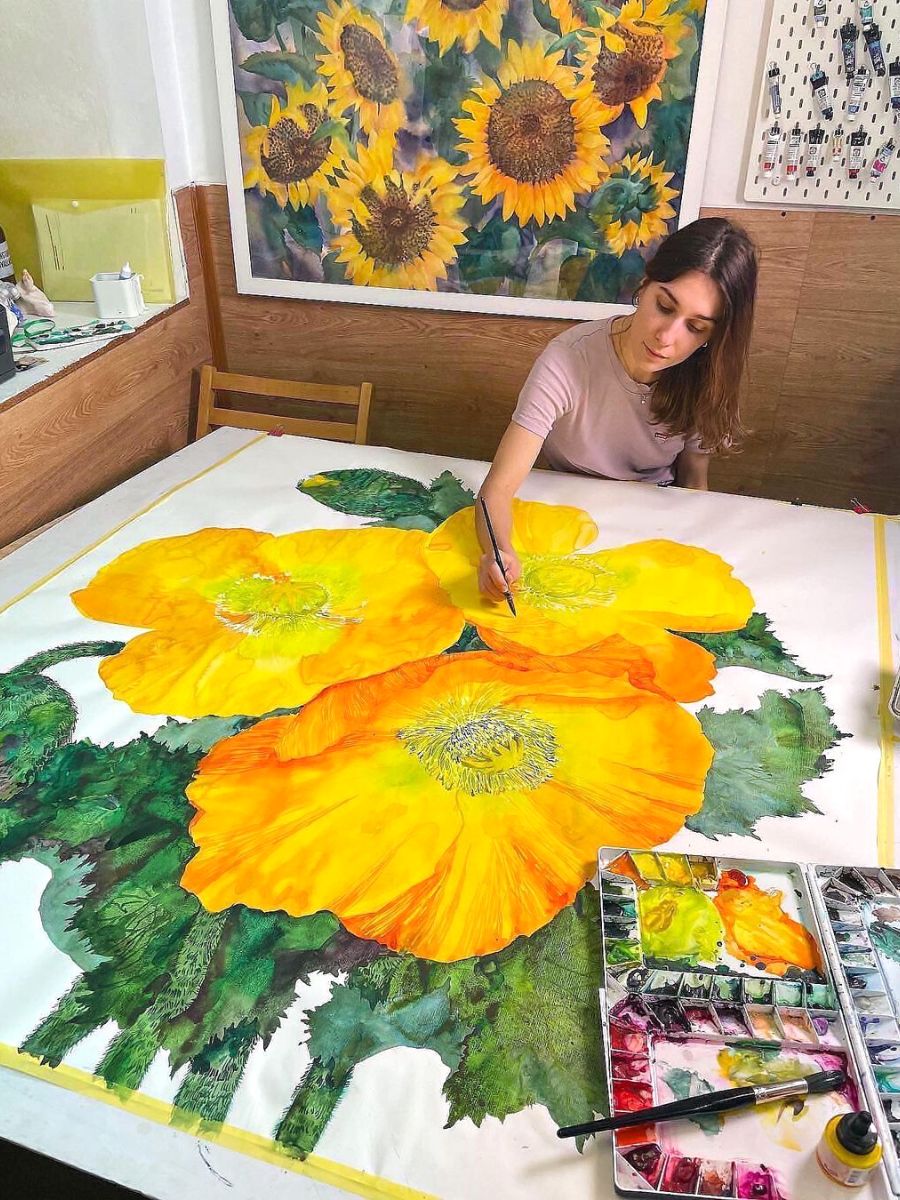 But it wasn't all beautiful at the beginning. For the artist, at first, it was very hard because his first watercolor artist teacher retaught her to paint watercolor. He explained all those things that had helped her develop her painting skills further. Studying in an academy was a great experience for Janet as she was studying in the faculty of Fine Arts. It took her approximately five and a half years and during the whole studying process, she was mostly practicing academic-style painting. Only in her fourth year of studying, she discovered botanical illustration, which developed into these huge floral paintings.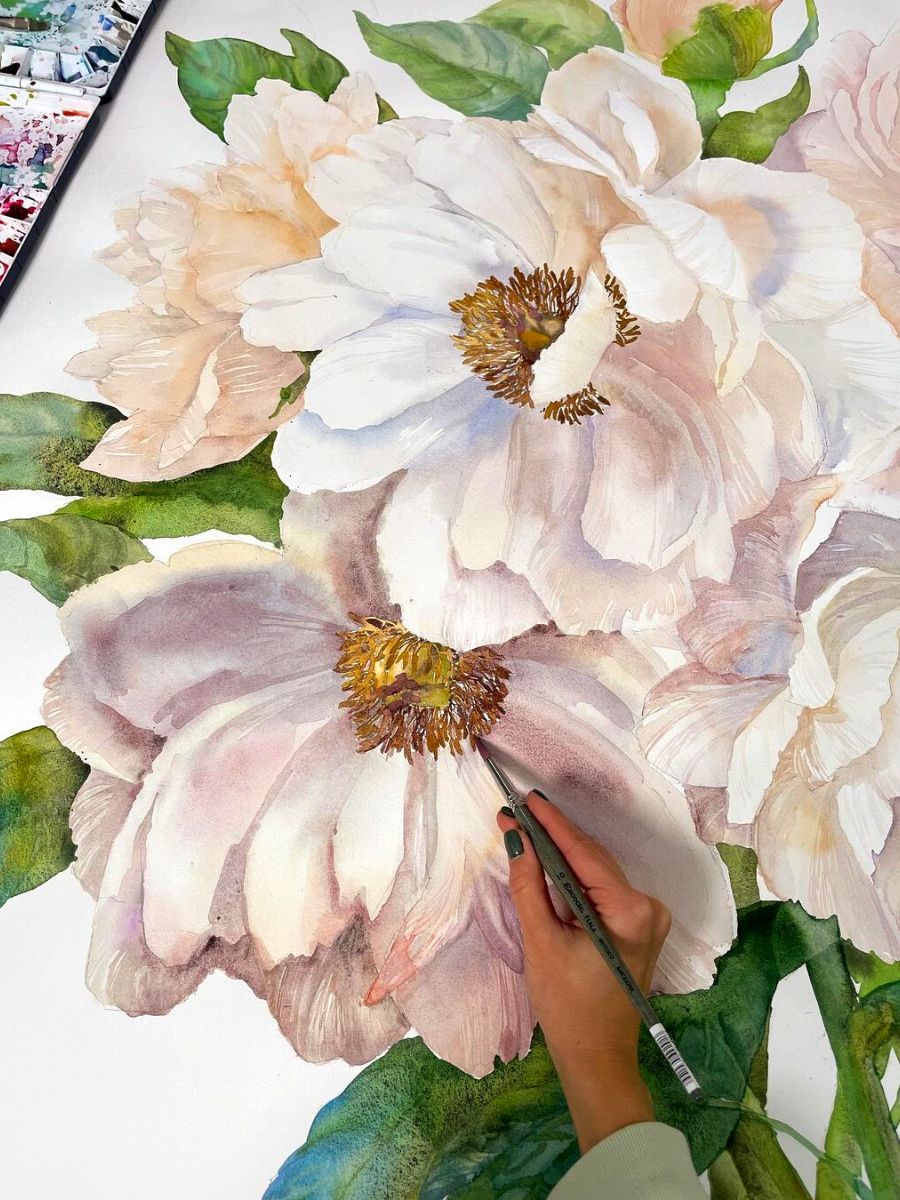 The Process Behind Janet Pulcho's Watercolor Paintings
Art in any shape or way usually takes time to perfection and make sure all the details are impeccable. For Janet, it usually takes her two weeks to complete a project. It can take a few days to complete a small painting but she can't say exactly how long it takes. When working with watercolor, she explains that she must work quickly because she must color all of the important pieces while the paper is still wet. If you'd like to know more about the process behind every piece she creates, Janet Pulcho's Instagram is a great place to get started.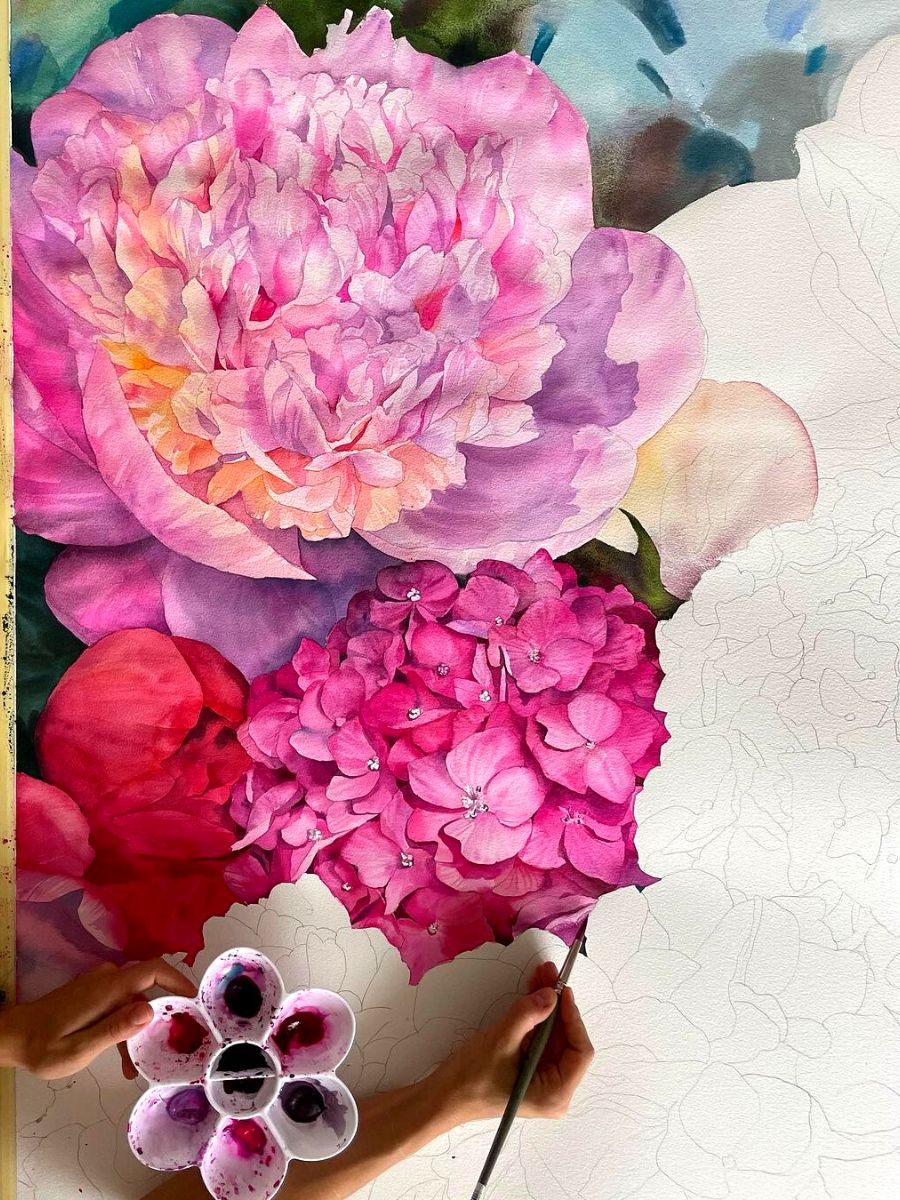 Additionally, you can purchase original paintings via Pulcho's website. Enjoy this great mastery of flowers!
Photos by @janetpulcho.