Welcome! I am Sylvia from Royal Van Zanten, and I will be giving you an online tour in this blog through our virtual trial highlights of 2021. If you can't wait until the end of the tour to visit our virtual 3D space, please click HERE.
Color the Cities With Balcony Plants!
The compact pot alstroemeria series Colorita® Lisa is perfect for patios and balconies! To inspire you we created a little house with balcony baskets. Fun Fact: This little colorful playhouse is very special, it is also a ball pit! With a swing, of course! The design is inspired by the new social media museums such as Youseum and WONDR. These museums are specially designed for the best IG pictures, Reels, and TikTok videos.
🐝🦋 Bringing Biodiversity Back to Our Backyards
To enhance the biodiversity we created a wild botanical garden. In this garden, we have worked with different heights to create a more natural and dynamic design. The potted alstroemeria series Colorita® Yentl was the base of the design. Their cool nectar lines attract (bumble)bees and enhance their botanical appearance. The other main character in this garden is pot limonium Salt Lake®. Salt Lake® attracts a lot of butterflies too. Her airy looks also fit perfectly in this type of garden. Salt Lake® has a very special story about her salt crystals. Read more about it HERE.
The Bubbling Colors of Our Milkshake™ Series
Surprise customers next year with the bubbling colors of our Milkshake™ series. This year we introduce our new compact garden mum series Milkshake™ at our trials. We created a Milkshake™ Bar where you can choose your favorite flavor, or mix it up. Next to the Bar, you can enter the magical Milkshake™ Factory! Here you can enjoy the bubbling colors of these cute plants! A sweet design that speaks to your inner Charlie (of the chocolate factory)!
Beautify Interiors All Over the World With Bellevardia®
Do you like exclusive plants that are not widely available, then the Bellevardia® is perfect for you! Did you know Royal Van Zanten is the only bouvardia breeder? Besides breeding the cut flowers we also have a pot plant series called Bellevardia®. These sweet little flowers will fit in trendy interiors, combine blooming plants with your green plants or combine them with dried flowers. This plant will make your interior even more IG-proof!
Surprise Your Customers With Chrysanthemums
Did you know there are more than just the three basic chrysanthemum color mixes and basic colored daisy types? We have created a complete co-creation center with inspiration tailored to the needs of the retailer. From small florist shops to garden centers, from spring to fall, and from summer to winter, the chrysanthemum is always a good choice!
If you like the packaging or accessories, everything we used is available at Koenpack.
Enjoy the Colors of Autumn With Celosia.
Perhaps you are familiar with the 12 cms Deep Purple celosia already, but did you know there are many more varieties and pot sizes available!? This year we created a little gardening house in our yard with larger pot sizes. This year's highlight is our XXL garden celosia series. These celosias are massive, and their plumes are huge and colorful! They are available in pot size 19 cms. The lovely thing about the celosia in your garden is that it blooms until late autumn. So after most plants stop blooming these beauties will still go strong and give color to your gardens, patios, or balconies. Also a nice tip, these easy-maintenance plants are popular for men as well!
❤️🧡💛💚💙💜 Rainbow Love With Skyfall®!
Who doesn't love rainbows?! So we created a complete rainbow runway in our garden with the trailing garden mum series Skyfall®. Did you know Skyfall® is the only official and high-quality trailing garden mum in the world?! We discovered her in our breeding trials due to the fact she had a very different way of growing in the pots. Instead of throwing her away because she was different, our breeders placed her in the hanging baskets and hanging flower bags. And there she was thriving in the sky!
Visit the 3D Virtual Trials Yourself
Like to visit all the other little nooks and corners of our trials? Or do you love to walk around yourselves? No problem just visit our 3D virtual trials HERE.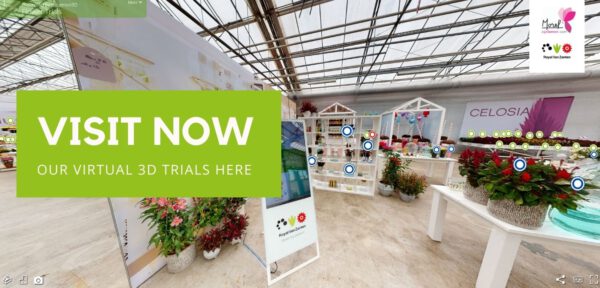 We also made lots of videos for you. In these videos, our experts are explaining more about the plants. Just click on the red buttons and the videos will pop up. You can even go outside! Explore the virtual 3D space.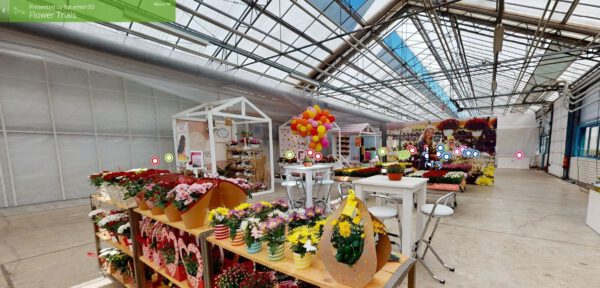 We hope to see you all next year live at the FlowerTrials in June 2022. If you have any questions please do not hesitate to contact us via our social account or via mail: [email protected]. Enjoy the after movie of the trials 2021