This is the 2nd part of a free tutorial, where top floral designer Joseph Massie shows how to create four captivating commercial designs to inspire every florist with cymbidium.
Special Cymbidium Edition
In this special edition – completely free – online tutorial, fellow florists can enjoy unique, unrivaled access to Joseph's tips and techniques with a spotlight on one outstanding flower: the cymbidium.
Cymbidium is known for its long, strong stems and numerous exotic heads singing luxury and elegance. This flower is surprisingly versatile and suitable for more commercial uses than you'd think.
They come in two sizes – large and mini – and offer fantastic bang for the buck thanks to their strength, size, and most of all, vase life, lasting two to three weeks without the need for flower food.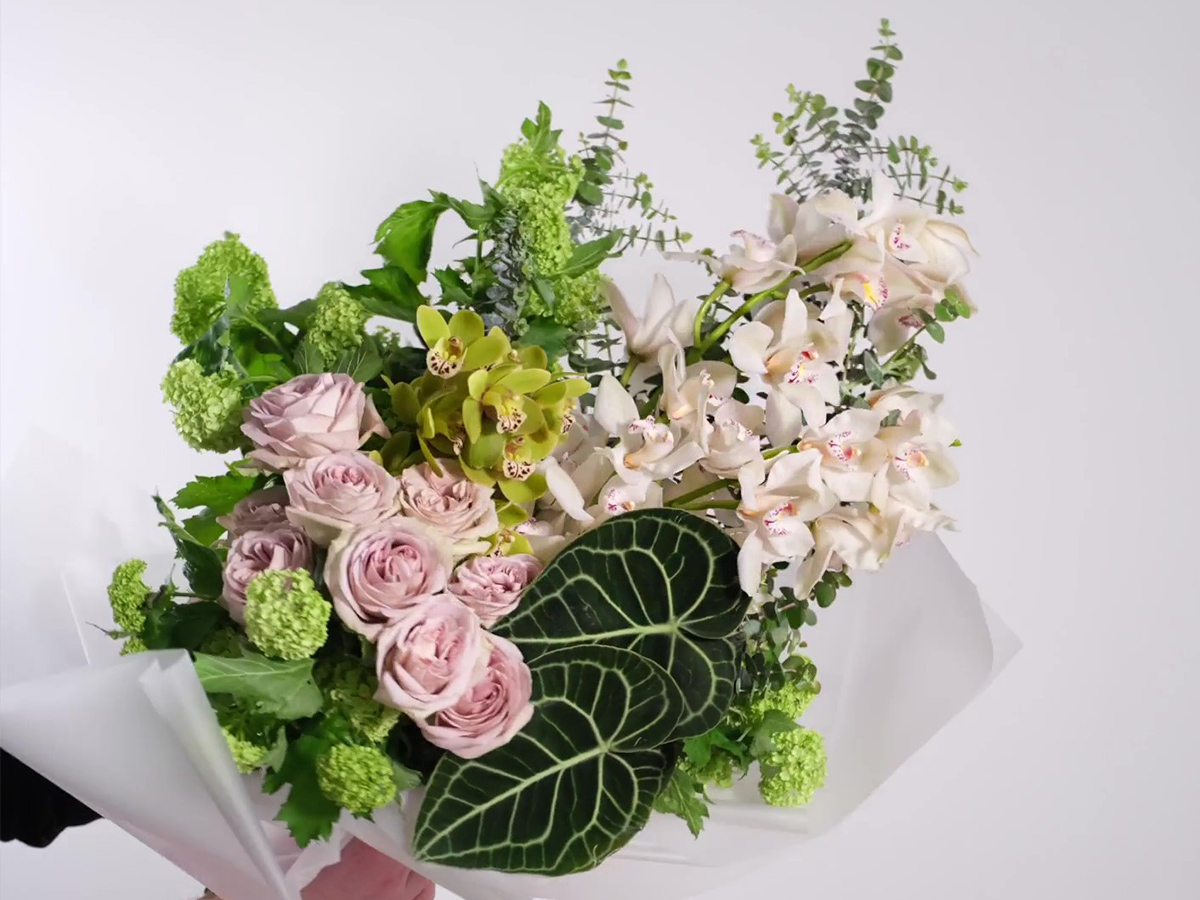 20 Minutes in 4 Chapters
In his 20-minute tutorial, Joseph showcases four strikingly different design ideas with cymbidium, all utilizing the principles and techniques that form the bedrock of his coveted style.
Here they're summarised in four chapters but don't miss the full video tutorial to learn all his tricks of the trade. Below, you'll find chapter 2.
Chapter 2
Same technique but a fresh look: a tropical green bouquet
It's important to keep your clients in mind, and for this, cymbidium is an obvious choice with its sublime vase life and array of rich colors. It's available in a rainbow of shades; try this fantastic acid green.
Joseph uses the same spiral technique – starting with a foliage base and grouping materials in clusters, but instead, the ingredients are mixed and matched to create a much more tropical feel. Check this trailer:
Joseph's tip: colors can either complement each other in harmony or work in contrast with each other for feelings of tension. Neither route is better than the other but remember your color choice has the power to create very different moods for different settings. Watch here how:
Be sure to also check part 1 of this cymbidium tutorial.
To find out more about the wealth of ways to work with cymbidium, as well as free promotional tools and advice, visit www.cymbidium.info.