Museum Escher in The Palace is organizing the exhibition Looking With Your Hands, featuring fashion you can touch by Dutch-Curaçaoan designer Michelangelo Winklaar. Inspired by his visually impaired mother, Winklaar has developed an experimental exhibition in which he allows a wide audience, including blind and visually impaired visitors, to experience a fashion collection by touch as well. Whereas a fashion collection in a museum would ordinarily be not for touching, it is precisely the sense of touch that Winklaar is inviting the public to use.
An Ode to His Homeland, Curaçao
The collection developed by Winklaar is an ode to his homeland, Curaçao. For these colorful garments, he draws inspiration from nature, with the distinctive yellow Kibrahacha tree as a centerpiece. Winklaar has chosen a variety of silhouettes, fabrics, and techniques, especially for the exhibition. Visitors will experience the weight of heavy, rough sequin fabric, as well as the lightness of tulle. A slender evening dress is alternated with the shapes of a voluminous, angular 80s blazer. Thus creating a wide array of sensations for everyone's fingers to discover.

Feminine Forms, Textures, and Crafts
The work of Winklaar (1983, Willemstad) is characterized by feminine forms, a mix of textures, and the use of crafts. Within the exhibited collection, this is reflected in the use of spiral ribbing, high-quality embroidery, and hand-painted flowers. Sustainability is also important to him—he likes to use what are deemed leftover materials from the textile industry. Winklaar draws inspiration for his garments from both the Dutch fashion scene and the colorful culture and nature of Curaçao.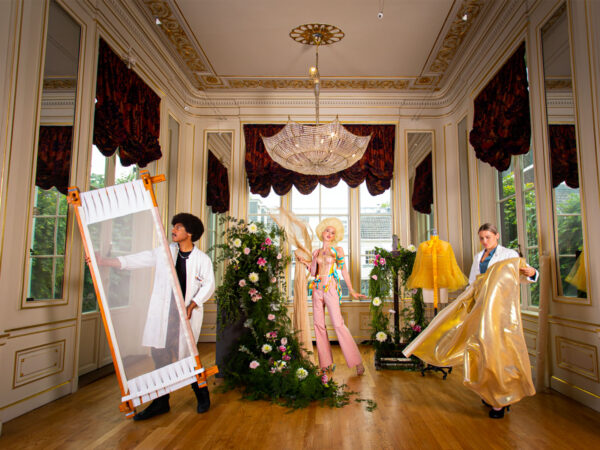 Order and Chaos, Metamorphosis and Geometry
Winklaar makes subtle references to the work of celebrated Dutch graphic artist M.C. Escher (1898-1972) and the Lange Voorhout Palace, the museum's location. Hence the fashion looks feature nods to elements in Escher's prints, such as order and chaos, metamorphosis and geometry. Winklaar also harks back to the fashion of the time of Queen Mother Emma. The exhibition in the ballroom and green lounge of the museum is in line with Escher in The Palace's mission to be actively inclusive for audiences that may be less inclined to visit a museum. It is not only blind and visually impaired visitors who will be able to enjoy Winklaar's collection; sighted visitors, too, will get an opportunity to experience fashion in a whole new way.
Activities & Accessibility
Escher in The Palace is organizing two guided tours for the blind and visually impaired, especially for the exhibition. On 20 November and 18 December 2021 from 9:30 to 11:00 a.m., the museum will open its doors before opening time to enable participants to experience Winklaar's designs in peace and quiet. You can find more information here.
Flowered by Decorum
The fresh flowers that are used in the photoshoot for the exhibition Looking With Your Hands are supplied by Decorum, the floral sponsor of the related event The Hague Fashion Week.
When and Where
'Looking With Your Hands' in Escher in The Palace From 14 October 2021 to 9 January 2022 Lange Voorhout 74, The Hague, Netherlands Photography by Vincent Kos.