Mass timber buildings are a fascinating sustainability trend that facilitates carbon removal from the atmosphere through the use of specialized wood products for construction. These mostly, highrise buildings are made using timber that can store carbon for ages, keeping it out of the atmosphere.
And this building concept comes with many benefits. Its advantages include faster construction times, lowered carbon emissions, less waste during construction, natural aesthetics, boosting the occupants' well-being, and supporting the principles of biophilia.
Mass Timber Buildings Is a Trend That Is Growing Fast
Globally, the trend is fast catching up with buildings constructed using this concept constantly coming up practically all over the world, as sustainability becomes the norm and people are gravitating towards nature and biophilic designs.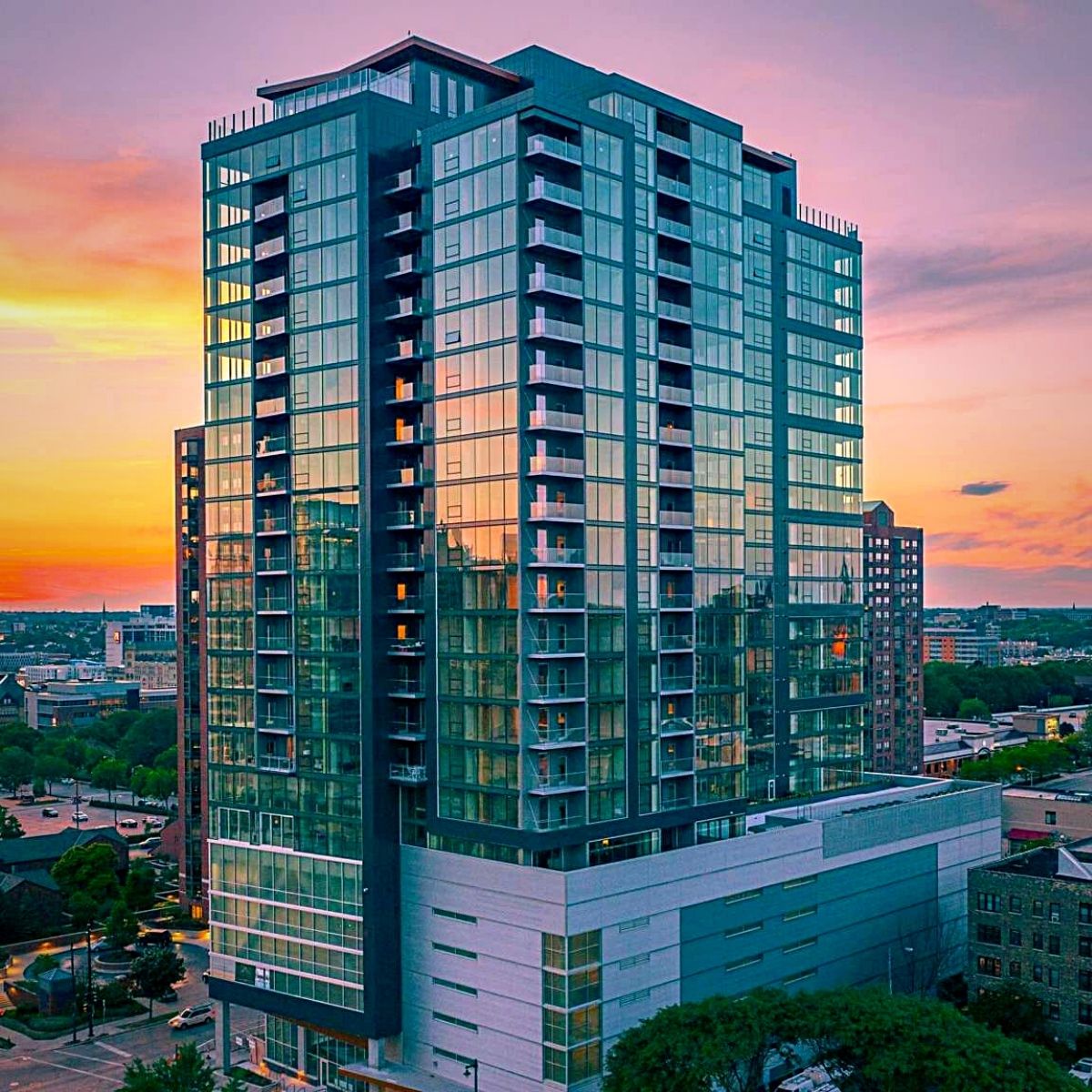 At 284 feet tall, and 25 stories high, the Ascent MKE, a mass timber hybrid high-rise luxury apartment building in Milwaukee is officially recognized as the tallest mass timber building constructed thus far. Though with the fast-growing trend, this record could be broken in the blink of an eye!
Here are some unique mass timber constructions that are gradually shaping this novel building trend.
Rocket and Tigerli Is Expected to Be the World's Tallest Timber Building
Set for completion in 2026, Rocket&Tigerli is a mass timber building being built in Winterthur, near Zürich in Switzerland. It will, once complete, be the tallest such residential construction in the world. It will be towering at 100 meters!
It is a building designed to create a framework for an active, yet attractive neighborhood that is deeply rooted in the area's historical context.
Designed by Danish studio, Schmidt Hammer Lassen Architects, Rocket&Tigerli, is named after locomotives produced at the site and is made up of four buildings designed in a formation that mixes regular housing, student housing, a restaurant, retail spaces, a sky bar, a spa, and hotel.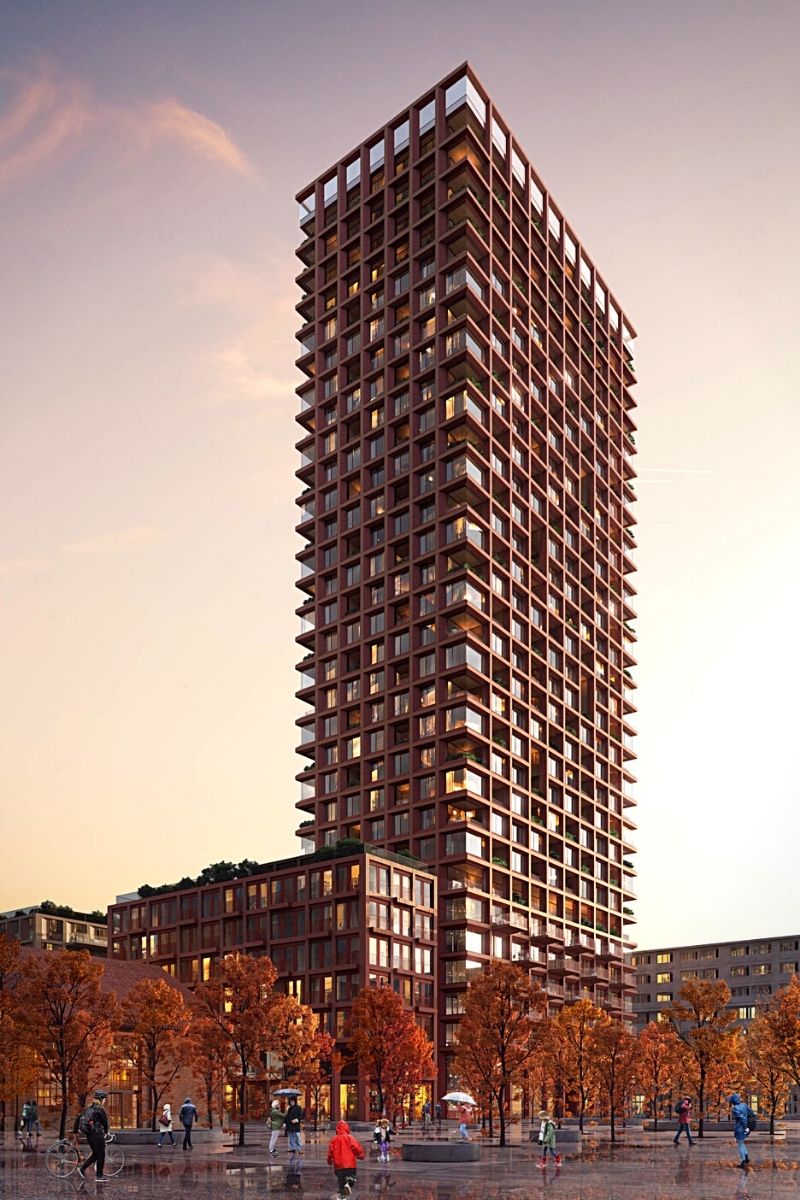 In the construction of the building, wood entirely replaces concrete resulting in the Rocket&Tigerli and its construction processes emitting significantly lower amounts of carbon into the atmosphere. Rocket&Tigerli offers contemporary, high-quality housing that allows for maximum exposure to daylight and animates its neighborhood bringing life to the greenery-filled square created by the four buildings.
It is a project that marks a milestone in the construction of mass timber buildings because other than its sheer height, it brings with it an innovative construction trend that seeks to push wood as a natural alternative to concrete when it comes to construction.
Plant-Covered Timber House in the Quayside Community Toronto
Aptly named Timber House in downtown Toronto's quayside waterfront, this residential development is set to be the largest residential timber building in the whole of Canada.
Designed by architectural and design firm Adjaye Associates, Timber House combines nature and other building elements to create a green and environmentally friendly architectural design concept containing up to 800 affordable housing units, and residences for senior citizens.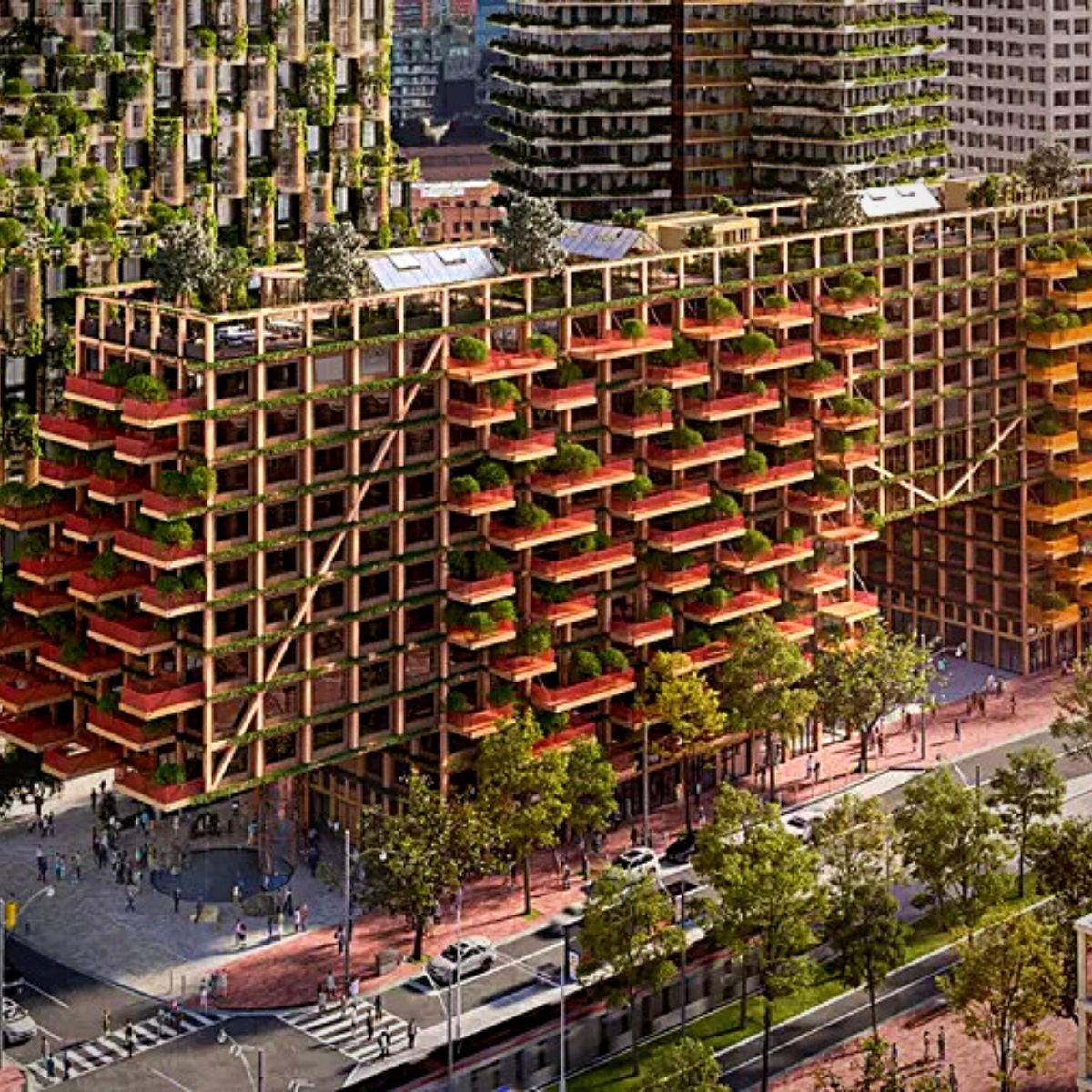 This building which will largely be covered with plants will, once completed, be one of the biggest mass timber buildings in Canada. It is just one of five towers and other smaller buildings being put up in a 12-acre development on the Toronto lakefront, named Quayside.
Western Curve designed by Alison Brook Architects, and the Overstorey designed by Danish Studio Henning Larsen, are also other buildings in the development and will have round balconies filled with plants, as well as greenery all over.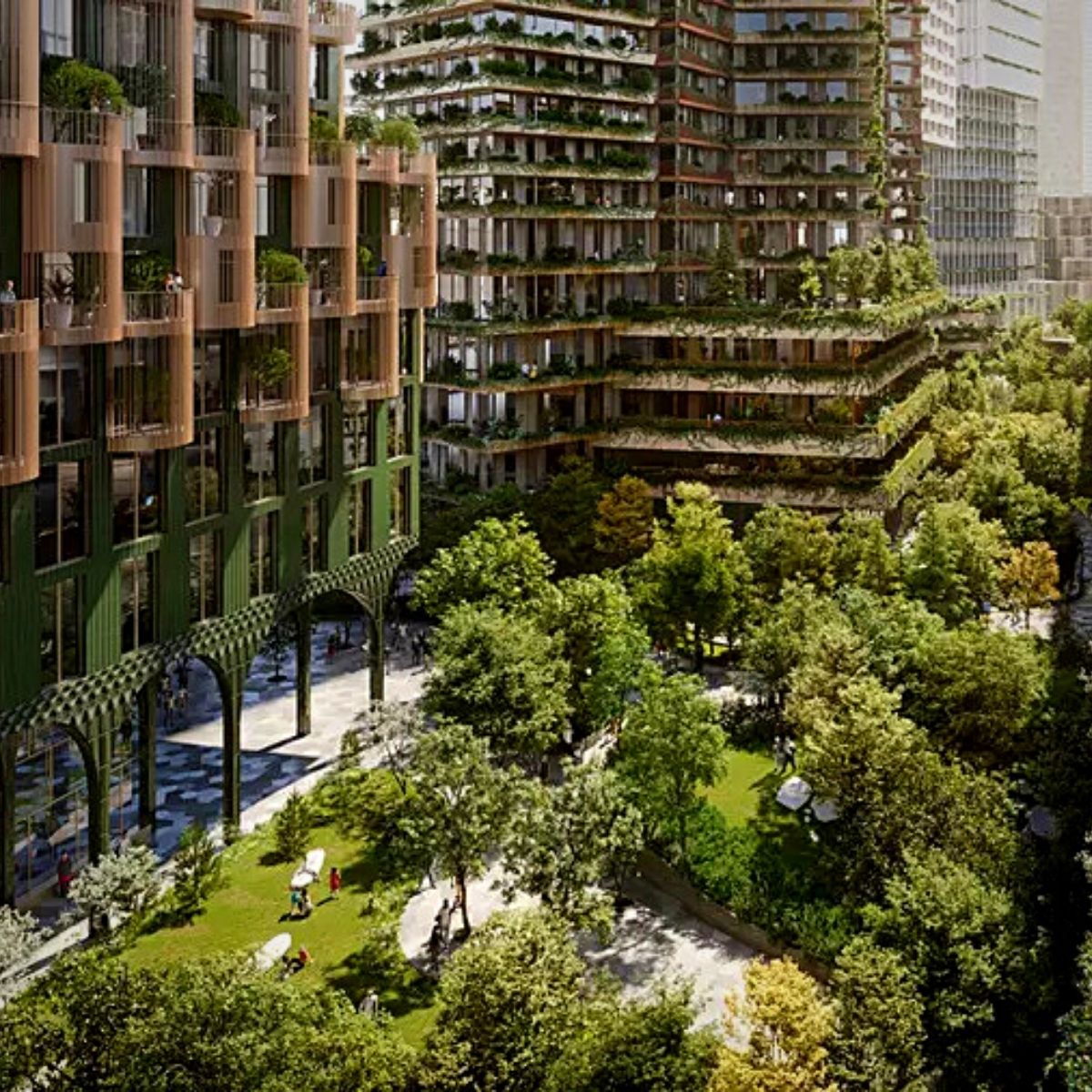 The whole complex will be covered in greenery, have car-free parks, a two-acre community forest, an urban farm atop Timber House, a venue for the performing arts, and a generally carbon-free setting.
Other than probably becoming the first all-electric, zero-carbon community in Canada, Quayside is expected to have, not just towers and green spaces, but also urban green spaces, and cultural buildings that honor and celebrate the local indigenous First Nation.
Eco Park in the UK Will Be the World's First Green Stadium
Constructed almost entirely from timber, and powered by sustainable energy sources, Eco Park which will be built in Stroud, Gloucestershire, in England for the Forest Green Rovers football club, could be the first stadium globally to go entirely green.
When completed, Eco Park will have the lowest carbon quantity, of any stadium elsewhere in the world, as it embodies low-carbon construction materials.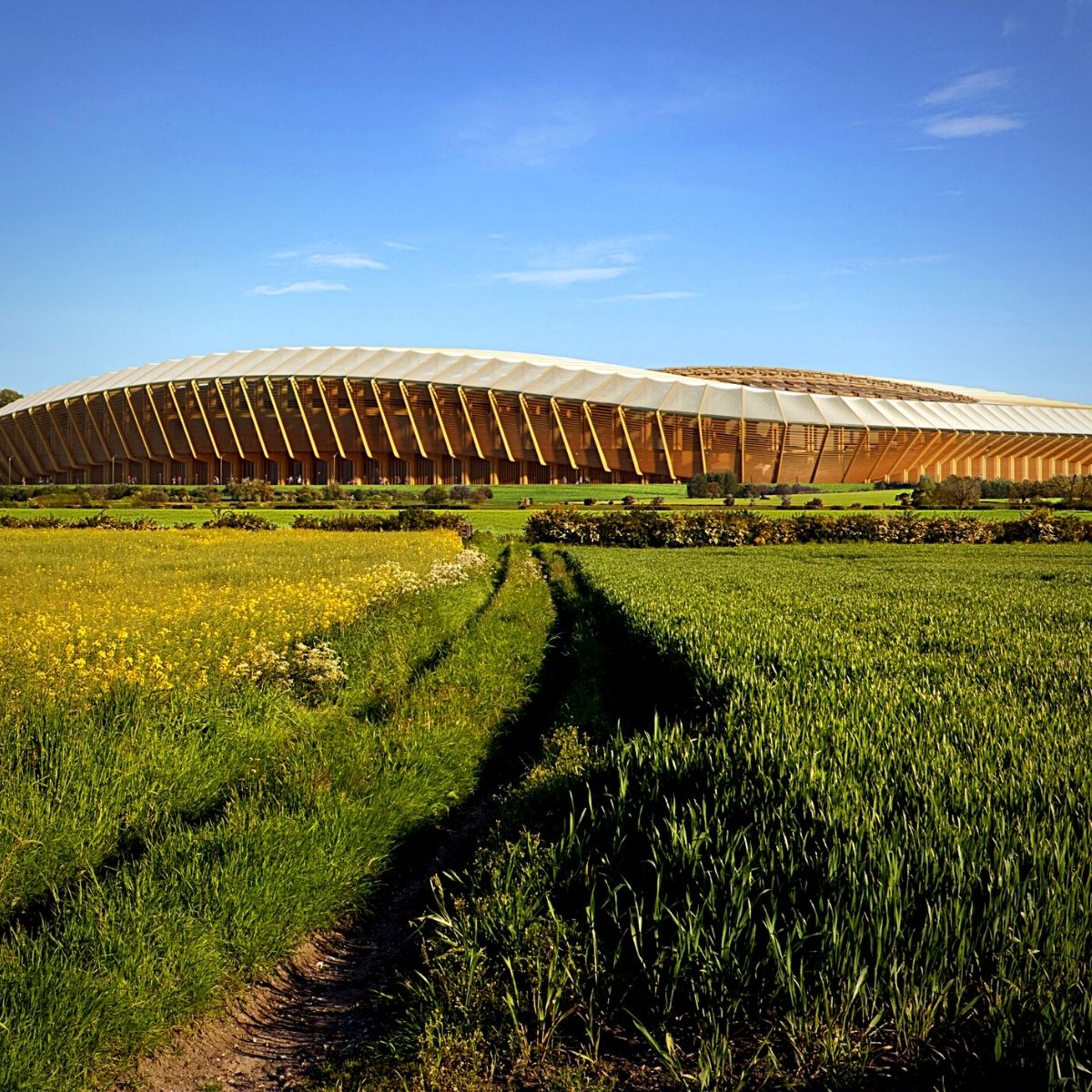 Eco Park which is expected to initially have a sitting capacity of roughly 5,000 with prospects of increasing it to 10,000, was proposed by green energy specialist, Ecotricity and British architecture and design firm, Zaha Hadid Architects (ZHA) won its design and planning permission.
The sitting terraces and the floor will be made of timber, while the roof will have a transparent membrane allowing sunlight to shine in; providing daylight and helping in the turf's growth. The transparent membrane also minimizes the effects of players' shadows during matches.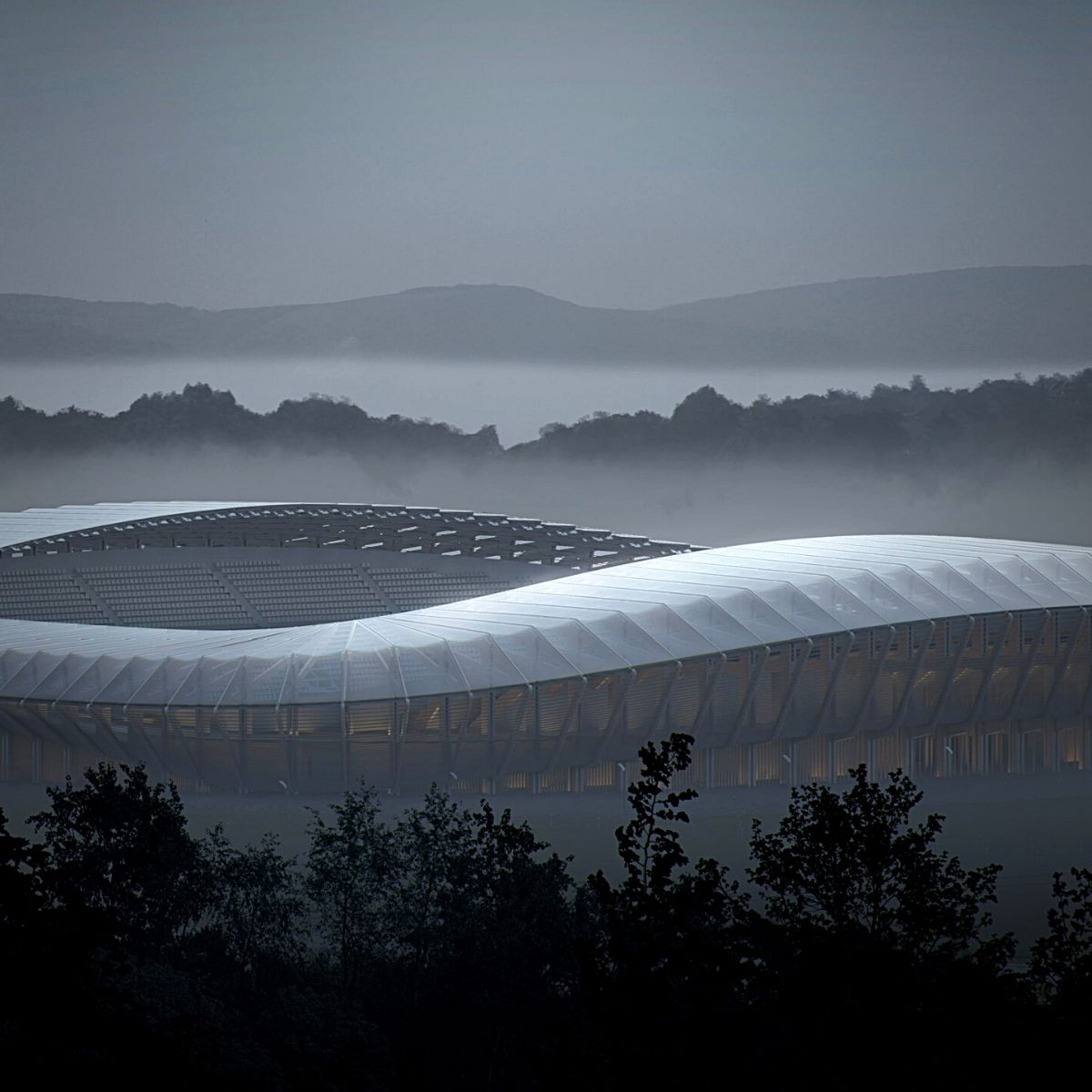 This green structure will be built entirely from sustainably sourced wood, which includes the cantilevering roof and its louvered cladding, and about 500 trees and 1.8km of hedgerows planted within the stadium's complex to encourage biodiversity.
With the provision of onsite solar generation, and also wind energy, Eco Park is expected to be a carbon-neutral stadium.
Living Landscape, Iceland's Largest Timber Building Sits on a Reykjavik Landfill
Designed in an eco-friendly way blending urban elements and nature, Living Landscape which is expected to be complete in 2026 is set to be Iceland's largest wooden structure.
It is fashioned in an O design with the center core designed as a local ecosystem which will be a habitat for indigenous plants, local rocks, and topographic surfaces. Such contribute to a rich, shared ecosystem for the project, the city of Reykjavik, and the planet.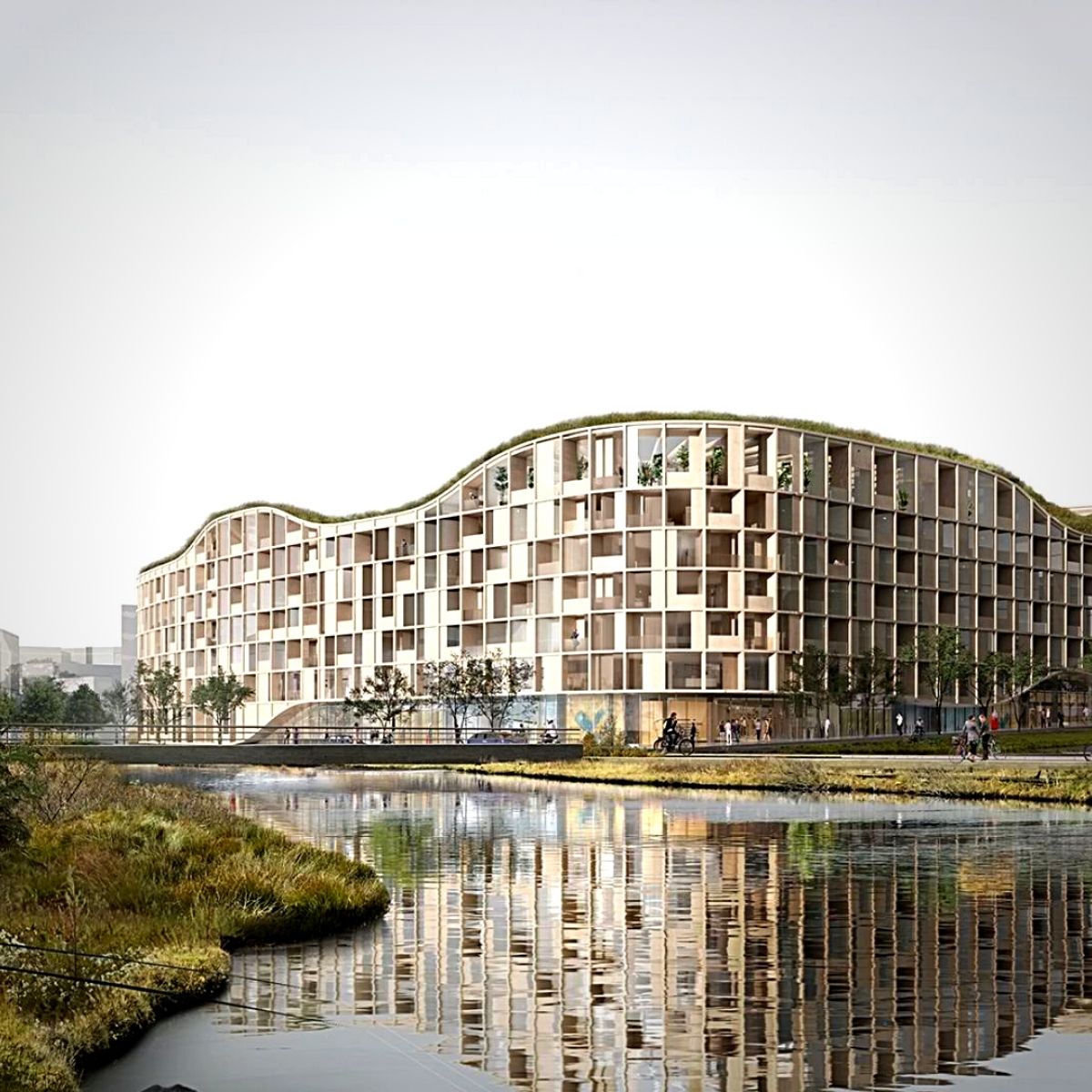 The zero-carbon mixed-use building sits on entirely reclaimed land and will integrate homes for students, senior citizens, and families, offices, restaurants, workspaces, a kindergarten, a courtyard, a daycare, and local production-based retail.
Paris-based architectural studio, Jakob + Macfarlane and Icelandic architecture firm T.Ark, designed the building set on 26,000 square meters of land and which is a winning design for the Reinventing Cities competition organized by the global network C40 Cities to motivate the transformation of underused urban spaces into beacons of sustainability and resiliency.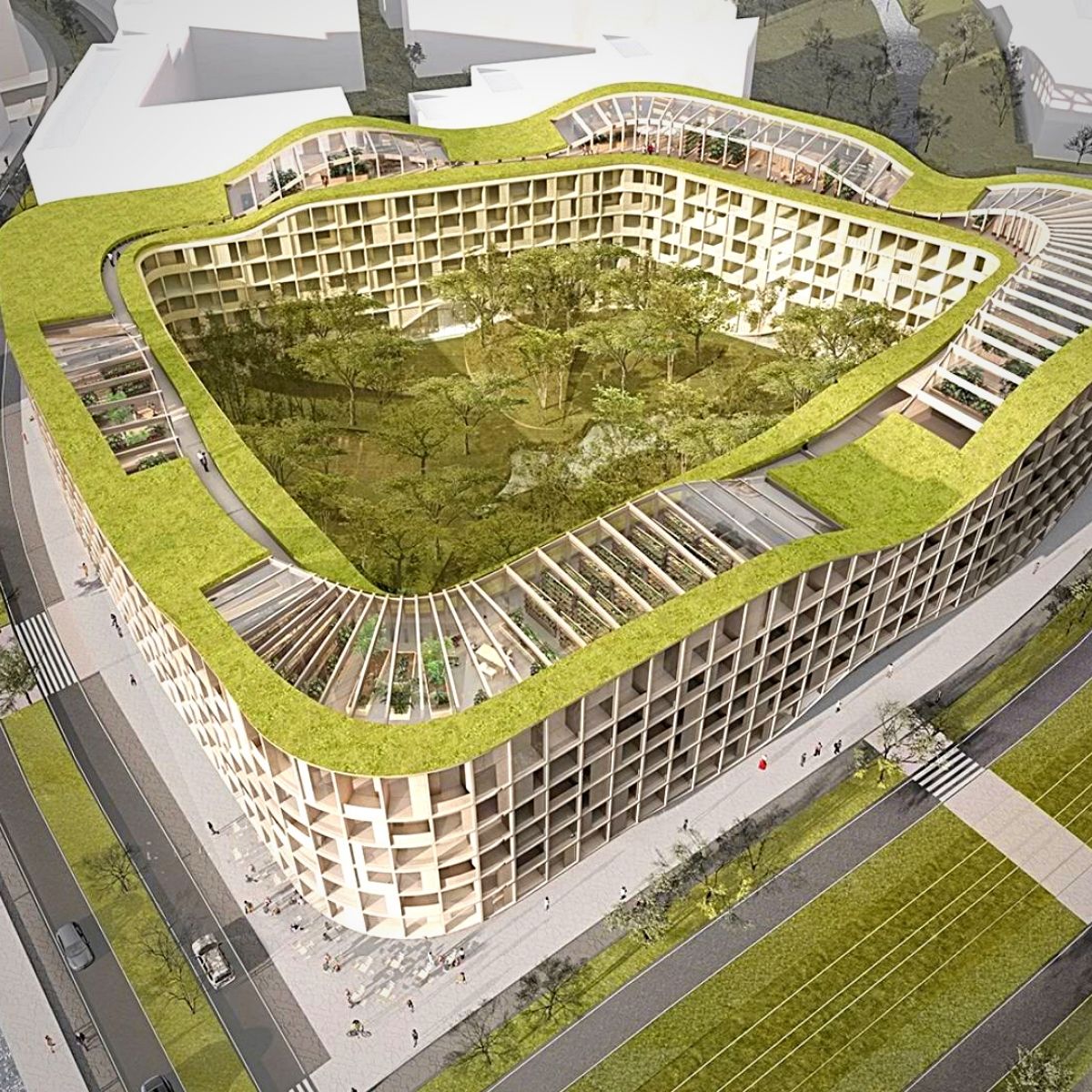 It is expected to positively impact its environment, sheltering the local ecosystem and recreating a piece of 'natural' landscape atop a hitherto polluted piece of land.
The building's courtyard landscape will manage rainwater and purify polluted water through a system inspired by stratovolcanoes which are common in the country, while a tundra landscape on its rooftop recreates an ancient system used by Icelanders to insulate their homes. The wooded construction and all the greenery will enhance carbon capture and storage.
Pirelli 39, Italy's Plant-Lined Timber Tower Will Enhance the Original Pirellino Office Skyscraper
Located in the center of Milan's Porta Nuova Gioia District, Pirelli 39, also called P39 presents an opportunity to develop a new model of mixed-use development and sustainable urban growth project.
The Diller Scofidio + Renfro and Stefano Boeri Architetti- designed development will encompass three components which include the renovation of the buildings' original Pirellino Tower, the renovation of the Pirellino bridge building, and the creation of a new residential tower.
The renovated bridge will incorporate a biodiverse greenhouse space that is dedicated to providing an immersive, educational, interactive, and innovative experience of various plant species.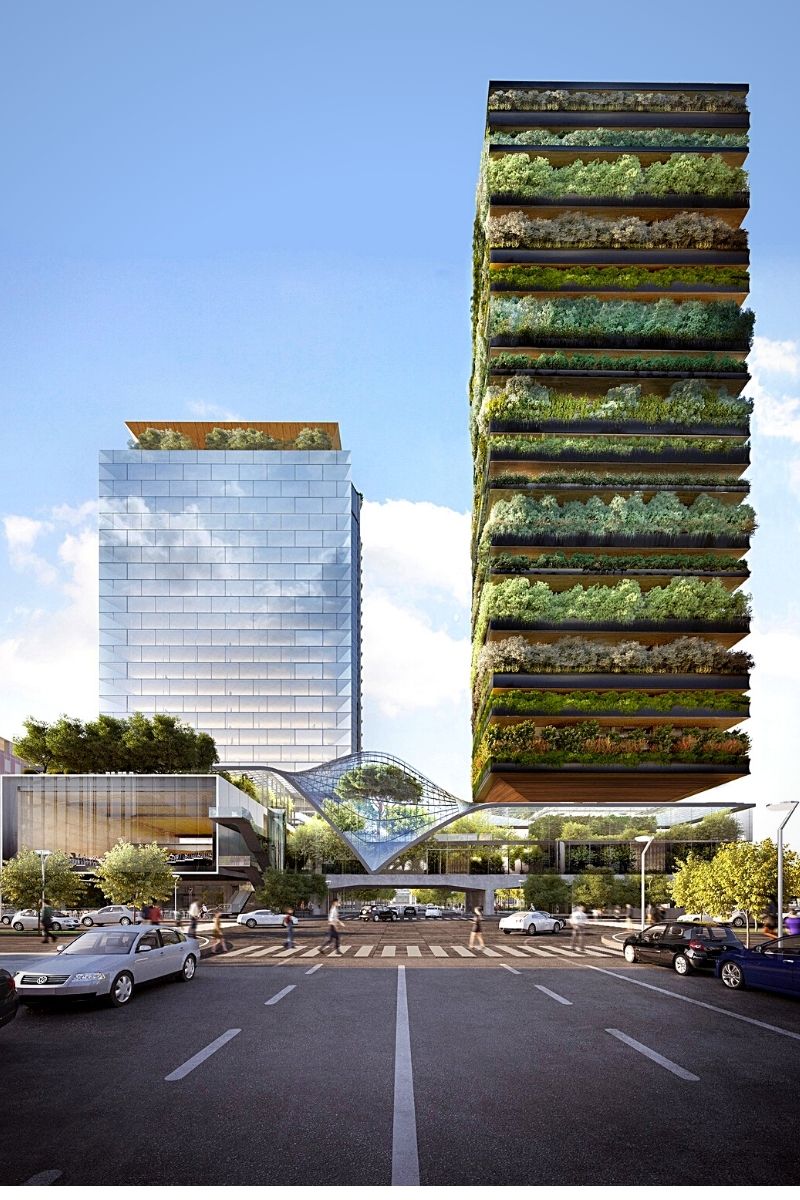 When complete, the building will include a wooden structure that will decrease its carbon footprint, including 1,800 cubic meters of wood floors that will save up to 3,600 tons of carbon dioxide in the construction phases.
Up to 1,700 square meters of vegetation, will be distributed across multiple floors on the refurbished development, which will in turn express the changing colors of the seasons through flora and fauna.
The vegetation will absorb approximately 14 tons of carbon and produce nine tons of oxygen per year, which is the equivalent output of a 10,000-square-meter forest. With its 2,770 square meters of photovoltaic panels, the tower will be capable of producing 65% of its energy requirements!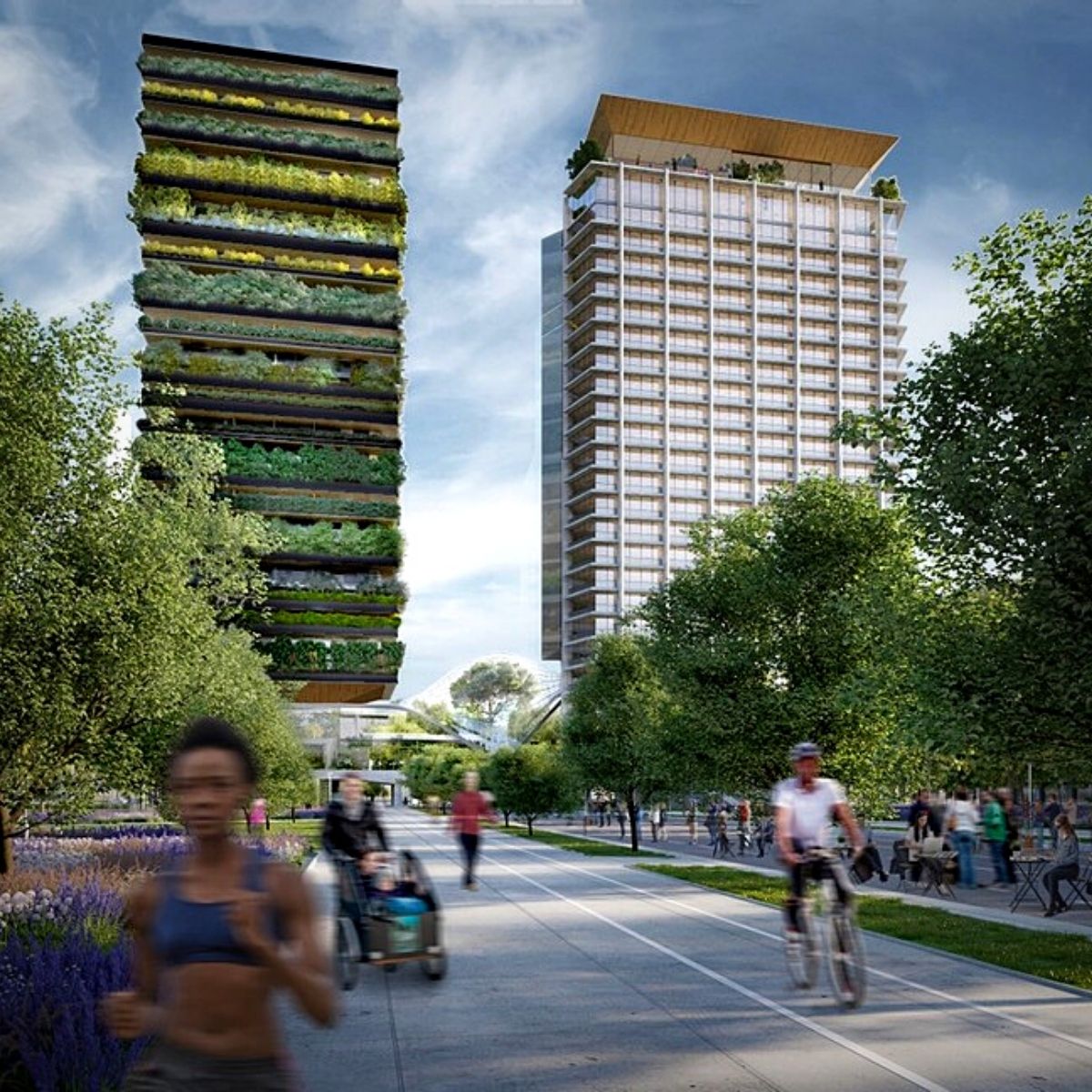 Wood, which is nature's original renewable building material, not only locks up carbon but also has the lowest carbon footprint of any major building material used for construction purposes. It also has an aesthetic appeal and when integrated with biophilia, the results are serene and relaxing. Naturally!
This would explain why contemporary construction trends are gradually leaning towards wood as a building material.
Featured image by Alison Brooks Architects. Header Image by Schmidt Hammer Lassen Architects